Halloween is just around the corner! Being one of the biggest holidays, -we spend over $7 billion a year on Halloween celebrations, according to the National Retail Federation- we thought we'd put together some fun projects anyone can do to mark the occasion, after all who doesn't love to have a really spooky Halloween themed parties all over? From haunted houses, frightening decor, creepy drinks and treats, eerie customs, phantasmagoric music and really bizarre party invitations... what's there
not
to love?. Well perhaps the spike in prices and the generic, run of the mill, decorations that are actually poor-quality-scary. Most people just get their invitations at the local store and that's ok, but there are some of us who love our party invitations to stand out and set the tone for the fun occasion. Are you one of us? Then read on to get the 411 on DIY, one-of-a-kind, spooktacular party invitations!
Making Spooky Halloween Invitations Like a Pro
Themes and Copy:
Invitations are the first impression guests have of a party. It will make the difference between having them RSVP or not! Use a unique theme that intrigues them and makes them want to find out more about the party. Now you need the information of the party, those little basic details like: what, when, where. You truly want to stand out and entice guests with the wording. So instead of using the oh-so-simple phrase: "You're invited to my Halloween Party," you can go with something like "Spend a Thrilling Night in Our Haunted Mansion!" If you really want to step it up, go for something like this:
Plans for this Hallows Eve?
We just have to ask,
How about partying like never
and wearing a mask...
Come in disguise and have fun on
Halloween Night!

When?
October 31st
9:00 p.m. - 5:00 a.m.
Where?
Little Brick Yellow Road, Kansas
Don't Forget: Costumes Are Required!
Design:
The next thing you have to do is choose a design for your invitation. Don't just settle for rectangular invitations get die-cut ones, make them unusual, to go along with your party theme. You can make invitations with the shape of a jack-o-lantern, coffin, cauldron, pumpkin, witch's hat, and many more. Go online and find any shape you wish and make it big enough to fit the wording of your invitation and theme. You can also find other nice templates that fit your needs over the Internet. We found this great tutorial by
DIY Invitations
with coffin-themed invites that simply can't be missed: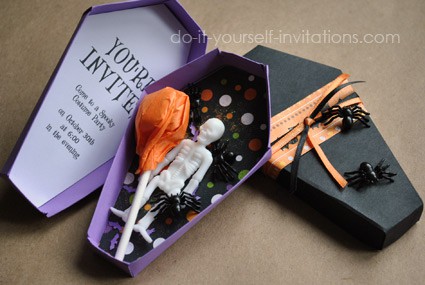 And these really cute ones from Martha Stewart: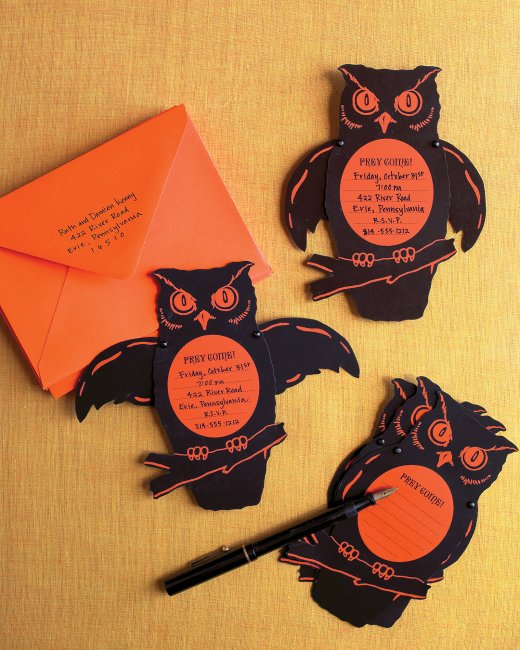 If your party is a corporate one, the number of guests is simply too large to bother with DIY or you want to elevate the state of affairs, go for professional printing-ahem, with 4over4, and get one of our exclusive printing finishes to really stand out. Be sure to check out our Wonderfoil Postcards (think of bright sparkly orange hues against black letters), or the never-failing Metallic Foil (godl foil and silver foil, available for business-card-sized papers and more).
Fonts:
Fonts are an important piece of every design. It has to be very easy to read, it has to have the right size, and for this particular occasion, it must be spooky. Check out our Top Picks (all Free Halloween Font Downloads , btw):



Final Touches:
Now that you made your Halloween party invitations -like a pro- you might want to add that special touch to make them really stand out from the rest. If you're going DIY, you can add black glitter to outline your jack-o-lantern, use red paint to make it look bloody, or put a spider web on the corners of your invitation and envelope. If you're going with professional printing, add some of that glitter to the envelopes on the inside, some spooky confetti or the always-welcomed candy piece. Ready? Go! Show us your invitations on our social networks and hit us up in the comment section below with any other ideas you may have.