A glitter business card has a shimmering effect on the surface. Hence, these cards add glamour and sophistication to your business or brand. Usually, we print them on special paper with glitter particles embedded in the material, so they remain durable and don't shed the glitter.
Cards with glitter are popular in the fashion, beauty, and entertainment industries or businesses that want to leave a lasting impression on the prospect.
We'd now see how to make glitter business cards and what makes them attractive.
What Makes a Glitter Business Card attractive?
They are attractive for the following reasons:
Visual appeal: The glitter is attention-grabbing and adds charm to your card design. Also, due to the shimmering effect, your business cards can catch the eye and stand out from plain alternatives.

Quality materials: These cards are made from high-quality paper and printing techniques, making them look and feel impressive. Hence, cards with glitter are more durable than plain cards. In addition, they're shed-free and won't leave traces after handling.

Uniqueness: Unlike plain-looking business cards, the glittering effect will set your business apart and give customers a memorable impression.

Design: Glittering cards communicate your brand values effectively. A visually appealing card tells customers you have an eye for beauty and detail.
Glitter business cards are attractive when they effectively combine quality material, a well-designed layout, and a unique appearance to create a lasting impression. We'd now see how to make glitter business cards.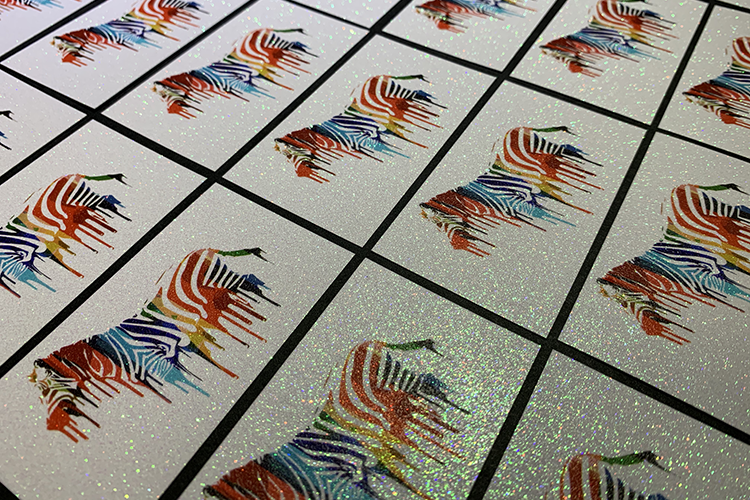 How to Make Glitter Business Cards?
There are several ways to create the glitter effect on cards:
Foil stamping: This printing technique involves applying a metallic foil to the card's surface using heat and pressure. You can apply the foil to specific areas of your card or the entire surface, thus creating the shimmering effect.

Printing on glitter paper: Glitter paper refers to specialty paper with embedded glitter particles. Printing your design on these papers creates a glittery effect. You can order these papers online and do the printing yourself.

Handmade glitter cards: You can manually glue glitter particles to the surface of your paper stock, but this method is unprofessional and may result in flaky business cards.

Printing company: Some printing companies allow you to order glittering cards. Your prints are made using special inks and printing techniques. Glitter business cards produced this way are precise and consistent.
Some printing methods come out more professional-looking than others. Consider using glitter paper or a professional printing service for attractive-looking business cards.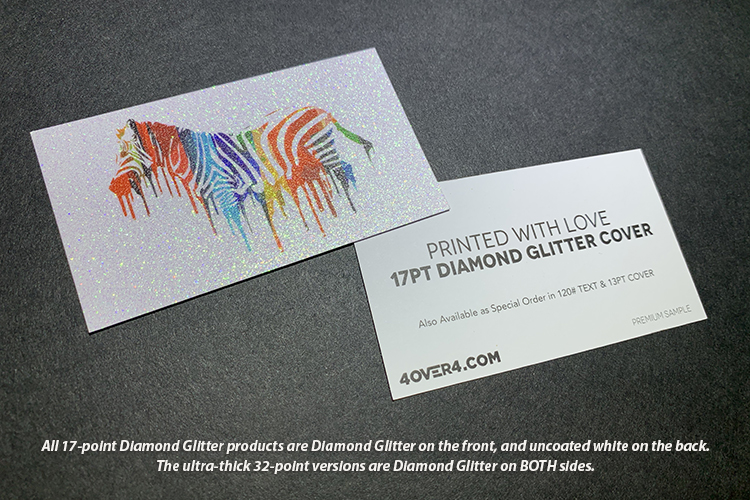 Where to Get it?
You can order glitter business cards on 4OVER4. When you order with us, you can select the size, quantity, and turnaround time for your printing job.
Also, you get free proof when you choose the online proof option. The proof lets you preview your project and make changes before production.
Simply choose applicable customizations, such as the size and the order quantity, to get started. Next, upload your artwork and choose your delivery or pickup method. We have thousands of free templates that can help you design your business card.
We communicate the stage of your order so you know when you'd receive your job. We do not cut corners on quality. Instead, we down prices to ensure you'd get premium prints at great prices.
Conclusions
You now know how to make glitter business cards. Utilize the eye-catching, glittery appearance to decorate your brand. Its striking visual features will dazzle clients and set you apart from the competition. Make your order today.