As a graphic designer, you are surely aware that free online tutorials are excellent tools. They introduce innovative styles, techniques and tips you can include in your own designs, while providing you with insights into other designers' thoughts.
Knowing designers must always try new things to step ahead of competitors, we want to share this innovative print concept with you: Fabric Postcards! They are fun to make and certainly unique. Since there are many ways to create trendy works of art, we found these five easy-to-follow fabric postcard tutorials. Perhaps now you can let your creativity run wild!
Selvage Postcard Tutorial
Isn't this fancy color arrangement lovely? To make something as beautiful as this postcard, save your selvedges from quilting. When you have enough material, apply your selvedges to any stiff interfacing such as Pellon, the non-fusible kind. After you have a color combination that you like, trim to a rectangle that is a bit larger than the postcard stock you ordered. Remember
we offer fourteen postcard printing services
in a range of paper stocks and the industry's lowest minimums. [caption id="attachment_7493" align="aligncenter" width="1024"]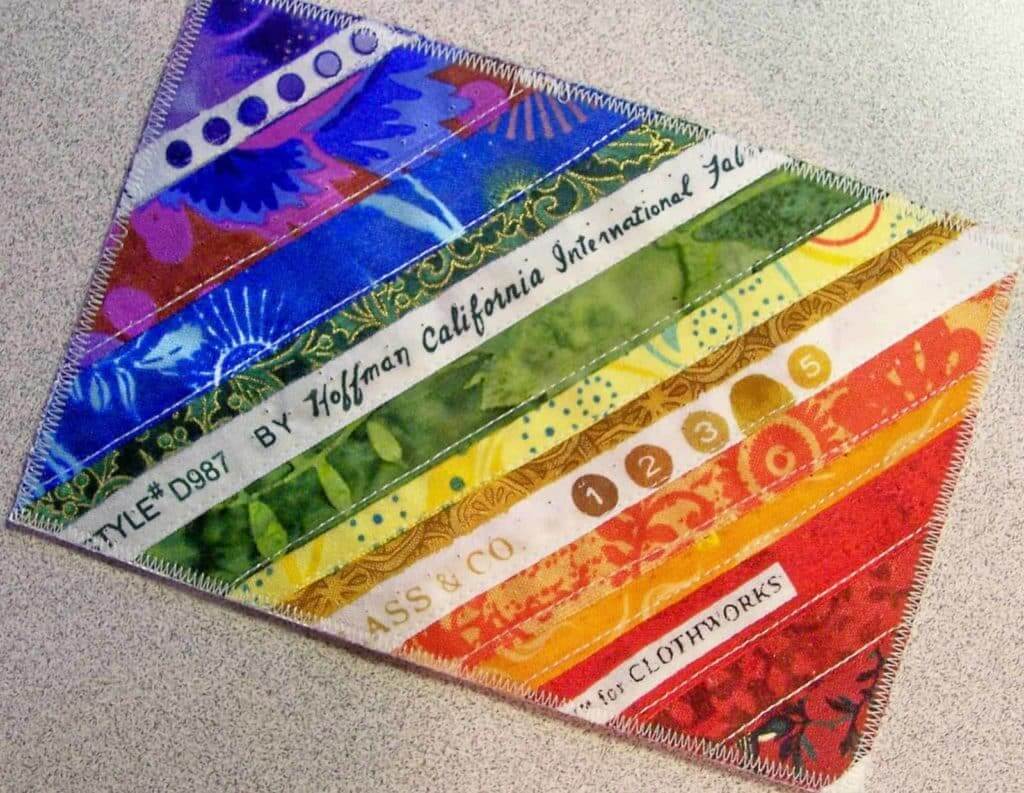 Fabric Postcard by Elena McDowell[/caption]
Tip from the Printing Experts:
Sew a nice zigzag stitch around the outer edge in order to attach your selvage block to the selvage postcard. Last but not least, trim so that the edges look sharp. Aren't these colorful fabric postcards gorgeous? And that's not all! They also travel pretty well in the mail!
Photograph Postcard Tutorial
The photograph used on this intricate postcard design was printed on cloth. First, use Photoshop to manipulate the photo. You can use the same technique for printing letters on fabric. Before feeding the fabric through a color laser printer, press the paper-backed fusible web onto the back of a piece of cloth. Spray with Krylon Fixatiff and sandwich fast2fuse between the card's back and front. Trim the card to your desired size. Don't forget to print the return address on the back of the postcard.
[caption id="attachment_7494" align="aligncenter" width="564"]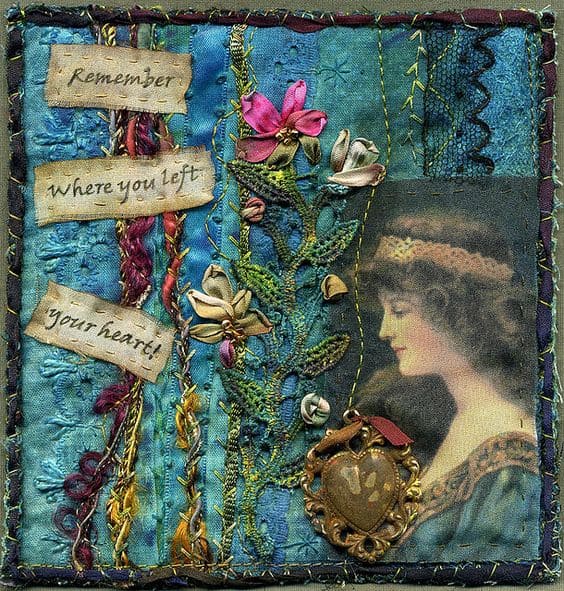 Fabric postcard by Molly Jean Hobbit[/caption]
Tip from the Printing Experts:
Try to use a light colored fabric so the letters and the message stand out. Lastly, finish the edges of your photograph postcard with fused binding. This will automatically give it a highly professional and finished look.
Quilted Postcard Tutorial
Isn't this quilted postcard breathtaking? This lovely shade of green used on the stitching highlights the seahorses beautifully! Absolutely clever! To come up with a similar design start with a stabilizer and cut to 6 ½" x 4 ½". Then, prepare the background – it can be a pieced or whole cloth that you like. Bear in mind that you must cut it a bit larger than your stabilizer and sew it to the stabilizer.
Using a light or invisible thread in your bobbin or a decorative thread in the machine, carefully quilt the postcard using the stitches you select. Cut a piece of natural muslin slightly larger than the postcard before fusing it on the other side of the stabilizer. Lastly, use a ruler and rotary cutter to trim your postcard to 4" x 6".
[caption id="attachment_7495" align="aligncenter" width="504"]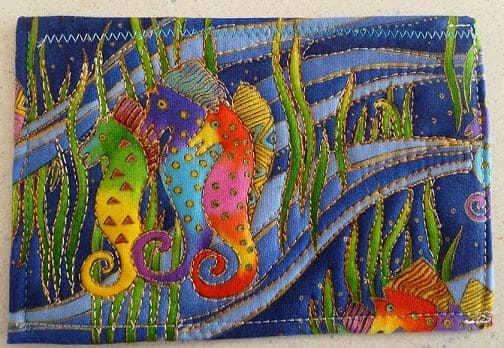 Fabric Postcard by Tresha Barger[/caption]
Tip from the Printing Experts:
To properly finish the raw edges of your quilted postcards with fused binding, you'll need 1"strips of fabric if you prefer a 1/4" binding on the front of postcards. Use 5/8" strips if you like 1/8" binding. Make sure to cut a 22 inch strip length for each 4" x 6" postcard.
Embellished Postcard Tutorial
This jaw-dropping postcard was created by using embellishments on a batik background. First, arrange the Angelina fibers and other embellishments on the fabric prior to using a glue stick to keep them in place. Next, thread your sewing machine with YLI's Wonder Invisible Thread. Use a zigzag stitch to attach laces. Cut a piece of organza and press fusible web on it before removing the paper. Machine quilt the postcard. Last, trim it to measure 4" x 6" and finish the edges.
[caption id="attachment_7496" align="aligncenter" width="238"]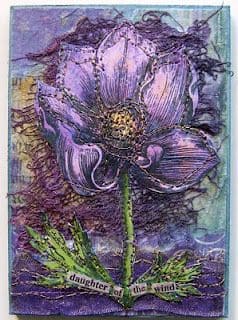 Fabric Postcard by Linda Vincent[/caption]
Tip from the Printing Experts:
To embellish your fabric postcard, there are tons of decorative elements to choose from. In addition to Angelina fibers, you can use lace, fussy cuts, ribbon, tulle and paper. You can rubber-stamp, paint, embroider or even add small beads – anything that will give your fabric postcard design an one-of-a-kind look.
Beautifully-Colored Postcard Tutorial
The color placement they used on this fabric postcard looks sublime - we love it! To create a design like this one, pick an off-white marbled fabric to be used as your background. Next, draw the individual feathers by using Sharpie markers on the paper side of fusible and press it to the fabric. Cut the feathers before placing them on the background. Draw little circles, stripes, flowers or other designs on the feathers using the same markers.
[caption id="attachment_7497" align="aligncenter" width="564"]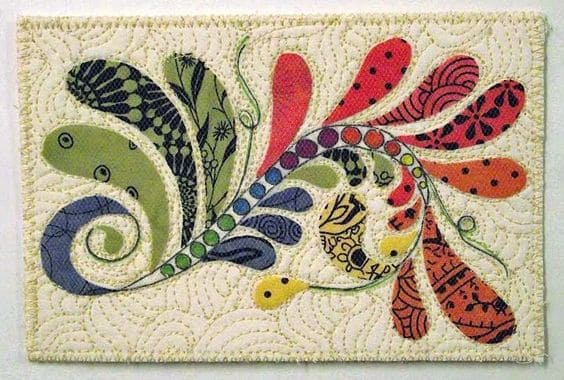 Fabric Postcard by The Quilt Rat[/caption]
Tip from the Printing Experts:
If you use a plain back, it is much easier to trim the fabric postcard as there is no need to worry about lopping off pre-printed lettering. There are plenty of fabric options for the back. As mentioned earlier, print the recipient's name and address and the return address on a light colored fabric.
Which tutorial did you like best as a professional graphic designer? Are you ready to try it? What are you waiting for? Please feel free to leave a comment with your insights and thoughts. Don't forget to stop by 4OVER4.COM and check our product catalog for new printing ideas.
We're offering users who create an account with 4OVER4.COM an extraordinary 30% off their first order on any print product! Sign up now!