Aug 4, 2023 Clap 344 ViewCopy Link
Clear business cards are a sleek and modern alternative to traditional cardstock. They make a bold statement and leave a lasting impression on recipients. This article will explore how to make clear business cards that stand out and elevate your professional image.
Introduction to Clear Business Cards
Professionals looking for a contemporary and chic approach to display their brand are increasingly choosing clear business cards produced from 30mil Clear Plastic (credit card thickness) or 20 Point Clear Plastic. These transparent cards provide a special and sophisticated replacement for conventional paper cards.
They have exactly the same thickness as a credit card and radiate richness and toughness. Because they are made of sturdy, high-quality plastic, they are more resilient than their paper counterparts.
Clear plastic cards can also be used to create Gift Cards, Discount Cards, Fundraising Cards, Hotel Key Cards, ID Cards, Loyalty Cards, Membership Cards, VIP Cards, and more.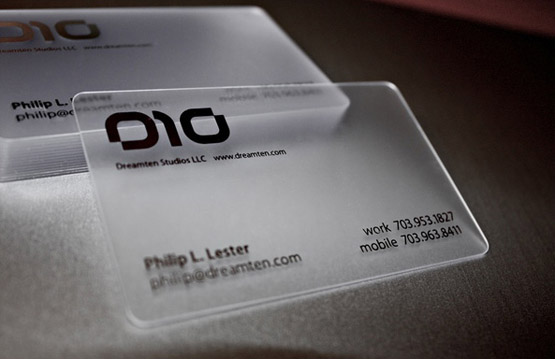 How To Make Clear Business Cards
If you are wondering how to make clear business cards, you are in the right place. Follow these crucial steps to generate eye-catching clear cards:
Design Your clear business cards: Use specialized design tools to create a visually appealing card. Letting ample space between items will allow the translucent material to stand out. To create a design that is distinctive and attention-grabbing, experiment with high-contrast elements.
Choose High-Quality Plastic: For your transparent business cards, pick the 30mil clear plastic or the 20-point clear plastic. The 30 mil credit card thickness guarantees durability and sturdiness, although this alternative takes longer to produce. These plastic cards are better for long-term use because they resist wear and tear compared to conventional paper cards.
Leverage specialized printing methods: Equipment specific to printing transparent cards is needed. So choose online printers that can handle the special characteristics of clear business cards. This guarantees the best print quality and durability.
Printing Options
With our advanced printing technique, you have the freedom to customize your cards with a variety of finishes, including:
UV Gloss or Matte Silk Laminated Finish

Foil Stamping & Spot UV Coating

Magnetic Stripe & Encoding

Barcoding with Numbering

Sequential Numbering or Other Variable Data

Embossed Numbering with Optional Gold or Silver Tipping

Scratch Off with Pin

Lanyard Slot
These printing choices give your design more depth and sophistication, enabling you to produce aesthetically attractive and powerful clear business cards that amply convey your brand identity. Your product will be ready in 15 days because of all these customizations. Check our 20-point plastic card, which is ready in 4 days. Fewer customizations are available for the 20 pt plastic option, which is available in White, Frosted, and Clear varieties.
Note that plastic cards come in White and Frosted for the 30mil and 20-point thickness.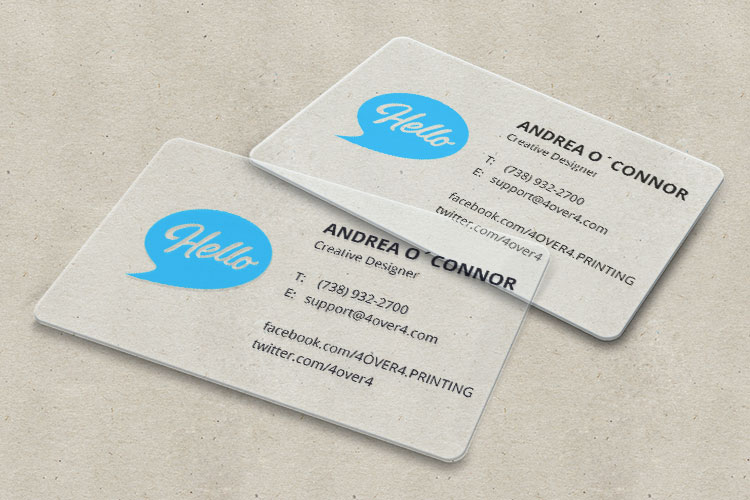 Tips for Creating Stunning Clear Business Cards
Embrace simplicity: When the design is clear and straightforward, clear business cards shine. Make great use of white space to make the translucent material the center of attention. Consider using a basic design that emphasizes the most important information rather than overstuffing the card with text or graphics.
Pick elements with a lot of contrast: Clear business cards give you a special chance to experiment with contrast. Choose dark-colored fonts and bold visuals against a light backdrop or the opposite to ensure readability and produce a visually arresting impression.
Utilise unique Finishes: Using unique finishing is how to make clear business cards that stand out. To give your design more texture and depth, take into account possibilities like foil stamping, spot UV coating, or embossing. These finishes not only improve the appearance overall but also leave a lasting impression.
Conclusions
How To Make Clear Business Cards? Clear business cards require careful design, material selection, and cutting-edge printing methods. By going for simplicity, deciding on high-quality plastic, utilizing modern printing, and making your cards unique, you will design attractive and powerful clear business cards that are memorable for your brand.