To Do List:
Leave a Print on the World and Make it a Big One.
Try different green initiatives.
Tell 4over4.com about it (4over4.com loves green printing).
Win the Facebook Contest: Leave Your Print on the World. Make it a Big One.
4over4.com held a contest for its community, asking them to share with them through a poster design how they "Leave a Print on the World". Surprised by the wonderful entries and amazing work the contestants were already doing to make a difference in their own communities 4over4.com was faced with a huge challenge:  who to pick as the winner?
In our hearts and minds, they were all winners; they have all left a lasting print on our worlds! They had made beautiful posters, were making strong points and even taking important steps to make this blue marble in space that we like to call home, a better place… So who to pick?
We chose Jose Alvarado Chlebowski because of the bold ambitions and significant symbolism in his adorable poster: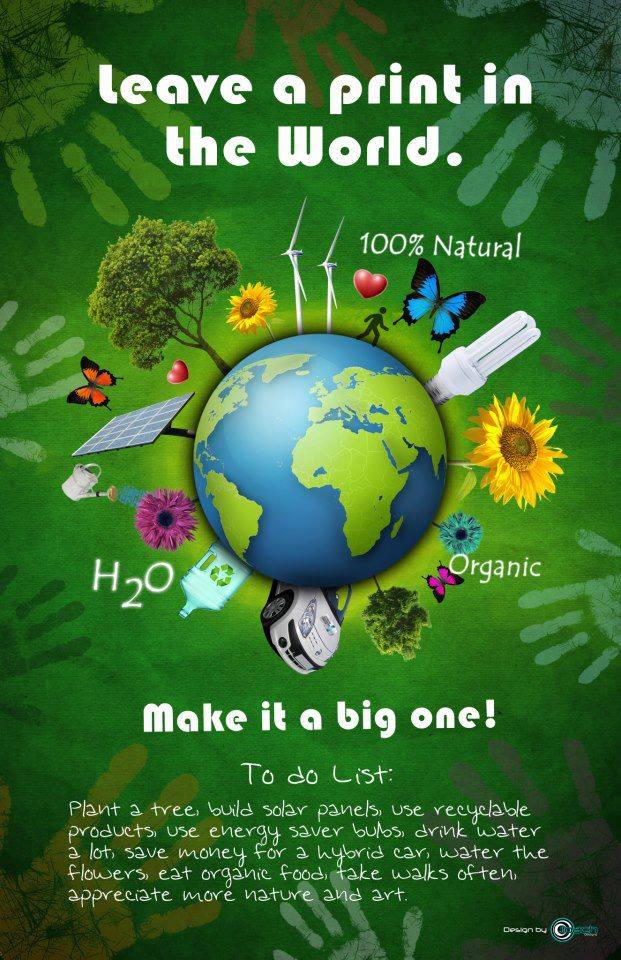 In his poster, Jose lays down all the little things that we can do right now to make a difference: all the hands joined together to help, leaving a print behind for others to follow, the world connected through our actions and most importantly… A "to do list" for all:
→   Plant a tree.
→   Build Solar Panels. (This is actually possible)
→   Use Recyclable products.
→   Use energy saving blurbs.
→   Drink water, a lot. (More water consumption = more health + more natural resource appreciation)
→   Save money for a hybrid car. (Why not?)
→   Eat organic food. (Help local farmers!)
→   Take walks often. (Or ride bikes! Either way, more healthy walkers, less CO2)
→   Appreciate more nature and art.
In addition to this –it's so child-friendly! We can see this poster hanging in classrooms as a constant reminder that change is possible and that it starts with us!
When Jose Alvarado Chlebowski is not busy designing posters to save the world, he works on his design boutique Jloach Designs where he works in everything design, from Website design to logos, Business Cards, Stationery designs, flyers, Magazine layouts and more! There's a dose of unique humor and pitch-perfect functionality in everything Jloach Designs. So you should go check them out, give them a like and tell them how you liked that poster!
Congratulations Jose! And Thank You for participating!
If you want to learn more about our contest, the winners and the awesome posters brought to us by the amazing 4over4.com community, stay tuned for more updates on the winners and entries right here or visit the 4over4.com Facebook Fan Page –Like it and Join!