Valentine's Day is just around the corner, and already love is in the air! As it's one of the most celebrated holidays around the globe, it's mandatory that businesses of all kinds get their Valentine's Day marketing strategies underway. From postcards, flyers, stickers, posters to floor graphics, businesses need to develop an advertising campaign that increases brand awareness, and makes real-world connections by implementing innovative visual or personalized content that tells a story. We scoured the Web and came up with ten examples of outstanding and original Valentine's Day promos and Valentine's Day cards that inspire creativity and love and cash registers ringing. Hopefully some of these will inspire you to get in on some Valentine's Day action. Here's a look:
How Sweet it is Promo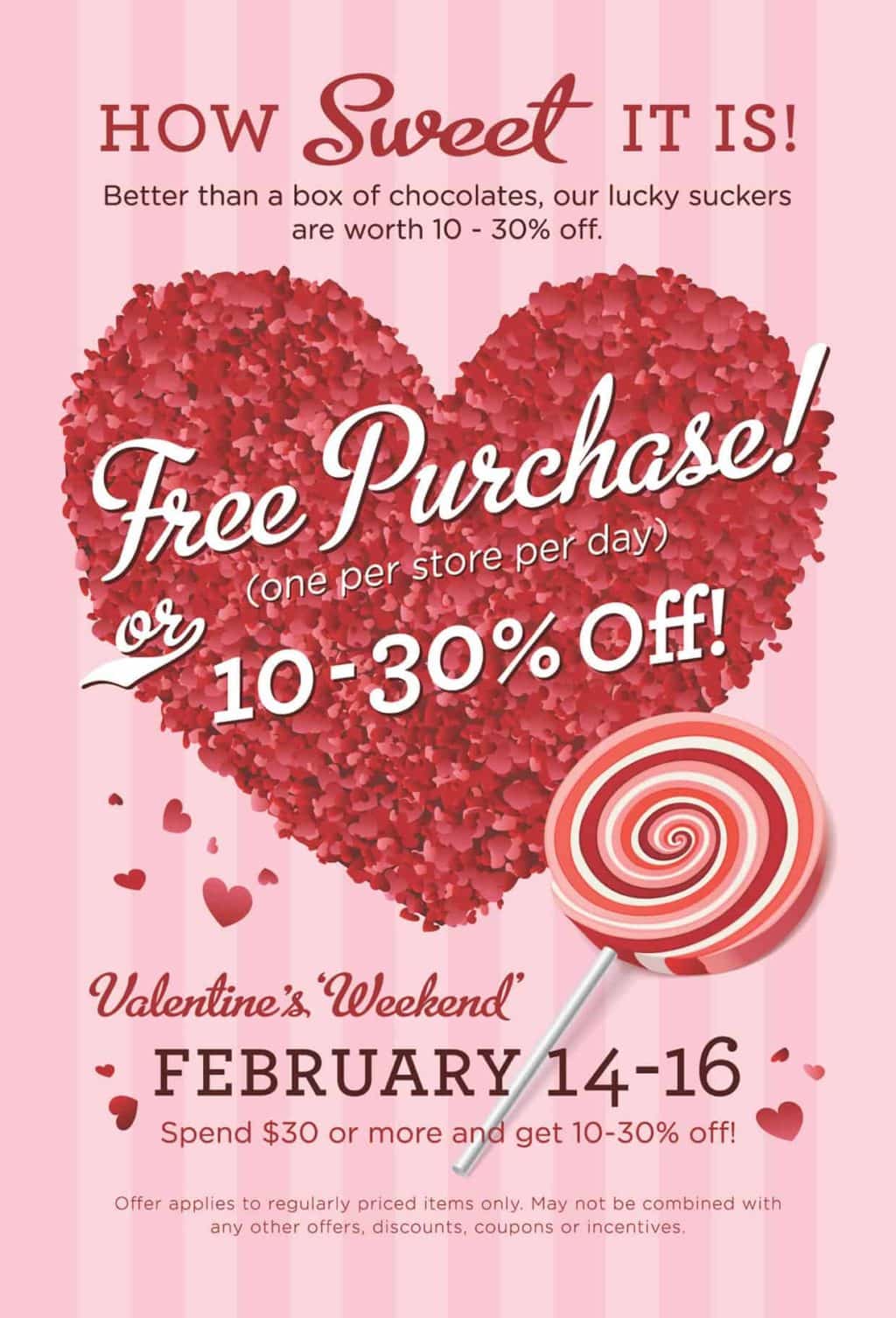 This sweet graphic was designed for a 2014 Valentine's Day promo. Isn't the way the promotion uses petals in hues of red to form a heart adorable. It makes you want to rush to the store to purchase chocolates or a heart shaped lollipop for that special someone in your life. Valentine's Day Card: Company Self Promotion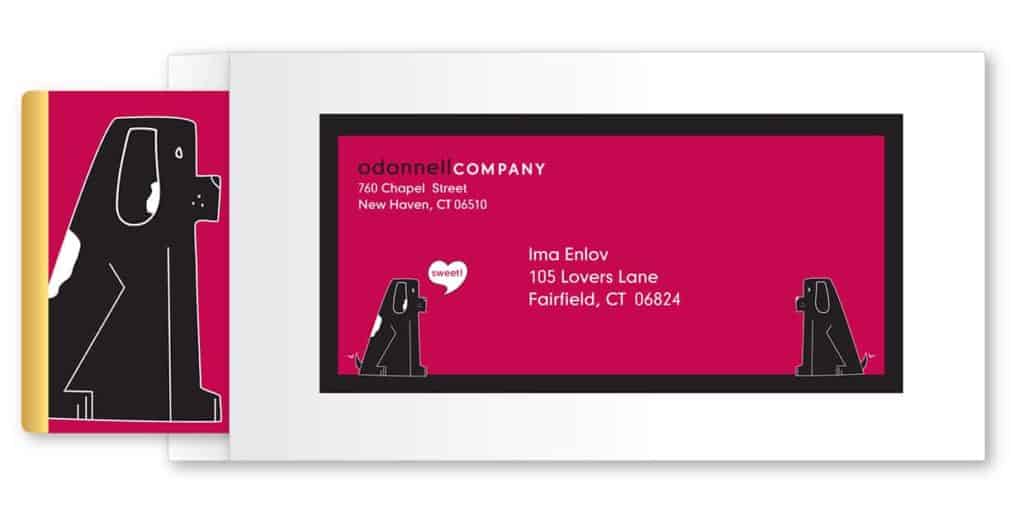 This is a self-promo Valentine's Day card that was sent to current and past clients. The company wanted to do something sweet on this very special day. The card was sent with a url directing clients to a website where they could customize a candy bar. The bar was then wrapped and placed in a mailer before being delivered to the client. Isn't that lovely? Show your customers how much you appreciate them with our custom greeting cards. Just infuse your business' personality into your Valentine's card to get your message out there. If you want to take it to the next level, add a coupon as a gift to show your appreciation. Order greeting cards HERE.
What's Love Got to Do With it Flyer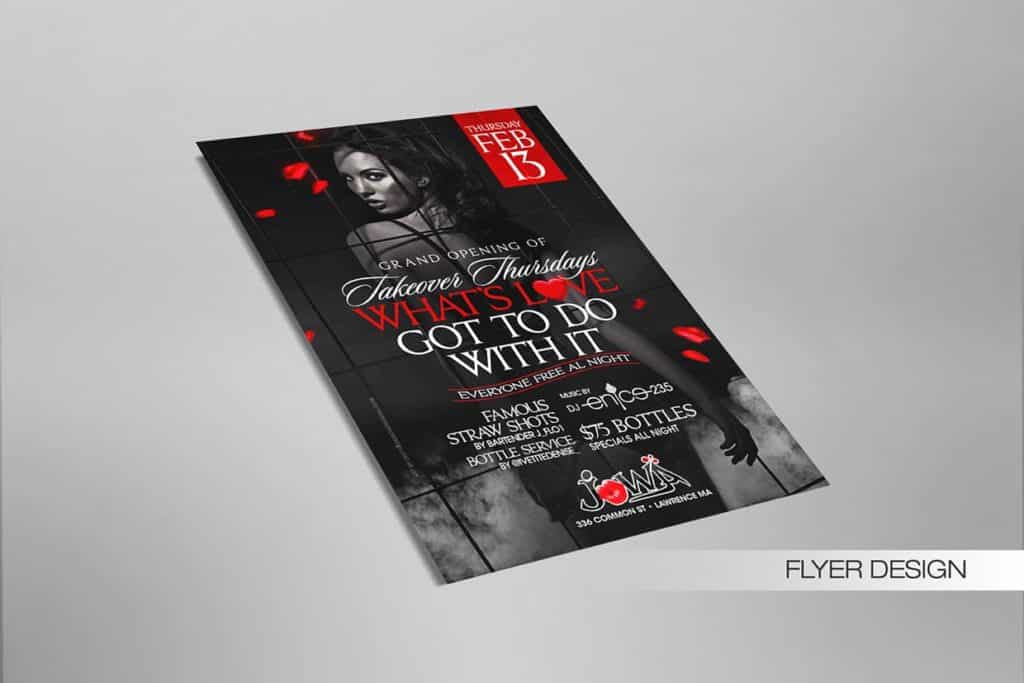 This clever flyer designed for a Valentine's Day grand opening night features a play on words using Tina Turner's popular song "What's Love Got to Do With it." We love the way the vivid red pops up from the grayish black background. Don't you? If you want to reach out to your customers, we can print flyers as awesome as this one. Order HERE.
Follow Your Heart Floor Graphic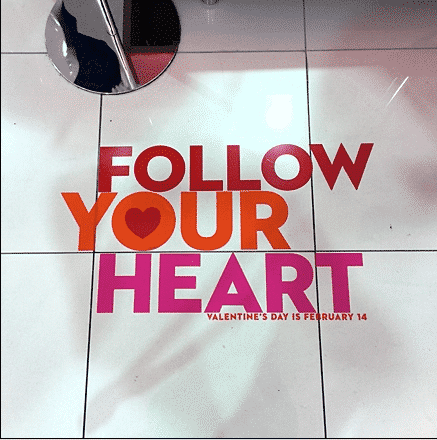 Since following your heart is always good advice, this floor graphic is perfect for any company's Valentine's Day in-store marketing arsenal. Floor graphics as eye-catching and meaningful as this one can persuade customers to walk right in and purchase their Valentine's Day gifts. Once in your store, they will be thrilled that they looked down and stepped right in! If you want to order floor graphics to decorate your store and put your customers in the Valentine's Day spirit, we carry removable floor graphics in custom or standard shapes. Get them HERE.
Lane Bryant Spring - Graphic Rose Windows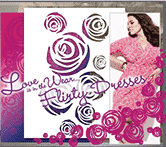 On this impressive window display, the designer came up with artwork that features fuchsia and purple roses, one of the brand's seasonal signature prints. As you can see, this attractive setup conveys the message effectively, increasing store walk-ins exponentially. If you want an attention-grabbing window display to boost sales on Valentine's Day, we carry perforated window clings and clear window clings to meet every business' need and budget. Order HERE.
GIVEAWAY Valentine Day Sale Flyer
This eye-catching Valentine's Day Product Flyer Ad is the perfect match for any promotion related to the product business industry. It can easily be a flyer, online promotional campaign, press ad or magazine ad. Its romantic concept suits Valentine's Day perfectly. The vibrant fuchsia makes this campaign more professional and striking. This totally free Valentine's Day Product Flyer can be used for any promotional material.
Gift Card for Valentine's Day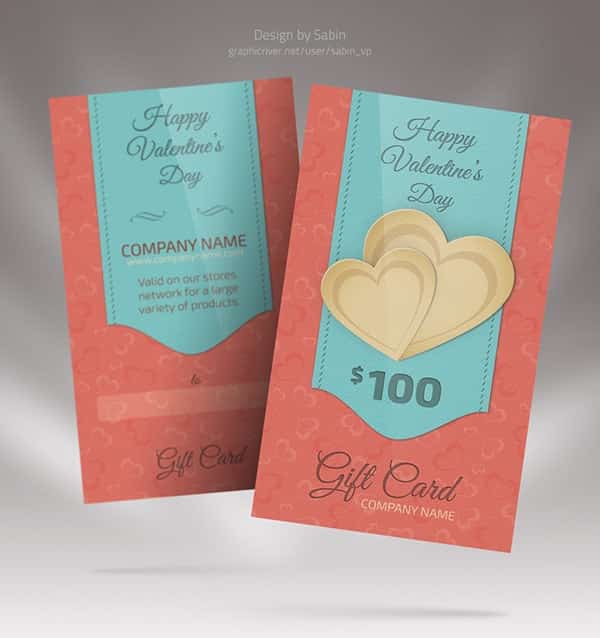 Isn't this Gift Card perfect for the most passionate day of the year? This Valentine's Day Gift Card is suitable for a myriad of services and products. There are three color options available (for both the front as well as the back side). Personally, even if it's unusual for Valentine's Day, we love this color combination of pink and aqua. How about you? GIft Cards are essential for every company. If you want to order your own, our custom printed gift certificates can be ordered in small groups of 50. Order HERE.
Valentines Card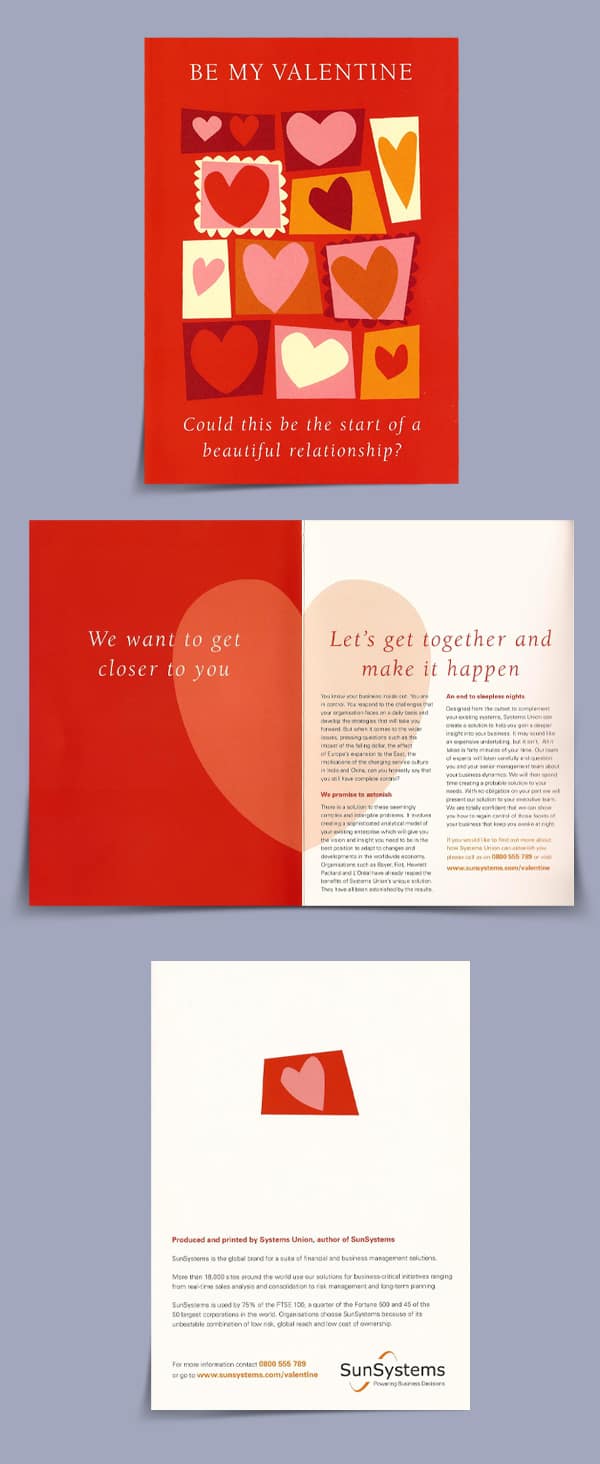 Looking for an innovative way to get CEOs and CFOs to take a look at your goods and services? Think outside the box and use humor to get your information passed on from the personal assistant's desk and into the hands of decision makers. This fun, light hearted Valentine's Day card is sure to put a smile on someone's face and get them intrigued to learn more about your company.
Valentine's Day Marketing Card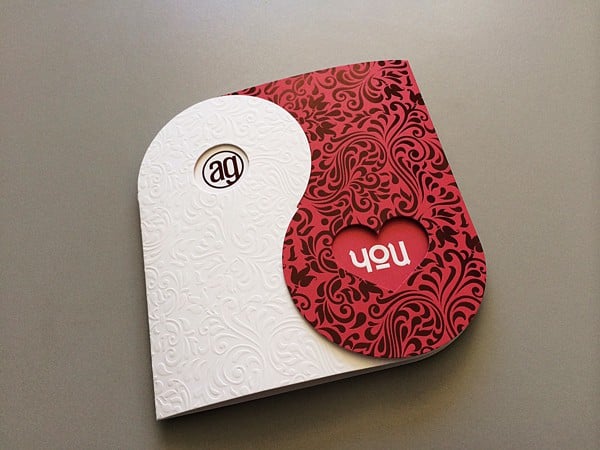 This elegant Valentine's Day Marketing Card for AlphaGraphics CPS was beautifully designed using state-of-the-art techniques such as foil, embossing, die-cutting and metallic ink. We fell in love with the sophisticated, yet subtle accents created with specialty finishes and cardstock.
Mike & Ike Direct Mail Promotion for Valentine's Day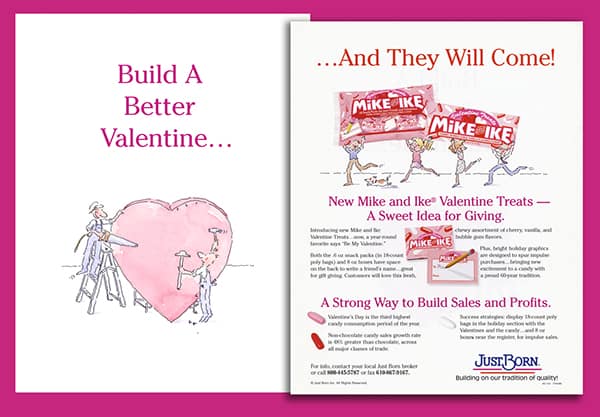 This brilliant direct mail postcard for Mike & Ike was designed and sent by mail along with the company's Valentine's Day seasonal promotion. Isn't the play on words of "building a better valentine" combined with the image absolutely clever? If you're not feeling the fuchsia and the white, you can order yours right HERE. Just personalize the images and choose from our versatile shapes and sizes. (25% Off, just saying) As you can see, all you need is time and creativity to enhance your corporate identity, while making others feel appreciated on Valentine's Day. Which of these items did you find the most inspirational? Why is that so? We would like to hear your thoughts. As always, feel free to spread the love!