Are you looking forward to drawing some serious attention to your events, sales, fundraisers, and more? Poster printing is brilliant for several reasons. They are cost-effective, versatile, work both indoors and outdoors, offer a lot of space, and most importantly, are an excellent advertising tool. Posters are an under-utilized marketing tool despite their popularity and great marketing results to companies of all sizes.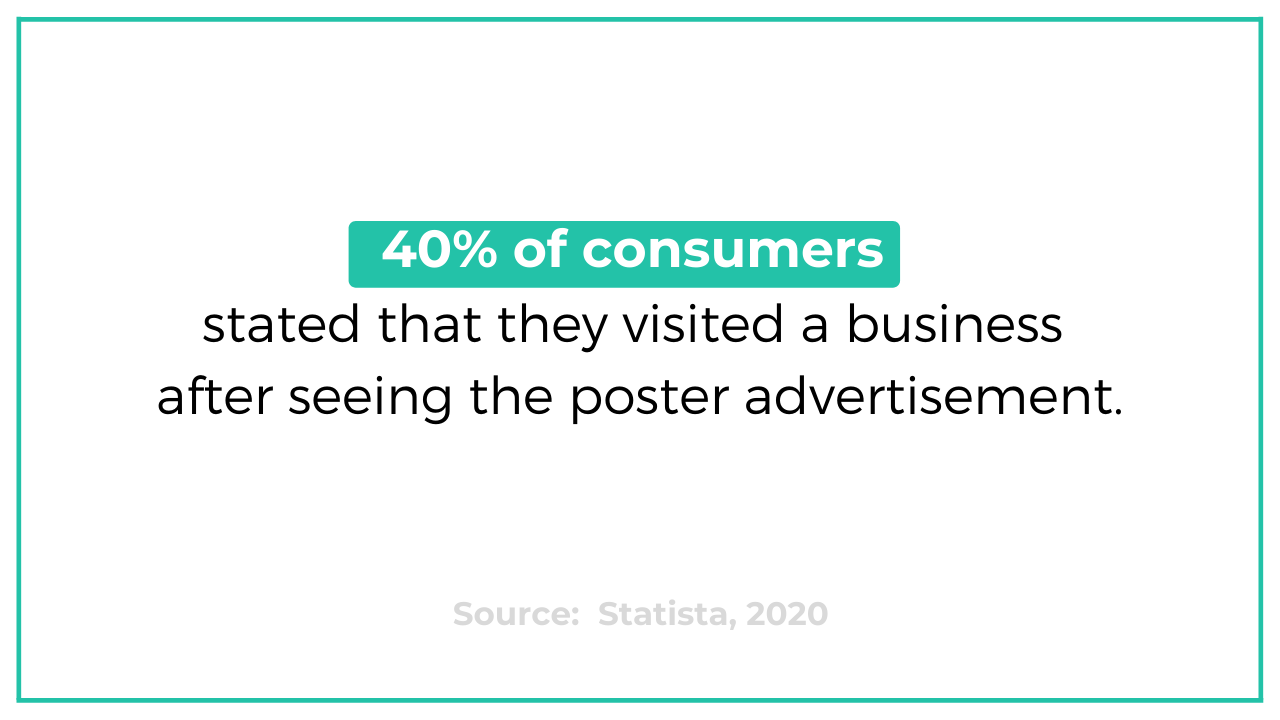 According to a report shared in
Statista 2020
, "40% of consumers stated that they visited a business after seeing the poster advertisement." What do you understand from this statistic? To me, poster prints and visual artworks are not just for bands and movies. A well-made custom poster has the power to reinforce your brand message and vividly enhance the impact of your strategies in marketing.
Evolution of Poster Printing
Posters were revolutionized around late 1800 by the Lithography printing technique. It is one of the earliest forms of promotion and visual communication. The original name of the modern poster was "Plakatstil." Munich artist Ludwig Hohlwein and Berlin artist Lucien Bernhard gave birth to the original modern posters in 1905. Posters have come a long way since then and today, businesses are getting the benefits of using them to advertise.
Why Businesses Should Consider Poster Printing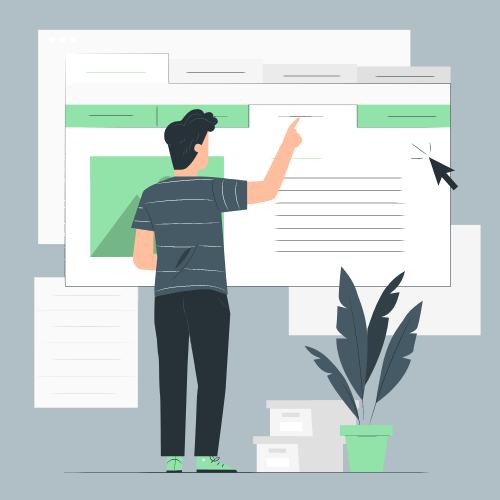 Illustration
Poster installation in public places is accessible for all. They have a rich visual history. Do you remember the "Keep Calm" poster? It is one poster that is still used and sets the trend. Poster printing is a distinct tradition and has the credibility to make a difference by winning the people's trust.
Apart from tradition and history, poster advertising highlights the enticing future people have in front of them. Posters create a direct call to action for your customers and tell them what you want them to do. Grab a discount, tweet a message, visit a shop, or call a number; whatever it may be, poster campaigns create effective direct responses.
The high prominence of poster advertisements makes them a unique choice. Poster printing is an accessible graphical mode to display a message. The poster visual has a compelling and striking ability to enhance the company's visibility. You can always consider posters to make your business shine.
The versatility of posters is reflected through great fonts, stunning graphics, joyful texts, and endless design possibilities. They have the power to create a massive scope for advertising.
Poster are like pins stuck to a notice board. They act as a pin in the memories of your customers and stick in their minds for a long time. They are memorable, concise, creative, and vibrant.
Whether motivational posters in the office or advertisement posters in public places like shopping malls, escalators, lifts, cafes, or washrooms, posters can captivate the audience and impact these heavy footfall areas.
Businesses always benefit from traffic jams, so all rush-hour traffic is not bad. Recently, I got stuck in heavy road traffic near a shopping center. To my surprise, the vast poster advertisements kept me entertained and informed for the entire one-and-a-half-hours. Several people stuck in a traffic jam, and everyone had their eyes glued to the eye-catching, colorful yet balanced poster designs. Taking advantage of high-traffic areas to reach a maximum audience is possible with poster printing.
Best Practices to Follow Before Poster Printing
Now that you know how effective
custom poster printing
can be, let us learn how to create one. There is no one way to craft a poster. Focus on some of the best practices to create a great custom poster that people will admire and get attracted to.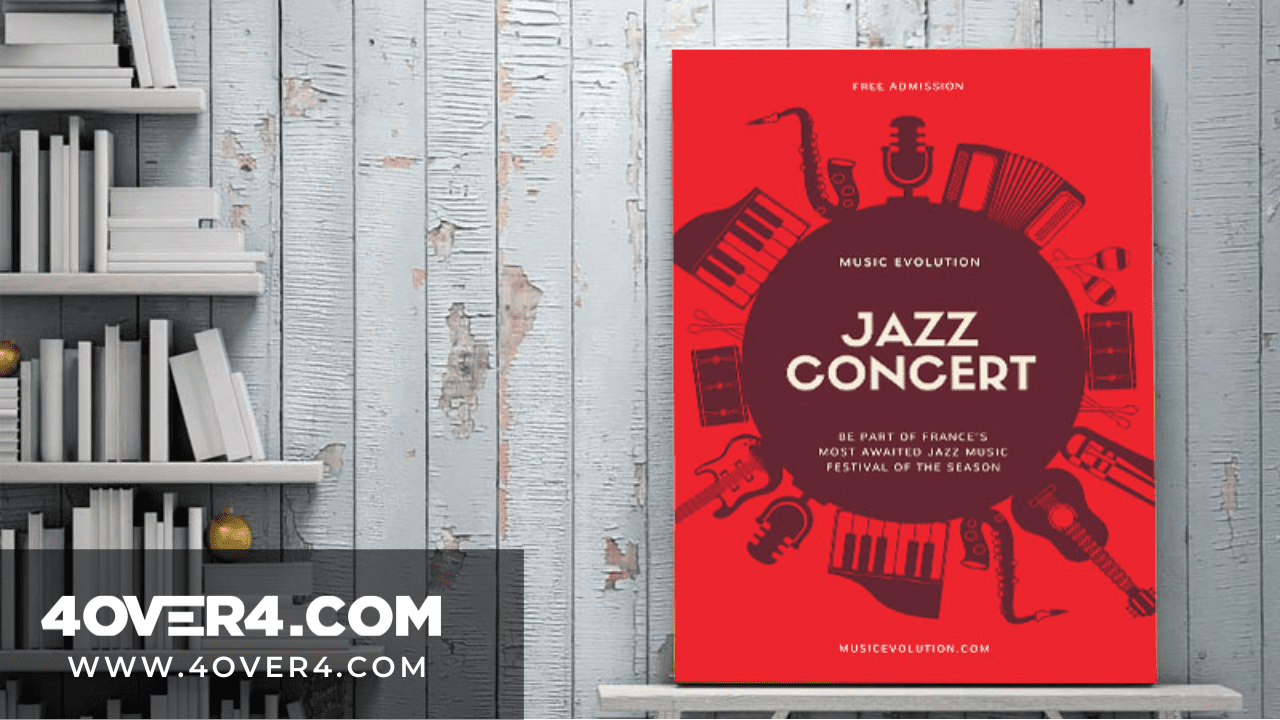 Printed Posters
What is your goal for poster printing?
It is important to know why you wish to print a poster. Are you creating one to inform people about a concert, a new product, an upcoming sale, a new outlet opening, or some other reasons? Achieve answers for your goals. If you can limit your goal, your choices of design will automatically be specific and concise. For instance, a poster inviting people to attend a conference will focus on written communication. Text-filled posters cannot be attractive, so you need to keep them simple and leave white space to stand out. Big fonts for the conference's name with the proper color contrast and emphasis on time, place, and speakers of the event can make a conference poster stand out.
Who is your target audience?
Who are your customers? Whom are you trying to reach with your product? Answering such questions will perhaps further categorize and inform you about a lot of your design choices. For example, if you are hosting a fundraising event, the layout, colors, and designs should be very professional. Such design choices make it clear that you are targeting a professional and older audience who have money for charity and donation. On the other hand, if you wish to target a younger audience, use bright and vibrant shades and bolder fonts for your poster.
Where do you wish to share your poster?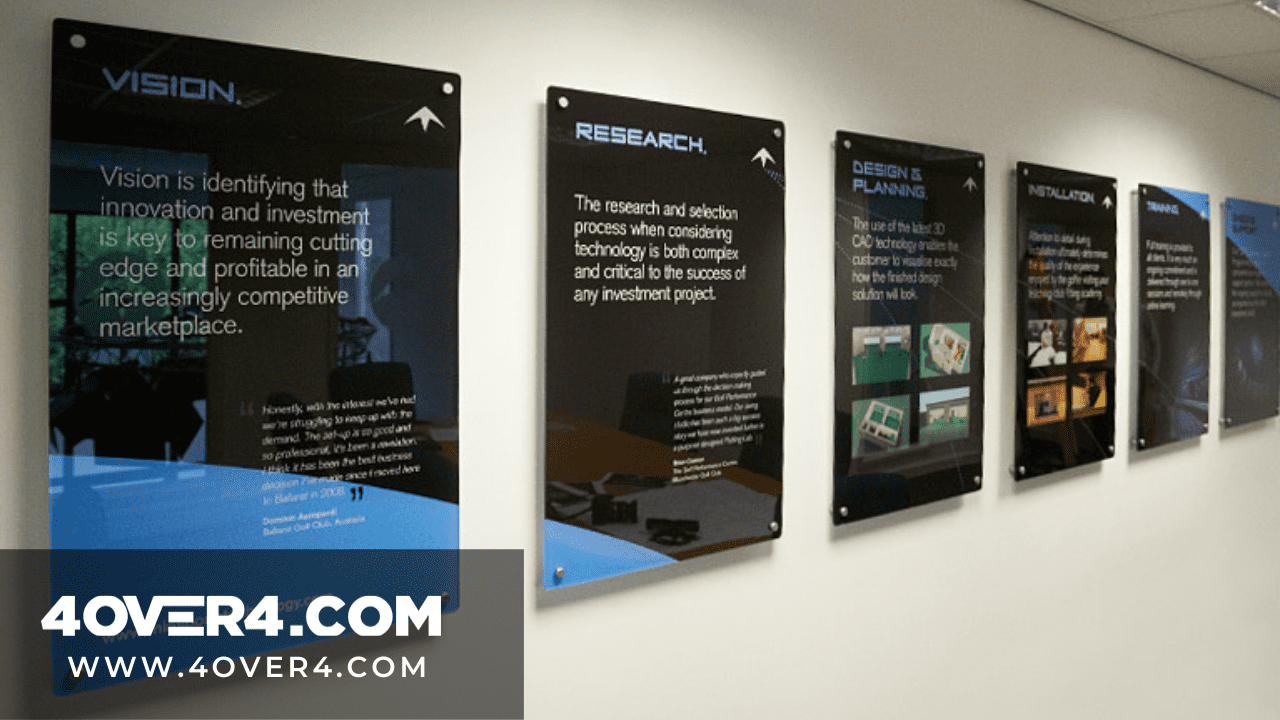 Wall posters
It is essential to know where you want to display your custom poster before designing it. Do you know why? Because the font and colors play a significant role in attracting customers. If your font is too small, it will not be visible from far. On the contrary, if it is too big, the poster design won't be balanced and will look cluttered. You must decide if you will put it up on a wall, stick it by an entrance door, or fix it somewhere next to a busy street. Keep in mind though, if your poster is in the midst of other posters, you should print it in a large size.
How to create posters?
Are you wondering about where to buy posters or whether you can save money by designing them yourself? It is effortless. Just get in touch with one of the best online printing services like 4OVER4 and gain first-hand knowledge about poster printing. You may hire a graphic designer to make an illustration or choose a template to create your poster design all by yourself. Once the design is in place, specify if you are looking to print a
mounted poster
, hanging poster, a
3d poster
, or something else. Choose the print finishes and submit. Get your posters delivered in a minimal timeframe without hassle.
Conclusion
When you don't know the benefits of poster printing, you may not consider doing it. Now that you have reasons and techniques to create posters for your business, let your promotions be as grand as the
large format posters
. Whether you need a framed poster or a dry-erase poster, a printing company like 4OVER4 will deliver great quality and with the proper care. Posters in your marketing efforts can make a world of difference. Set your goal and choose poster printing designs that will drive your message home to potential customers.'