Commemorating the signing of the Declaration of Independence, the Fourth of July is a popular time to gather with family and friends, remembering the sacrifices of our forefathers. As a matter of fact, Americans spend hundreds of dollars over the July Fourth weekend, whether they are attending backyard barbecues, enjoying the fireworks displays, attending the hot dog eating contest in Coney Island, watching parades or hosting patriotic parties at home.
Do you want to plan a one-of-a-kind Independence Day celebration that gets people in the red, white and blue spirit without breaking the bank? We can help with our custom printing services! From custom printed water bottle labels to patriotic jigsaw puzzles, we scoured the web looking for creative things you can print to celebrate the 4th of July in style. 
[caption id="attachment_7371" align="aligncenter" width="940"]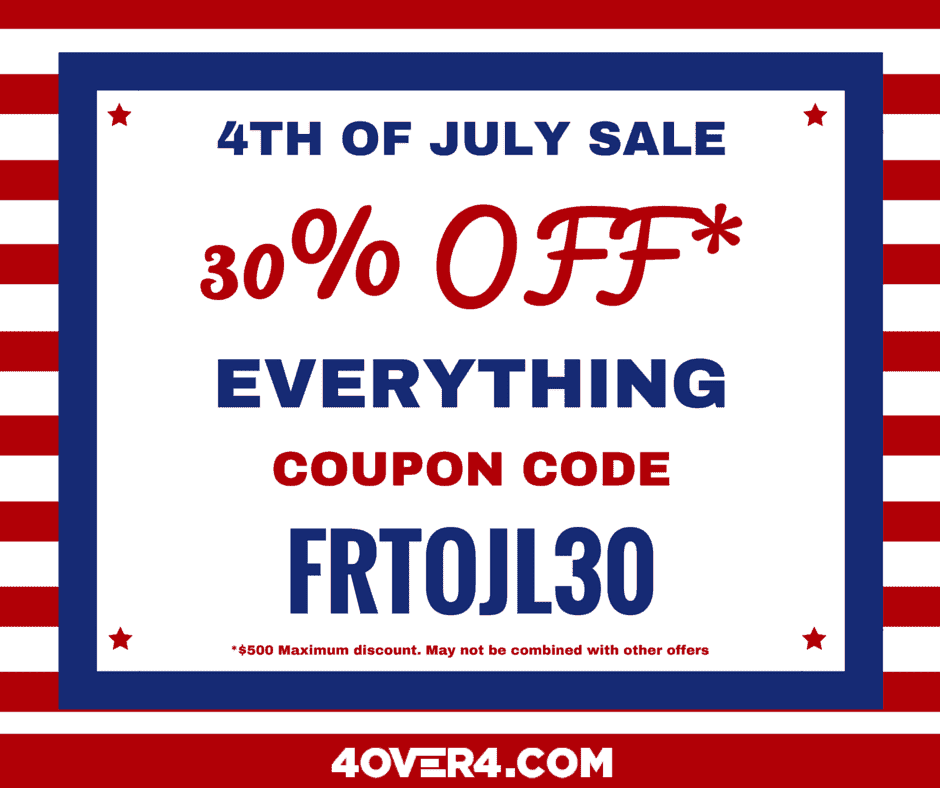 Valid from Thursday June 30th, 2016 to 11:59 PM EST Monday July 4th, 2016[/caption]
4th of July Invitations
Invitations can make or break an event. This year, showcase your patriotism and invite your guests with chic 4th of July invitations for your celebration. In addition to the party details, include your favorite quote to spark a patriotic feeling. Make sure to also include the location and the time of the event. We offer a range of invitation printing services with a same-day print turnaround! Order 30% OFF invitations. Use coupon code FRTOJL30 at checkout.
Tip: Include an RSVP to ease your party planning. Be sure you note if the party is a potluck or if you will be providing all the food and refreshments. Once people RSVP, you will know exactly how much food to prepare.
4th of July Flyers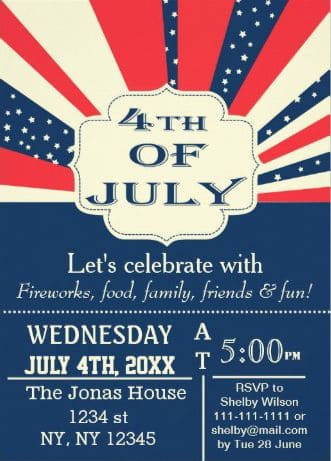 Do you want to celebrate 4th of July but are on a tight budget? You can also wow your guests with 4th of July flyers, regardless of how much you spend on them. An eye-catching flyer is perfect for any event or celebration that you are organizing for Independence Day. Just make sure to use patriotic colors, feature an American flag and include the event info. We offer standard flyers which are available in eight sizes or can be made custom sized to your own specifications. Order 30% OFF flyers. Use coupon code FRTOJL30 at checkout.
Tip: Aim to hand out the flyers at least three weeks prior to the festivities to allow your family and friends to make arrangements to be able to attend your party.
4th of July Indoor Banners
An oversized blue indoor banner is perfect for using it as a background to the red, white and blue color combination of the party table. It helps build the theme while beautifully contrasting white and blue. Your guests will be blown away when they see your table. We offer vinyl custom printed indoor banners that will attract immediate attention. Order 30% OFF indoor banners. Use coupon code FRTOJL30 at checkout.
Tip:  To further jazz up your party table, make sure to use 4th of July sayings, patriotic muffin toppers, festive cake decorations and chalkboard signs.
4th of July Outdoor Banners

You can incorporate lots of red, white, and blue décor whenever you are planning your party decorations. Embrace attention-grabbing outdoor banners with patriotic decorative elements such as bright stars and stripes. Perhaps you can also add decorative elements such as red, white and blue bandanas- your guests will be amazed! We offer outdoor banners printed on top quality vinyl with low minimums of only one item. Order 30% OFF outdoor banners. Use coupon code FRTOJL30 at checkout.
Tip: When holding an outdoor event such as an outdoor dinner party, make sure to combine your linens, pillows, glassware, dinnerware and decorative elements with your banner design
4th of July Menus
Although fireworks are usually the star of any show, you can add one-of-a-kind decorations and clever food set-ups to make your party stand out. What better way to do this than by placing 4th of July menus on the food stations? We offer patriotic custom printed menus that will immediately add a touch of pizzazz. Minimums begin as low as fifty. Order 30% OFF menus. Use coupon code FRTOJL30 at checkout.
Tip: To make the menus uniquely stylish, use red and white stripes as a border and blue letters. This border will automatically highlight the blue letters.
4th of July Puzzles
At your barbecue, pool party or cookout, pass the time in patriotic style with 4th of July puzzles. Print dozens of gorgeous puzzles for your celebration. Adults and kids are sure going to love playing with them. If you want to spruce up the festive spirit, you can offer special treats for the person who finishes the puzzle first.  We offer affordable puzzles printed on full color jigsaw stock. Order 30% OFF puzzles. Use coupon code FRTOJL30 at checkout.
Tip: Jigsaw puzzles are so versatile that they can also be used as party favors. Just come up with any patriotic design or a photo of Thomas Jefferson. The possibilities are endless.
4th of July Water Bottle Labels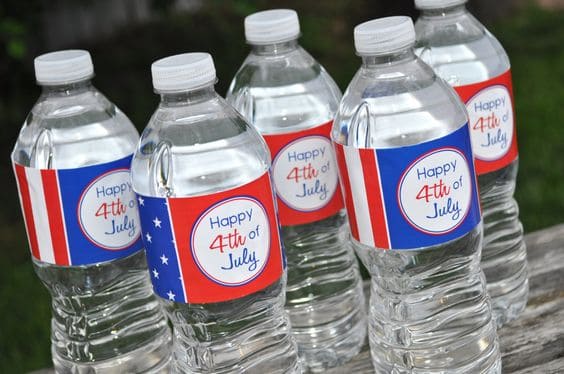 Whenever it comes to organizing your food areas, keep in mind that you should set up separate stations for meat, vegetarian options, sides, desserts and drinks. Offering a refreshing water bar with mint leaves, fruits and ice for the people who don't drink cocktails is a thoughtful gesture. Do you want to show guests that you went all the way and didn't miss any details? Purchase custom water bottle labels to be used at the water bar. Order 30% OFF water bottle labels. Use coupon code FRTOJL30 at checkout.
Tip: Make sure to incorporate the patriotic theme on the water bottle labels as well, pulling the theme all together.
We hope these creative ideas guarantee your 4th of July celebration is a blast. Which idea did you find the most inspirational? We would love to hear your thoughts. Feel free to leave a comment below. We are offering customers a site-wide 30% discount on any print product by using coupon code FRTOJL30 at checkout. Offer expires on July 4th at midnight. Happy Independence Day!