As a professional fitness trainer, not all business cards work for you. Your card should be a powerful-self promotion tool that represents your skills and expertise. It should include images that motivate and words that inspire. This article will shed more light on how to get the perfect business card ideas for personal trainers.
Fitness-Themed Business Card Designs
Your business card should not just be polished. It should also showcase your passion and love for fitness. But If you are in the process of printing, first look through examples of business cards for personal trainers. Or you could browse our exciting business card category.
The best designs need to incorporate visuals and text that communicate your passion for health and wellness. Ensure that your card has bold and eye-catching graphics. For example, images of an athlete in motion or motivational quotes can make a great and lasting impression.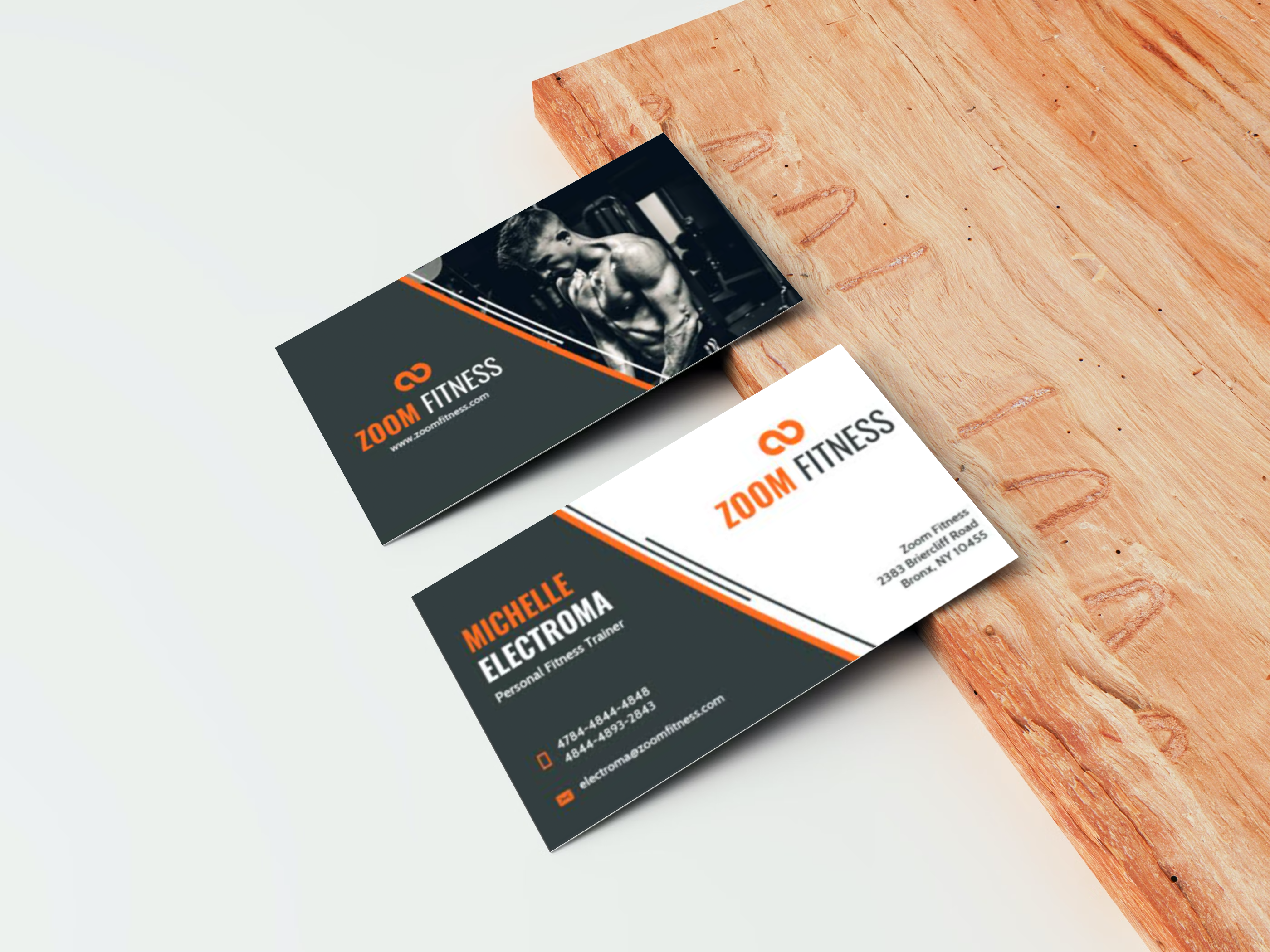 Creative Business Card Ideas for Personal Trainers
Here are some exciting business card ideas for personal trainers.
Wow your potential clients with a card that doubles as a mini-fitness tracker. You could also include a pedometer, heart rate monitor, or other tracking features to create a stunning card.

Create personalized cards by including your custom workout plan. This could be a quick and easy fitness routine for people to follow on busy days. And if you specialize in a particular type of training like yoga or boxing, your card can reflect that.

Also, you can use unique shapes and colors to represent your niche and make a strong visual impact. For example, our custom die-cut integrates your unique touch and feel into your prints. This enables you to print a card that looks like a mini-foam roller or exercise band.
This is an excellent way to advertise your expertise and remind people how much they need a personal trainer.
Examples of Business Cards for Personal Trainers
Examining the cards of other personal trainers helps you to know what worlds and what can be improved.
One trainer chose to incorporate motivational quotes on their cards. It featured a bold typography "Believe in yourself, and the rest will follow". This set the tone for the clients to book a session of training.
Another trainer designed a card that features a series of images depicting an individual's fitness progression, from being out of shape to reaching peak physical condition. This card visually demonstrates the trainer's ability to help clients achieve their fitness goals.
You can check out countless examples of business cards for trainers online. Or customize one of our ready-made templates to fit your style and brand. You may also get some inspiration from these templates.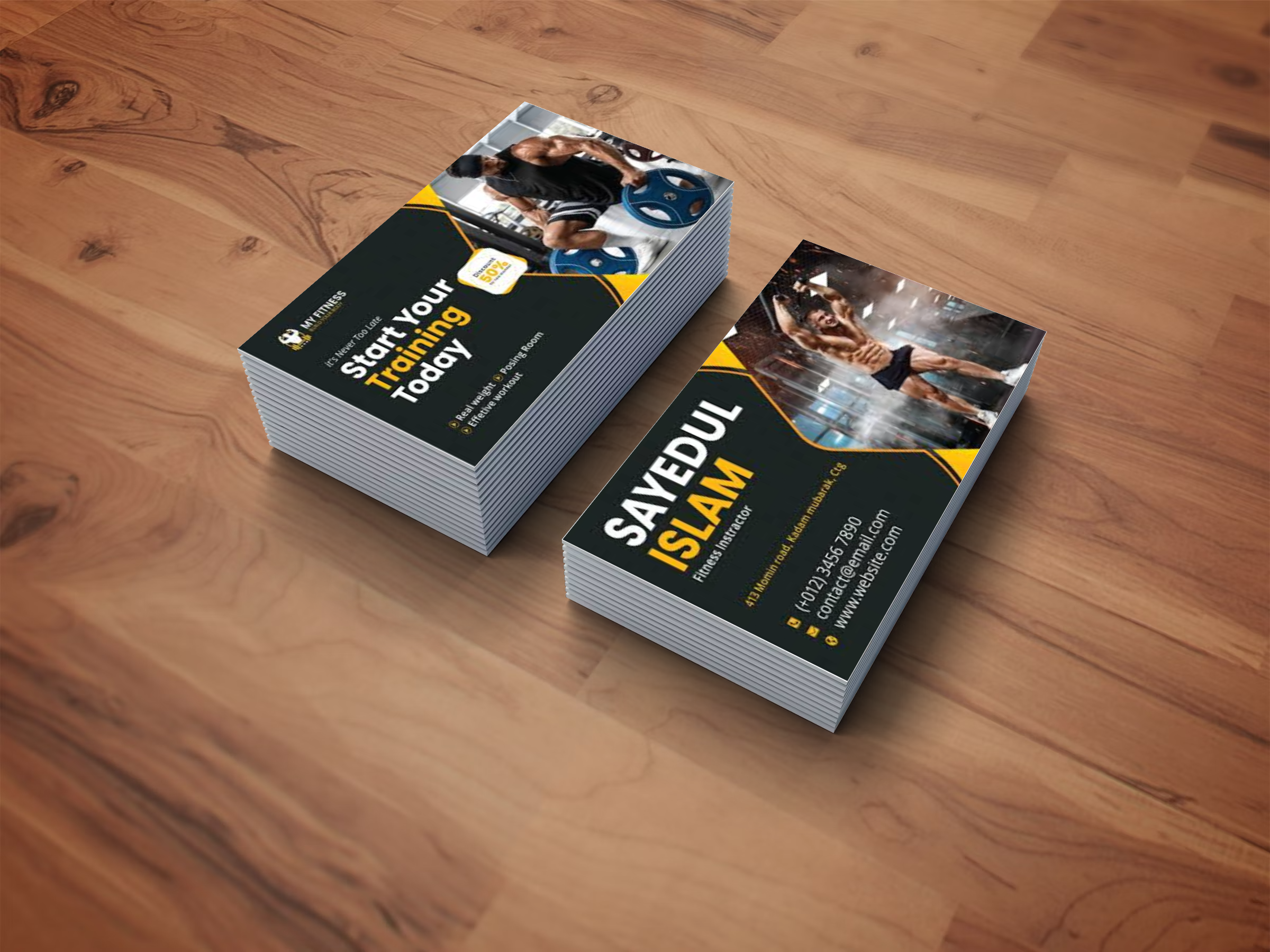 Printing Considerations
To make your card one of the outstanding examples of business cards for personal trainers, these considerations are crucial.
Choose the right cardstock. It's a no-brainer. High-quality cardstock will give you an edge at business meetings and networking events. Consider thick cardstock, such as 16 to 18 points.
If you want to make your cards stand out with special finishing like embossing, foil, die-cutting, or spot UV, you may need to consider more specialized printing techniques. You can check out our premium business cards. It is a perfect choice if your targets are high-end clients.
Conclusions
At 4over4.com, we make it super easy to create business card ideas for personal trainers. Explore our customizable templates to find what suits your needs and style or design from scratch. We are your one-stop shop for all things prints. Get the best price and quality all in one place. Start ordering now.