Business cards are powerful promotional tools. When building awareness for your business, there are a few better ways, if any, to get your name out there. However, for business cards to be effective, they must be designed well, printed on quality paper, and distributed strategically. It's important to start your promotional tactics with the design of your business card. Whether you're looking for eye-stopping plastic business cards or the classic standard business cards, you can design and print them at 4OVER4. Some things to think about when designing your cards are, does your business card have a clean design, simple business info, and persuasive details? Of course, you can let the design do the heavy lifting and include only the most important details. Just be sure the recipient walks away knowing who you are and what you do. To make sure your business will not be forgotten, ensure your cards are printed on quality material (our business card printing is second to none).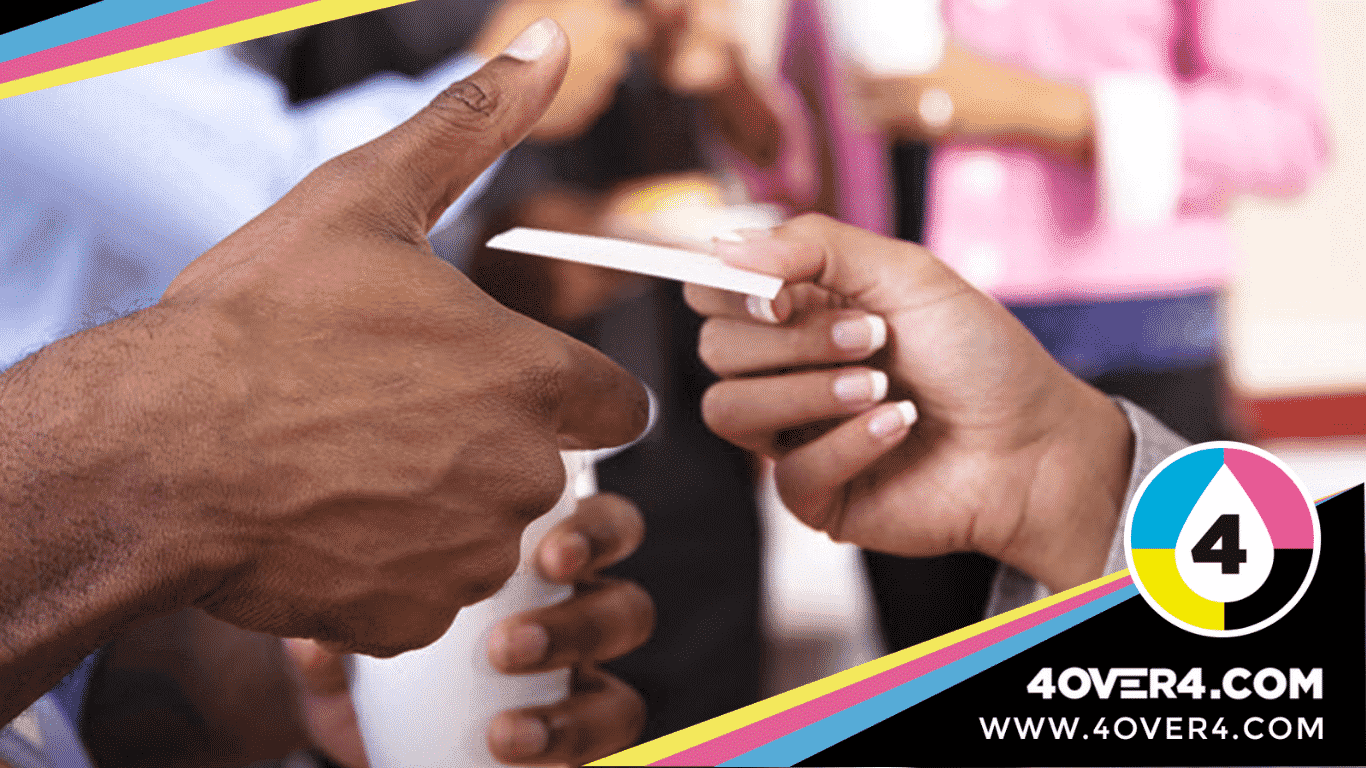 A lady sharing her business card Lastly, and perhaps most importantly, you must figure out the best places to leave business cards. Surely, you can pass out tons of business cards by hand, but by leaving your business cards in the right places, not only can you reach more people, but you will also increase your chances of reaching the right people. We have compiled a list of places to leave your business cards so you can make the biggest impact to potential customers.
Thing to Consider Before Distributing Your Business Cards
Before you start dropping your business cards on tables and pinning them on boards, you first need to consider where your potential clients, partners, employers, and employees are spending their time. If you own a yoga studio, you probably wouldn't drop 500 cards at a fast-food restaurant. You may, however, drop off a few. Leaving business cards at friends and family member's office may also be a good idea. Here are a few questions to ask before you ever pull cards from your business card stockpile. Is it illegal to put business cards on mailboxes? It is against federal law to open and put anything but official US mail in a mailbox. However, you can put things outside of the mailbox, by either taping or securing it under the flag. This isn't always a welcomed practice, and your cards could end up as litter. Consider how people are going to react. It can feel a bit invasive, so you're best off sticking to public places. Is it legal to leave business cards on cars? While it's not federally illegal, be sure to check your city or state laws. Again, consider how people are going to respond to finding paper lodged in their windshield or driver's window. It could prove to be more of an inconvenience than anything, especially if they don't notice the card until they get into their vehicle.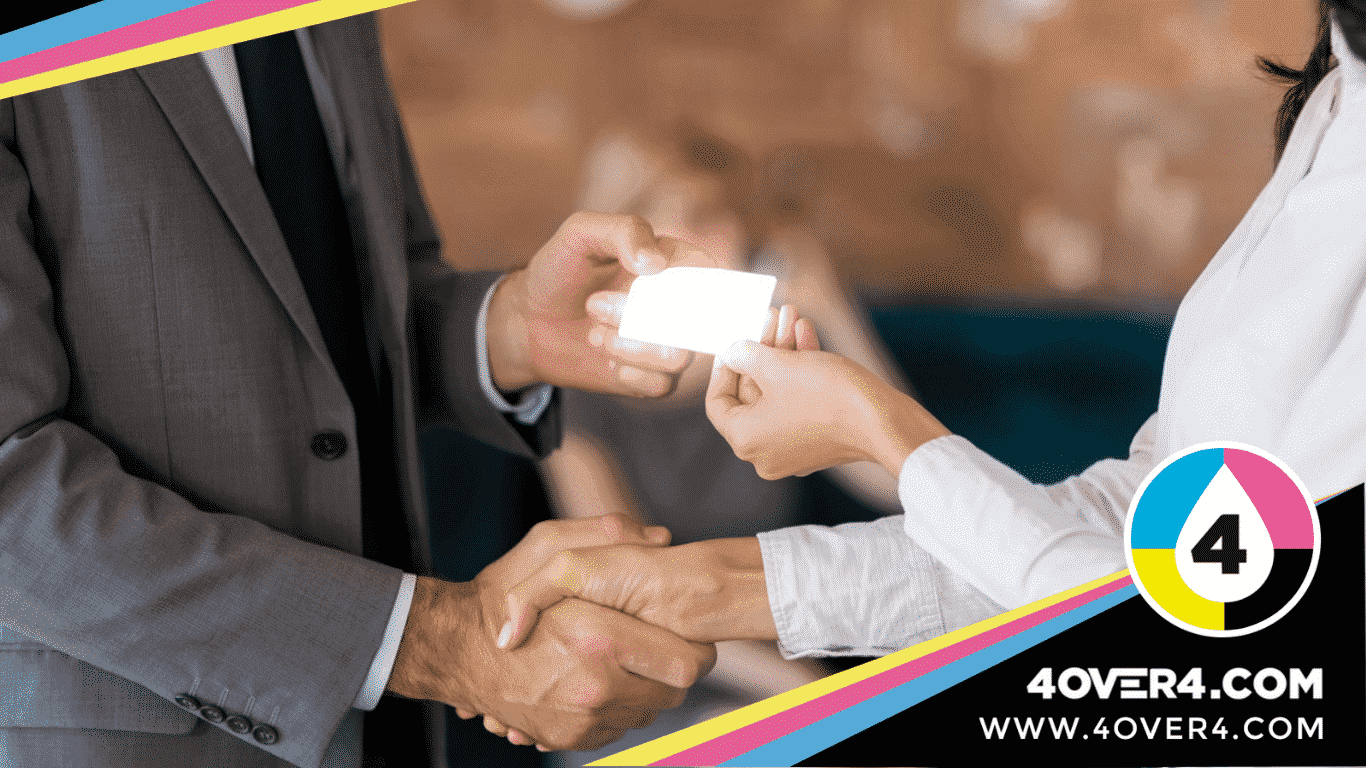 Shaking hands while exchanging business card Source How do you distribute business cards effectively? Business cards are generally affordable, especially when you order them online from a company like 4OVER4. But you want to conserve them, nevertheless. Try leaving behind 5 to 10 cards at each location to ensure that they don't collect dust. Return a few weeks later. If most or all of the cards are gone, leave a larger number. If no cards have been taken, consider putting the cards somewhere else. You'll also want to consider the locations where clients, employers, and other relevant individuals are spending a lot of time. Leave your cards in community centers, coffee shops, and other places that attract business owners and professionals. Should business cards have an address? Do you have a retail business? It might make sense to include an address on your business card. However, if you work from home or wish to keep the location of your business private, it might not be a good idea. You might end up with excess amounts of spam mail--or worse. If a street address helps you market your product, service, or personal brand, include it. If not, it may lead to violations of privacy. Typically, a website URL and/or email address will suffice.
Clever Places to Leave Your Business Cards
Sometimes you will leave a stack of cards somewhere, only to return months later to find the full stack, alive and well. Coffee shops are often the first places that come to mind, and for a good reason. However, there are countless other places to consider. Are your cards collecting more dust than eyes? Let's change that. Here are a few of the best places to leave business cards. The Library - This is a fairly obvious choice. But how many people do it? Libraries typically have a community bulletin boards or area where neighboring small businesses can announce events and promote products and/or services. Why is it impactful? It's a haven for educated, aspirational business owners and professionals seeking information and assistance. They just might stumble upon your card in passing--at just the right time. Community Centers – Consider leaving your cards where people meet up. Think about where members of your community gathering and spending their time. Community centers are great places to leave business cards. Salons - Salons attract busy professionals with disposable income. Moreover, they're typically in a good mood! Ask the receptionist or owner before dropping any business cards. You can always ask your stylist or barber to leave some out on your behalf. Gyms and Yoga Studios - Gyms, personal training centers, and yoga studios serve as great promotional destinations for business owners, job seekers, and employers. With so many people hanging out before and after their workout, you're bound to be found. Just be sure to ask the manager or owner before leaving your cards behind.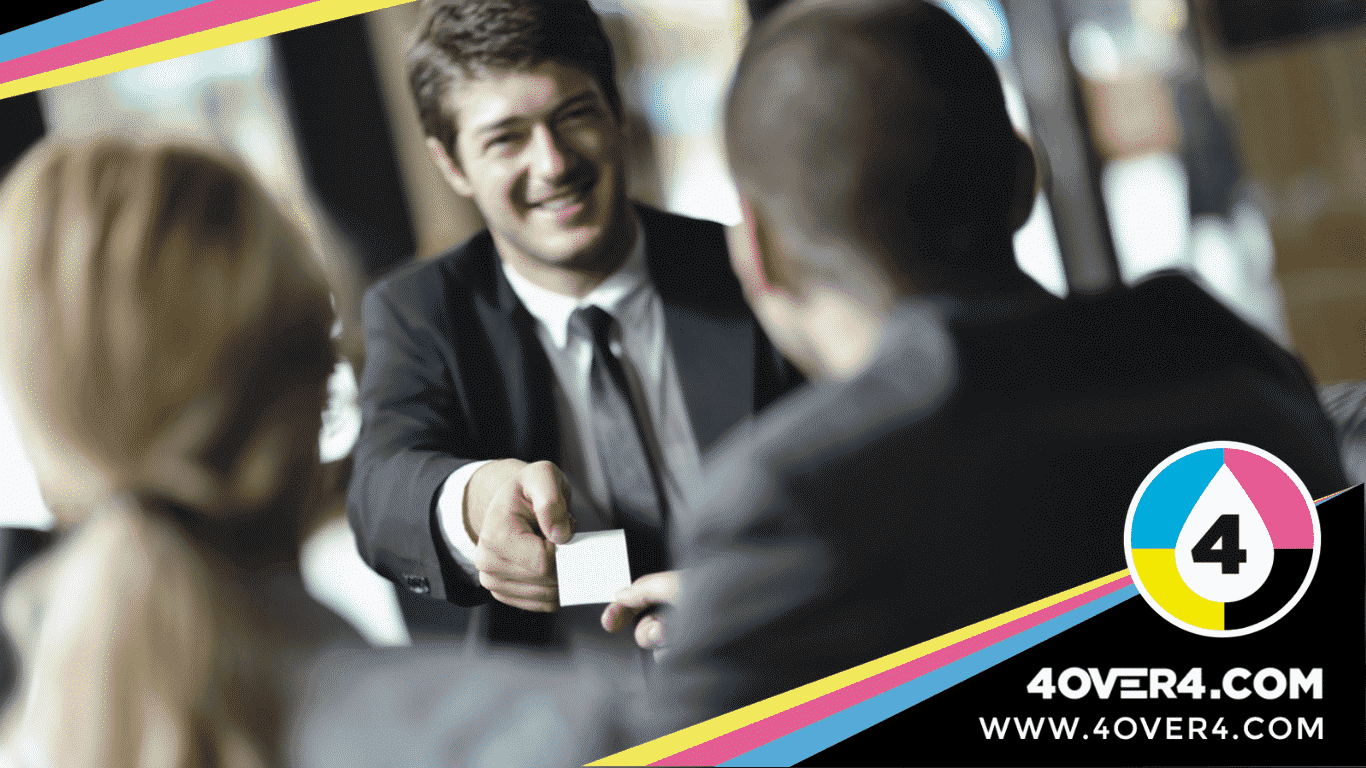 Sharing business card in an office environment Apartment Leasing Offices - Leasing offices and apartment complex mailrooms are great places to leave business cards. Look for community boards and counters (avoid putting anything in mailboxes). Make sure you speak to the front desk agent or property owner before leaving your cards. Hotels - Hotels are often open to helping out local business owners. Even if your cards get snatched up and discarded, it's worth taking the risk. If there's a big conference going on, leave a few cards near the bar or entrance. Some hotels and motels showcase activity brochures. This is a great place to leave business cards--just be courteous with your placement. Banks – Banks tend to attract people with money and well-to-do citizens. Leave your cards at your local bank to capture an audience that cares about responsibly managing their finances. Moreover, banks are typically open to helping out local businesses. If you have the perfect business card, you can practically leave it anywhere and draw some eyes. Just be strategic in how you go about it. This list is just the start. To find the best places to leave your business cards, it will require a little rinsing and repeating. To design and print the perfect business card and promote your business, visit 4OVER4.com and talk to a representative today!