Jan 6, 2023 Clap 2087 ViewCopy Link
Some people find the rectangular business card boring but are excited about unusual shapes and designs. Moreover, every service provider's target is to get potential clients' attention through their business cards. So square business cards are unique and sell the idea that the client will get something other than the usual or ordinary service delivery.
Before printing one, you may ask, "are square business cards a good idea?" The truth is, they can be a good idea depending on your personal preferences and business needs.
What Is The Size Of A Square Business Card?
The standard size for a square business card may vary, but a popular size is 2 inches by 2 inches. However, a typical rectangular card measures 3.5 by 2 inches. So a square card will have less space for some personal or company information, such as social media handles or your website's URL.
You should consider the size of your square card before you design one, as smaller business cards can only contain so much information without appearing cluttered or illegible. Also, a bigger square-shaped business card may be difficult to carry if it doesn't fit in a wallet.
Still, these cards will work for your business if the design is attractive and clutter-free.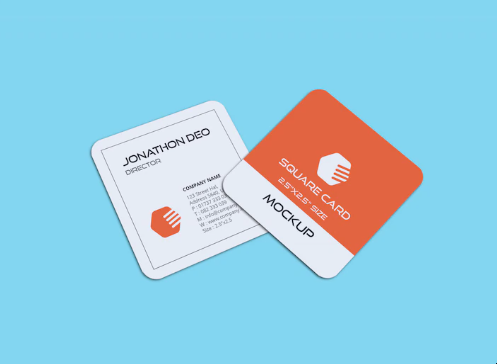 Are Square Business Cards Annoying?
Some people think square business cards are inconvenient or annoying, as they may not fit in a cardholder or blend with the other rectangular cards. Yet, many people see them as a refreshing change from the traditional rectangular shape. However, what's important is that these cards convey your business value, and prospects perceive this value.
Also, as we have pointed out earlier, you're more noticeable with an unconventional business card shape. Just ensure the information is clear and easy to read and the design is visually appealing. The shape of the card won't matter. Alternatively, consider printing both square and rectangular-shaped business cards, so you test what works for your business.
Conclusions: Are Square Business Cards A Good Idea?
Here are a few reasons why you should consider printing square business cards:
They are visually striking and unique, so they help you stand out from the competition due to their unusual shape. In addition, they can make your business cards more memorable, which is helpful in a crowded market.

They can be a good fit for particular industries or business types. For example, if you are a graphic designer, artist, or photographer. A square business card is a great way to showcase your work and creativity. Also, these business cards create a lasting impression on your audience.

You can print them a bit larger, offering you more space to include contact details, logos, and other information. This design will help emphasize your artwork and improve brand recognition.

They are personal. These cards are a great choice if you must reflect your unique style or brand.
Overall, printing square business cards can be an excellent way to make a statement and stand out from the competition. However, it's essential to consider whether they are appropriate for your industry and target audience before taking the leap. Also, ensure the card is readable and looks professional. Are square business cards a good idea? Yes!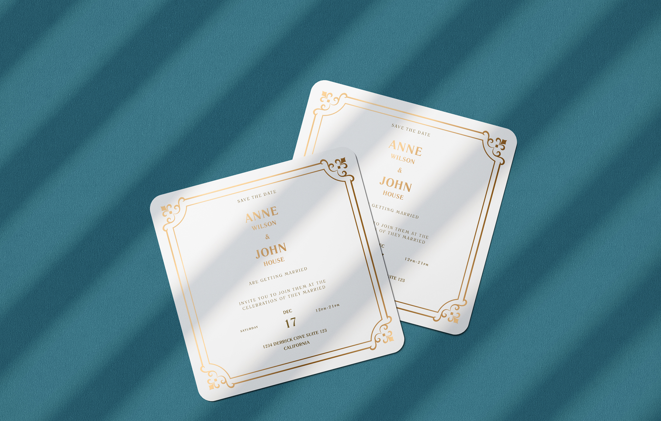 How To Order Square Business Cards On 4OVER4
Ordering a square business card on 4OVER4 is straightforward. First, choose a business card category and then select the size.
Next, choose the popular 2" by 2" or input a custom square size. Then select your paper type, order quantity, and turnaround time.
Finally, upload your artwork and input your delivery or pickup method to complete your order. Remember, you can easily design your cards with our free online designer tool. Just select a template or design one from scratch.
4OVER4 offers premium quality prints at great prices and a fast turnaround time. So let's handle your orders today!