Paper cards may become damaged with time, forcing customers to discard them. But you can avoid this outcome with our unique-looking and high-quality Metal business card product. Of course, they're more expensive than paper-based equivalent, but are metal business cards worth it?
What Are Metal Business Cards Made of?
Metal business cards are made from metals, making them unique and attention-grabbing. They come in unique variants like:
Stainless steel

Gold

Rose gold

Bronze

Black

White
They are not only durable but can be customized with a variety of designs, colors, and finishes. Undoubtedly, metal cards are unique-looking and durable, but are they worth the investment?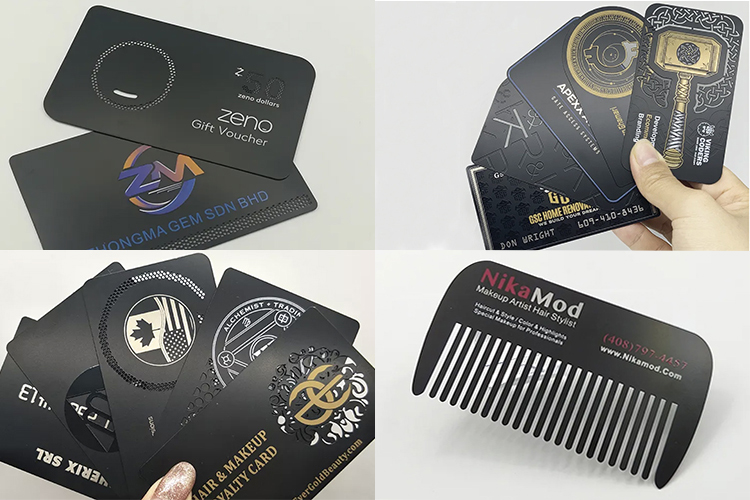 Are Metal Business Cards Worth the Investment? Weighing the Advantages
These cards are pricier than our other business card products, but you'd be getting value for money with these distinct advantages:
They leave a remarkable impression: They are reasonably rare, so a client or new contact leaves with a clear memory of your meeting and business. In addition, their unique look and feel help to communicate luxury and quality.
Metal cards are highly durable: Unlike traditional paper stock, they're impervious to damage from water, dirt, or tear. Instead, they remain intact and maintain their original quality. Therefore, you can confidently hand them out at conferences and events. This durability helps to demonstrate your long-term investment in the success of your business and will attract willing partners and clients.
They help reinforce your brand image: These cards help reinforce your brand's qualities, such as strength and luxury, commonly associated with metals. These are valuable qualities for architectural and financial businesses, for example. A consistent brand image will win your customer's trust.
They are customizable: You can achieve uniquely-shaped business cards with our laser-cutting option. In addition, our engraving option allows you to inscribe text or designs. So your Metal business card will look like no other.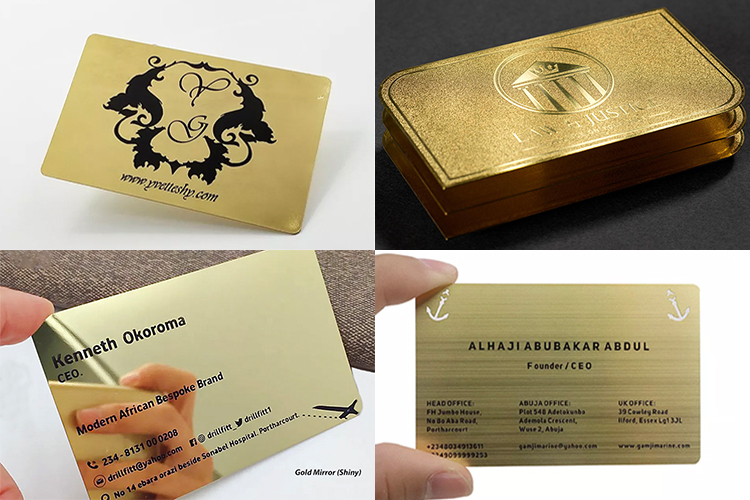 How Metal Business Cards Impress Your Clients
Metal cards help to impress your customers in several ways, namely:
They enhance your brand's image: These cards remain shiny and pristine, making you and your brand look good. Also, they reiterate your company's commitment to class and quality.
They won't get lost in a stack: If your wallet contains a stack of cards, you know the difficulty of pulling out a specific card when needed. But since metal cards look like nothing else, they're easy to reference, so you don't have to worry about luckless deal losses.
They make clients and customers feel special: They don't just look good on you but also make your clients feel good about themselves. For one, handing out metal cards to customers shows that you value the business relationship and will result in more future businesses.
They start conversations: Get used to heightened interest in your business at conferences and events. Occasionally, you may have to answer where you got your gorgeous-looking cards or the idea behind your business. Such organic interactions are healthy and may lead to word-of-mouth referrals.
So are metal business cards worth it? These cards are impressive and will leave a mark on any audience. But they're especially ideal for these industries and professionals:
Luxury goods and services

Technology industry

Financial industry

Architecture and design

Metal fabrication and manufacturing

Creative industries
Conclusion
Metal cards won't resonate with every brand, but their unique properties can help to resound essential aspects of your business and impress clients. In addition, these cards require minimal extra investment but offer significant advantages over traditional business cards.
So are metal business cards worth it? Absolutely. However, you can shop for similar cards that may align more closely with your industry or business values, such as Diamond Glitter or Ultra-Thick Metallic Foil business cards.
4OVER4 has over two decades of online printing experience, and you can order prints that impress on our website.