In this day and time, there are many ways to advertise your business, product, or service. These days people use subtle means like standard waterproof label papers and even vinyl stickers. These modes of advertising are not traditionally considered advertising. However, in our previous articles, we have shown how stickers and labels are powerful ways to sell your products.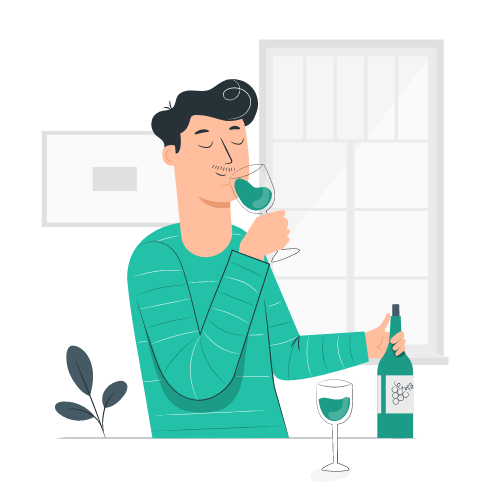 Man enjoying wine with from a wine bottle
Knowing the power that labels and stickers possess, using them the right way can bring you tremendous business success.
The Stats
The label industry is growing exponentially and Smithers released a report titled "The Future of label printing to 2024" where they valued the label market at $41.02 billion on volumes of 1.21 trillion A4 prints or equivalent.
The report adds that the market will continue growing steadily at an annual average rate of 4%. Smithers says that the market will be estimated to be worth $49.0 billion. The volume will also have grown annually by about 5.5% to 1.59 trillion A4 prints or equivalent.
How to advertise properly with stickers and labels
To advertise properly and efficiently, make sure you have the right tools. A great way to advertise is to make your own premium labels and stickers. You can put your logo in the form of a sticker on top of a box of cupcakes before you send them out, or put custom labels on all the bags that you put your customer's items into.
They will facilitate the quick recognition of your brand. A custom bumper sticker can do the same things as well. You can have a few on display at the register or offer them free of charge when someone pays for your services.
If people start putting it on their vehicles, they will be advertising for you. Another idea is to have front-facing adhesive vinyl stickers for advertising. They can be applied on hard surfaces, and are usually used for windows. Maybe in the front window or door of your business, or on the back window of your vehicles. These are great tools for businesses to advertise their hours, phone numbers, web pages, etc.
The roles of different labels
If you want to know the best way to advertise with stickers and labels, you have to first know the role of different stickers.
These are the different types of labels and their different roles:
Vinyl label choices:
1. White vinyl label: They are used for any type of wet application or for the long haul. It has amazing image reproduction ability which can be cut to a custom shape easily. White labels are used in areas like home organization, window stickers, outdoor usage, marketing materials, and sports equipment.
2. Clear vinyl label: They are also used for wet applications because they are durable. Clear standard vinyl stickers and labels are used when the product under the label needs to be visible. They are used in jam containers, candle holders, window/door stickers, electronic components, supplements, and nutritional bottles, and so forth.
Paper Label choices:
1. White semi-gloss paper labels- These are majorly for indoor uses. Its semi-gloss finish provides a fine reproduction of art. These labels are used for packaging, craft stickers, and label design. Companies use these labels for CD and DVDs, shipping and mailing labels, warning labels, product identification, and more.
2. Brown kraft paper label- These are brown labels that have been made out of recycled material. They are made to be environmentally friendly. You can find them on envelope seals, scrapbooking, custom-marked handmade products, arts and crafts, etc.
The difference between labels and stickers
Stickers and labels are seemingly similar and they are unique in their material and use. In terms of material, stickers are made of premium, thick vinyl. Most often, companies use them for promotions or are included within the packaging.
As a kid, I always looked forward to going to the store for chewing gum. Chewing gums came with some interesting kiss-cut stickers which we would apply to our books and rooms. Now I realize that stickers and labels differ depending on how you want to use them.
| | | |
| --- | --- | --- |
| | Stickers | Labels |
| Thickness | 8.3 mils | 2.9 mils |
| Thickness w/ paper backing | 15 mils | 5.1 mils |
| Material | Premium, thick vinyl | BOPP |
| Adhesive | Permanent | Permanent |
| Matte finish | | |
| Luster finish | | |
| Waterproof | | |
| Kick-ass | | |
Conclusion
How to produce your custom stickers and labels is not a complicated affair. You can do it yourself with special paper and a good ink-jet printer (remember, laser printers are not recommended for this kind of work). You can also shorten the process by using an online printing service like 4OVER4 and have them delivered to your home or office.
Advertising is a huge part of having a successful business. Getting it done properly through stickers and labels will yield amazing returns for you. For all your printing needs, canvas prints, poster printing, or direct mail brochures, log onto the 4OVER4 website.