Even though St. Patrick's Day has already come and gone, we're still feeling a bit green inside. We're not referring to that "luck of the Irish" green, we're referring to that environmentally-friendly, sustainable green. The green that symbolizes doing the proper thing for our environment. Earth Day is just around the corner! It's time to bring your green print ideas to life and design some theme flyers, direct mail postcards and posters for your Earth Day campaigns.
Now, wait! Isn't print marketing in violation of the very fiber of what this holiday is truly about – protecting the environment? How can you dynamically market your products and services on Earth Day without damaging the ecosystem? Well, the truth is that printing marketing materials isn't nearly as destructive as many would have you think. As a matter of fact, you can responsibly print Earth Day marketing materials when you know exactly how to.
Easy Green Print Ideas for Any Kind of Business
While it may seem ironic to promote Earth Day with print products, green printing is possible and can be extremely effective! The idea is to promote a cause with environmental options. To help out, we've come up with five unexpected green print ideas for your business' Earth Day campaigns. Perhaps now you can celebrate Earth Day with eco-friendly marketing materials, while spreading environmental cheer! Here's a look:
Idea #1: Partner with an Environmentally-Friendly Online Printer
Printing marketing materials creates a natural resource surplus in the long run. Take your green agenda even further by partnering with a printing company like 4OVER4.COM that has great environmental practices. This way, you can make your project even more sustainable. As an FSC Certified online printer, we take pride in promoting sustainable printing not just on Earth Day, but all year round!
With our environmentally-friendly solutions,
we are committed to diminishing the environmental impact and boosting social responsibility
via sustainable green practices.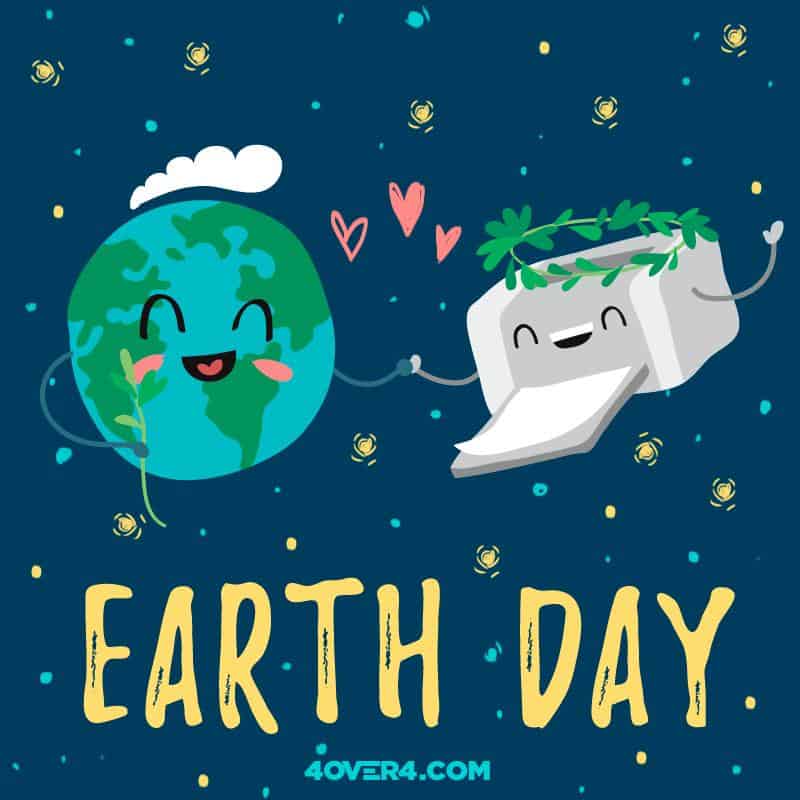 Idea #2: Print Environmentally-Friendly Direct Mail Postcards
With us,
you can print custom postcards
and other direct mail products on recycled paper with eco-friendly, yet vibrant soy-based inks. Releasing fewer volatile organic compounds, these inks produce more vivid colors. Most of our stunning paper options have a significant recycled percentage; others are 100% recycled and biodegradable. Who said green had to be plain or unglamorous? On your Earth Day postcard design, make sure to include your eco-friendly business practices in addition to your special offer.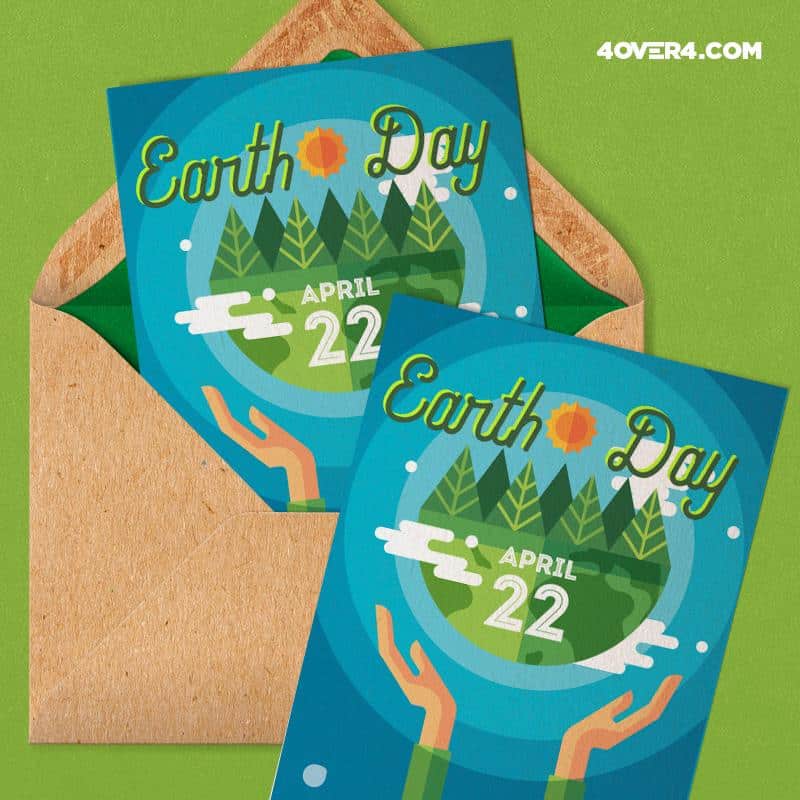 Idea #3: Send Environmentally-Friendly Newsletters
Show your customers that you're committed to the wellness of the environment and that you will go above and beyond to do so. Send eco-friendly tips for your home and business to customers via
custom printed newsletters
like the ones we offer. To reach even more customers, send the Earth Day newsletters via email subscriptions as well.
Once again, take advantage of our selection of recycled paper, soy-based inks and efficient printing to save energy and have less waste.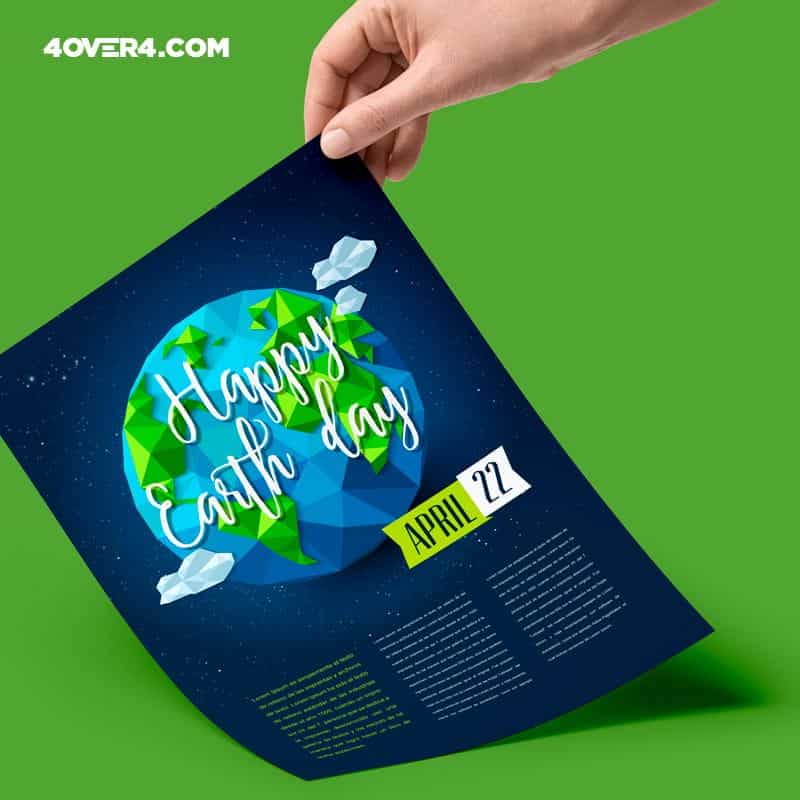 Idea #4: Choose Environmentally-Friendly Giveaways
Choose giveaways that support waste reduction when selecting promotional products. For
instance,
rather than giving away water bottles with your company logo on custom labels, select a
reusable ceramic mug
like the ones we offer. How about handing out solar-powered phone chargers rather than traditional phone chargers? Whether it's a customer, potential customer or business associate, recipients will be thrilled! There is a wide array of eco-friendly giveaway choices – just take your time to think about which one fits your business like a glove!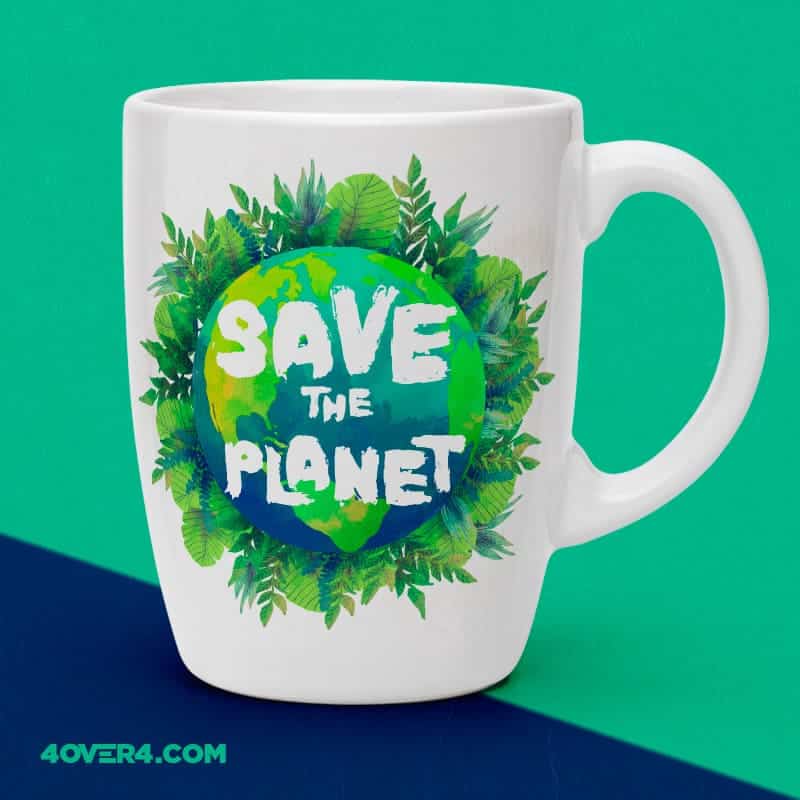 Idea #5: Think Environmentally-Friendly, Even for Digital Marketing
These days, marketing is mostly digital – awesome news for the environment! Luckily, there is a range of options to consider when it comes to promoting green practices in your digital marketing campaign.
Make an impact by adding a short line in the footer about needless printing when sending an email campaign. Commonly used phrases like "Save the Earth,"  "Think before printing," or "Please consider the environment before printing this e-mail," are a simple way to stimulate green thinking, while saving some trees. Show your customers your business cares!
Green Printing is Possible! 
If you want to advertise your company on Earth Day, print marketing materials may be your most efficient tools.
Armed with these five clever ideas,
you can justify taking advantage of the power of print on Earth Day.
Just choose an environmentally-friendly online printing firm, contribute to the economy and plant a
tree.
Green printing
with 4OVER4.COM is possible!
GO ahead and
sign up to get 30% OFF your first order
!
We hope you feel inspired with these responsible green print ideas. What other eco-friendly ideas have you used in your own business' Earth Day campaigns?
We'd love to hear your thoughts and insights. Please feel free to kindly leave a comment below. Happy Earth Day! Don't forget to GO GREEN!