There's no point in being a creative professional if no one takes notice of you. That's where self-promotion ideas come in. Getting potential clients to notice you isn't just a matter of handing out business cards and working on resume tips indiscriminately and waiting for someone to call you. You can help yourself succeed by using clever self-promotion ideas to make a great first impression. While it might seem like a no-brainer, self-promotion can be more challenging than you realize because you need to think out of the box to be a powerful player in this competitive arena. With this in mind, interesting and authentic tools like quirky gifts, memorable business cards, branded t-shirts, personalized promotional labels and custom size boxes can take your personal brand to the next level.
Revamp Your Branding With These Self-Promotion Ideas
The quality of your design work, your attention to detail, and innovative thinking make your talents standout against the rest. If you are looking for ways to revamp your self-promotion package, take a peek at these print materials along with useful tips and tricks:
One-of-a-kind Business Cards
If you want to be literal, business cards are a small piece of cardstock with your contact details. But, the power of a business card cannot be underestimated. Whether you're a graphic designer, web designer, developer, artist, photographer, or any creative professional, you need to have business cards in your pocket wherever you go. It is key to include a short job description or title, email address, and any other important information you wish to highlight about yourself. When it comes to getting your name out there, any self-promotion ideas to consider need to be creative and make a huge impact on potential clients or employers. Go beyond the traditional business card design and come up with unique shapes or striking effects that showcase who you are. In need of ideas? Check out some of the newest business cards print technology we offer as part of our Fantastic Finishes line.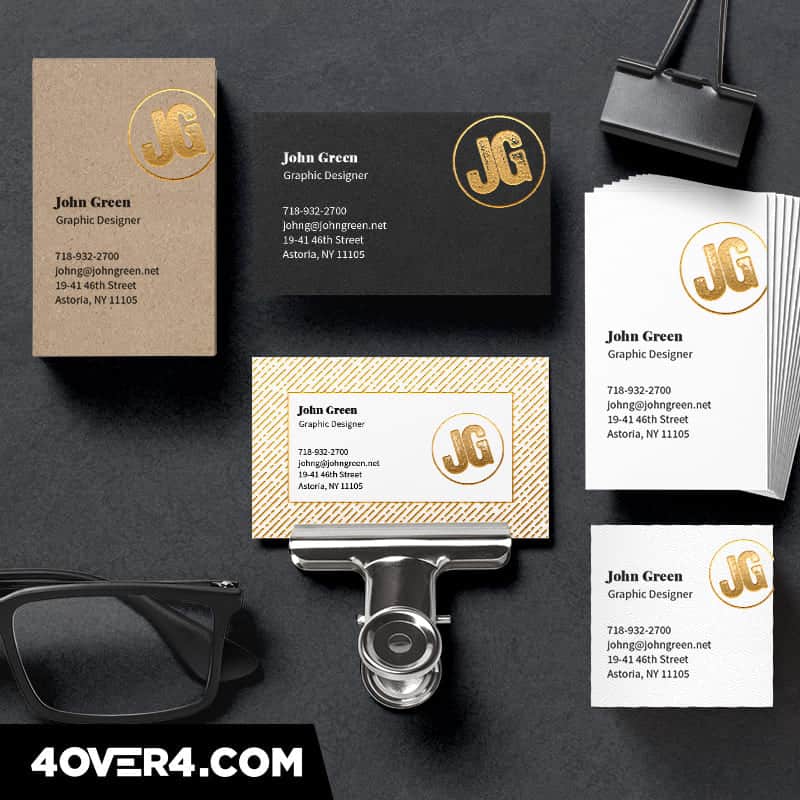 Visually Striking Resume
Your resume must work like a powerful marketing tool, highlighting your strengths while differentiating you from the masses. The first thing you need to do is a list of what you want to include. Job seekers often include unnecessary or outdated information. Before you choose a template or start designing, check out some resume writing advice by Thebalancecareers.com. There are some great resume templates, tips for how to write a resume, and things to include. Some examples being a skills section, job description, work experience, bullet points, work history, and soft skills that you think best describe you. If you are in the creative industry, you can employ unique ideas such as infographics, illustrations, doodles, advertising campaigns, cartoons, funny pictures or any one-of-a-kind idea that draws attention to your name and makes your resume memorable.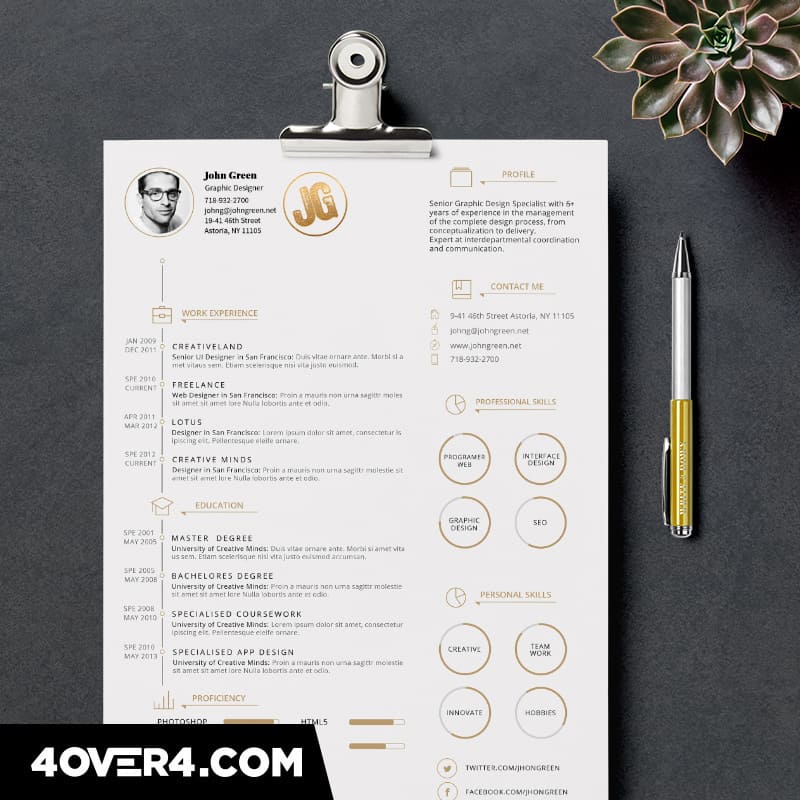 Nicely Packaged Kit
Wrap business cards, CDs, bookmarks, custom keychains, labels, envelopes, hang tags or other print goodies up in a uniquely made box and send them out to agencies. Producing something unique can help you stand out from other applicants and ensure your name is on the short list for interviews. A self promo package allows others to view your physical work, instead of simply reading a list of them printed on your resume. With a marketing package, your potential employer will be able to visualize the way you can contribute to their agency.
Offline Portfolio
In today's digital era, an online portfolio is a must. But, a physical portfolio can help you establish a strong offline presence. When creating your print portfolio, make sure you clearly tell your story and show off your best work. Choose your artwork wisely and don't overburden the recipient with too much text or too many images. Create a killer portfolio to demonstrate your talents as a creative professional.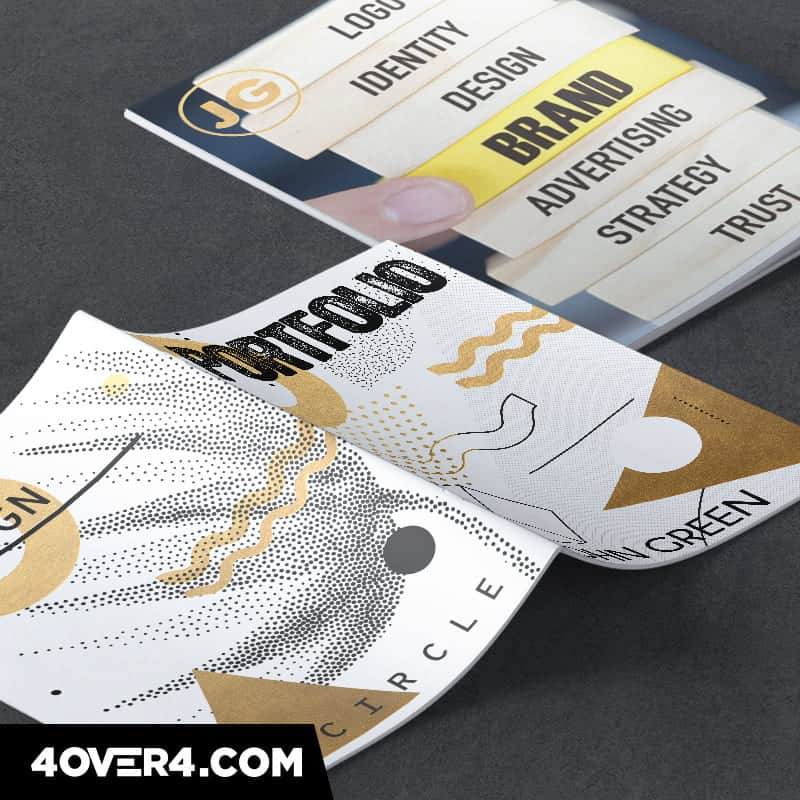 Brochures
Photos and other graphics have to be engaging at first glance. Colorful images and stunning pictures can increase your audience's interest. Besides engaging photos and graphics, you need to include informational content. A powerful brochure educates its readers, conveys useful information and persuades consumers to take action. Make your brochures functional, use each panel wisely, and showcase your information in an organized manner.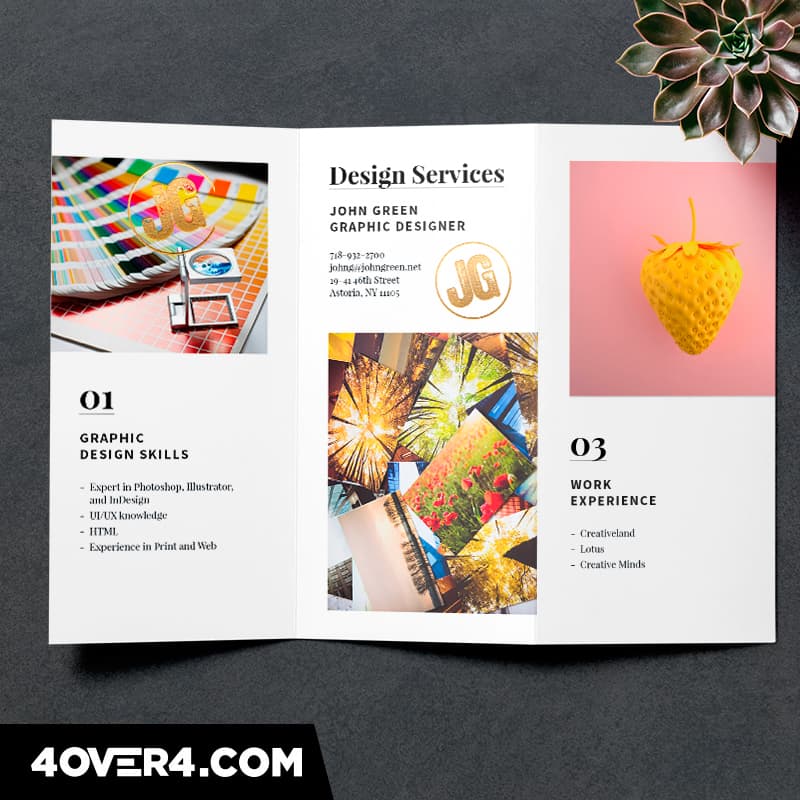 Don't Limit Your Creativity!
Your print marketing arsenal is the physical reference to your identity. If done right, the receiver will remember you positively. Regardless of the print materials you choose for your project, here are a few things to consider before distributing your self-promotion pack:
Know Your Objective Like the Back of Your Hand
Design for Your Audience
Create Impact with Colors, Shapes, and Unconventional Materials
Don't be Afraid of Change
Make Your Marketing Tools Worth Keeping
Use High-Quality Paper
Now it's time to craft a powerful campaign with these self-promotion ideas! Let 4OVER4.COM print your business cards, resumes, brochures, booklets or any other stationery items. We'll gladly give you a helping hand: order any print product and get a 30% OFF discount by signing up with 4OVER4.COM. Browse our wide catalog of products, choose the print material that best suits your needs, and save money today!