Many of us who have ushered in a new year more times than we like to admit, tend to find the festivities a bit old. The same places, the same drinks, the same music; in a word "dull".
Because we are actually bursting with holiday cheer -and can't stand to see you Grinching out- (yes we just made that into a verb) we decided to freshen up your New Year's Eve party with some ideas from around the world that you may not have heard about and make it a truly Happy New Year.
First, create unique invites and matching invitation envelopes for your internationally inspired New Year's Eve party ( for better results get professionals to handle the invitation printing ;) ). Second, get inspired by age old customs from all over. Third: have fun!
Since globe-trotting may not be a possibility for this New Year, simply incorporate global customs to your traditions.
To make sure you get your celebrations right and party

into

2014 with all your essential weapons of good fortune,
check out our selection below.
From foods to jumping off chairs, we've searched high and low to bring you the must have essentials to ring in the New Year with lots of cheer.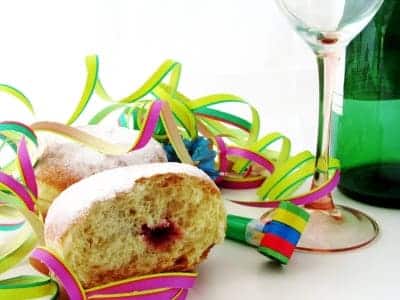 Good eats for prosperity
1. A bite of prosperity!
Did you know there are foods that you should incorporate into your New Year's feast? For many cultures, serving a delicious roast pig on New Year's eve or day is meant to ensure wealth and prosperity in 2014. Apparently a pig's plump body represents abundance and their sludging through dirt and mud for food symbolizes progress. And you thought pork was just the "other white meat".
We know legumes are good for us, but did you also know that beans symbolize money and prosperity? If you are from the South, then you probably don't call it a New Year's Eve Bash without a dish full of black eyed beans. This year make a dish of Hoppin' John for all your guests so their 2014 is full of promise. If you are a vegetarian and you don't like beans, do as they do in South America and ring in the New Year by eating 12 grapes. You must eat one for every month of the year (and make a wish per grape, while at it. Can't guarantee they'll come true 'though).
2. Warning, ingesting these could cause bad luck.
When it comes to the number one food to avoid on New Year's, it seems to be universal. Do not eat any animal that has wings and feathers. The thought is that your good luck could fly away from you. It may sound silly, but why

take take the chance

?
Fun ideas from around the world
3. Bring Out the BIG Guns -the Water Guns, that is!
If you live in a warm climate, take a note from the people of Thailand and celebrate the stroke of midnight with a water gun fight. Water symbolizes cleansing. Showering friends and family with water brings them good luck.
4. Take A Tour!
Another fun custom that is good no matter where you live is one that comes from Costa Rica. Grab a piece of luggage and cross the street to invite new adventures and travels for your 2014. In some South American countries, where this custom has been adopted, people shout out the names of the cities and countries they'd like to visit. If you don't want to scare the neighbors and enjoy a good surprise, just walk around with your bags.
5. Bring Out the Child in You (And In Other party Guests too!)
Remember how you loved to jump on your bed as a kid? In Denmark that doesn't end when you grow up. A traditional custom is to jump off a chair at midnight as a symbol of jumping into the new year without fear.
Denmark is continuously named the happiest country on earth. Adopt this custom and see if the happiness rubs off!
With a vast world of customs and traditions out there, you won't have a shortage of ideas for your New Year's Eve bash. Make them fun and simple, always have awesome music and don't forget the bubbly.
Let us know what customs you enjoy as the clock strikes twelve on December 31st. Send us photos of how you ring in the new year - you might get featured in here!
Images courtesy of
Naypong/freedigitalimages.net
Grant Cochrane/freedigitalimages.net