Mardi Gras, AKA Fat Tuesday or Shrove Tuesday, is the ultimate Carnival celebration around the world. But, what exactly is its origin? Fat Tuesday refers to the last day of feasting before Lent begins on Ash Wednesday, which starts the Easter Season. Fat Tuesday has long been celebrated with drinking, eating, extravagant costumes and partying before the 40 days of Lent begin. Understandably, you might be in need of some cool Mardi Gras party ideas and we are here to help.
This year, Mardi Gras will be celebrated on February 28, 2017.
For New Orleanians, it isn't simply one night, it's a season where people dress up in costumes and take to the streets with drink,  food, music and parades. 
Mardi Gras Party Ideas to Try
We've come up with five ideas that will inspire you to start off this huge celebration in style, from Mardi Gras party invitations to Mardi Gras thank you cards. We hope these party ideas will bring the excitement of the festivities all the way to your living room, helping you host an unforgettable celebration! It's time to put on your party mask
–
what are you waiting for?
Idea #1: Send Mardi Gras Party Invitations
Choose the perfect invitations in preparation – invitations can make or break any event! Send
custom Mardi Gras invitations
that will not just inform people about the upcoming event, but get them excited for what's in store.
Mardi Gras invitation themes range from masks to Bourbon Street signs to king cakes. No matter which one you want to emphasize for your event, make sure you use the same theme throughout the rest of your prints and décor.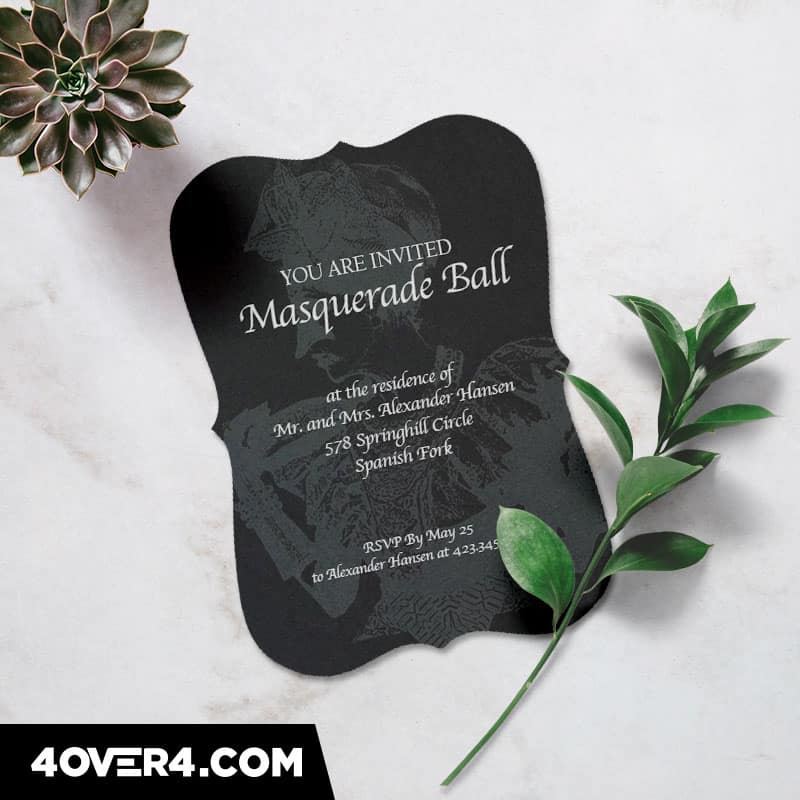 Idea #2: Add Festive Mardi Gras Décor
Décor sets the stage for your awesome event – add festive decorations to your party list! A Mardi Gras party theme is full of energy and fun, so go for a party atmosphere that matches. Just use the traditional Mardi Gras colors of purple, gold and green. Purple represents justice, gold represents power and green represents faith according to Mardi Gras history.
Take it from there with beads, balloons, flowers, streamers, cake toppers and an eye-catching
personalized banner
, an essential item on your party must-have list.  Not only can it be reused, it also upgrades your home into an uber festive party space!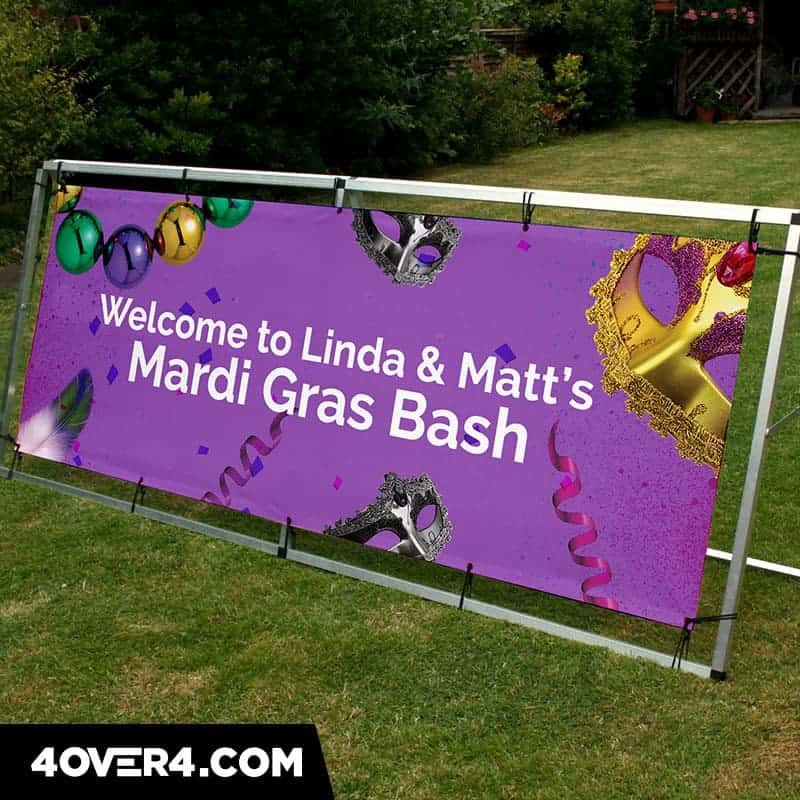 Idea #3: Make a Mardi Gras Mask Cake Topper
Even if less is always more when it comes to décor, this festivity is all about excess – it's the only time of year when you are expected to over-decorate! Wanna take your party décor up a notch? Make a mask cake topper that impresses guests! This dazzling cake topper featuring the color combo of purple, green and gold will look amazing on top of off-white fondant icing. Besides, making the topper is very simple.
Buy a blank mask at a craft store and personalize it by adding feathers or glitter. Lastly, add skewers in order to make it stand straight on the cake. It's amazing how such an easy DIY craft can pack such a big punch to your buffet table!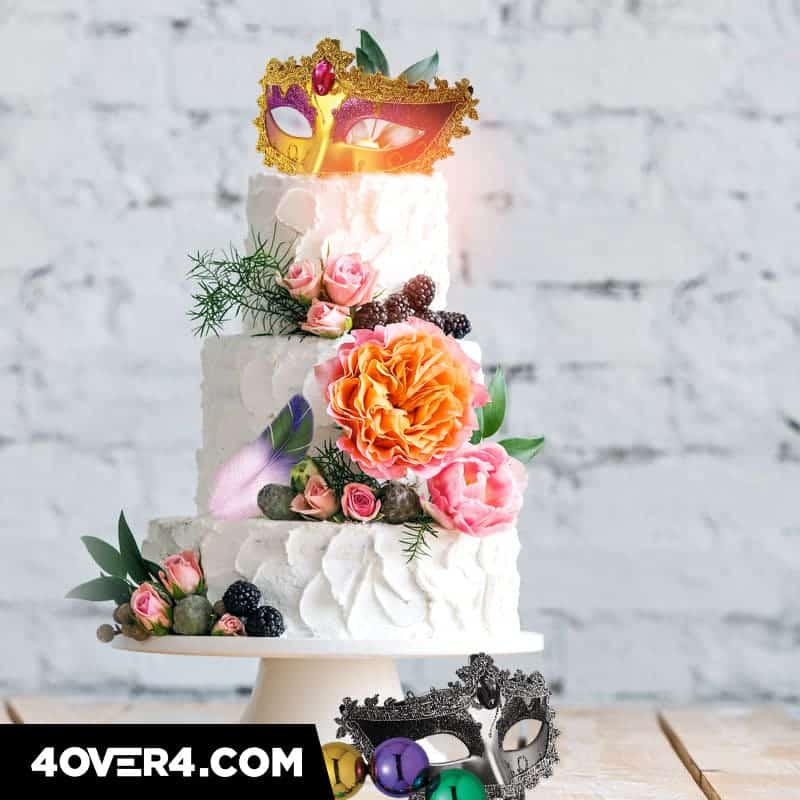 Idea #4: Organize Fun Activities for Your Mardi Gras Party
When hosting a Mardi Gras Party, the theme itself is so much fun that the entertainment is built-in! But, if you want to keep the party hopping, there are a range of fun activities you can plan! Lots of dancing, games, and costume contests are great ways to keep your guests happy and entertained, from treasure hunts to Jazz musical chairs to trivia.
How about baking a small plastic baby into the king cake and the person who gets it hosts next year's party? How about setting up a mask-making station? Just raid a craft store for feathers, blank masks, beads, glitter, sequins, and paints. Next, guests vote for the most fabulous creation – the grand prize could be a bottle of Bourbon! They'll love it!
Idea #5: Send Mardi Gras Thank You Cards
Last but most certainly not least, after Mardi Gras is over and everyone has gone their separate ways, send
custom thank you cards
. Just order thank you cards following the theme and color combination of your Mardi Gras party invitations. This will show guests that you didn't miss a beat when it comes to the details and how much you appreciate them. Your guests will be thrilled! How about using masks as thank you cards for a creative twist? The possibilities are endless!
We hope these five clever Mardi Gras party ideas come in handy and that you're absolutely inspired to throw an awesome celebration. Now it's time to browse our full catalog and order yours!