Who is ready for new Photoshop tutorials that can be useful at any level of expertise? We certainly are! We know how creative our readers are and decided to post a little treat for all of you photo manipulation enthusiasts. Here are 20 awesome tutorials for you to fill your spare time with and improve your Photoshop skills. Ready? Let's go!
Animal Instincts and Texture Manipulation
1. Giraffe Neck Knot Tutorial by Alfoart.com
This tutorial includes 3 basic files that you'll use to complete this interestingly shaped giraffe. By placing a knot image over the animal's neck, you'll be able to use a mask to adjust the edges and make it look like an actual twisted neck. You will then use a clipping mask to change the knot color and make it similar to the giraffe lines' color. This tutorial is really easy to follow and provides a skin texture file, it even teaches how to create the stains with the eraser tool. See what you can do by trying it out! [caption id="attachment_6510" align="aligncenter" width="549"]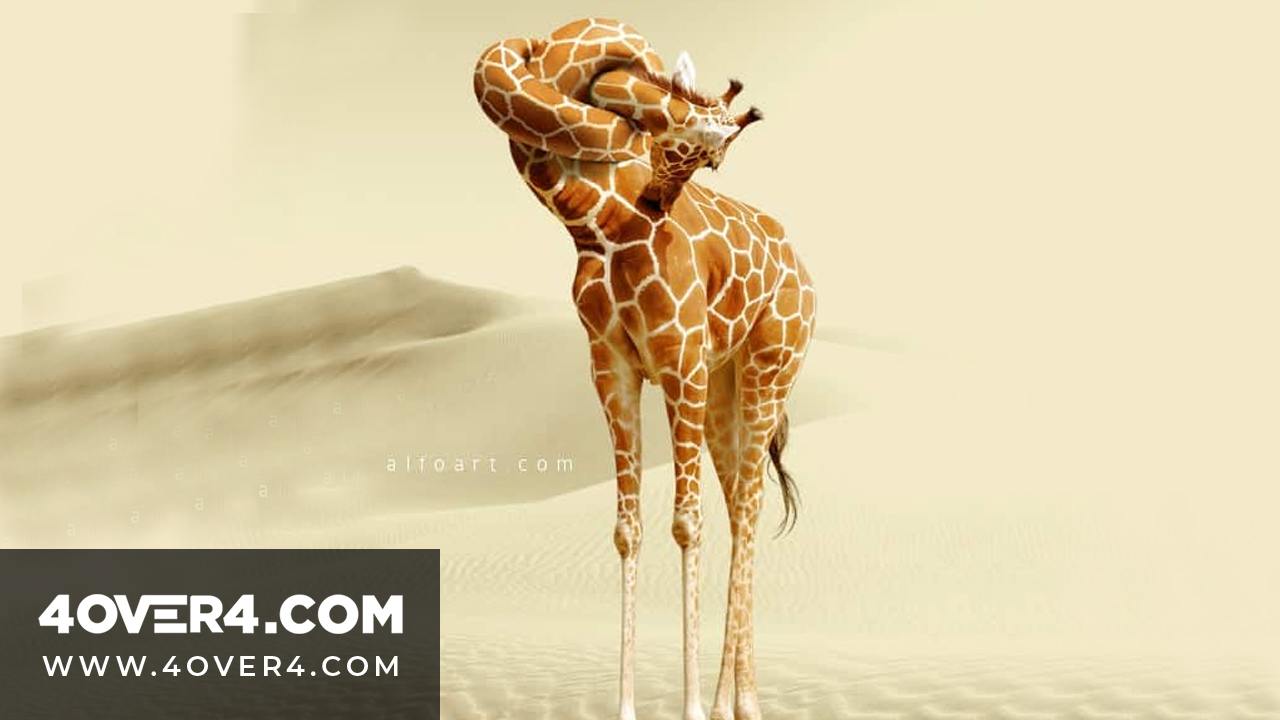 Originally shared on alfoart.com[/caption]
This is a great tutorial to learn how to combine images and manipulate their texture. It's great practice if you are looking for a new technique to help you create contrasting images. Using 3 different crocodile images and a car, you will be able to add a new texture the vehicle. The tutorial helps you practice with the liquify filter, adjustment layers, clipping masks, levels, and path features. [caption id="attachment_6511" align="aligncenter" width="700"] Originally shared on photoshoptutorials.ws[/caption]
3. Half Human, Half Animal by SRT Photoshop Tutorials
Here is a simple tutorial, ideal for photo manipulation beginners or experienced users looking for a fun effect. Placing an animal image over a human face, you can create this hybrid characters and surprise your friends and clients. All you need is patience and a sense of image proportions. The tutorial will teach you how to play with image opacity, masks, and color effects.
4. Glowing Animals by BakaArts
Using the fractalius filter (Photoshop plugin) you can create glowing animals from standard photos. As the beginners tutorial explains, it is all about playing around with the settings until you get the results you are looking for. This technique is great for wallpapers and quick graphic design.
5. Frogodile Tutorial by IcedUpGFX
This tutorial combines a frog with a crocodile to create a brand new species. A key element here is to choose images with good resolution (so you can size them up and down), and that both animals are facing the same direction. There's a bit of morphing and texturing, so it is a nice exercise to improve your techniques. The results will depend on your patience and attention to detail. The featured tools are clone stamp, adjustment layers, and color balance.
Messing With The Elements
6. An Illusion of Fire by Andrei Oprinca
If you are looking for a comprehensive photoshop photo manipulation tutorial, then this one will definitely keep you busy. From skin retouching to a realistic fire effect, the tutorial takes a pretty standard image and turns it into a distinctive piece. The first step is to even the skin so it gives a stylish vibe to the design. Then, erase the pill between her fingers using the clone tool. This tutorial comes with all needed files, so all you have to do is take the fire file and place it as if it were inside the glass. You'll be able to make more realistic using the screen mode. Do the same once you place the note, so it looks like it's burning.
7. A Splash of Water by psdbox
Here is a good example of how well different elements can work together when used creatively. What you'll learn to do here is to add details that make the image come to life. For example, hiding parts of the boot that should be covered by water, adding shadows, making water splash, and turn scattered clouds into fog. Blending modes, gradients, and adjustment layers will do the trick. [caption id="attachment_6516" align="aligncenter" width="610"] Originally shared on psdbox.com[/caption]
8. A Romantic Windy Day by Andrei Oprinca
How to turn a real life image into a romantic fall scene? Let's start by choosing the part you want to keep with the pen tool to delete the current background. Replace it with the tree image and resize it properly. The author also added some columns to add a theatrical frame to the scene. All the necessary links are listed for you to download or get inspired by. For instance, the bike, lamps, and leaves, which can also be any other element if you prefer so. The final touch is to refine the couple's edges so there is no trace left of the previous background. Give it a try and improve the composition of one of your own photos.
9. Dirty Tracks by eHowTech
This tutorial is a great complement for more complex designs. It teaches you to create tracks of dirt from scratch. It's all about mixing the right shades of brown and placing the tracks strategically.
10. Hands on Fire by Ratan Sunitha
This is a nice photo manipulation effect that you can use to enhance other photographs. All you need is a fire image with a black background. Then, use the screen blending mode and warp it so it fits the original photo. Lastly, use a layer mask to get rid of the unwanted areas. Wasn't that easy?
Magical Beings
Creating a mythical creature requires an instant eye-grabbing effect that we sometimes don't know how to accomplish. This step by step tutorial uses bird wings to turn a girl into an angel. It shows you how to add movement and play with the shadows to make them more impressive. [caption id="attachment_6520" align="aligncenter" width="559"] Image part of the imaginefx.com tutorial[/caption]
Yes, we already featured a tutorial for angel wings. But we also like this one because it teaches you to make the wings glow. As you'll find out, the trick is in the colors and the right combination of midtones. We think it would make a great postcard indeed. [caption id="attachment_6521" align="aligncenter" width="800"] Shared by Mirella on deviantart.com as her tutorial's result[/caption]
13. Na'vi by tutvid
Here's something that will keep you busy for a while. It starts by using some photo retouching basics like background darkening and lighting enhancements. Then, you'll use the liquify filter to make her face match the blue character's. Masks, brushes, and a delicate use of the burning tool will help you accomplish the blue skin effect you are looking for. Keep in mind that this tutorial will require a lot of patience and attention to detail to work out.
14. A Magical Forest by Temperate Sage
This is an example of how an originally artistic photo can be taken a step forward with the right manipulation techniques.The goal here is to make the surroundings look magical, instead of just the girl. Notice that the author paints straight over the image with no layers. Now, that's a very confident approach, but she does accomplish her magical forest goal.
15. Zombie Effect by Kick Buttowski
We know there are lots of zombie fans out there and Halloween is just around the corner. So, why not start working on some horrific images to impress everyone? After all, it's amazing what you can accomplish with the pen tool and photo blending. Check this tutorial to learn how patterns and masks are your best friends when it comes to creating a zombie effect.
For Photographers
16. A Vintage Feeling by Valcon Production
Photographers often manipulate lighting digitally so they can deliver more artistic pieces. In this case, the author adds a vintage effect to a current photo by blending color layers.It is all done with adjustment layers, so you can play around depending on the results you are looking for. A nice idea for a special present or personal project.
17. Elegance Effect by Super Moustache
Using a black and white gradient and adjusting the hue/saturation values, you will be able to add an elegance effect to a standard color picture. The tutorial is easy to follow and you'll get it ready in no time.
18. Photo Filters by Arun Kumar
Forget those Instagram filters, this tutorial will show you the many possibilities available in Photoshop CC. From cold settings to a dusty environment, you'll find just how fast you can add a special feeling to any kind of photo. Great for photographers to learn about the newest software features.
19. Adding Facial Hair by Phlearn Photoshop & Photography Tutorials
This is a very handy tutorial for fashion and portrait photographers. It goes step by step into adding facial hair, so you can fix any imperfections. It takes a lot of detail into making the hair look real and match the original color shades. Try it out for improved portraits and interesting appearance changes.
20. Whiten Teeth by Phlearn Photoshop & Photography Tutorials
This is perhaps the most common task photographers face when improving an image. The easiest way to do it is with the lasso tool, so you can turn the teeth into a mask. Then, you can fix the color using the hue/saturation panel. We really like this tutorial because it explains how to make them look natural and not like an obvious photo manipulation. There you go! 20 photoshop photo manipulation tutorials to take over your spare time and improve your skills (or even start learning!). Don't forget to let us know which is your favorite and what would you use them for. Enjoy!