The business cards are the primary resource leading to your successful business. It is a significant tool for business marketing. Today, every business is turning to a digital medium for promotions, but the creative business cards near you are irreplaceable. Digital tools cannot fully be a substitute for visiting cards anytime soon.
Whatever color, shape, or size it may be, you can find the cards all around. Although you understand it to be a necessity, you never really accept that such cards can help your business grow. You fail to see the marketing opportunities that can be used with the printing services like 4OVER4. Let us help you see the ways to grow your business with visiting cards. It's time to see that a small piece of paper is powerful enough to market you as well as your product to the right set of target audiences.
Make Use of LinkedIn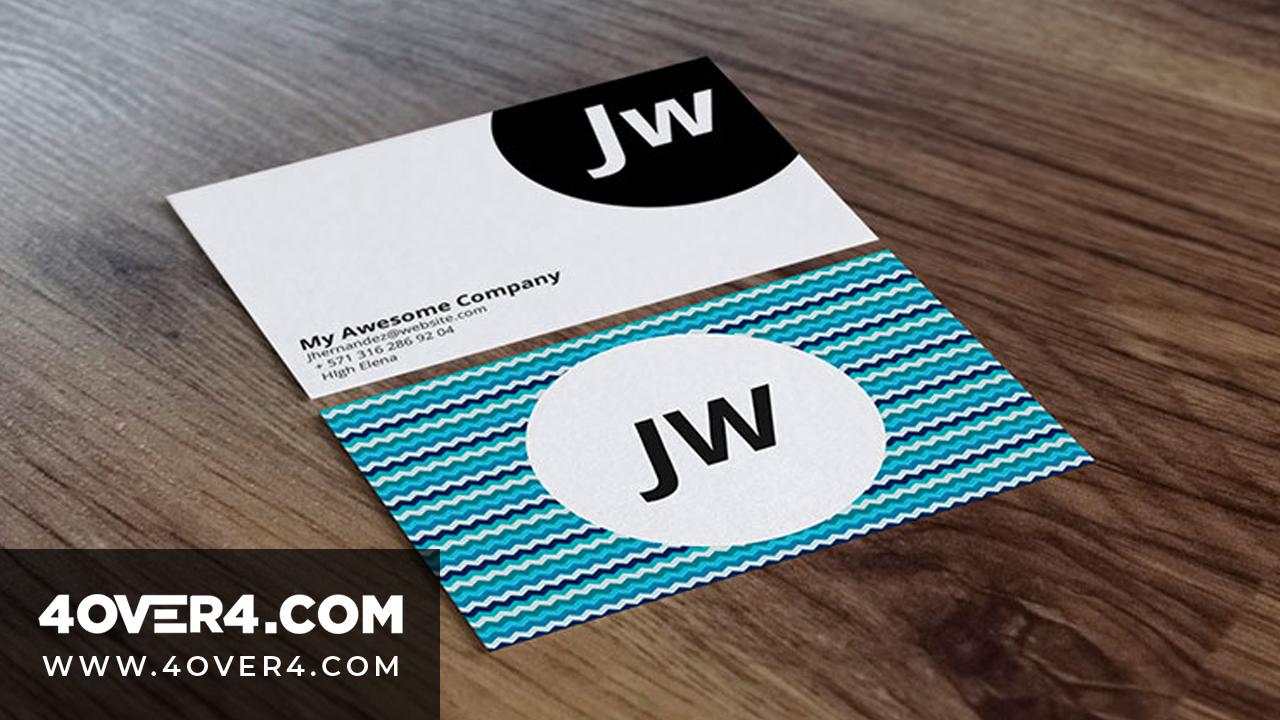 Full colored back printed and white front card Before handing over the cards, you must know who are your potential customers. LinkedIn is one of the best tools to locate your prospects and make a list of all the essential clients. It gives you the ease to remember their name, face, business name, and the services they offer. Once you know your customers by name and face, it becomes easier to approach and hand over the card and make a move towards growth. Your confidence is clearly visible in the meeting, which leads to cracking the deal.
Give Your Business Cards, A Purpose
The business cards are not just about communication. Your business can grow if you can give a purpose to your business card design. The multi-tasking cards have more chances of reaching out to people than an average one. Use your creativity to create unique business cards with a purpose that can impress the customers and help in business growth. For instance, a sticker or scratch card, a notecard, a bookmark, or event ticket are some of the best business card examples that give some purpose to it. When you make your card interactive, your business automatically becomes a part of the interaction.
Be Prepared, Business Never Sleeps
It is crucial to carry visiting cards at all times. You never know when you meet one of the best prospects for your business. So, always be prepared with your uniquely designed business cards so that you don't miss out on the opportunities knocking at your door. When you carry business cards and hand it over to someone you meet out of work shows that you are serious about your business.
Add a Tracking System to Your Business Cards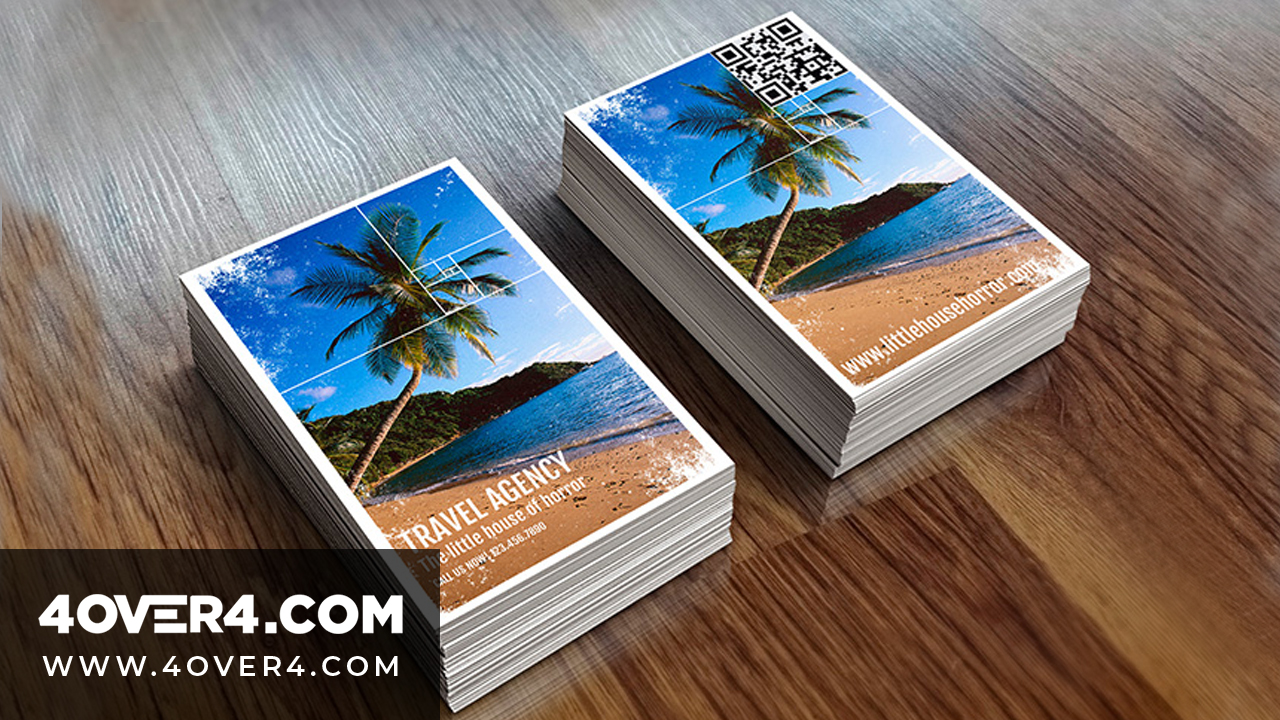 A beautiful QR code added business card You can try adding SKU or QR Codes to your custom business cards. While handing out the card to your customer, add coupons or discount incentives to visit your site. It will help you in tracking the rate at which your card compels the customers to take action. Tracking your business card is one of the best inexpensive business cards design that can help your business reach places in no time. 4OVER4 team assists you with a range of card stocks like basic cards, ultra-thick cards, mini cards, spot UV cards, etc. to make your business cards cheap yet, attractive. Our great customer service team helps you to order business card according to your custom design specifications.
Motivate or Challenge People to Act
You may add any funny element or figure on your business card to strike a conversation with your clients. Think of a trivia piece or small hunt or search style question related to your business. When you can amuse and engage people with your card content, your business is more likely to stand out and gain attention. For instance, print a simple fact as people will definitely survive a plane crash than click on banner ads. Such texts help to initiate an interaction about new marketing strategies and channels with frustrated business owners.
Include Integrity with Testimonials
Word of mouth has always been one of the best marketing tools to promote your business with business cards free of cost. When you include a link to a quote or a small quote on the rear side of your card, it becomes all the more valuable. A testimonial from other customers can help to build the trust of the new customers on your business. Testimonials, therefore, speaks volume, and you must think of including it on your business card to grow your business.
Add a Face Over the Name to Your Business Cards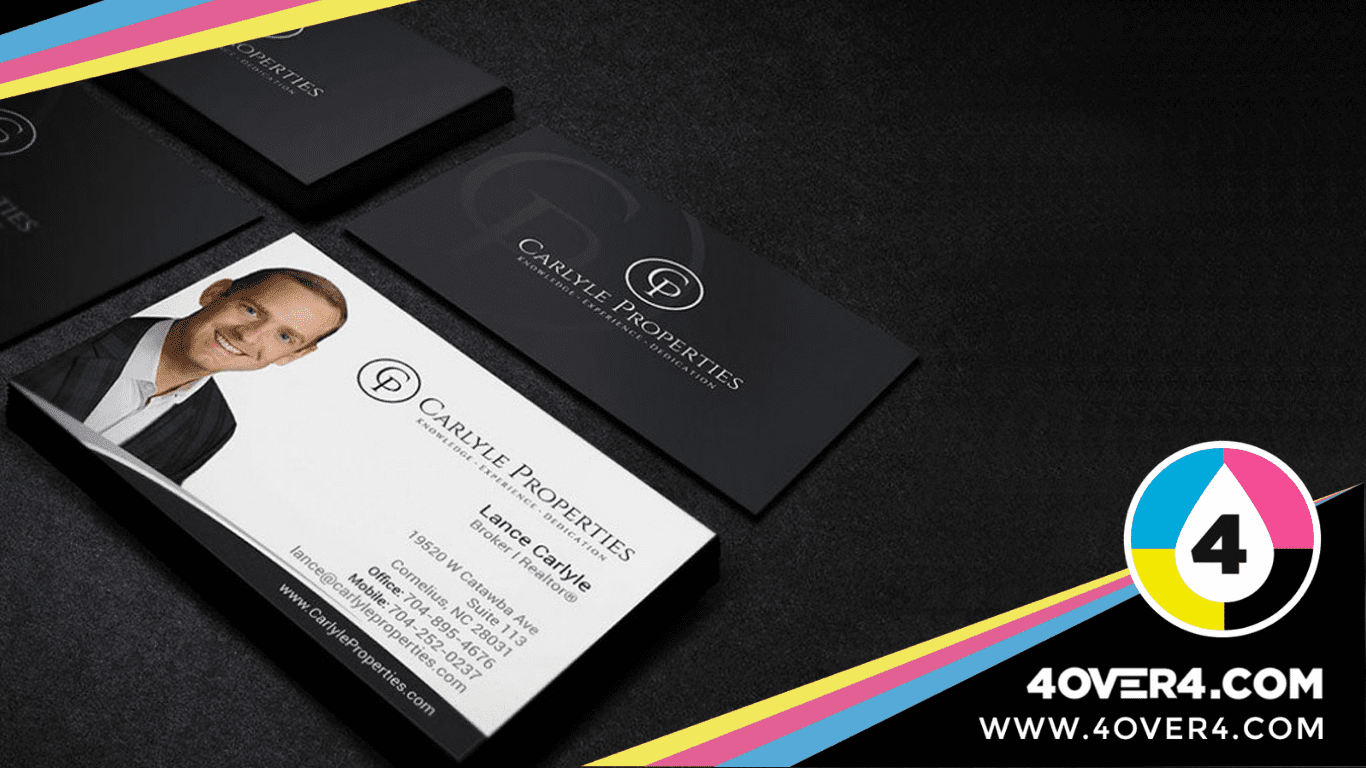 Full black rear and image included visiting card The customers often search for the face behind a big brand or business. Printing your photo on the business card can help people to associate a face with your name. It becomes easier for them to remember you even after years of meeting. Adding a photo makes your brand familiar, and the agreeableness factor increases. A photo printed card also makes you easily identifiable from all your competition. 4OVER4 business cards online give you the freedom to choose from wide-ranging card stocks and finishes like soft touch or gloss UV, etc. to make your printing all the more alluring for your customers.
Support a Cause
In recent times, business and social impact go side by side. Let people know about the causes you work for and what drives you in business as well as in person. Create a difference by adding it to your full color business cards and let the recipient of the card gain a clear understanding of your professional and personal drive. For example, a simple one-liner like Proud Supporters of CINI (Child in Need Institute) shows what drives your business and how hard you work to support your cause.
Make Business Cards Handoff Unforgettable
To make your cheap business card extraordinary, you may often forget the actual moment of handing over the card. Apart from making your card unique, you must also make the handoff unforgettable and memorable. You can make the physical card exchange moment valuable than the card itself. Start your conversation with the card to understand the hobbies, interests, and needs of the recipient. While handing out the card to your client, put a strong emphasis on your business values, and mention when you will be following up next.
Be Objective While Choosing Unique Cards
Source People usually throw away the visiting cards shortly after they receive it. Even if not discarded immediately, after getting home when the recipient gives a second look on the cards collected at the conference or seminars, they are sure to land up in the trash can. Making the cards interactive or attractive enough to make people think over it and retain it is very important to grow your business. So, choose exclusive finishes like trendy raised spot UV or die-cut or maybe the glittery metallic and Wonderfoil from 4OVER4. We use recycled paper and promote green printing technology. Ensure the right premium card stock, best finishes, and exclusive printing services from 4OVER4. You will never be disappointed. Our printing practices are world-class, and we offer the best service to make your business graph rise higher. Print the contact information, email id, address, logo, along with an interactive design and take your business to places with the visiting cards.