As stated by
Education Week
, "Branding, which typically associated with the business world, is exactly what our schools need today!"
Branding is not just a corporate term. In fact, schools are some of the most noticeable, memorable brands we see day in and day out.
Seeing kids in their uniform on the street, the logos featured on those uniforms, the banners around school buildings, a car with a school bumper sticker driving around town – all of these are part of your brand, showcasing your school and instantly influencing people's' opinions of it.
"Schools need to embrace the importance of their brand in their marketing effort to remain a viable choice in the future. This is especially true as growing competition from other schools requires that you effectively market your school. Parents are attracted to schools that represent excellence and a good brand should convey excellence" -

 

Enrollment Catalyst

.
Branding Efforts 101: Promoting Your School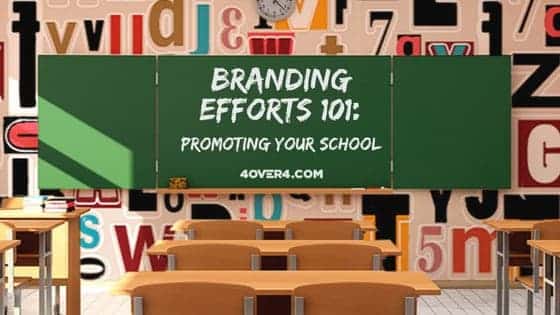 As a school administrator, you are surely aware that school branding is essential for a range of reasons. Well-branded schools take advantage of better fundraising and recruitment, lend pride and accomplishment to alumni, while offering greater identity as well as advanced career opportunities for students.
Whether you oversee an elementary school, a high school, a community college or even a university, you can highly benefit from great branding.
The following lists ten of the most useful tools for effective school branding.
1.
Notepads
Perfect for note-taking, one-of-a-kid notepads
come in handy when it comes to school branding.
You can simply add your logo and school colors to your artwork. They are perfect to hand out during orientation, developing a sense of community with your school branding. They can even be sold via direct mail or in your school's gift shop. How about fostering early school branding by taking notepads to high school career days? We offer hassle-free, cost-effective notepad printing services.
What better way to get better brand recognition amongst your students than by giving or selling them custom bookmarks?
From elementary to university, every student uses bookmarks, so don't miss out on the opportunity to print high-visibility, low-cost branding tools for your organization. To increase attendance and boost revenues, be sure to add relevant dates, performance and athletic schedules, and other info to your bookmark design. We offer printed bookmarks available in two standard sizes and custom sizes.
Selling branded calendars to alumni, students or parents to raise funds for your educational institution, whether it's a college or school, will automatically get your brand displayed. They offer excellent school branding, regardless of use. Just print calendars featuring lovely images from your educational institution, its history, faculty members, famous students or the campus, performance arts and sports. We offer high-quality calendars with optional drill hole.
All school communications such as direct-mail letters should be sent in a professionally-designed and printed letterhead showcasing your school's branding. In other words, the custom printed letterhead should bear your school style, logo and colors. This will make your business communications appear more official and formal as letterheads convey a vital first impression of any business. We offer letterheads in a range of paper types in quantities ranging from 50 - 100,000 prints.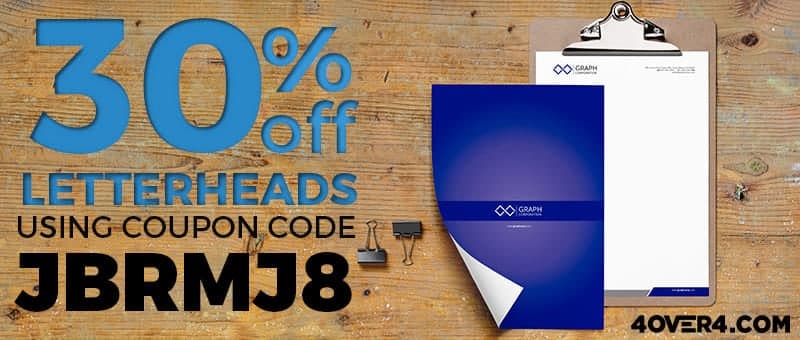 If you're printing branded letterheads, you'll need custom envelopes to match. Envelopes featuring your school logo are more likely to be opened and their letters read by your target audience. Don't forget branded return address labels and envelope seals! Available in a range of stocks, our printed envelopes dramatically boost brand exposure, adding a touch of color to stand out in the mailbox.
Using custom magnets is a clever way to brand your school. Why is that so? They offer relevant information parents, alumni and students need in a convenient location – the fridge! Print sport's team schedules, phone numbers, school dates and other info on magnets branded with your school colors and logo. Next, sell them in order to raise funds. This is an awesome way to increase your reach! We offer lightweight magnets with optional rounded corners.
Window clings are perfect for branding your educational institution on any window or glass surface, such as windows, homes, dorms, vehicles, mirrors and more.
To show off school pride, sell custom window clings to students, parents, staff and alumni. How about using them as sponsorship giveaways to those businesses that financially support your organization? We offer full color 8 mil clear window clings in quantities ranging from 1 – 100 prints.
Stickers are so versatile! They work like window clings but can be used on just about any surface. To boost your branding efforts, print custom stickers for specialized applications such as lockers, laptops, car bumpers, bicycle helmets, notebooks, smartphones and other unique items that match each and every one of your student's lifestyle. We offer standard stickers, premium sticker, roll stickers and custom shaped roll stickers in a wide variety of sizes and shapes.
Custom printed drink coasters featuring your logo and school colors can serve as excellent fundraisers for your educational institution. For further branding opportunities, they should be available
in school catalogs, student lounges, campus-owned diners as well as gift shops. Make sure to take advantage of local pizza places, pubs, bars or restaurants, to name a few.
Eye-catching banners showcasing your school colors and logo are a great addition to any school's branding efforts. They are essential for promoting your organization and athletic teams. Just place school banners in prominent areas throughout your community and on-campus to demonstrate your education institution's local involvement. We offer a wide array of banner printing services including indoor and outdoor banners.
School Branding: The Bottom Line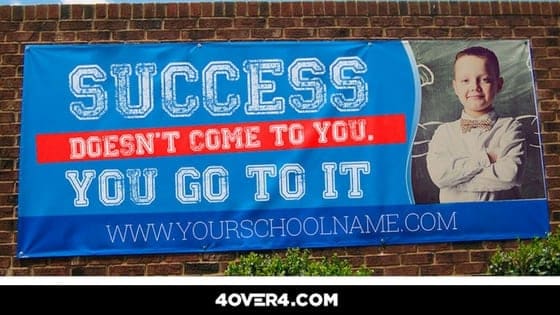 Keep in mind that you must make sure your school branding is consistent across your print marketing materials
.  
Even if print is one of the most powerful branding mediums out there, you may additionally consider digital branding tools like your website, apps and whether or not these properly dictate school philosophy, student services and decision-making.  A good brand is not just a logo - it's a way of life.
Ready to boost your educational institution's brand visibility? Browse our website and take advantage of our state-of-the-art, affordable print services. What are you waiting for?