The Jewish Festival of Lights, Hanukkah is not about gift-giving. But who says, you cannot spend and shower gifts to your folks while you celebrate the festival of lights? If you are looking for thoughtful gifts for Hanukkah 2019, here is a list that can bring a smile on the faces of your loved ones. From teachers to employees or friends to family members, you must know what kind of gifts for Hanukkah should you choose and why. At 4OVER4, we have always tried to keep up with the Hanukkah traditions and come up with great gifting ideas for all, irrespective of their age. Our personalized printing option on various gift items makes your gifting ideas unique. Let us check out some of the most fantastic gifts for the first day of Hanukkah till the last day.
1. Wine Labels - A Thoughtful Gifts for Hanukkah 2019

Customized Wine Labels Wine has always been one of the best Hanukkah gift ideas for her as well as him. Yes! Your gift basket is incomplete without a bottle of wine. When you customize this wine bottle with a personal message and the recipient's name, they are more than happy. You may stick eight customized printed labels with a different message on each bottle of wine to attract appreciation from others. The customized wine labels add more meaning to your gift and also to your holiday nightcap. 4OVER4 offers various kinds of wine labels and die-cut shapes to make your Hanukkah gift unique.
2. Shmelf the Hanukkah Elf
Shmelf, the Hanukkah Elf is something that every kid will enjoy. The Hanukkah Elf gives competition to the elf on the shelf and weaves the stories from Christmas and the festival of lights. This book provides a highlight of the unique traditions entwined for the kids to understand it better. It is one of the best thoughtful gifts for Hanukkah 2019.
3. Star of David Coasters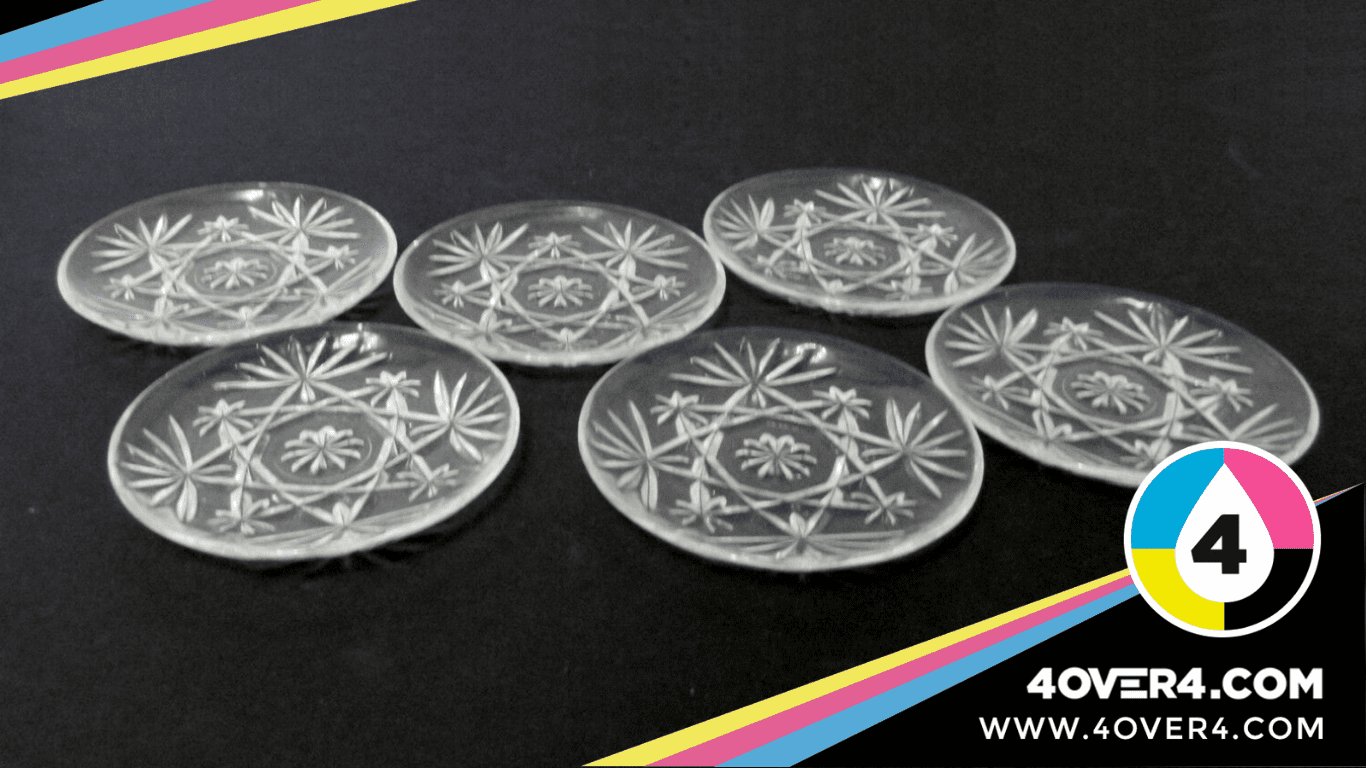 Source Star of David is the Jewish symbol that forms a six-pointed star with the help of two equilateral triangles. This symbol is considered a protection against any sort of evil spirit. Print your Star of David coasters with 4OVER4 to make it a traditional Hanukkah gifts for adults. One of the best thoughtful gifts for Hanukkah 2019 is Hanukkah message on the star-shaped coaster can make it a memorable gift for the older adults around you.
4. Hanukkah Greeting Cards
Make the Jewish holiday special for your employees by wishing them with a personal message in Hanukkah Greeting Card. Whether a warm city or a winter wonderland, the Happy Hanukkah printing on the greeting cards with a personal touch gives it a traditional look and feel. 4OVER4 offers a range of finished, paper stocks, and sizes to choose your Hanukkah greeting or invitation cards.
5. Hanukkah Gift Jar - A Thoughtful Gifts for Hanukkah 2019
Golden foil wrapped coin chocolates in Hanukkah Gift Jar Hanukkah Gift Jar is one of the best thoughtful gifts for Hanukkah 2019. You may include a dreidel, traditional chocolate coins wrapped in golden foil, handwritten blessings printed to convey the lighting of Hanukkah candles, and more. Decorate your Hanukkah gift jar with silver and blue color festive ribbons to enhance the beauty of the jar.
6. Celebrate Friendship with Printed Gifts
It is not really necessary for the gift guides to include just the faith-oriented gifts. Your friends and acquaintances would also love to have gifts that celebrate the friendship you share. The framed prints or personalized t-shirts are some of the most thoughtful gifts for Hanukkah 2019. Personalize your gifts with one of the leading online printers, 4OVER4. With the festive season, make your already cost-effective printing, a little more economical with deals and coupons.
7. Light up Your Room with Menorah Candles or Cards
Menorah Card with Hanukkah Candles Burn your family Hanukkah Menorah using soy-based eco-friendly natural candles. It makes an amazing gift for Hanukkah parties. You can also gift the Menorah cards that light up in a dark background. Just add a personalized message to your card and make it special for your friends, family, and acquaintances. 4OVER4 makes your Hanukkah Menorah cards exclusive and perfectly personalized for the recipient as per your instruction.
8. Personalized Board Games or Puzzles
Hanukkah themed puzzles or board games can be an excellent idea for gifting. Interactive puzzles are not just fun to play, but both kids and adults enjoy it. Get Hanukkah puzzles printed with 4OVER4 to gift something unique to your folks. From office employees to family members, you can gift puzzles and board games to all, and you can ensure a big smile on their faces. Maccabees Board Game, Dreidel matching game, or Hanukkah Bingo are also some of the best board games for Hanukkah gifts.
9. Personalized Electronics -Thoughtful Gift for Hanukkah 2019
Personalized Electronics as Hanukkah Gifts You may think of electronics as Hanukkah gifting options. In this digital world, people can never imagine life without gadgets. You can keep the hobbies or interests of people in mind and personalize the gadgets accordingly. For instance, fitness-freaks would like to have an exercise tracking wristband, the music lovers would love to have high-end headphones, or the movie-buffs will treasure DVD player advanced alternative. A personalized version makes it more exciting and loved.
10. Customized Kitchen Apron - Thoughtful Gift for Hanukkah 2019
Hanukkah is all about family, friends, and food. The Chanukah tradition involves dreidel gameplay, Menorah lighting, baking and cooking delicious food, and presents. When it comes to food and gift, nothing can match the power of cooking together wearing a personalized gift set of matching aprons. Yes! A customized set of aprons for the entire family can be one of the most thoughtful gifts for Hanukkah 2019. There are several gifting options when it comes to Hanukkah gifts for adults and kids. 4OVER4 is one of the best destinations for personalizing your high-quality gifts by printing it uniquely. So, what are you waiting for? There is no more time to think. Grab your Hanukkah gift today with 4OVER4 and avail amazing discounts.