Fonts are one of the best tools to convey your brand's voice. Working on the identity of your brand is one thing and displaying a great font to match your image is a crucial step. Let's take a look - what are some of the best fonts for business cards?
From script fonts that offer a copyrighted identity to the sans serif fonts for a more classic look for your brand, the perfect choice of elegant fonts can freeze the brand in the audience's mind.
While selecting the fonts for business cards, it's vital to understand how it will look after printing. You need to analyze if the card is precisely appearing the way you have it in your mind after printing it in big or small sizes and colors.
Several fonts might look great on the screen, but the printing may not capture the fine-pixel details. Let's dive deeper into why selecting the perfect font for your creative or standard business card is so important.
Why should you choose the best fonts for business cards?
You may think that font has very little to do from the designing aspect, but can you ignore it? A business card design is incomplete without the text. Therefore, the font family has a significant role to play in generating business cards with substantial consequences. It is a known fact that business cards can build and secure relationships.
When you talk to an unknown acquaintance or potential customer and extend your business card, you would like to leave a lasting impression. The right font sizes or font pairs will decide the kind of impact created. If the card font or business card design is not in line with your brand image, values, or pitch of the company, no amount of money can impress the client.
Every font has a specific image attached to them. For instance, Comic Sans is an unprofessional font. It does not reflect professionalism. Likewise, Times New Roman is not a font choice for an advanced tech start-up representative. So, what is the best font for business cards?
You can find a range of options with 4OVER4.COM, one of the best printing destinations available online. From printing on plastic business cards to fat foil business cards and ultra-thick premium prestige cards, 4OVER4.COM offers variety in all aspects of printing.
Best fonts for business cards
Helvetica Neue is one of the best font choices for business cards. It is a simple classic and one of the most popular and recognized amongst the sans serif type of fonts. The attractive visual appeal and well-ordered and arranged crafting make Helvetica Neue ultimately an all-time favorite.
It has 51 diverse character weights which make it versatile for the ones who are looking for consistency. When you get to print this font for a business card, the bolder weights appear clear and loud. When you counterbalance Helvetica Neue font with oblique or light type treatment, the outcome is harmonious.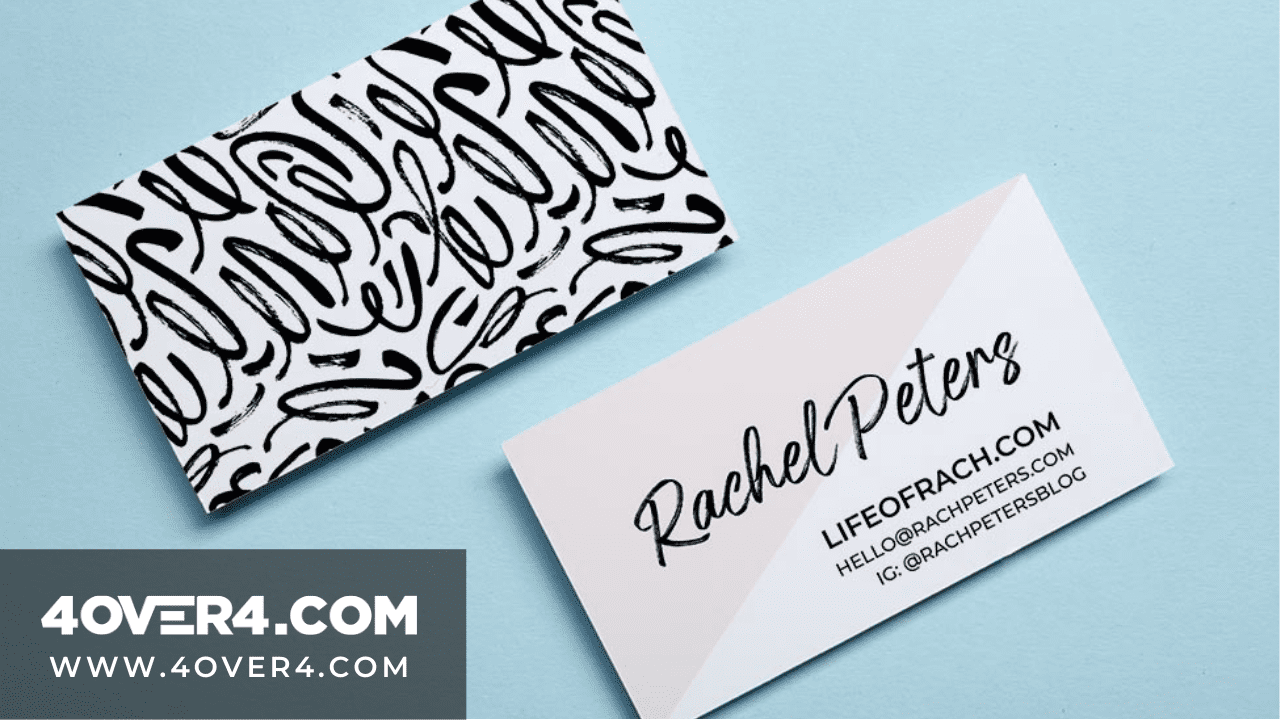 The ultra-professional and elegant Myriad Pro for business cards is an easy to read font with an extra flair. It looks stylish as the "y" and"j" of this font has rounded tails while the uppercase letter offers a clean, neat, professional look.
The clean and comprehensible Code font has a blocky and rounded appearance. The neat and large round block letters with sleek angles make the Code font a completely attention-grabbing font for business cards that are refined and modern. If you are looking for a classy and elegant business card with a modern aesthetic, Code is the best font for business cards.
Amongst the Script font type, Manus font is an excellent alternative for handwritten script typography. It gives the look of wet ink brush writing with lots of organic strokes and embellishments. Due to the brush lettering type, Manus font looks better when you use a larger point size for printing. It is one of the best fonts for business cards logo or name print. If you reduce the point size, some of the letters become unclear. Manus font can be a counterweight to Sans Serif fonts.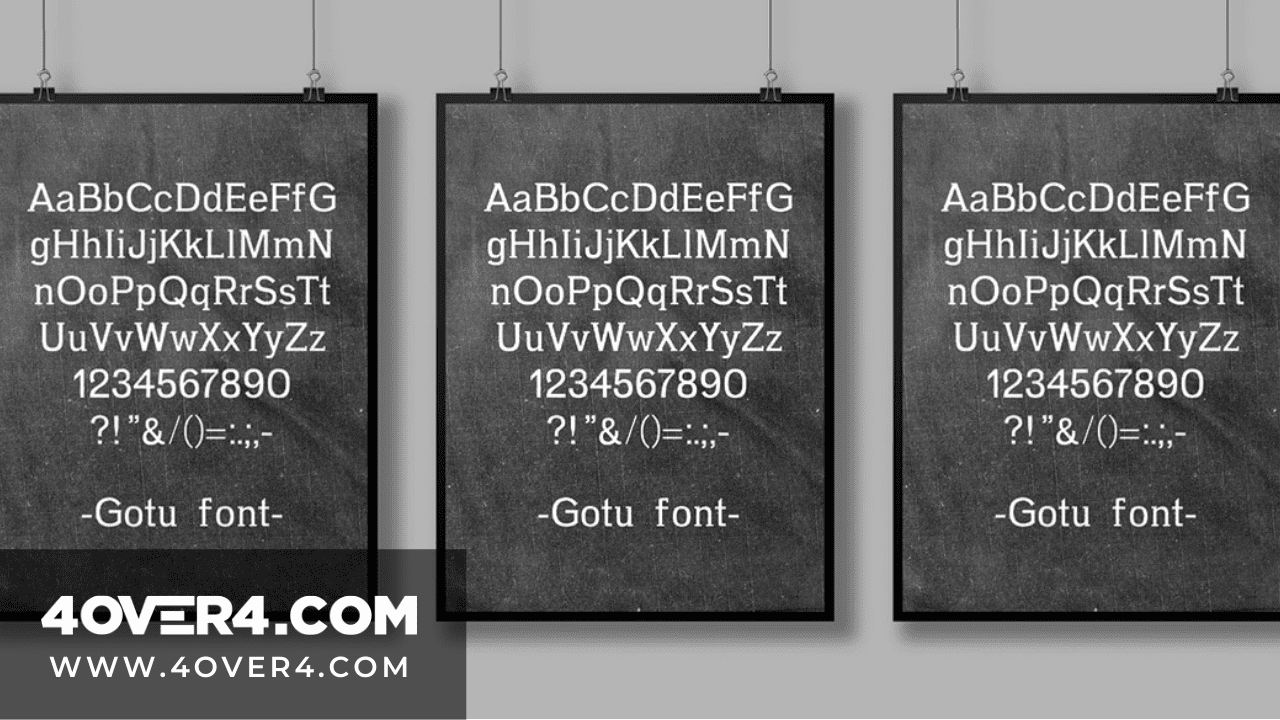 You can try Gotu font for a professional and fun twist. It is a soft and simple font that makes it unique and flawless for body text as well as headers. Gotu is considered one of the best choices for elegant business card designs. If you are looking to give a curvaceous and professional look to your business cards, Gotu is the best vibrant, versatile, and funky fonts to use. For extraordinary marketing material printing, Gotu is the best font.
If you are confused between Sans Serif and Serif fonts to print your business cards, opt the Jura font. It blurs the differences and creates a unique piece. Jura is a font combination of traditional yet modern and minimal, yet elegant. If you are looking for a font that has both traditional and contemporary touch, you can choose the perfect typeface Jura.
From the Sans Serif font family, Akkurat font has created its place and grabbed attention within a brief span. It is a simple font with the quality to express well. Using Akkurat, you can communicate clearly and never alienate in the world of unique designs and exclusive business cards. For printing your contact information, Akkurat can be one of the best fonts.
Futura is very similar to Helvetica. Being from the family of eventual sans serif fonts, Futura is a perfect choice for the business cards. It is a bit of an artistic font with a vast range of styles and weights and line spacing. To display a confident attitude that has clarity and strength, use Futura.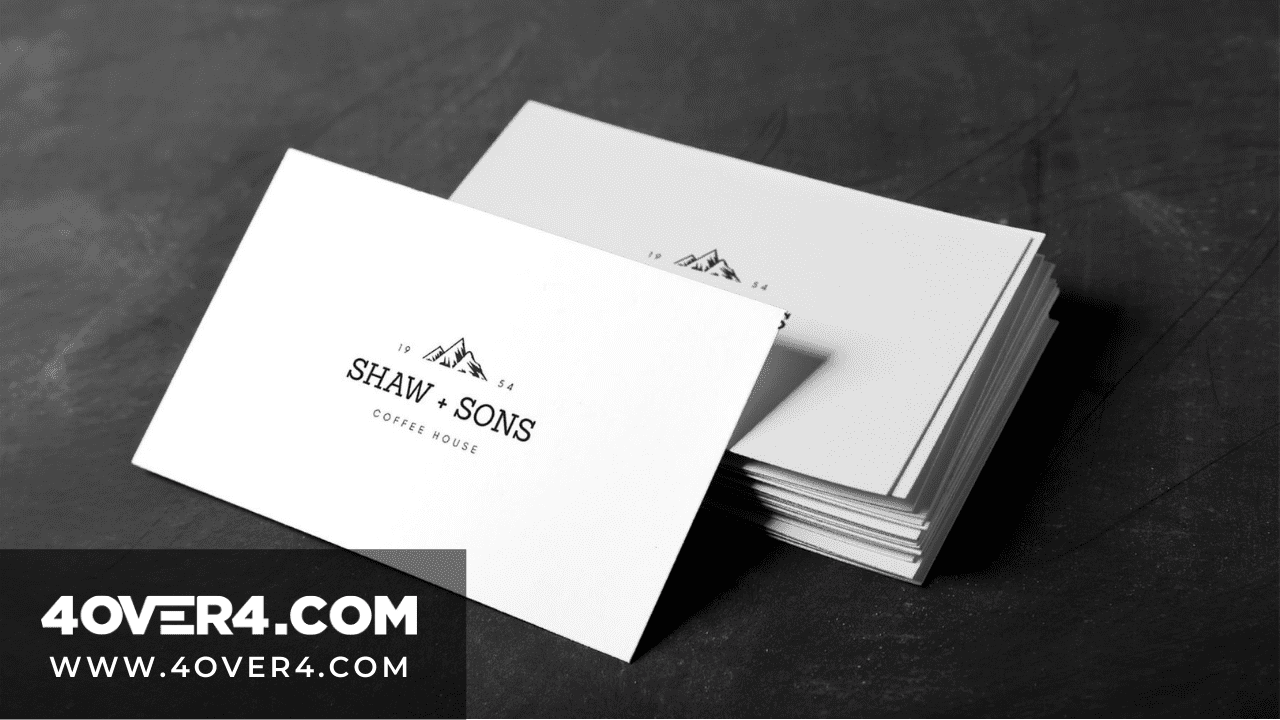 Get your business noticed by handing over a business card in Nevis font. It makes you stand out with its eye-catching strong-angle and edgy typography. When you use the Nevis letters in Caps, it grabs attention for sure. When you highlight your company name or your name using Nevis on the business card, it makes you appear friendly and robust.
Campton is an extraordinary geometric style font. The relevancy and contemporary excellence of Campton make it one of the best fonts for business cards. It has the modern and fashionable flair of Gills Sans and Johnston Sans. Make your business card stand out and get noticed in a relevant, stylish, and fun way by opting Campton font.
Best Fonts for Business Cards Printing with 4OVER4.COM
Next time when you search for the best font for business card inspirations, browse through the above font choices. 4OVER4.COM is one of the most reliable online business card printing platforms offering a wide range of choices when it comes to cardstock, finishes, and font option.
You cannot predict how your brand will evolve, but you can make sincere efforts by using the appropriate font for your business card and expect to make the best first impression. There will always be one rich heritage font to draw inspiration from, and that matches your brand image and voice. Make the best choice to represent you and your growing brand.