Dec 22, 2015 Clap 3242 ViewCopy Link
New Year's Eve 2016 is quickly approaching! Put on your party hat, make a toast to good times and make sure to begin this New Year in a very special way with your friends and family. What better way to thank your associates and loved ones for their round-the-year support, wishes, or thoughtful gifts than with a heartfelt handmade New Year's card? If there's one thing you can DIY this holiday season, it's your New Year's greeting cards. Keep away from the generic store-bought New Year's card, (psst...you can choose one from our selection of handpicked or come up with one of a kind creations here). Your New Year's card will surely be appreciated more and kick those other cards to the curb!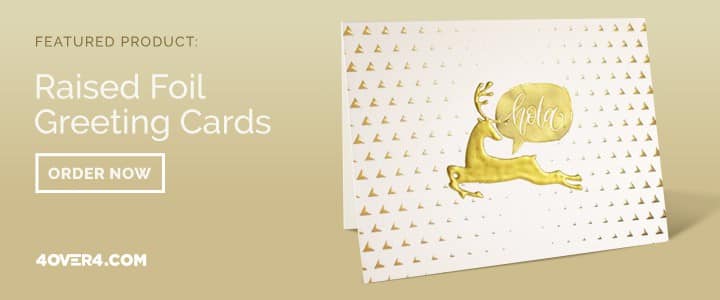 Here's a look at 10 Beautiful DIY greeting cards for New Year, each a delightfully unique way to say "Happy New Year":
White Card with Ribbons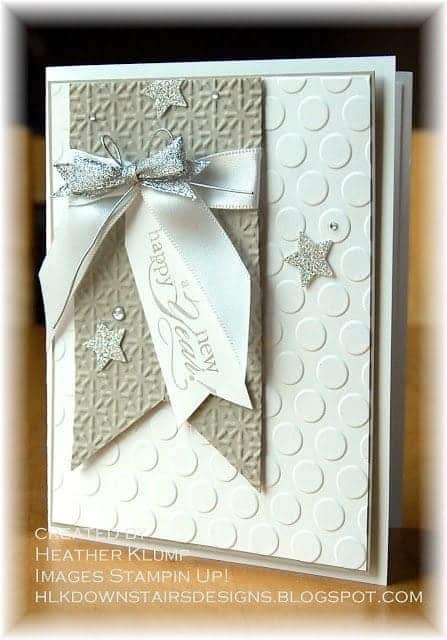 This stylish handmade New Year's white card features fancy white and silver ribbons that were leftover from Christmas presents. As you can see, extra texture is added thanks to different embossing on sand and white card bases along with shimmery silver stars. This holiday season, make sure to save your ribbons to create your own New Year's cards that are sure to be as impressive as these ones. (Ask for embossing and debossing via custom quotes!)
Warmest Wishes Card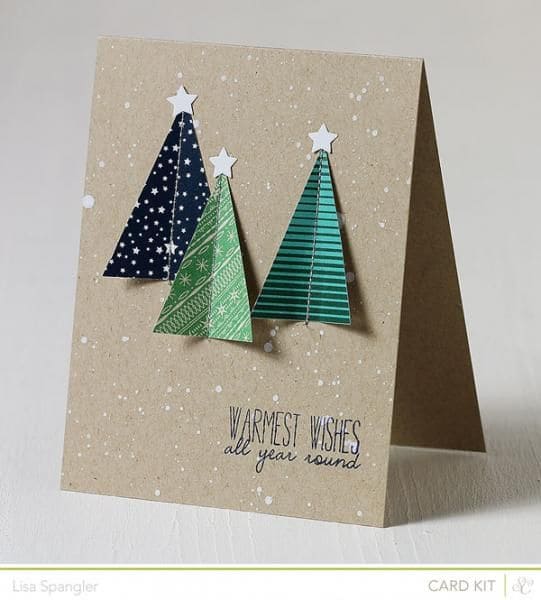 This festive card was created by making trees using the fun papers in the Studio Calico Blue Note Card Kit and then adding a stamp.
Happy New Year Card with Gold Accents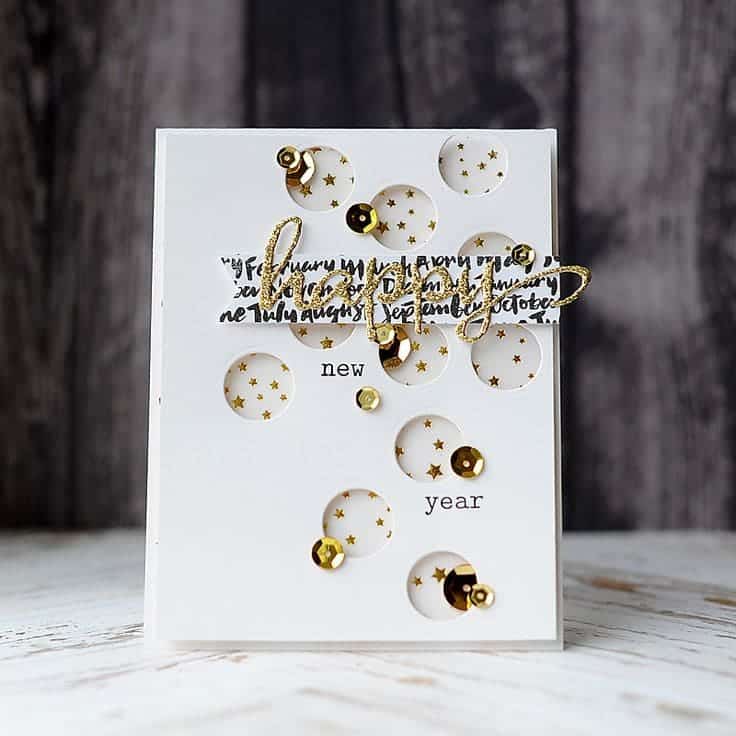 Gold stars bring New Year's wishes! To create this card, a white card base was punched randomly with circles. Then, the card was popped up on paper with gold foil stars below. Last but not least, gold sequins were scattered to complete this festive handmade card. We think this card turned out to be a striking success!
Purple Happy New Year Card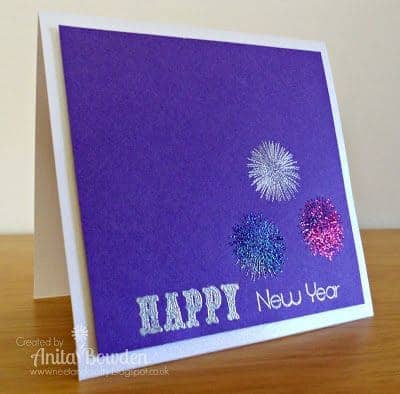 This stunning card featuring embossing has lots of sparkle- perfect for the New Year! As you can see, the gorgeous purple background suits the three embossed fireworks wonderfully. This festive card was created in 10 minutes! Isn't that fantastic? Do you want to give it a try? Follow the tutorial.
Happy New Year Cupcakes Card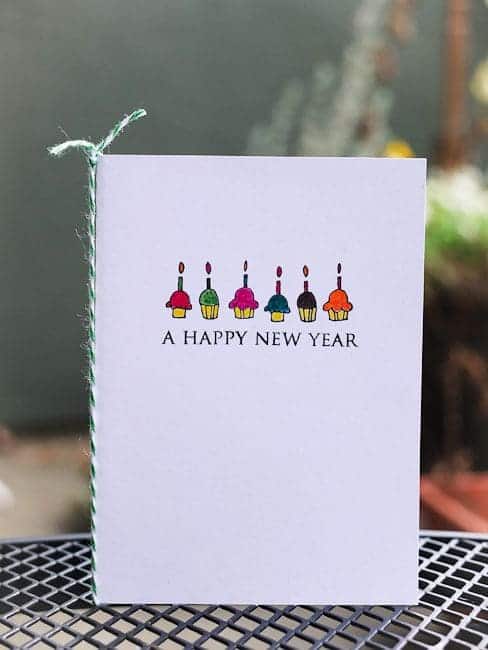 Don't you just adore clean and simple cards that have a minimalist look? Making clean and simple cards for New Year's helps save precious time. Amazingly, this card was created in 3 minutes! Find the tutorial and useful tips to make your own Happy New Year Cupcakes Card here. Perhaps you can change the color combination of the cupcakes. How about using pastel colors instead?
Fabulous New Year Card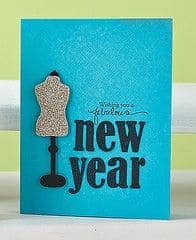 Are you a fashion lover? You will love making this New Year's card which involves die cutting and stamping. Turquoise, lime green, black and gold accents look great together! To create your own, just shop for the materials and follow the tutorial. They're sure to be a hit!
Celebrate, Celebrate, Celebrate Card
This colorful card with vellum stamping is a fun bottle topper. Wouldn't it make an awesome DIY New Year's card? Just emboss the word "celebrate" using vivid colors to help your coworkers and friends ring in the New Year in style.
Happy New Year Owl Card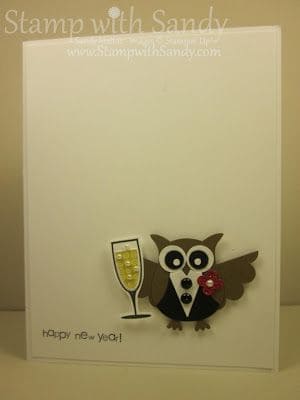 For all those owl lovers, try making them this card featuring a smartly dressed owl with a glass of bubbly to ring in 2016. As you can see, elegant pearls add the fizz to the champagne. Isn't the way the owl becomes the focal point when standing in a field of white just splendidly chic?
Happy New Year Cups Card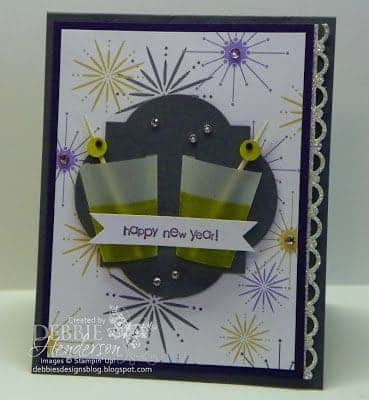 Toast to the New Year and spread the cheer with this beautifully-designed, fun handmade card! Follow the tutorial to create your own card with "plastic cups." Isn't it gorgeous the way the purple, gray and gold fireworks are used as a backdrop for the cups? We feel festive already. New Year's Baby Card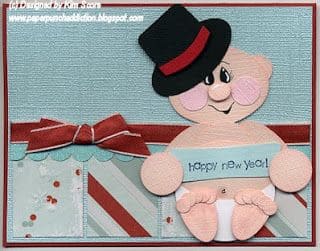 Punch art was used to create this fun New Year's card featuring a baby in a top hat. We couldn't resist showcasing this adorable little card for your inspiration. According to the designer, it was very simple to put together the pieces to create the card. If you want to make your own, you can find the tutorial here. We hope this collection of amazing DIY New Year's greeting cards that we've put together will help you send out the most special cards ever- cards made with love. Once you create your own DIY cards, don't forget to include a lovely message to your friends, family, coworkers or business associates, letting them know how much you care. For more inspiration, check out our vast selection of high quality greeting cards for every occasion.