Discover the power of QR Codes with our Express QR Code Generator. This tool not only lets you create your own unique QR code but also adds an aesthetic touch to it. By allowing you to upload your logo, you can strengthen your branding and make the QR code distinctively yours. The custom design options further provide an array of possibilities for a QR code that truly speaks to your business's identity.
Our Express QR Code Generator is built for simplicity and efficiency. With just a few clicks, your QR code is ready to use. The digital landscape is evolving, and this tool lets you stay ahead, enhancing your marketing strategy and allowing you to connect with your audience more effectively.
How Do I Create a Free QR Code?
Our QR Codes offer a contactless solution from the safety of your phone to help you increase engagement and reach your target audience.
1. Select the type of QR Code you need
Choose from embedding a link, plain text, SMS, email, location, phone number, WhatsApp message, Skype message, Zoom Meeting information, V-Card, or PayPal information.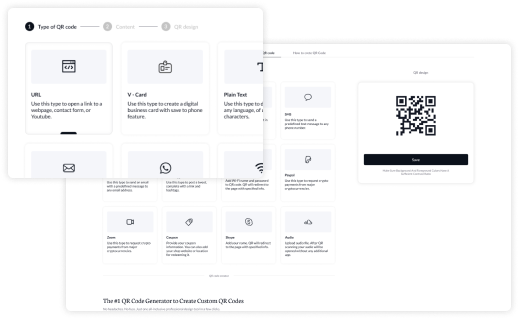 2. Fill in Your Details
No matter what option you choose, fill out all the necessary fields with the appropriate information. Then you can move on to designing the visual elements of the Code.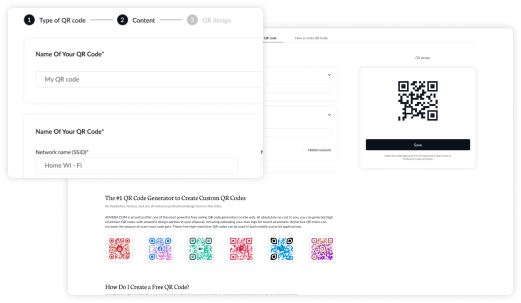 3. Customize the Look of Your Code
Make your QR code unique! Select a custom color and replace the standard shapes of your QR code with diamonds, dots, stars, etc. The corner elements border and center can also be fully customized individually.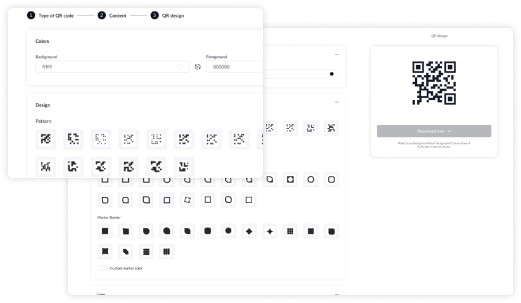 4. Add your logo or Social Media Icons
Add a logo to your QR code. Select social media icons or any other images from the gallery or upload your own logo image. The possibilities are endless.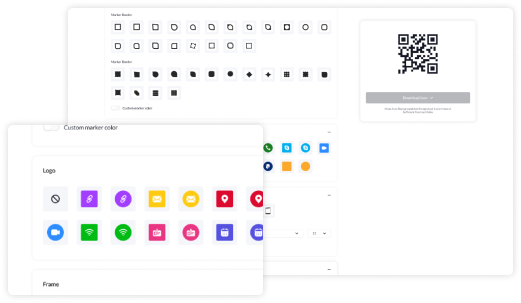 5. Generate Your Code
Watch in real-time all of your beautiful design elements blossom into an amazing QR Code that is ready to use! You can also add frames to help you attract more scans.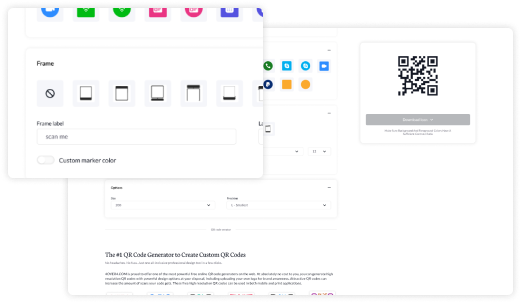 6. Download or Save directly in our free online designer
Download your QR code as .png or .svg or save it in our free online designer where you can incorporate it into a beautiful design you can make in minutes and use in any one of over 350 products.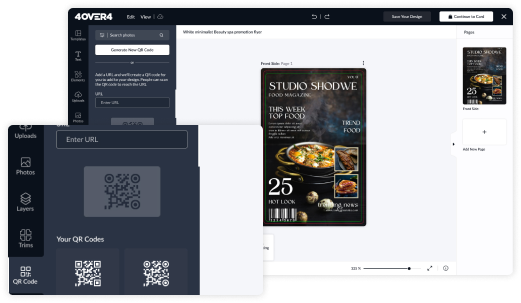 Create your Custom, High Quality QR Code for FREE!
4OVER4.COM's Free QR Code Generator lets you make your QR code look unique! Forget the traditional black and white QR Code if you are feeling creative. Select a custom color and replace the standard shapes of your QR code with diamonds, dots, stars, etc. The corner elements' border and center can also be customized individually. Select social media icons or any other images from the gallery or upload your own logo image. When done, download or save a print quality QR code at a high resolution. The possibilities are endless