Sidewalk signs for businesses are a great way to attract and inform both vehicle and foot traffic.
You may be wondering what the essence of having a sidewalk sign is to your business after already investing in posters, banners, and other displays. Well, it's a fact that most people walk by on the streets without even looking up at the businesses. In addition, customers don't like to feel like a bother when they come into your business to ask for something when they're unsure about what exactly they're looking for. Having sidewalk signage therefore will be beneficial to you first because they'll be able to see any important information about your products or services in their line of sight as they go about their business. Secondly, they will have less resistance in entering your store to ask more about what you have put on your sidewalk sign board.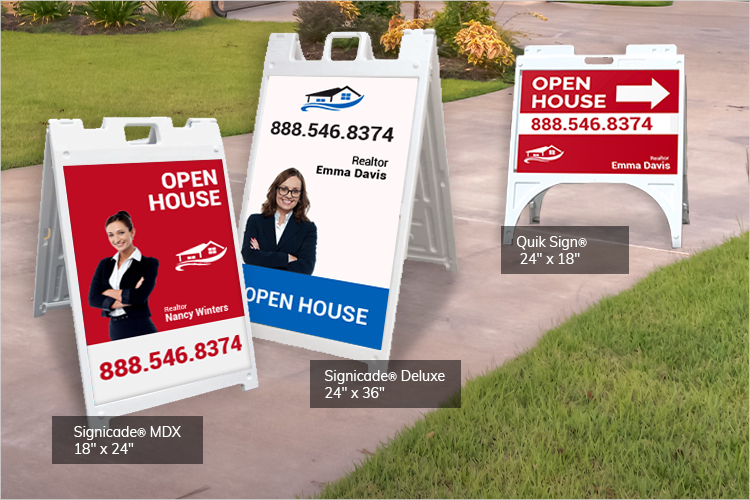 Sidewalk signs should be placed strategically
A-Frame metal signs for instance are hard-to-miss promotional items that can be used as outdoor sidewalk signs to display the same or two different messages double sided to attract passersby coming from both directions. Being that they're lightweight and portable, you can place them on parking lots, garages, valet services drop off areas, construction zones, sidewalks or street corners and use them to show:
Lower prices
Better selection of products
Free trials
Menu specials
A gig
A grand opening
Directional instructions
Properties on sale
Political campaign candidates
Keep your sidewalk sign simple
When it comes to using sidewalk signs for businesses, remember you only get about 3 seconds to grab the attention of someone who is driving or scurrying down the street. This means you should limit the information you put on the board and make the design visible from as far away as possible. If you make the letters on the sidewalk boards four-inch your potential customers will be able to read from afar.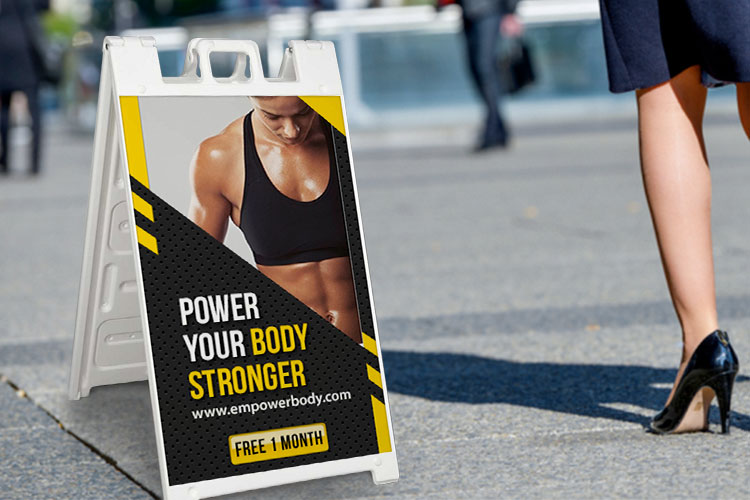 What type of sandwich boards are there?
Our collection of the sidewalk sandwich board and A-frame boards is one of the best particularly if you're looking for portable and cheap sidewalk signs.
We have our plastic signs such as the Dry Erase Signicade in the traditional A-frame folding frame. The biggest advantage with this sidewalk signage is that you can easily change up the message to create personalized welcome messages regardless of the season. It's waterproof and UV safe and so rain or shine, you can attract customers into your store. In addition, a dry erase laminated vinyl is mounted on the plastic signicade format, that won't rust, splinter, or fade.
Wind signs are fantastic outdoor sidewalk signs made to stand the test of time, especially during bad weather. These conveniently custom made wind signs give you the freedom to replace your promotions as often as you like thanks to the Quick Change System. Just slide your artwork in and out and use the secure stay tabs to keep your print in place. Perfect for seasonal promotions and daily specials, our double-sided signs are completely versatile and truly personalized. The nature of the sign allows you to leverage more exposure and foot traffic come rain, wind, or shine. They'll deliver your message day and night! Other benefits include:


They look very modern and are definitely one of those can't-be-missed structures that take over a sidewalk.

Unlike other A-frame signs, wind signs have an imposing presence, making them great for bold or guerrilla advertising.

Their in-your-face quality is a surefire way to get more eyes on you, your brand, and your business.

They can easily be updated thanks to their multiple sign inserts.

The corrugated plastic they're printed on makes a great outdoor sign, ready to keep your artwork vibrant even when exposed to the elements.


Revolving wind spinner signs
As they slowly revolve in the wind, these types of displays "twist and shout" your name. Just by virtue of their dynamic movement these sturdy sidewalk boards stand out, however, their power lies in more than just movement; they're super flexible and attractive. With one custom printed wind sign board and mighty metal construction, this is a cheap way to get people to take notice.

Our complete list of signs include: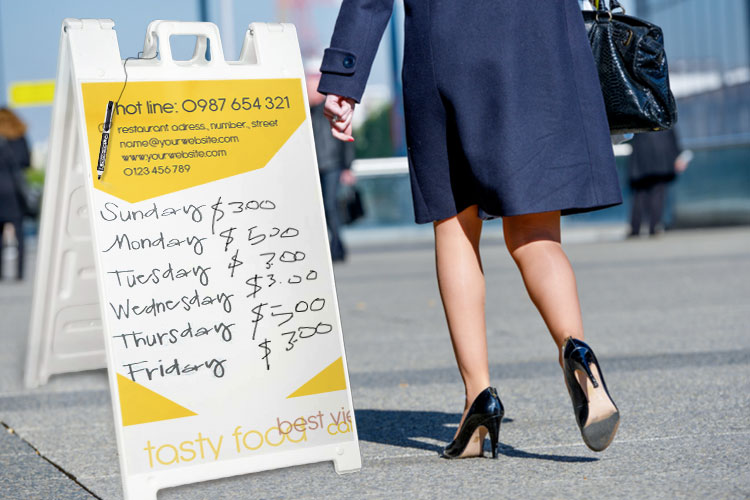 No minimums for sidewalk signage
If you're looking for sidewalk signs for sale then count yourself lucky because at 4OVER4 you will find a sale going on every end of the week throughout the weekend. Plus, there are no minimums whether you're looking to get any of our sandwich A-frame or wind signs. You also get more than just the product which is of high quality and at a great price. You also get to earn 4OVER4 rewards coins which you can use to redeem free business cards, other products, and gift cards from other sites. If you're keen on taking your advertising to the next level, make your order now.