Make Your Own Business Cards Online
You have many options when you need to design your own business cards free of charge. However, as you may have noticed, many platforms restrict what you can do with them. It's frustrating to run into these half solutions when you urgently want to make your own business cards free of charge. We had this in mind when building the ultimate free card maker for you.
It's why, unlike other free builders, our business card builder comes with these benefits:
Abundant templates to pick from
You want a card design that isn't rampant. A basic-looking business card won't let you or your business stand out. It's why we've curated some of the best-made designs, over 1000 of them, so you have a rich library of templates to pick from for your business card needs. If you're feeling super inspired, you can start your design from scratch by selecting our blank canvas.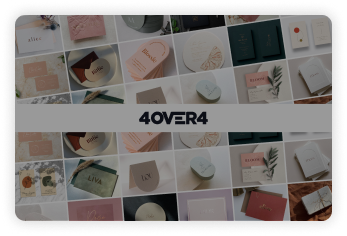 Save time and effort with our sorted display
It's easy finding the design that should work for you. We've sorted our business card design templates by industry. Select your industry to have relevant cards shown to you. If you feel it pertinent to maintain your brand&apods;s colors, you can also sort by color.
No hidden or locked functionality
Some free business card makers require you to upgrade to get the full range of functionality. But on 4over4.com it's all free. There are no hidden charges or hidden functionality you'd have to pay to unlock.
Highly customizable designs
Our feature-rich design interface offers you maximum customizations, ensuring your business card is precise and professional. Choose from a collection of over 1000 free fonts and make your designs personal by using the images you want or importing your own logo. Additionally, you can add other design elements such as shapes, icons, barcodes or QR codes, and even your hand-drawn shape. These features are more than what common business cards generators or editing programs offer.
Order your printed designs on the spot
Once you are satisfied with the card design you've made for your company, you can save your design for later. Alternatively, you can order your newly designed card prints without switching your browser's tab. Our printing service is affordable and swift. Additionally, we have one of the best turnarounds. Your order is ready in just 0 - 5 days after placement.