Are you aware that 10 billion business cards are printed yearly in the US alone, out of which 8 billion cards are discarded within a week? This shows that people order business cards irrespective of all odds. Despite a 2.5% increase in company sales for every 2000 cards handover, have you ever thought of why people throw it away? It is because of the poor quality and lack of design sense. People prefer to design and self-print, instead of ordering the business cards to save money. Can you save big by self-printing? I never took it seriously, until I failed in my endeavors of producing quality DIY business cards. DIY is useful to build up your confidence or for a professional designer with thorough knowledge of printing. Nevertheless, it is always better to order business cards. That's what I have learned from my mistakes. Do you wish to repeat my mistakes? If not, then read through.
Why Order Business Cards, and Avoid Self-Printing?
There is a big difference between hiring a professional printer and doing it yourself. A professional has a broader perspective on things. Apart from working on your business card printing, a professional printer aims to get in-depth know-how of your brand. Do you know why it is essential to have a thorough knowledge before printing unique business cards? It is because the logo, color, fonts, and message of your brand should reflect your business value clearly on the cards. When you design it using business card templates, your card individuality is lost, and the lack of expertise makes your card appear unprofessional. Let us discuss how professional business card printing service is always better than self-printing.
Order Business Cards Vs. Self-Printing
Knowledge and Experience
Do you know what color or finish is best for your business cards? What is the right thickness for your cards, or which business card size works best for your brand? Although certain things depend on your company budget, only a knowledgeable and experienced printer can answer your queries. Printing services have years of experience and understand the road blocks that one may come across when printing. They are competent and thus aware of the critical things that need an expert and attentive eye for detail, unlike anyone choosing DIY or self-printing.
Timeline and Relevance of Results
When you are inexperienced about a specific subject, you end up making mistakes. The trial and error methods are the best for self-printers. So, it would be best if you had an unlimited timeline for creating one unique business card. This, however, may hamper a project campaign that has to wait until you create one card, the need of the hour expires and becomes irrelevant. Whereas when you order business cards, you don't waste time in trial and error. One can get their full-color business cards delivered quickly within two or three days. One such example of a printing company is 4OVER4. They offer high-quality value for money printing products.
Quality Resources and Tools When Your Order Business Cards
Another major drawback of self-printers is the lack of high-quality resources and tools. The quality of DIY business card templates can be compromised due to the lack of resources and tools. When people try to design and print their own cards, a lot of time and energy is wasted in searching for the perfect tools and resources for printing. For instance, if you wish to have a particular shape for your cards, you must be aware of the die-cut ways. Without the knowledge of die-cut printing, you will end up with a mess. When you prefer not to order business cards and do it yourself, you end up making more mistakes.
Benefits of Ordering from a Professional Printing Service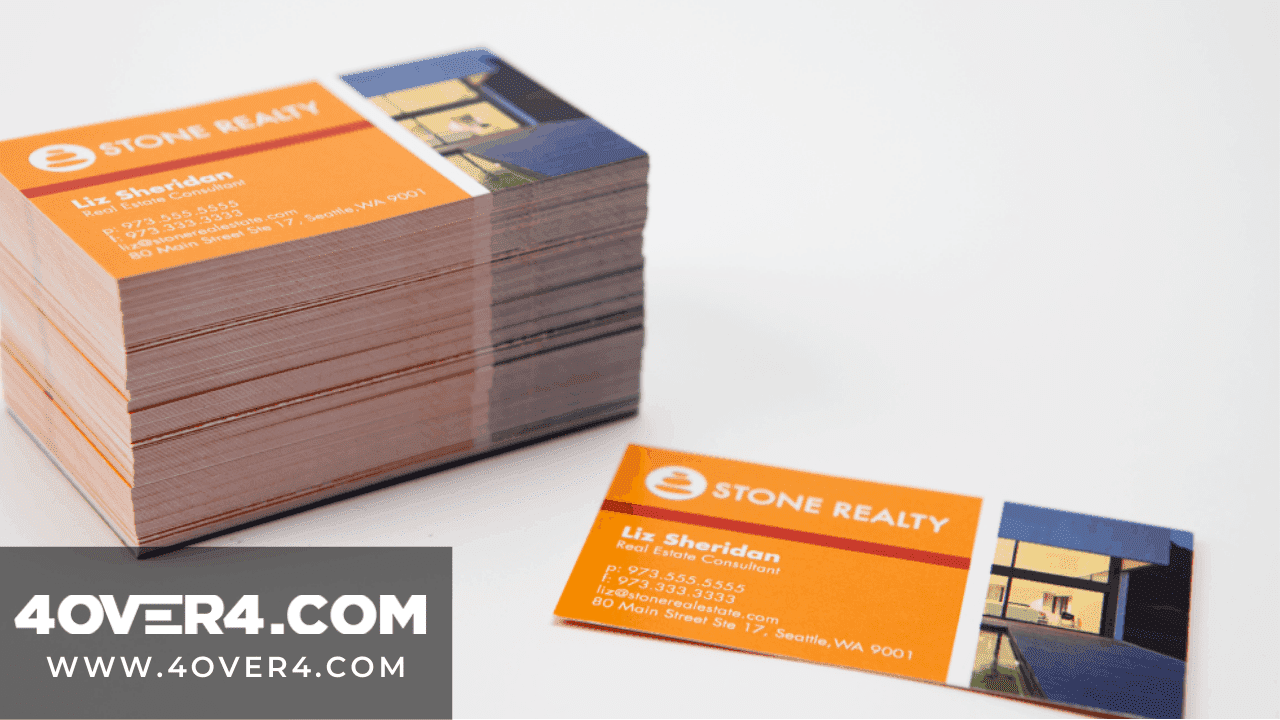 It is often difficult to decide between hiring a printing service and trusting your own skills to create a unique business card. When you depend on a professional company for your business cards design and printing, you are well-aware that you don't have to worry about anything. Provide the design file, choose paper stock, select the finish, and you are good to go. The small business owners and startups tend to choose self-printing while keeping several considerations in mind such as quality, number of cards to be printed, or other things for the upkeep of the business. Despite the pros and cons of running small businesses, the benefits of a professional service overshadow the cost.
Order Business Cards for Paper Quality
By choosing professional printers, you get access to a wide range of paper stocks. There are various paper types for printing like coated, uncoated, matte, metallic, gloss, 14 pt, 16 pt, 32 pt, or ultra-thick premium range. It plays a significant role, as all papers have different kinds of reflection and color saturation. Some of the paper stock is great for brighter texture, whereas, some are more apt for matte or darker shades. When you order business cards, the printer will come up with the right paper selection for you as per your budget and brand. They have the right advice for you regarding paper stock selection for your business cards.
Range in Print Quality Options While You Order Business Cards
When you hire a printing professional, they offer the best range in print finishes. Apart from having the latest tools and software to achieve higher details level, printing service is capable of providing advanced options like custom cuts, frames, lamination, surface texturing, and more. The print finish acts as a protective covering for your business cards and makes it enduring. Enhance your marketing tool with the best printing finish so that your clients cannot throw it within a week. Please give them a reason to treasure your card by making it interactive. Self-printing can never let you achieve so many levels of quality. Order custom business cards to give value to your clients.
Output and Convenience of Ordering Business Cards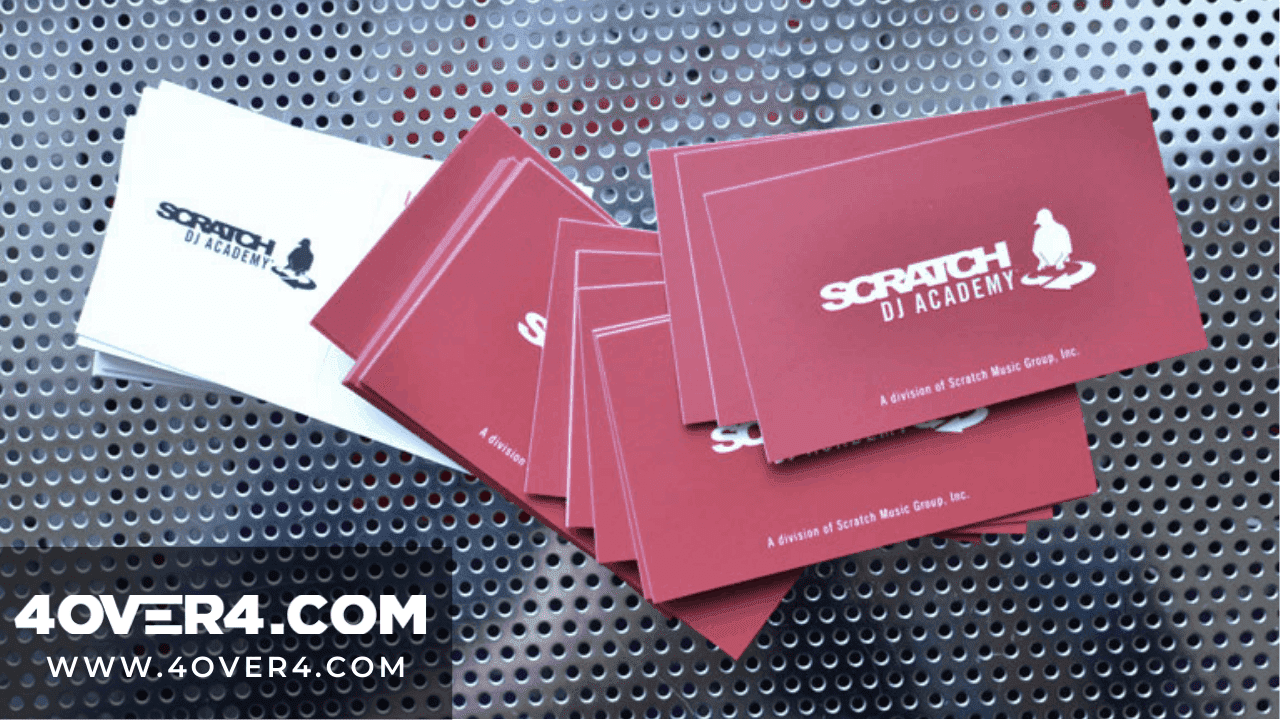 When you hire a professional service, they offer a more suitable solution for printing custom business cards. The specialized machines and experts can efficiently deal with larger orders without disturbing the workflow in the office. Employees are more settled and can concentrate on their forte instead of trial and error in printing practices. 4OVER4 team is highly efficient in taking up large orders and delivering it successfully within a 2-5 days time frame.
Order Business Cards to Reduce Cost
Outsourcing business card printing for your staff may sound like a vast expense, but the fact is hiring a professional printer reduces your printing cost substantially. Self-printing can incur extra fixed charges like machinery, and variable fees like wages and ink. DIY printing is not cost-efficient for companies. A printing service remains updated with the latest tools and trends in the industry. They can come up with innovative and cost-effective ways to print bulk orders compared to office-buying ink for desktop printers for smaller orders.
Conclusion
As you save money and printing cost, you can even save time and effort by hiring a professional business card online printing service. You can expect fast turnaround times as you pay the experts for high-quality printing. Choose to order eye-catching business cards from 4OVER4 printing services and enjoy the access to wide-ranging paper stock and finishes. You can also choose Green Printing service for 100% recyclable paper and vegetable-based soy ink for an environmentally friendly business card that no DIY printing can offer.