Apr 28, 2020 Clap 4034 ViewCopy Link
A business card lookalike, hang tags are the brand labels attached to the clothing or merchandise displayed in a store for adding a range of info. Hang tag printing includes fabric care instruction to discounts, the name of the manufacturer, and other company and product information. If you want, you can make it interesting instead of just sales price added to the boring cheap hang tags with strings. The tags have the power to convey your brand essence most simply. Even a strategically placed small hang tag with a relevant message has the power to motivate customers who are not sure if they should buy a particular item. Apart from speaking volumes about your brand, well-designed custom hang tags for clothing can also make your products stand out and inform and entice shoppers. However, several brands are yet to recognize the importance of tag labels. Let's learn the factors that make hang tag printing with string important for businesses.
Voice of Your Brand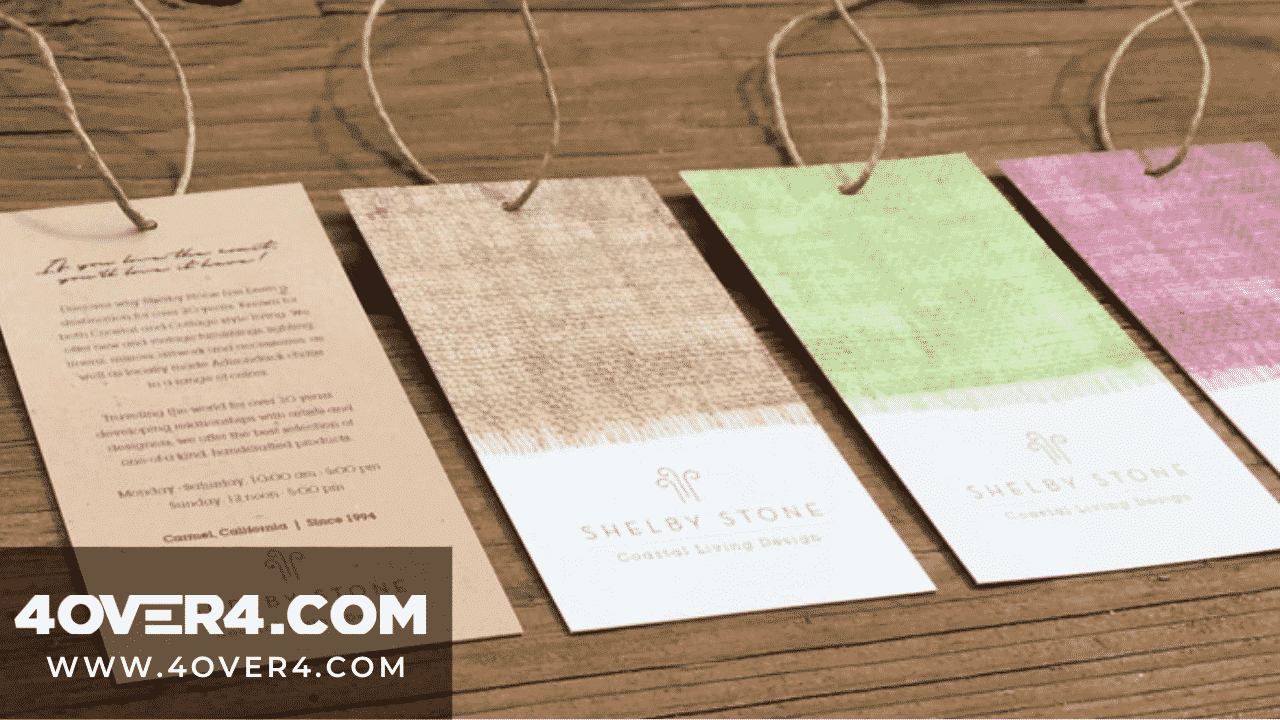 Source You can express the fun side of your brand in a wide range of ways. Attaching die-cut hang tags with appropriate text is a great idea to convey it. If you can ensure a high-quality design for your product tag with a perfect hole drill for tag string, you can easily create a compelling look for the tags. Whether die-cut shapes or folded hang tags, it has the power to voice the USP of your brand in a minimum and shortest possible way. For instance, when a customer comes into your store, a pushy salesman walking behind and forcing them to buy is the last thing that they would want. Instead, the dangling tags from product come as a significant relief because it gives an immediate picture of the product. From price and uses to brand and manufacture detail, a hangtag includes all. When customers are free to move around and choose, they have a connection with the hangtags. With such substantial importance of hangtags, never choose a cheap one. The cheap hang tags may project your products as sub-standard. People can have a negative opinion that when tags are of poor quality, the products will be in the same lines. To reinforce your brand voice with tag labels, choose beautifully-designed, luxury finish tags. 4OVER4.COM is one of the best choices when it comes to hang tag printing with exceptional finishes like die-cut, spot UV, metallic, etc. The 4OVER4 team helps you stand out and leave your competition behind.
Hang tags Connect with Your Customers
You can positively affect your customer's mind and soul with attractive hangtags. It sets a strong impression and easily connects with the customers. Planning to seek attention with high end hang tags? Go ahead without any doubt because when several products compete against each other in one retail zone, high-quality product tags with the right design and message draw the attention of the customers. For example, when you visit a store, there are often similar items grouped like books, DVDs, or t-shirts, etc. The hang tags play a significant role in enticing the attention of the customers to your products. You can let your hangtags attract attention by designing them with the right color contrast, style, size, shape, and information. Using big fonts for headings, some image, or keeping it simple yet, bold with the use of foil printing can give your product tags a branded appeal. According to your target audience, unique selling point, and industry, you should position your brand on hangtags.
Hangtags Printing Increases Sales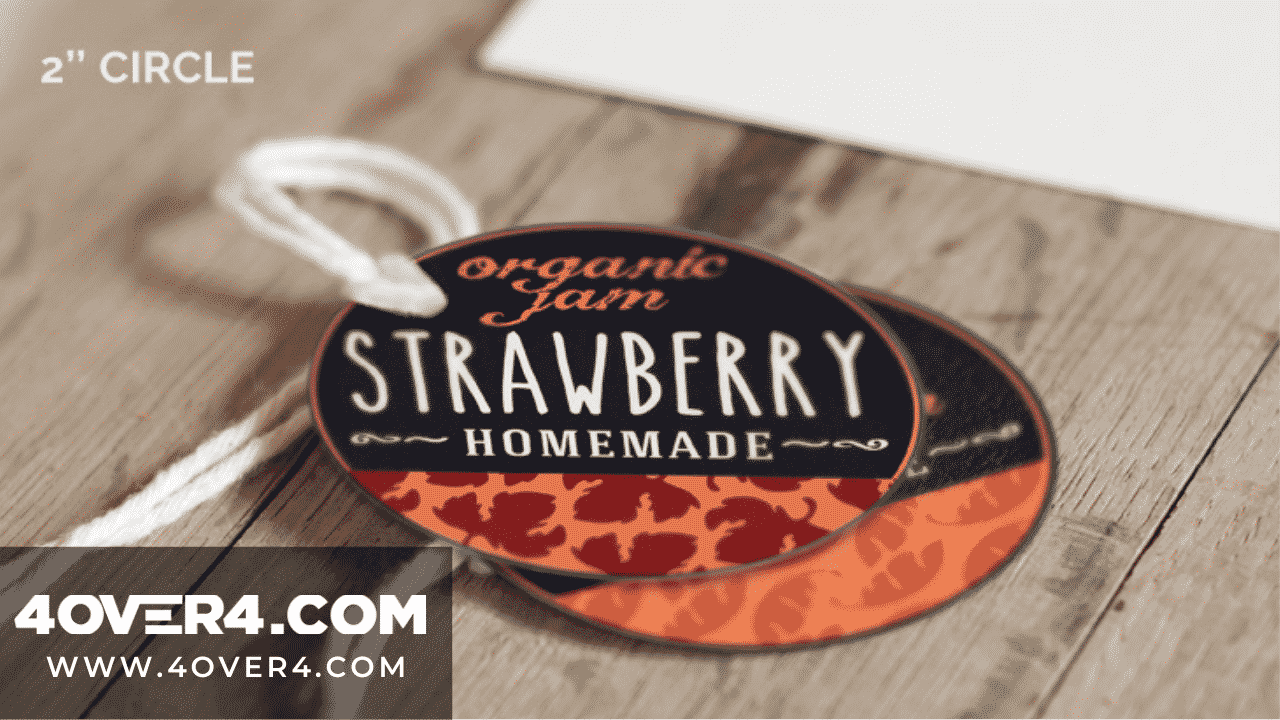 For any business, their marketing involves several activities. Hang tags are one of the best marketing tools to print promotional codes or discounts to attract customers to buy your product. You can also add a perforated or rip card with the hang tags to encourage future sales and later purchase. They might also be motivated to make instant purchases to avail of the discount in the store if it is available just for a day. It is especially fruitful if you are planning to partner with a similar non-competing company with the same customer base. Just put a perforated card stretching the hang tag and add the partner company's offer. Similarly, ask your partner company to do the same with your coupons. This barter exchange can be a great idea to present your products to a new set of customers. Moreover, a third-party promotion of your products makes it all the more reliable and trustworthy. A little bit of creativity and brainstorming can quickly turn a 14 pt die-cutting tag into a prime factor of your business success.
Flexibility and Endless Possibilities with Custom Hang tags
There are endless possibilities when you choose custom hang tag printing. It can be simple yet, multi-purpose tool to draw attention. Not just attention-seeking, a hangtag can also be used as a bar code, like a sticker, a coaster, and more. Give it the right shape and precise brand appearance, and it is ready to go. For instance, in a beverage company, hang tags can be in the shape of the coaster so that customers can use it at home. So, there are many options. The product tags come in a variety of thicknesses, sizes, and shapes. You may use sustainable, eco-friendly kraft paper to create hang tags. It does not have to be paper always. You can even try rubber, stickers, leather, or etched wood for hang tags. Any print service like 4OVER4 is an excellent option to customize your hangtags as per your choice. You may download hang tag templates to design your own product tag or send the design file for perfect execution. We also offer Green Printing service for anyone who prefers environment-friendly printing practices like the use of recycled paper and soy ink.
Important Information with Product tags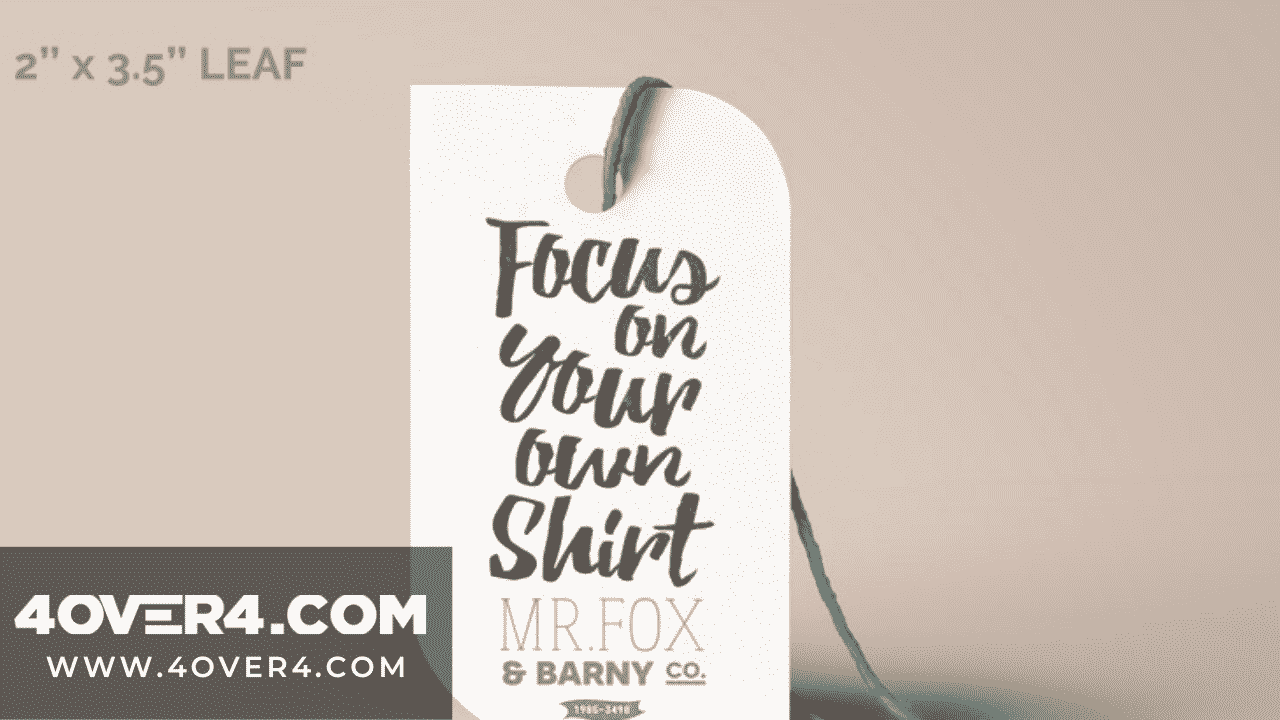 People are curious about the fabric quality, the material used to make the product, origin if made by artisans and local producers, and more. If you think like a customer, you will definitely agree that the first thing that people look for is the luxury hang tags from the product on display. Whether it is caring instructions or manufacturing detail and the pricing, hang tags are the best way to convey the information to the customers. Use visual content that reflects your brand and keep the text minimal in order to grab the attention of people. Choose subtle colors and prints so that people can read the content. Remember, the tags distinguish your products from other similar products on the racks. It also spreads the word about your brand. Be as creative as you want and create a tag that sets your products apart and convey the brand message. The labels often motivate people to buy products and also let you achieve your set goals.
Marketing Potential of Hang tags
Every marketer is aware that highlighting the benefits and features of a product is vital to enhance sales. Hang tags have the power to print and bring the product features to life effectively and efficiently. For instance, if you are selling a winter jacket, it cannot tell the customers that it has a thin lining, which is three times more effective in dealing with the cold. Only a hangtag can make people aware of this feature and also lend reliability to your company. This is a great way to express that the customers have invested in the right brand.
Highlight Your Exclusive Brand with 4OVER4 Hang tags
Make your brand stand out in the crowd and get noticed with an attractive logo on the hang tag, designed and printed professionally. Hang tags highlights your brand exclusivity with the help of the logo. People buy products based on the company image in the market and how well they display their products. So, once the customer is attracted to your product, you need to explain why the product suits the customer's need or how well the product matches the customer's lifestyle. Therefore, a hang tag printed by a professional printing service like 4OVER4 is an excellent option to motivate sales and highlight your brand position.