Are you planning your big day? To pacify the anxiety of the wedding planning, you must start working on your wedding timeline. With a full-time job and other commitments, planning a wedding can be quite a stressful task, yet it is something that you can't ignore.
If you wish to plan a perfect celebration and make it a memorable event, here's a wedding timeline checklist that can ease your task to a great extent. From wedding card printing to hotel room bookings and more, this wedding plan schedule is the best way to focus on every big or small detail involved. Keep reading to learn more.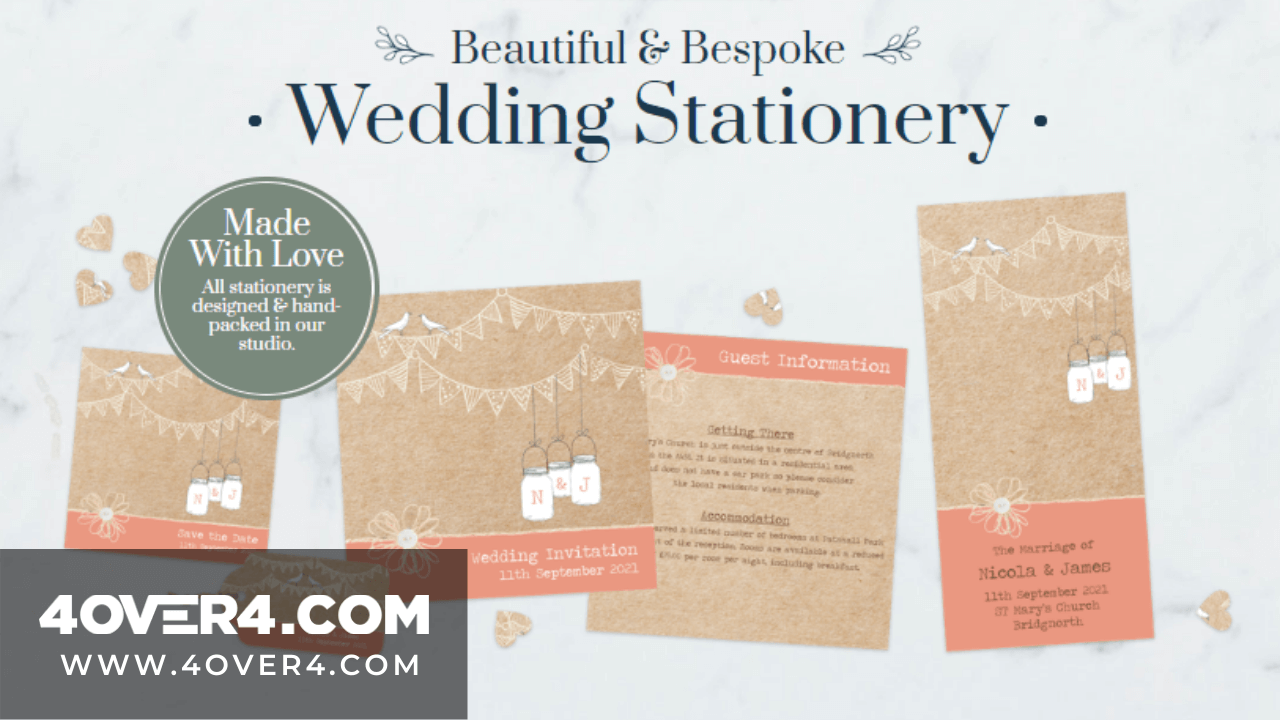 Types of Wedding Timeline Planners
There are different types of wedding planners. What type of planner are you? If you are a systematic planner, you might follow the 100-step guide to plan your ceremony and reception. For a disorganized and easily-stressed person, it becomes highly difficult to handle the planning process.
In the entire scenario, remembering the dates play a very important role. 4OVER4.COM is one of the most trusted online platforms to make your wedding planning timeline interesting. From printing Save the Date Magnets to invitation cards or thank you cards, we help you with everything you need.
Let's break the complete checklist into a monthly wedding to-do list for 12 months.
12 Months Until Your Wedding Timeline
Before planning a big event, it is very important to plan your budget. The most important task on your wedding timeline is to figure out the funds.
You should understand who's paying for what and allocate the amount accordingly to each area of work that needs to be completed. The amount may change when you jump into doing it, but at least you know where to draw the line as to how much money you are willing to spend.
You may be planning on inviting all of your close friends and relatives to your wedding. So, jot down the names in a wedding timeline list to calculate the number of people that will be present at your wedding. You must consider your budget while making your rough guest list.
Nowadays, venues are booked at least one year in advance. Once you complete the previous steps, it is time to decide where you will get married. Be sure to visit a few venues before zeroing in on one.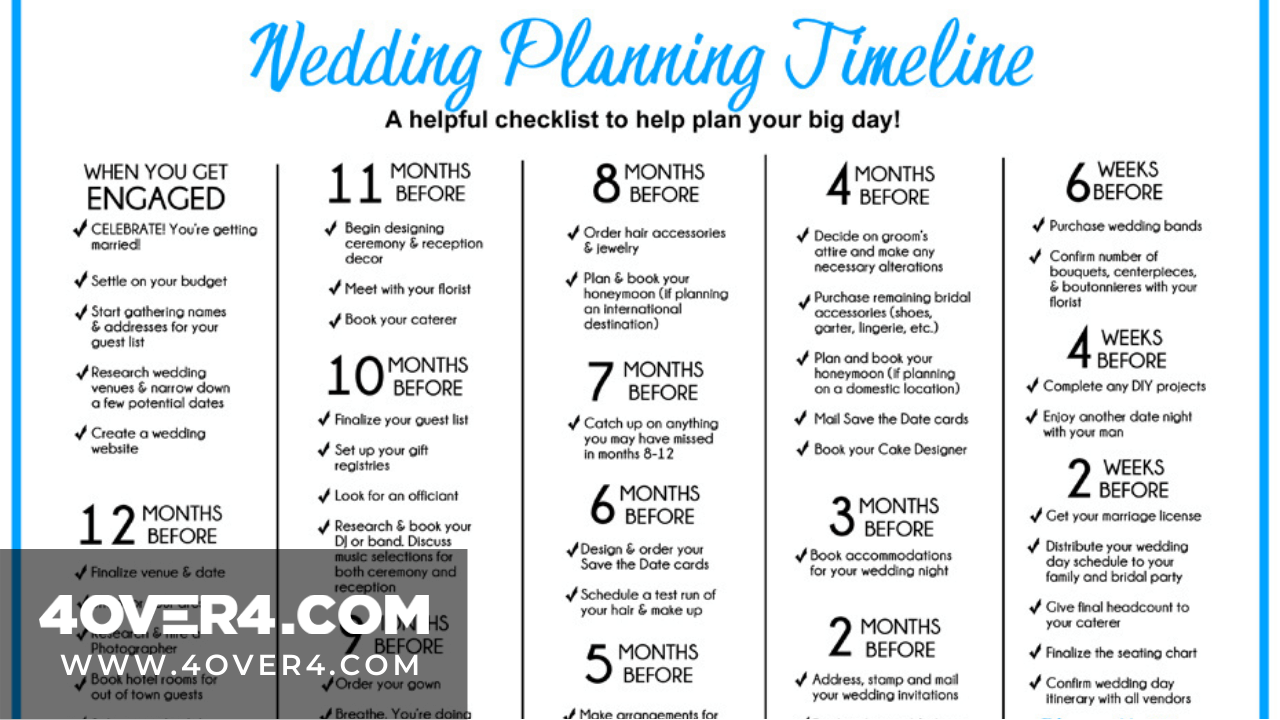 Whether it is an outside caterer or the in-house caterer at your venue, you certainly do not want to be experimenting with food ideas while creating your menu. So, whether you are deciding on grandma's blueberry pie or your favorite cocktail, hunt for the best rates from various caterers and decide accordingly.
11 Months Until Your Wedding Day
As the countdown to your wedding continues, your mind may be overwhelmed with various ideas for the décor on your wedding day. Your Pinterest board can be a great tool to help you gather inspiration, increase creativity, select a color palette, and create a mood board for your wedding day.
Hire Vendors that Get Booked Instantly
Vendors like videographers, photographers, florists, and a band or DJ make your event breathtakingly beautiful and memorable and help to capture your special moment stunningly. The best ones often get hired quickly, so don't take a chance and be sure to hire the vendors about 11 months before your wedding.
10 Months Until Your Wedding Day
Block dates for Hotel Rooms
To make your guests comfortable and show a thoughtful gesture, block dates for a few rooms in a hotel near your wedding venue. This will also help those may be coming from out of town to attend your wedding.
Start Checking Out Invitation Designs
Your wedding invitation gives your guests their first impression of what your wedding will be like. Custom-designed invitations are very popular lately and they are perfect for expressing the theme of your wedding.
You can minimize your work at this point by opting for trusted online vendors like 4OVER4 for wedding card printing instead of shuffling through the endless available graphic designers. You can choose from available templates that 4OVER4 offers and further customize your invitation with great paper, textures, finishes, and fonts.
9 Months Until Your Wedding Day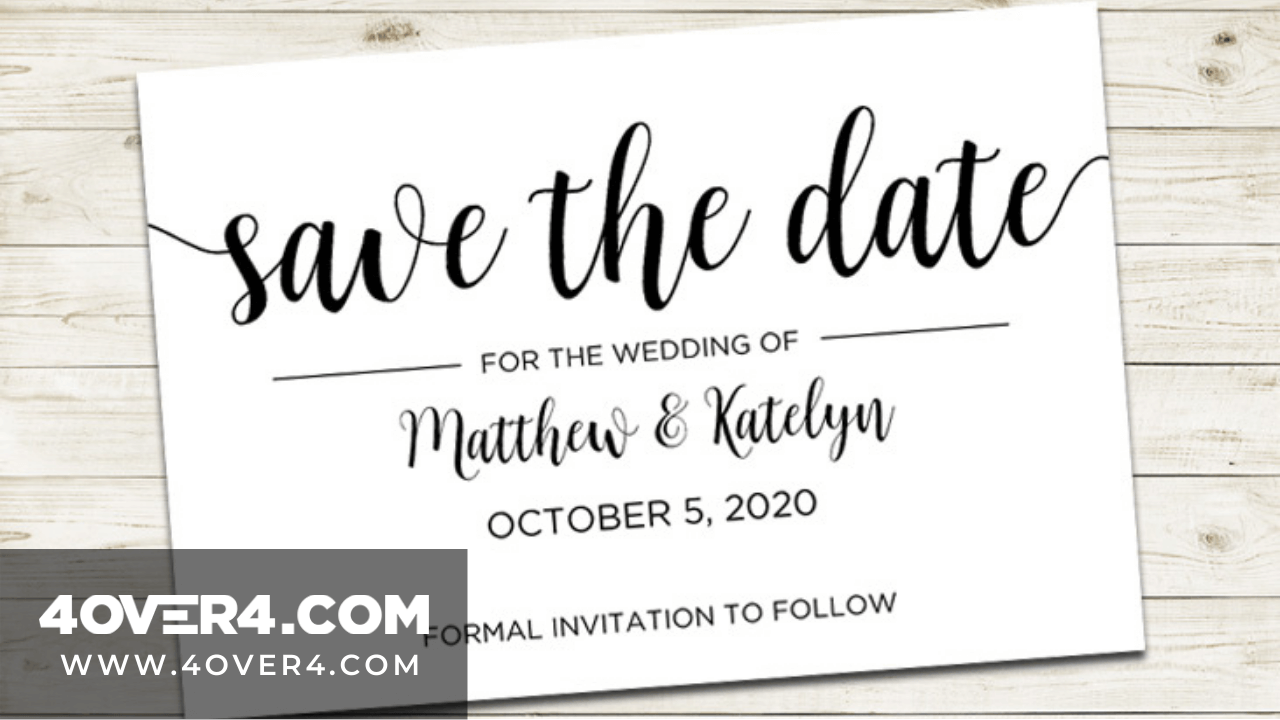 As you proceed, the month is here to officially announce the date and venue by sending Save the Dates. The Save the Date magnet available from 4OVER4 is a great way to make the big announcement.
If you want to avoid the last-minute hectic rush, start getting ideas for your outfit for your big day. Once you have gone through your options, you can finally complete the big task and buy your dress.
8 Months Until Your Wedding Day
Are you planning to register for gifts? If you are, then it is best to ask for the staples that can be useful for your new household. It is important to involve your future spouse while registering for gifts to consider both of your choices.
Select Bridesmaids' Dresses
The same color palette for the bridesmaids' is always better than mismatched outfits. Select the dresses for the bridesmaids' and schedule the fitting trial within the same month if they stay nearby.
7 Months Until Your Wedding Day
The rentals like lounge furniture, linens, specialty chairs, draping, white dance floor, etc. are the backbone of the décor in your wedding venue. Stay within your budget and then place the orders.
Lighting is a major point that often people forget. Selecting the right candles and bulbs to light up your venue perfectly and get amazing photographs even when the sun goes down is only possible when you hire the right light technician.
6 to 4 Months Until Your Wedding Day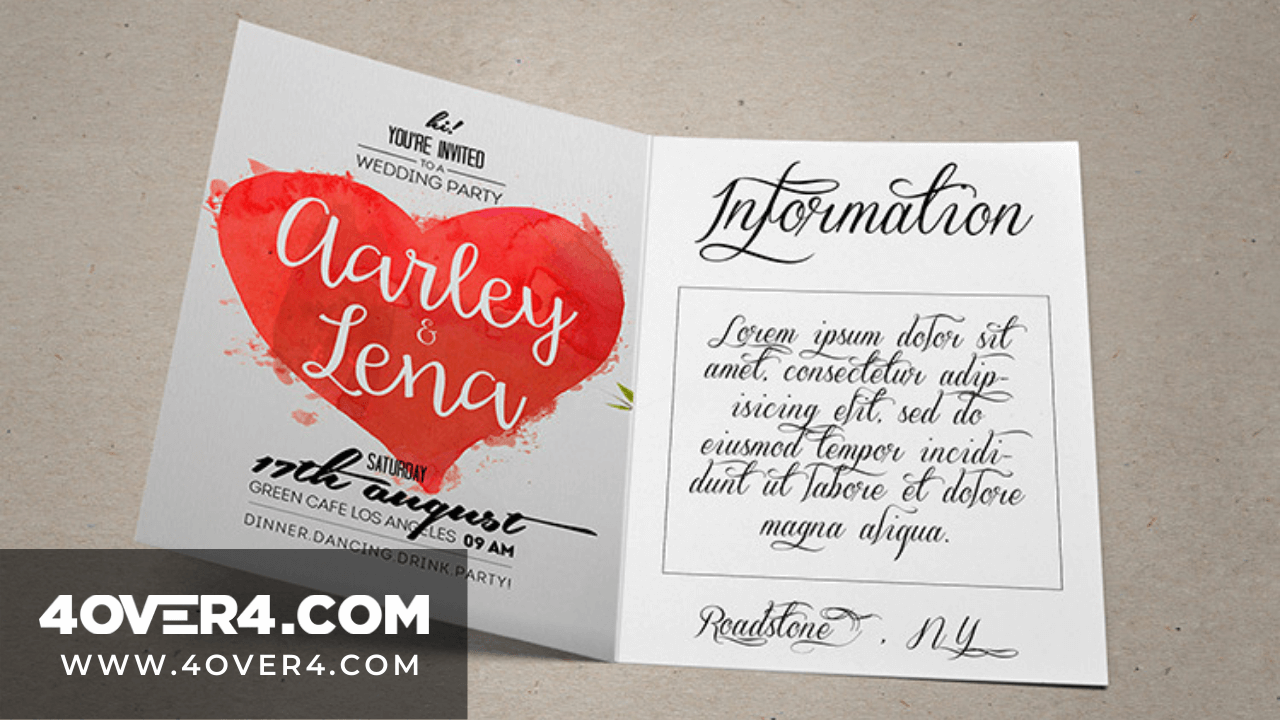 Transportation for Guests
When do you need to hire transportation for your guests? If the wedding venue lacks parking space, if the location is far from where your guests will be staying, or if you have outstation guests, it is a very important and helpful idea to make arrangements for your guests to travel to your location.
The bride and groom's entry and exit should be in style. Whether your plan involves a limousine or a tandem bicycle, it is best to hire a few months in advance.
Make all the travel arrangements according to the time you both are free, work out the budget, and chalk out a semblance itinerary.
Final Tasting with the Caterer
The final tasting of the items is becoming increasingly popular as people decide to customize the recipes right from the signature dishes to the desserts. Once done with the tasting, decide the final menu for the wedding.
Finalizing Cake and Wedding Bands
There are several delicious flavors available these days. Select the right baker and decide the look and flavor of the cake. Another important thing to purchase is the wedding band. Purchase his and hers wedding bands and make the vows.
Don't forget the hair and makeup trial and be sure to discuss exactly what you wish for with your stylist. You can research some looks and hair that you want to sport on your wedding day and share it with your stylist before you sit for the trial.
3 to 2 Months Until Your Wedding Day
Order enough of the wedding cards in case of any mishaps or accidents. You may get the wedding invitation cards printed online with 4OVER4's expert team working on them. We offer a great range to choose from when it comes to selecting fonts and printing options. Once the cards arrive, send them out to your guests.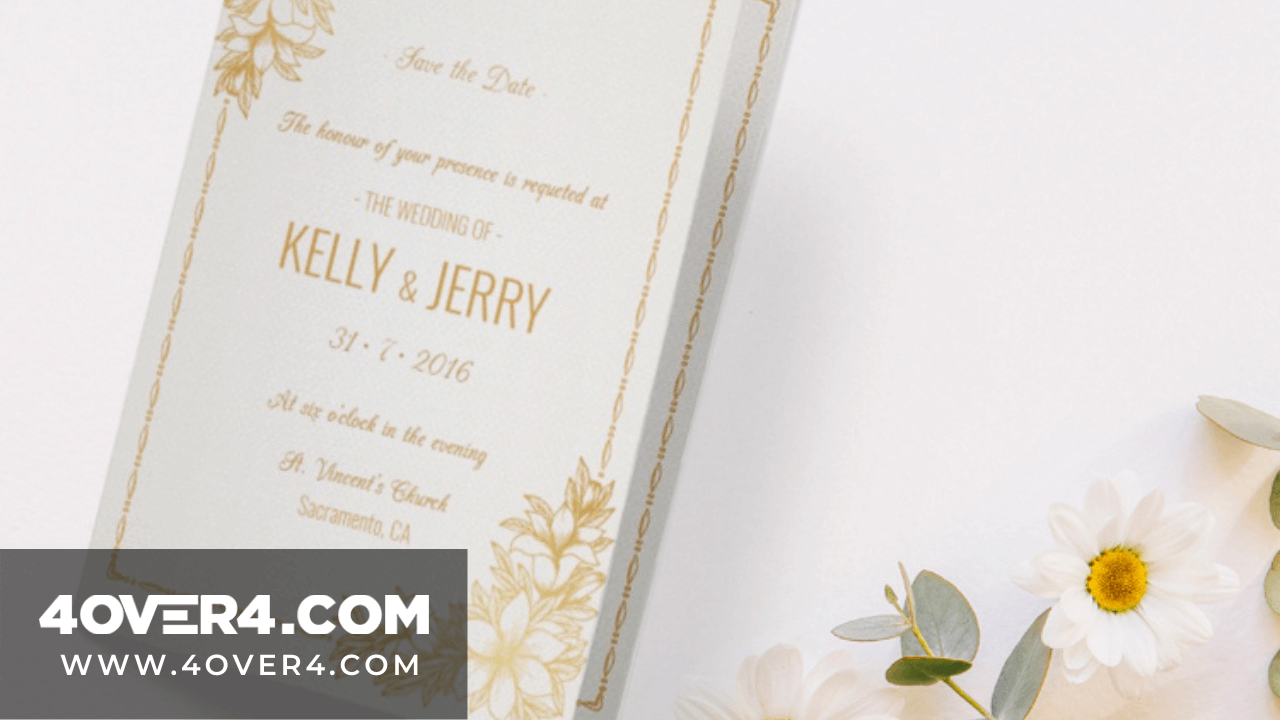 Have you decided to write your own vows? Start working on the vows you wish to make to your partner forever. What type of vows do you want to make: tear-jerking, feminist, and traditional or something else? Decide on your vows and write them up so they are ready for the big day.
You must complete your dress fitting within the final 3 months for a perfect wedding outfit.
Get Your Marriage License
You need to know 5 things to get your marriage license: where you should go, what you must bring, the cost of getting a license, the time it will take to get, and the time it will last. Get the paperwork done if you are having a destination wedding or check out the rules and laws for various states.
The Final Month Before the Big Day
Creating a seating chart and order place cards for your guests
Have a final walkthrough of the venue
Buy the wedding party gifts and assemble gift bags
Complete vendor payments
Keep the tips ready in the sealed envelopes
Prepare yourself perfectly for the final day with a facial, manicure, pedicure, hair spa, etc.
Final dress fitting
Pack your honeymoon baggage
Keep your wedding ring ready
Practice reading your vows aloud
4OVER4, Printing Partner for Your Wedding Timeline
Just enjoy the beautiful location and smile with the happy faces around on your big day. You won't have to worry about anything as you have done a solid wedding timeline planning over 12 months. 4OVER4 can take care of all your printing needs and offer the best quality in every aspect. Sit back from the comfort of your home and order wedding party invitation cards online.