Are you looking forward to sending the wedding thank you notes? It can be quite a tiring task to maintain proper etiquettes of sending wedding thank you wordings to your guests. However, small or large, it is important to convey your thankfulness and appreciation to every single person who made an impact on your big day. It is important to maintain the wedding thank you cards etiquettes.
Receiving the tokens of love and wedding gifts from your loved ones and well-wishers is common throughout your wedding journey. Right from the engagement day till your wedding day and honeymoon period, there are several people who deserve to be thanked.
Do you know how to write wedding thank you cards? Do you know what to write in the wedding thank you cards? Here are some of the tips you must take note of while writing wedding thank you cards.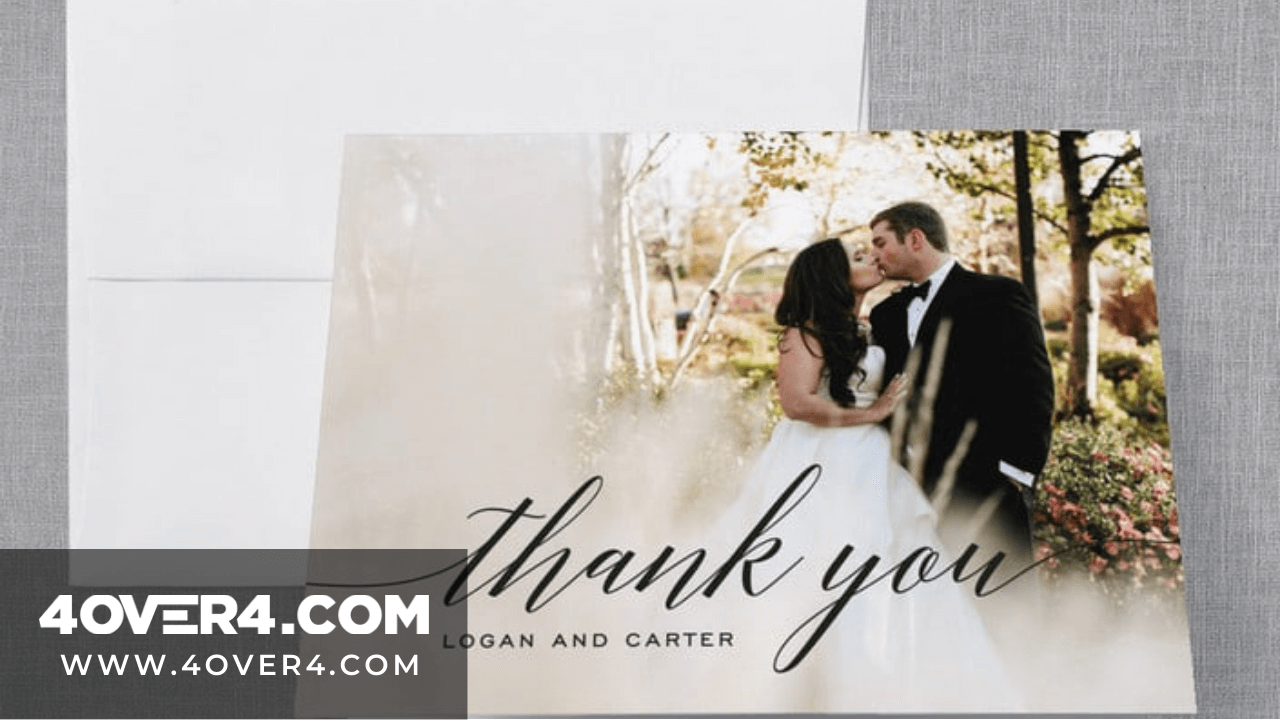 Collect the Physical Address of the Guests
In the digital age, it might be hard to get the physical address of your guests. Without the mailing address, writing the wedding thank you notes will be of no use. Whether it is for gifts received before the wedding or to thank the wedding guest as a sweet gesture, writing thank you notes is a must and collecting the mailing address to reach your note is the second most important thing. Refer to your invitation list to scan the names and send thank you notes.
The list of addresses can be handled in various ways. You may feel free to ask your guests personally to send their mailing addresses that can be entered in Google spreadsheet or create a list on a paper with handwritten detail. Whatever makes you comfortable, you may try to obtain the addresses to thank the gift-givers and write wedding notes to show your gratitude.
List of People to Send Wedding Thank You Notes
Now, you need to make a list of people to thank and why. Is it the wedding planner who managed your wedding events smoothly or the wedding guests who showered you with love and wedding gifts or your staff who took care of the guests throughout the event and ensured everyone had a glass of wine during the event? It may also be the officiants or the bridesmaid and the groomsmen, your parents, the vendors or anyone helped contribute to your special day.
Buy Wedding Thank you Notes
The wedding thank you cards play an important role. Instead of picking up a generic box, the personalized thank you cards can be a great option to pen down your thoughts. You may customize the cards according to your wedding color palettes or choose the style from a range of thank you cards available.
4OVER4.COM is one of the best online vendors for the wedding thank-you card printing. You may order it with your wedding invitation cards as well. Our range of thank you card includes folded flat, velvet, and more. For a more personalized touch, add your wedding photographs and a handwritten note.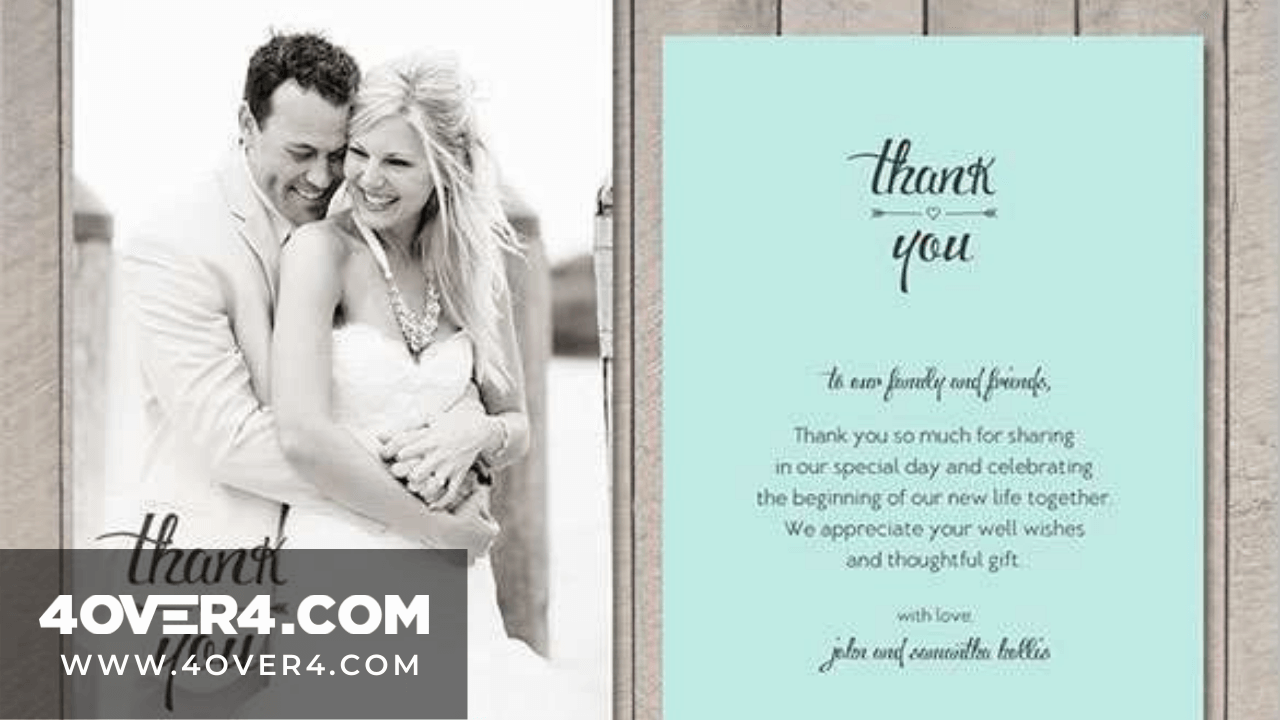 Your guest is sure to be touched by your sweet gesture. Order as per your requirement, customize the fonts and colors you want or choose from the templates available to write your thank-you notes. If you don't have time, you may also send pre-printed wedding notes with signatures of the newly-wedded couple and a common thank you card wording for all.
What to Write in Wedding Thank You Notes
Writing wedding thank you cards can be boring and confusing as well. Are you facing trouble in deciding what to write in your wedding thank you notes? Just trust your heart and pen down your emotion by giving a personal touch to each of the wedding note. Address every card personally by name of the recipient and convey your thankfulness whether for gifts or for the energy and time spent on the planning process of the wedding.
While you send wedding thank you notes to the people attending your event, you must remember –
Be specific about mentioning the name and the gifts you received and how you wish to use it
For monetary gifts, never mention the exact amount; instead, let them know how you wish to spend the fund you received from the note recipient
Personalize the wedding thank you wording by mentioning how you felt when you received the gift, about the person who handed the gift over to you, and the time you will meet them in future
If you receive the gift before the wedding, mention it how happy you were to receive it
You may enroll in a calligraphy class so that your guests know why you took the time to send the thank you wedding notes or the efforts to put in to make sure they were unique
If you are addressing a formal relation, use Mr. Dr. Ms. etc. but for close relationships, address by their first name, and when you are addressing a family, right down Dear Jacobs Family
Both your partner and you must sign the wedding thank you card
4Over4 for all kinds of Printing Needs
Getting the wording ideas is indeed difficult, but ensuring the card paper quality or the finish is tougher. Above all, Thank You card printing quality can give you anxieties. But, when you are choosing 4OVER4.COM as your printing partner, you can sit back and relax. We offer you the highest quality in terms of printing.
Select the paper quality and texture of the card and rest be assured that you will receive the best. We understand the importance of the wedding thank you notes, and ensuring that you get exactly what you want. We offer a range of flat thank you cards, velvet, as well as folded thank you cards. You may also choose custom thank you cards range to give it your personal touch.
Get the cards delivered at your doorstep within 2-5 business days. Now, sending wedding thank you notes within 3 months is definitely possible. Take the plunge; you can bring a big smile on the face of your loved ones as well as feel content and happy for thanking others who made an impact on your special day.