Are you getting married in an expansive farm or a plush reception hall? Is it in your beach or just the home backyard? Whatever it is, your guests must get an insight into your big day when they arrive. The wedding signs play an important role to make your day smooth. If you need some wedding sign ideas to enhance your wedding décor, delve deeper into this article. The wedding signage becomes a unique part of the decoration and is available in popular sizes.
The Directional Creative Wedding Signs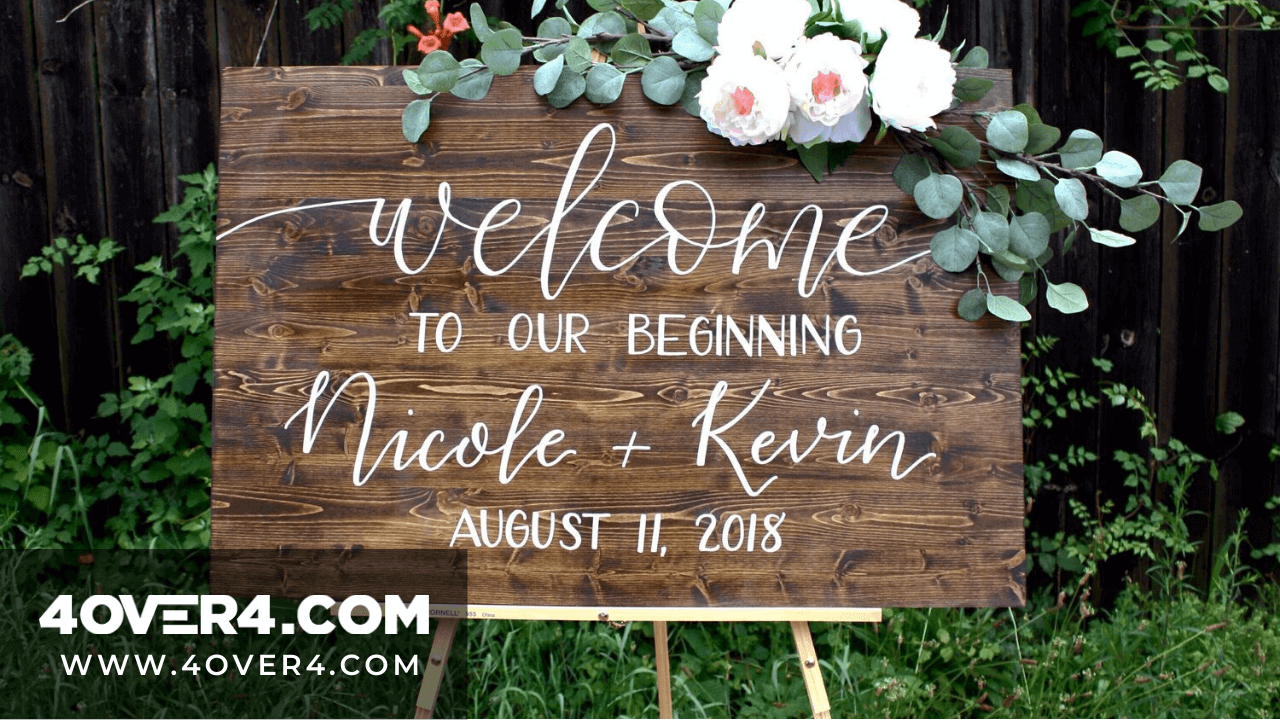 How are the creative wedding welcome signs used? The stationers, designers, and calligraphers are creatively using these trend-setting wedding decoration signs. Your guests should clearly get an idea of where to sit, what to drink or eat, where to find the bar, etc. You can customize the wedding signage according to your tastes and theme of the wedding. So here are some of the uses of the wedding signage –
A wedding welcome sign with the bride and the groom's name to direct the guest to the right wedding
Encourage the guest to sign the guestbook
In order to ensure every single guest is captured in the camera, you can use the "help us capture" signage
Help the guest to find where to sit
Inform guests about your unplugged ceremony as request them to switch their mobile off
Describe the signature cocktail with signage on the banner stand
Highlight the highly recommended items with the board sign
Direct the guests to keep the gifts and cards by placing a wedding sign
Let people know about the photo props
Use acrylic photo prints for directing the guest to the dance floor or for any special event
There are many more reasons for which you would need various signs for weddings. The creative wedding sign ideas help you to add some personality to your wedding party. The personalized, quirky, and cute signage printing help in sharing the important info related to the wedding. It can be of various types.
From canvas to chalkboards and acrylic to wood, the signs for weddings are available in a great range and popular sizes. It also has a lot of verbiages. Here are various props to make your wedding sign ideas unique.
Personalized Step and Repeat Backdrop using Paper and Canvas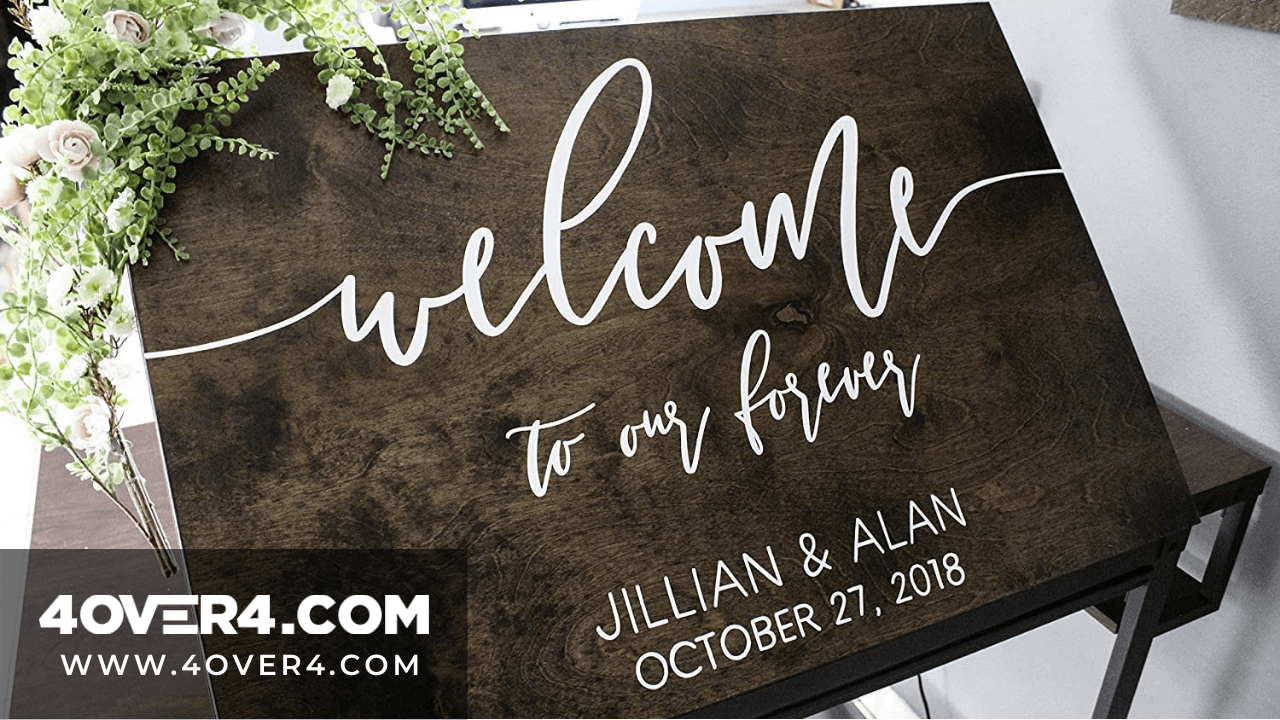 The paper and canvas backdrops can create a striking and attention-grabbing focal point behind the platform or wherever there's a requirement. 4Over4.com is one of the best online destinations for printing such backdrops. You can choose from an array of paper, finishes, texture online and get it delivered at your doorstep easily. Our assortment of personalized backdrops is abundant with designer-quality templates to impress and attract your tastes.
Whether you have a chic and antique theme or a super sophisticated one, 4Over4 is the best place to order personalized backdrop that suits your respect and love for each other as well as the wedding style. The canvas backdrops last longer than the paper options. You can use step and repeat banner backdrops for any kind of occasion you want.
Wedding Window Clings Sign Ideas
Capture your elegant, traditional, funny or romantic wedding day aesthetic by leaving delightful messages for your guests on the static window clings. 4Over4 offers various sizes and shapes custom-made window clings for wedding decorations. You can use these beautifully printed decals to highlight the wedding-related details at the venue. Whether the traditionally printed Just Married decal or the modern jazzed up chairs, windows, or vases at your venue, 4Over4 can customize each and every style.
We can offer custom vinyl static window cling and adhesive window vinyl banners and stickers in a variety of unique templates. It can be customized with your name, wedding ceremony date or any direction related to the wedding. The boundless range of personalized window clings help to decorate the venue as per the precise theme of the wedding. 4Over4 offers high-quality printing with a range of printing options.
Custom Acrylic Wedding Sign Ideas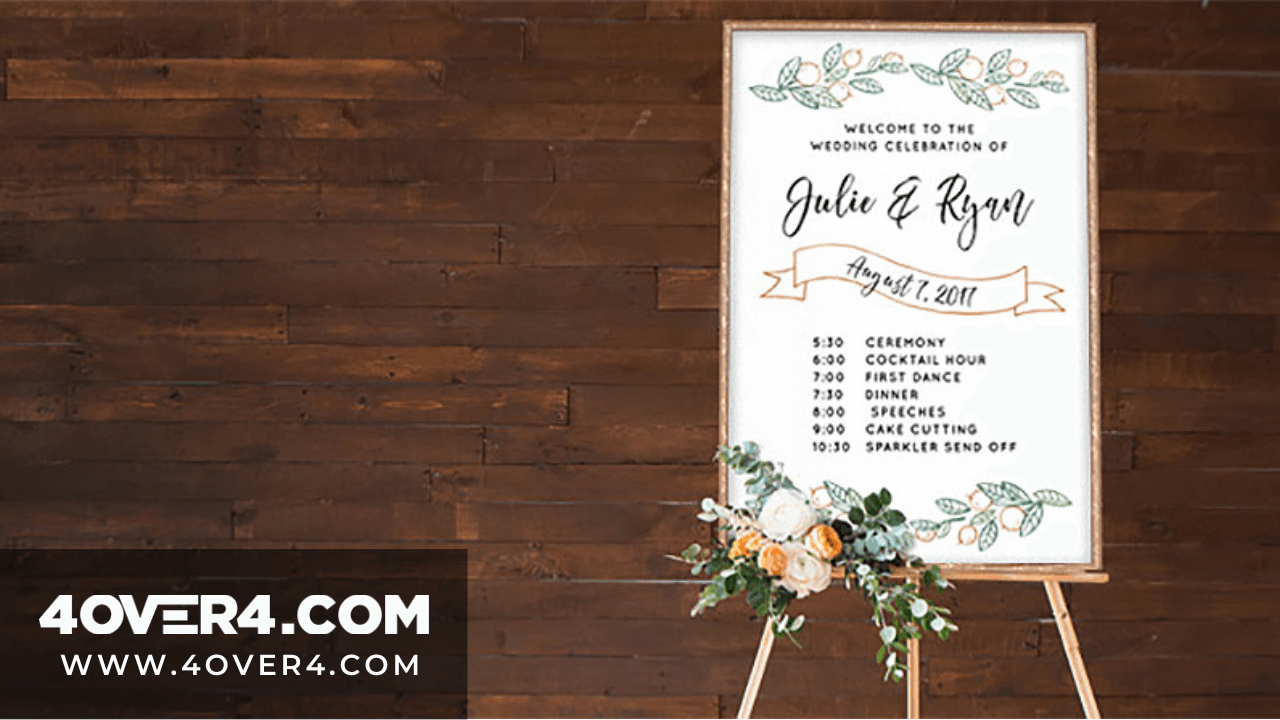 The personalized laser-cut printing on acrylic offers a sophisticated and modern look to your event. We are your one-stop-shop for all your wedding custom acrylic printing needs. From tabletop signage to an event sign, our printing range can do wonders in organizing your wedding.
Directing your guests to the cocktail bar or assigned tables or maybe the dessert counter, the personalized and colorful acrylic designs fit in flawlessly with the décor and theme of the wedding. If you want to add perfect fun and finishing touch, opt for the free stand acrylic signs. You can find several colorful acrylic signages at the 4Over4 online shop. Pick the right one to accentuate your wedding décor.
Decorative Chair Sign Ideas
To add a touch of perfection to your wedding theme, the decorative chair signs speak volume. It adds character to your event venue and goes with all from sophisticated elegance to country and sweet themes. You can incorporate banner or wooden boards, chalkboard or leather and make the chair signs look perfect.
The 15 by 31cm size is the best one to use for hanging on the chair back without disturbing or obstructing wedding party. To add some personalized charm, use the scalloped tin frame. If you have a floral décor, the embroidered linen banner printing with the lovely wedding fonts can add a sumptuous touch.
Wedding Signage on Glass Surface
In order to add some old-world charm and make your venue look more spacious the glass signage work wonders. Whether the message printed on the glass door or any other glass surfaces, your venue will look absolutely stunning with the addition of glass wedding signs.
Printing Any Kind of Wedding Sign Ideas with 4Over4
Often you may find it difficult to print your choice of wedding signages. 4Over4 is one of the most trusted and reliable platforms for wedding signs printing. Whether printing wedding welcome signs, large format printing or full-color acrylic photo prints, please note that we offer all.
You can send us your specifications and we provide you high-quality printed signages delivered at your convenient location. We have a very quick turnaround time and deliver your orders within 2-5 business days. Use your own wedding sign ideas and make a unique statement at your event venue.