Marketing is always evolving whether it's done online or for offline materials. Since this is about brochures and flyers printing, let's talk more about it. There are more businesses than ever before which is all due to the increased use of the Internet. As long as the Internet is around, it's possible to create and send off our marketing materials right off the Internet.
Flyers are grouped into addressed mail or door drops
People love revisiting brochures and flyers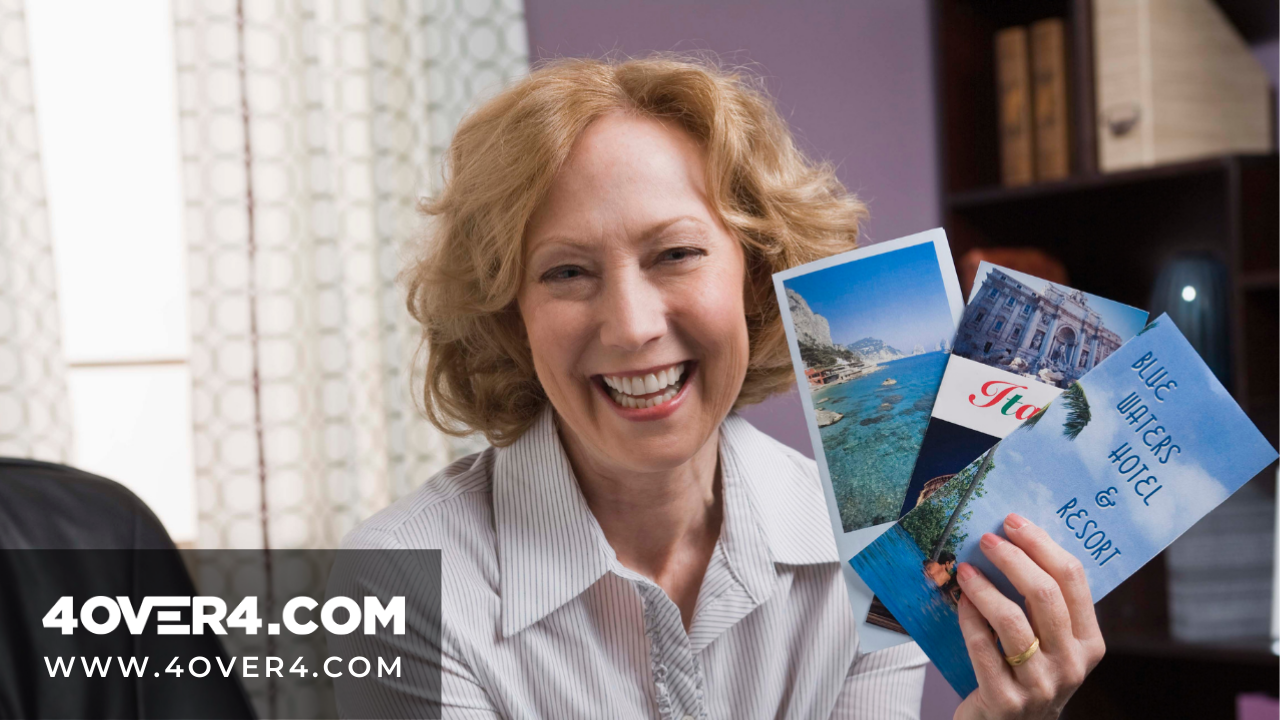 Studies show that people love revisiting flyers
Personally, I have never failed to read a flyer when it is handed to me in a promotion. Some have very interesting designs and information. Others have a captivating smell of freshness which attracts me to them more. The stats support that people still love flyers.
Flyer survey findings
According to the Data and Marketing Association, business flyer designs are still an effective marketing tool across both addressed mail and door drop distribution methods.
They did a study on the effectiveness of flyers today and how people receive them in 2018. Here are some of the highlights from the study:
Addressed mail
· 57% of people opened an addressed flyer when it just arrived.
· Leaflets and flyers are revisited 6 times on average.
· 8% opened it within a 28-day period.
· 5% read/looked/glanced at it and 23% did the same within 28 days.
Door drops
· 16% put it aside to look later.
· 5% read/glanced/looked at an unaddressed flyer arriving through their door.
The difference between brochures and flyers
Flyers are only a page or two long. Brochures are much more elaborate with pictures and text. The difference between the two is that flyers are less detailed and much smaller compared to brochures. Brochures have more information and graphics than flyers.
It is advantageous to print your flyers online. You will work with professionals that use the highest quality materials. They are also environmentally friendly which is highly recommended in today's business practices. Moreover, they can give you advice on how to choose the right paper for the job at hand.
The different types of flyer paper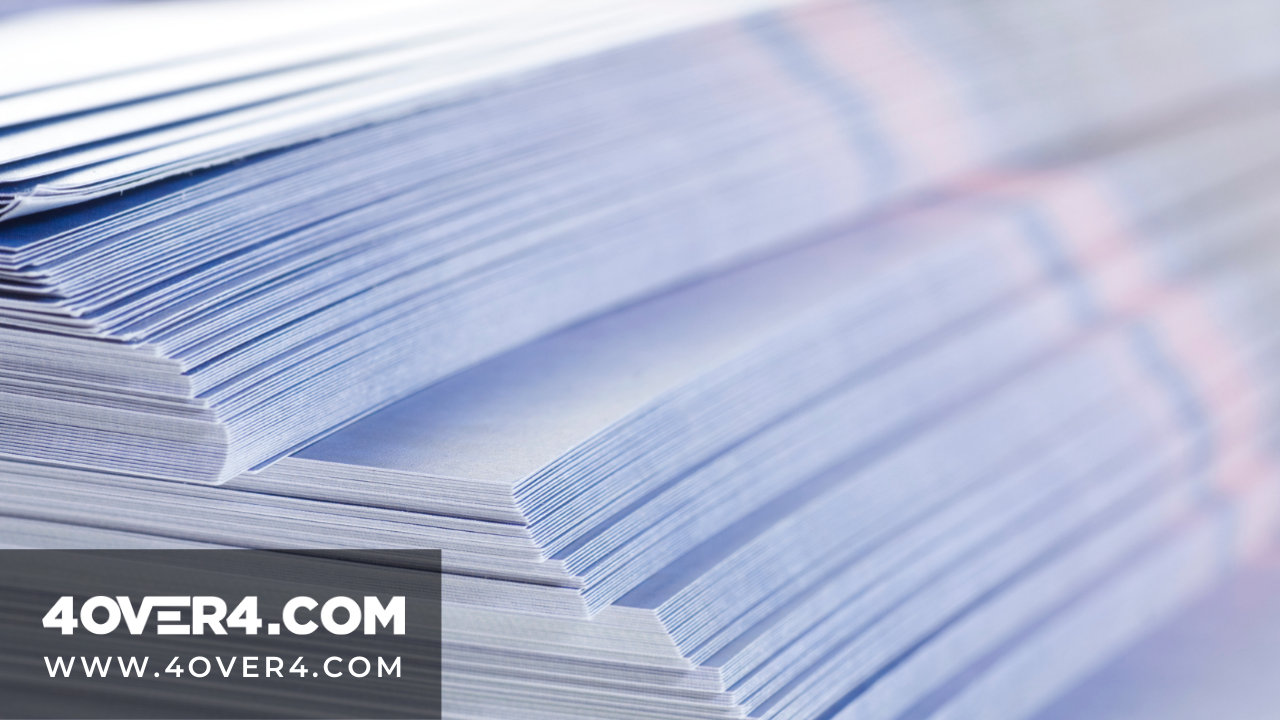 Cardboard paper allows any kind of artwork to be printed on it
Flyers are made from different materials. Each material determines the texture, price, and firmness of the flyers. Ultimately, they impact the final price of the product. If you want high-quality flyer examples for business, the price will definitely be higher.
Here are the various materials that are used to print professional business flyers:
1. Cardboard
Cardboard paper is thick, white, and has a coated finish made from bleached chemical pulp. Different people who are hygiene conscious prefer them. They are pure, hygienic, and have no smell nor taste. This particular material is sometimes thicker than the one used in greeting cards.
Cardboard material is a completely white surface. It allows for any kind of artwork to be printed on it such as graphics and a lot of text.
Experts advise that you should set the color mode to Cyan Magenta Yellow and Black (CMYK). Because CMYK produces darker colors that contrast perfectly with white. Red Green and Blue (RGB) produce bright colors. Additionally, you should also use high-definition images and graphics.
2. Metallic paper for Brochures and Flyers
Metallic paper gives subtle iridescences. Iridescence is a phenomenon created when certain surfaces appear to gradually change color as the angle of view or the angle of illumination changes. This is the phenomenon you observe on soap bubbles, butterfly wings, certain minerals, feathers, and so forth.
3. Kraft paper
Kraft paper is eco-friendly and 100% biodegradable. The paper has a brown, uncoated textured surface. The finishing makes it look rustic and stylish. You can also use it if you want durable, tear-resistant paper. With kraft paper, the best design would be a minimalist one. As much as you would want a colorful flyer design.
Experts at Helloprint UK believe that one to three colors look best on the page.
Bright colors vs dark colors on Kraft paper
All colors except black will change when printed on a brown surface. The brown surface tends to dim bright colored-text. Light colors like sky blue, light green, and red get lost in the contrast. You will therefore barely notice them.
If you then would still prefer the light colors, you need to use a dark outline. This will make them stand out. Oddly enough, white never appears and will only appear as the brown Foldkraft paper when printed.
Fluorescent ink tones down on the brown paper but still keeps some of its brightness.
4. Synthetic paper for Brochures and Flyers
This is a durable, tear-proof paper that combines the features of natural paper and plastic film. Those features are:
· Water-resistance
· Chemicals
· UV Light
· Stains
· 100% recyclable
However, you have to ensure that it follows standard artwork specifications. This material cannot be used for regular inkjet printing, photocopying, and laser printing.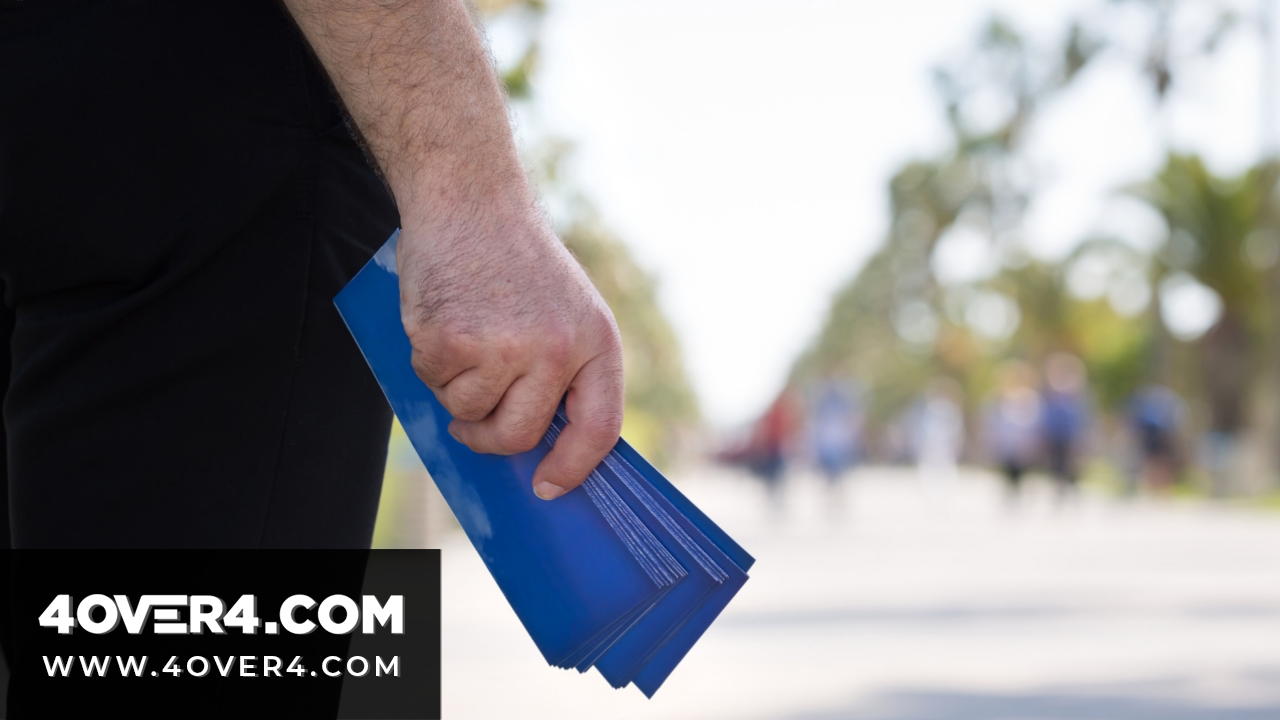 Business owner handing brochures and flyers in the streets
Important aspects that make brochures and flyers sell
The fold plays a role. Think of how you want your customers to read through the brochures and flyers and choose the best fold. There are three types: single, tri-fold, and accordion brochures.

Have them packaged in an exemplary manner so that they can capture attention.

You can use bold text and highlighting features to emphasize key points in your flyers.

Ensure that your layout is captivating enough. Pictures and infographics keep readers glued. Long texts and paragraphs however are annoying.

Use bigger sizes such as 11x15 to show that you have something great to bring to the table
Where can I print brochures and flyers?
There are different companies that print direct mail brochures and flyers all over the country both online and virtually. Choosing the most appropriate company for your business will be determined by your goals. Ask goal-oriented questions such as: What do you want to achieve with your brochures and flyers? What kind of flyers do you want?
That will guide you to see the appropriate company for your business like a piece in a puzzle. All companies are good but only specific ones are the best for your business.