According to
Google's search data
"
More people look for recipes at Thanksgiving than at any other time of year
". Why does that matter? Because it's a great opportunity for your business -even if you're not in the food or restaurant industry.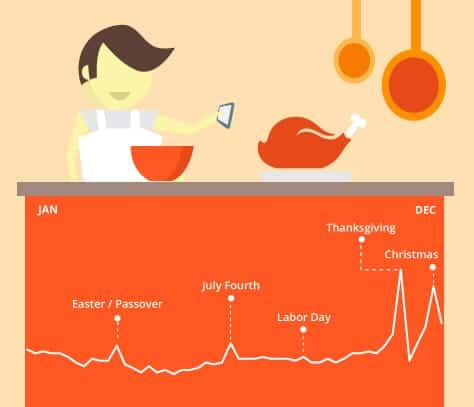 The numbers are clear,
more people search for Thanksgiving recipes than they do for Christmas recipes,
which means more people spend time with family, friends and the kitchen on Thanksgiving than at any other big holiday.
If people are spending more time with family and friends around this time, then it is also a prime business opportunity for anyone selling products to decorate from scented candles to place settings and gym memberships to shed "those thanksgiving pounds" etc.
How to use this data in your favor
What strategies can you implement? For small businesses that will remain open, sidewalk signs are a must, for caterers and event planners, menus, table tents and such will come in handy.
Capitalize on the Thanksgiving Craze - Creatively

.
Look for opportunities to drive more traffic to your site and more clients to your doorstep. Here we list some online, and offline, strategies you should try for thanksgiving sales this year:
1.- Cool Tote Bags
Grocery stores can create short run tote bag campaigns where people get the tote bag free with the purchase of thanksgiving related items. These are all great for brand exposure and a fantastic way to show your ~greener side~ too. The great thing about tote bags is that they always come in handy, as they are versatile and durable, so all you need is an attractive design yo make them something people will want to wear more than once. If thisidea suits your fancy or industry,
check out our custom printed tote bags
.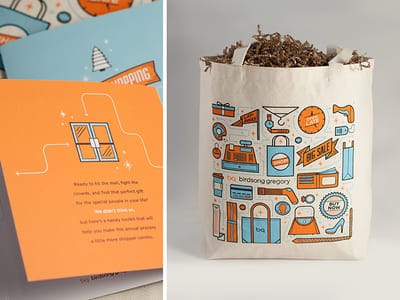 2.- Stylish Menus
Menus are no longer created just for restaurants. Nowadays, they are everywhere from the anniversary party to the beauty salon. Well-crafted menus can be a powerful tool that can influence a customer's decision-making process, so take advantage of that by placing Thanksgiving themed menus to promote your products.
Highlight your holiday deals or design a special section featuring your most popular products
and create a menu of services if you don't have tangible products, try to print them in a high quality and thick paper stock to match the seasonal air of cozy elegance.
A menu breaks down dishes and courses, highlighting ingredients and composition to appeal to the guest. While a very obvious tools for those in the food industry, catering and personal services, it can be a bit challenging to present a menu when you sell, say shoes - in that case think of the "menu" as a tool to break down the appealing components of your services and/or products.
To capitalize on online sales you can present them as the "recipe for a glamorous thanksgiving evening" if you're in the beauty industry, or the "recipe for successful Thanksgiving emails", etc.
Take a look at our print menu options
here
.
3.- Giveaway Idea: Unusual Aprons
Have you seen a funny apron? We bet at least one has made you laugh in the past, and that's probably the one you distinctively remember.
A dose of humor is an instant attention grabber
; so think outside the box. If humor really doesn't relate to your business, include inspiring messages, minimalist images or a not-so common design. Keep in mind that a great number of families prefer to spend thanksgiving at home rather than going out to a restaurant, so aprons are a must-have item for thanksgiving.
The idea is simple: prior to the Thanksgiving weekend give a number of these aprons away, and hold a contest. People must snap pictures cooking with the family or friends while wearing the apron to win a prize. Reward first place with a purchase-free gift and the other two (or more places) with discounts on purchases. You attract attention, get traction on social media and get some purchases in the end -plus the always beneficial brand awareness!
We love these
superhero aprons
that we found on Etsy. They look really fun and can be great conversation starters, of course you can always go the custom-made route and have some printed with your own design and logo.
4.- T-Shirts as corporate gift-giving items
Similar to the idea above, give away t-shirts and think about giving them away to employees as well. Their contest can go around the Thanksgiving recipe for success and you can separate them in teams, their goal would be to come up with a holiday or thanksgiving sales idea to boost sales and help the company. The T-shirts foster team unity, the contest rewards your employees and the best idea should get your business noticed! Print them right
here
.
5.- Customized Drinking Glasses
Drinkware: time-tested promotional items, there's a reason big blockbuster movies insist on selling/giving away a big glass or mug at the theater when the movie comes out; they work.
Anything from
printed coffee mugs
to cool drinking glasses, that are great for home and office use
. These advertising techniques have long-term impact without breaking bank
. Make a list of your most loyal customers and give them a drinking glass, toasting to their success.
Holidays are a great opportunity to maximize your brand exposure, if you're up for it we like these funny
handmade shot glasses
that we found on etsy.
6.- Inspiring Bookmarks
For passionate readers there is an item that never goes out of fashion regardless of the time of the year.
Bookmarks are a cost-friendly alternative for your entire audience
. Include your logo and write an inspiring message that encourages readers to reflect about the feeling of gratefulness.
Use die cuts to shape your bookmarks or innovative designs to make them stand out from the rest. And don't forget to include useful information about your business like contact details.
Order bookmarks here
.
7.- Coaster Set
Coasters are functional tools to advertise your brand. These high-impact, yet inexpensive coasters can be used a lot in the weeks leading to Thanksgiving. Anything from the local bar or diner to the realtor's office. Print out a few sets to give away with your contact information and logo on one side and a message on the other, a short one giving thanks.
It can be either thanking providers or patrons for their business, to a simple generic one most people can relate to. The good thing is that if you get
our premium coasters
, you avoid the cheap cardboard ones that fade out when in use; these will resist drink perspiration and will be placed in a visible spot where they can do all the talking for you.
Promotional products raise brand awareness and maximize your target reach. Have you come across any of the above-mentioned promo items for thanksgiving season? Let us know in the comments section below.