With the digital media taking the advertisement world by storm, the traditional mode of marketing gets half the attention from the businesses. However, you can never ignore the power of conventional marketing ways entirely and, one such form is the custom feather flags. It garners interest for your marketing competencies and other features. Today, every business needs to get noticed and stand out amongst the crowd. If you want to reach out to more and more people for promoting your products and business, the outdoor feather flags are an effective way to achieve it. When people see your products and related advertisements again and again, only then people are reminded of your products, get interested, and they are compelled to buy. Nevertheless, the right form and right place make the advertisement more effective. The attractive, as well as durable feather flag designs displays your advertisement, in the best way wherever you want. These bright yellow flags or red flags creates the right sort of attention that your products ideally deserve.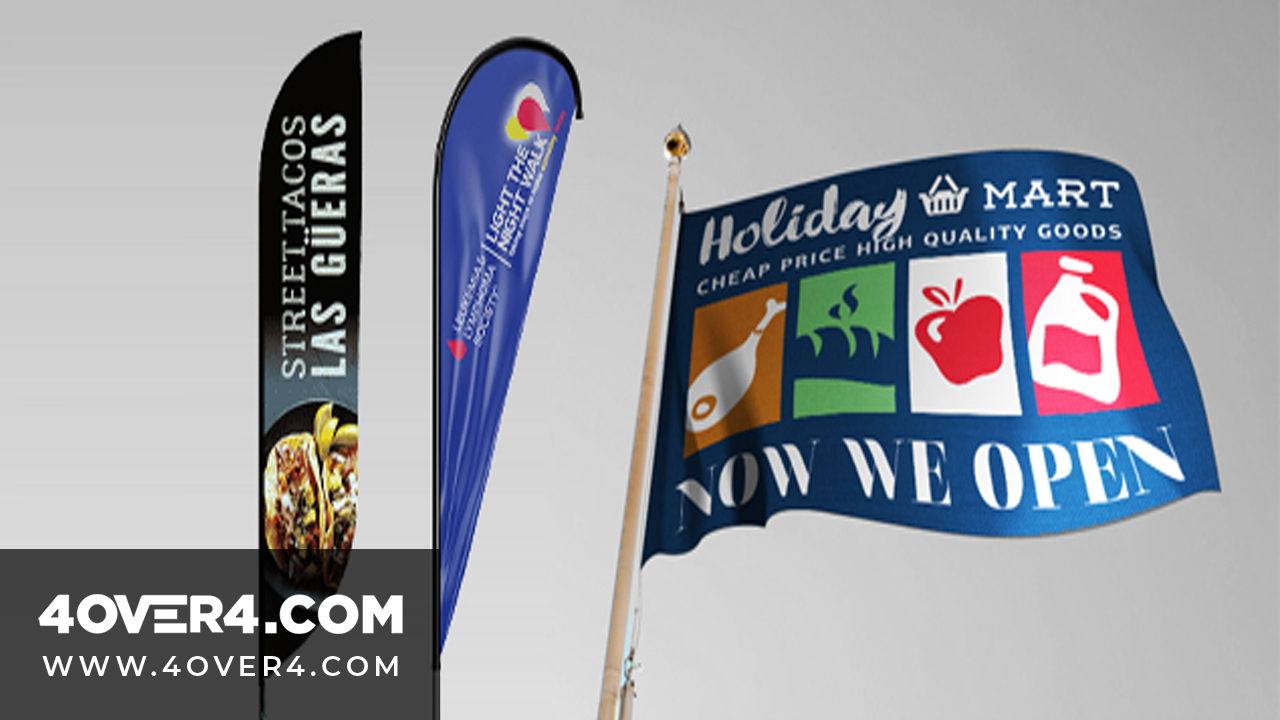 Several color feather flags customized for promotions 4OVER4 can make these flag designs more attractive by customizing the flags. Let's learn the benefits of the colorful and vibrant feather banner flags for advertising and garnering attention from the customers.
Promotions with Feather Flags 24 x 7
Are you looking for 24 x 7 promotion and brand exposure throughout the day? The outdoor banners or double-sided feather flags offer 24/7 brand exposure. There's no headache of pulling it down after using the promotional flags. Other than that, there are no expiration time or validity issues with the custom feather flags. Unlike digital marketing, where the feeds stay for a limited time and end up with an overlapped digital copy, the flags come as a 24 x 7 option for promoting your brand.
Make Promotions Affordable
Whether single-sided flags or double-sided, feather flags are the most affordable way to promote your brand. Even when you compare the promotional costs, the custom flags come as a much cheaper option than other marketing modes. The longevity and life of the flags make it the most desirable form of advertising that's worth investing your hard-earned money.
Requires Minimal Space
Even the most gigantic feather flags are about 2.5 ft wide, taking minimal space. It makes such flags convenient to use in small areas and ideal for budget promotions. Considering the busy cities where space is minimal, you can always choose customized feather flags to promote your brand within 3ft space effectively. When you print the flags with leading printing service like 4OVER4, the message and font on the flags come out clear. We help you to print 12 feet tall and highly polyester resistant feather flags, teardrop flags, pole flags, etc. The fully personalized flags allow you to advertise outdoor and comes with carrying case effectively.
Easy Assembling of Feather Flags
Are you wondering how to assemble the flagpole kits? It is effortless and doesn't need any tools. There's no need to drill or hammer holes. You just need to telescope the flag, bring the parts together, and slide it on the pole kit available in the carrying case. You need just a few minutes of your time to assemble the flag and disassemble it without the need for any tools.
Portable and Lightweight Flags
All the flags and poles being lightweight and packed in a carrying case makes it easy to transfer. You may install it anywhere you want. Opt for beach flag by placing the flags for beach event or install in a park or plaza and get the ground stake for car dealerships. The custom flags are the best way to promote auto events and business.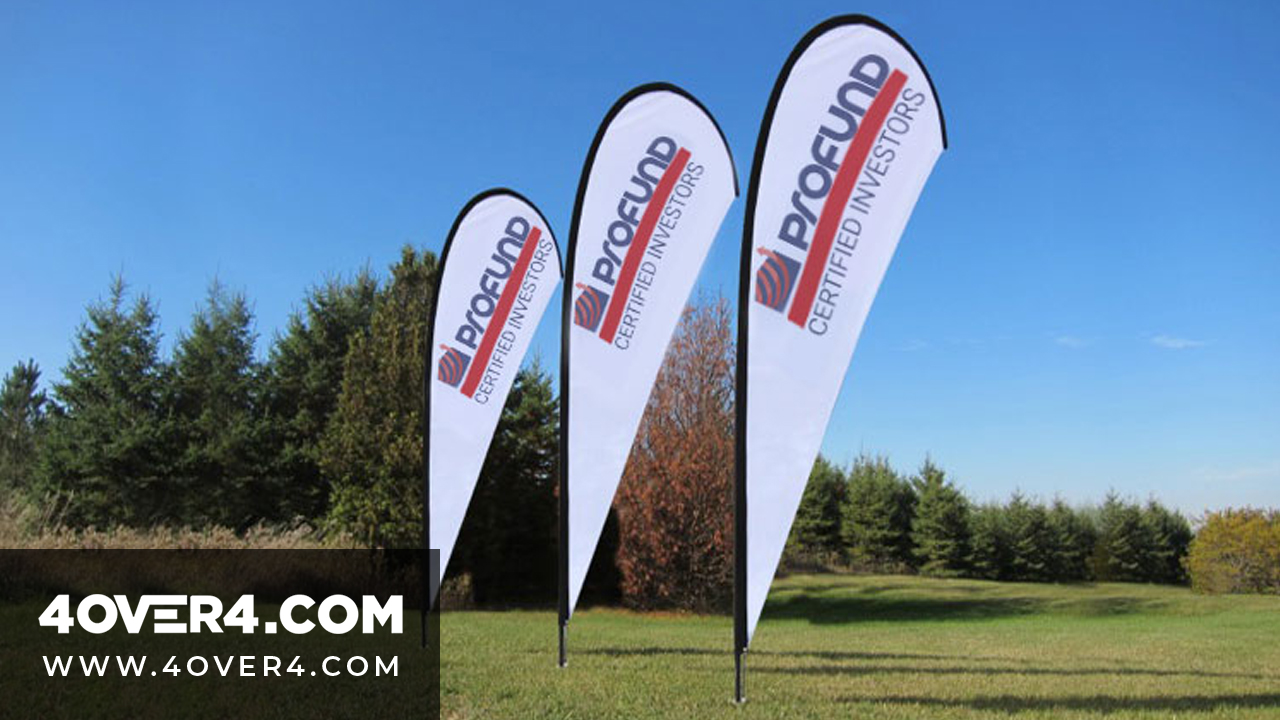 Flea market with promotional flags all around
Survives all the Weather Conditions
The feather flags, also known as the sail flags have the power to endure harsh weather conditions. Whether moderate or fair weather of rain, snow, and wind, these promotional flags withstand it all. Even the strong winds cannot deter the ruggedly built feather flags. The feather flags are not like other flagpoles that get entangled around the pole due to winds. It may rotate with the wind but never gets entwined, tangle, or tip over the pole. So, even in poor weather, your custom feather flags are clearly visible. The feather, pole, and teardrop flags are a wise choice for all kinds of weather and functions much better than other stands in high winds.
Timeless Investment
One of the greatest assets to your business, the personalized feather flags, never grows old. It is not discarded and can be used for years to come until the flags are completely damaged and destroyed. Thus, the flags are a one-time marketing investment that brings in constant returns. Sports event promotion with colorful custom flags
Versatile Feather Flags
You can either have a row of flags with messages based on sales, products, events, etc. printed on each flag, or if, on a strict budget, you may opt for one feather flag with all kinds of information printed on it. Later on, when your budget permits, you may print more flags but always ensure to keep it minimal. Never stuff it with too much info or graphics as it can make the flag appear confusing and may not convey your message right across.
Designing and Printing
You don't have to restrict your creativity while designing the flag. Let your imagination flow freely. When you print your flags with 4OVER4.COM, your personalized feather banners stand out completely with custom printed graphics highlighting your message. It connects with the audiences instantly. We offer full-color, dye sublimated printing that is UV safe and weatherproof.
Increased Visibility with Flags
The onsite business signs are quite expensive but a mandatory expense. A visible, effective sign is vital for attracting people. Feather flags help in increasing the onsite sign effectiveness. As the feather flags can easily garner the attention of the prospective customers, it directly or indirectly draws more eyes on the signage on your message board or building as well. Ensure high-quality feather flags printing with 4OVER4. We offer free shipping with feather flags carrying case, including graphics printed feather flags and dismantled pole. We assure you to effectively create brand awareness with our dynamic, versatile, and fully customized feather flags. We can also offer pole flags, and teardrop flags to market your products efficiently. For any queries, get in touch with our customer service team, and we would be more than happy to answer you.