If you want to win and close more deals in business, you need to be unique in the entire industry. Just stand out in whatever you do and get yourself noticed. Similarly, with business cards, you must also learn to be different. Set yourself apart by choosing unique card designs that can win the attention of your target customers above any competition. So, you must be in line with the recent trends in business card printing and innovative to think out of the box for creating something perfect for your audiences. It must be able to grab the first impression among your customers so much so that they retain your cards.
The surveys show that 88% of the standard business cards end up in the trash within a week time. Whereas, when you choose something that is not close to the traditional designs, get more attention from recipients. For instance, when you select colored cards, it is retained ten times more than any conventional card designs. Therefore, it clearly shows that when you think differently, there are lesser odds of ending up in a trash. It is because people value the premium business cards and possibly keep them for an extended period. 4OVER4 is one of the leading business card printing NYC services that can help you to keep up with the trend in business card printing. Learn the ten best new trends before you print business cards.
1. Business Card Printing with Thick Cardstock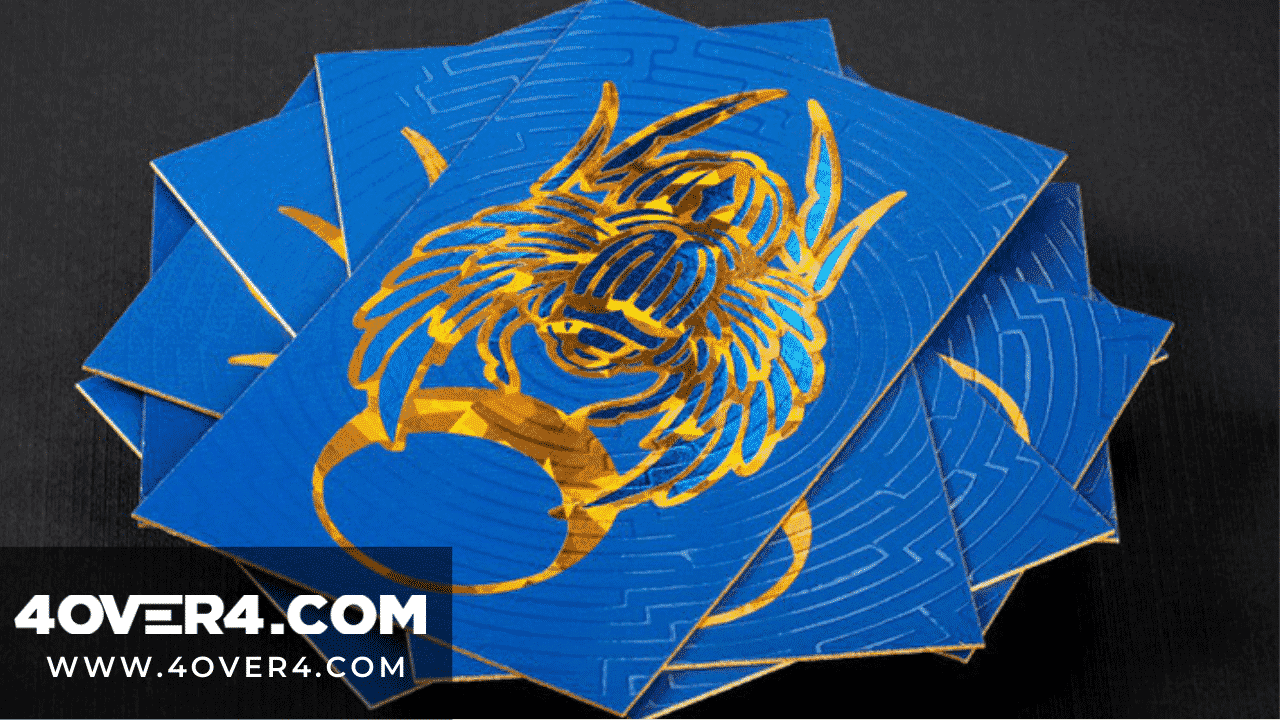 The thick cardstock collection from the premium range gives you the true essence of class and quality. It reinforces the identity of your brand for the targeted customers. When you present the heavy premium paper stock business cards to your clients, it offers a high-end and premium look making your brand stand out.
The thick cardstock made business card lasts longer. No bending or folding can destroy the thick cardstock making the business cards last longer. You may stand out by placing an order for thick cardstock when your competitors present a tattered card. 4OVER4 offers a premium collection of custom uncoated and coated ultra-thick business cards. Our business card printing templates help you to choose the right design for your business cards. When you pick the premium cardstock for your card printing, it becomes all the more unique and long-lasting. You may also send us your card design specifications to make your card completely unique.
2. Minimal Design in Business Cards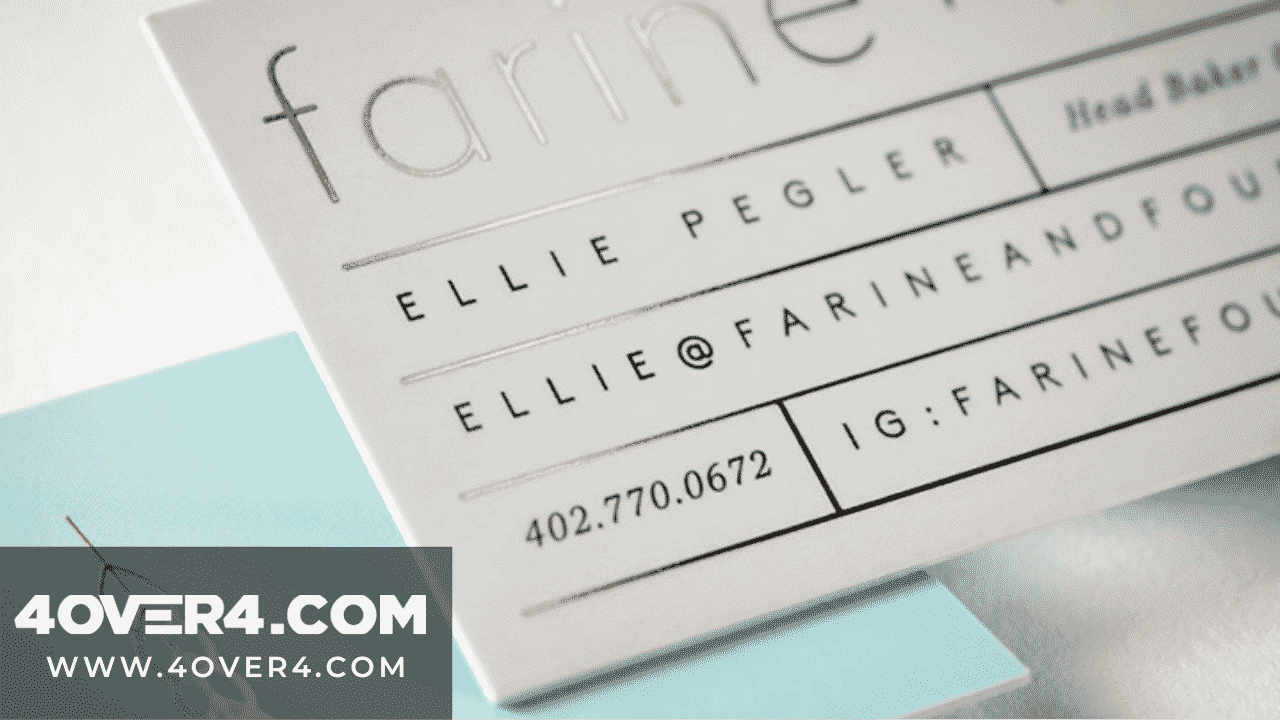 The business card recipient must understand the information printed on it. When you clutter your cards with unnecessary extra info and designs, it becomes difficult for the recipient to track the critical printed details. Thus, they are likely to discard the card instantly.
When you choose a minimal design and stick to the bare essentials printing on the business card like contact information, company name, your role, phone number, email id, etc. attracts more and more people to it. Less is always more when it comes to business cards, as minimalism increases your card visibility above all competitions. Therefore, today the business cards mostly consist of bare minimal that is needed to impress the clients and help them stay in touch. The recipient of the cards is spared of going through cluttered design, colors, and graphics to search for your brand message. When the word you wish to convey is visible through clean and minimal design, the customer's trust for your brand is enhanced.
3. Painted Edges Card Printing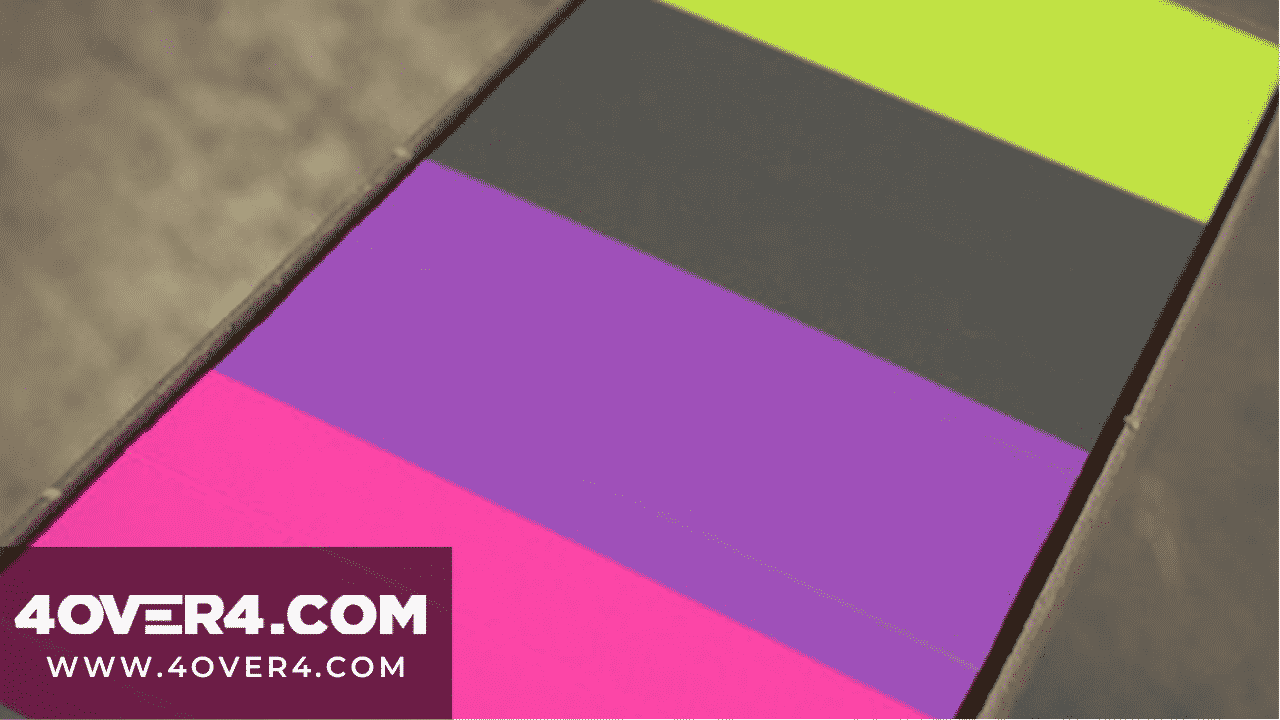 The year 2020 will be dominated by something unique in every sphere. The white edges of business cards are something prevalent and not attractive to the recipient. When you paint the sides of the card with a solid color, it makes your card eye-catching.
Suppose there is a stack of white-edged cards on the table, and a few among the stack contain color edges card. Which one do you think will grab the customer's attention? Obviously, people will be curious to know what's different in the colored cards, making it different from the rest. 4OVER4 painted edges business cards offer a high level of sophistication and class. For instance, black cards with golden edges look a class apart.
4. Die-Cut Business Card Printing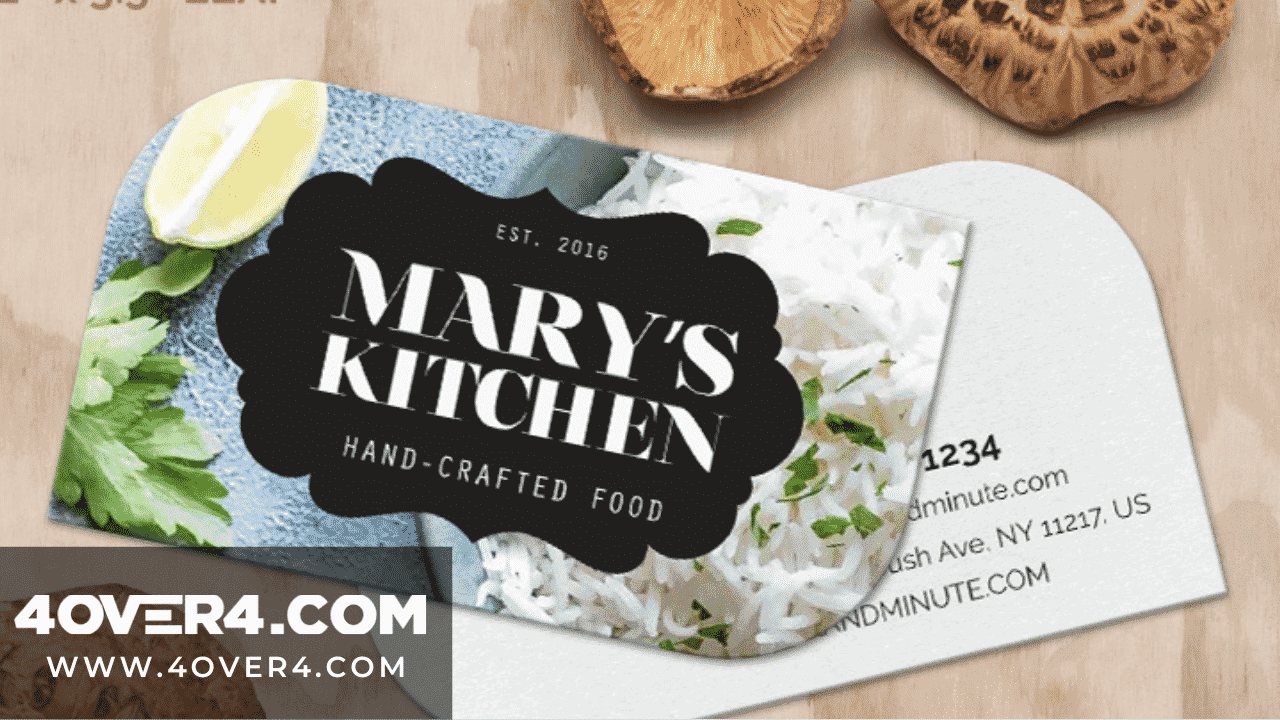 Playing with shapes is the best trend this year. Oval, diamond, square, slim, curved, leaf, heart, or any other shapes, the die-cut machine can mass-produce cut-out shapes in business cards. When it comes to the die-cut business cards printing services, only the sky is the limit.
4OVER4 gives you the freedom to choose any shape you want, and our skilled team of professionals prints precisely the way you want. Give any effect or create an unusual shape you want. Our team of highly skilled professionals is always at your service. You can send us any literally any specifications, and our team will successfully implement it for you. Die-cut business cards are the latest trend that is sure to go a long way.
5. Letterpress Card Printing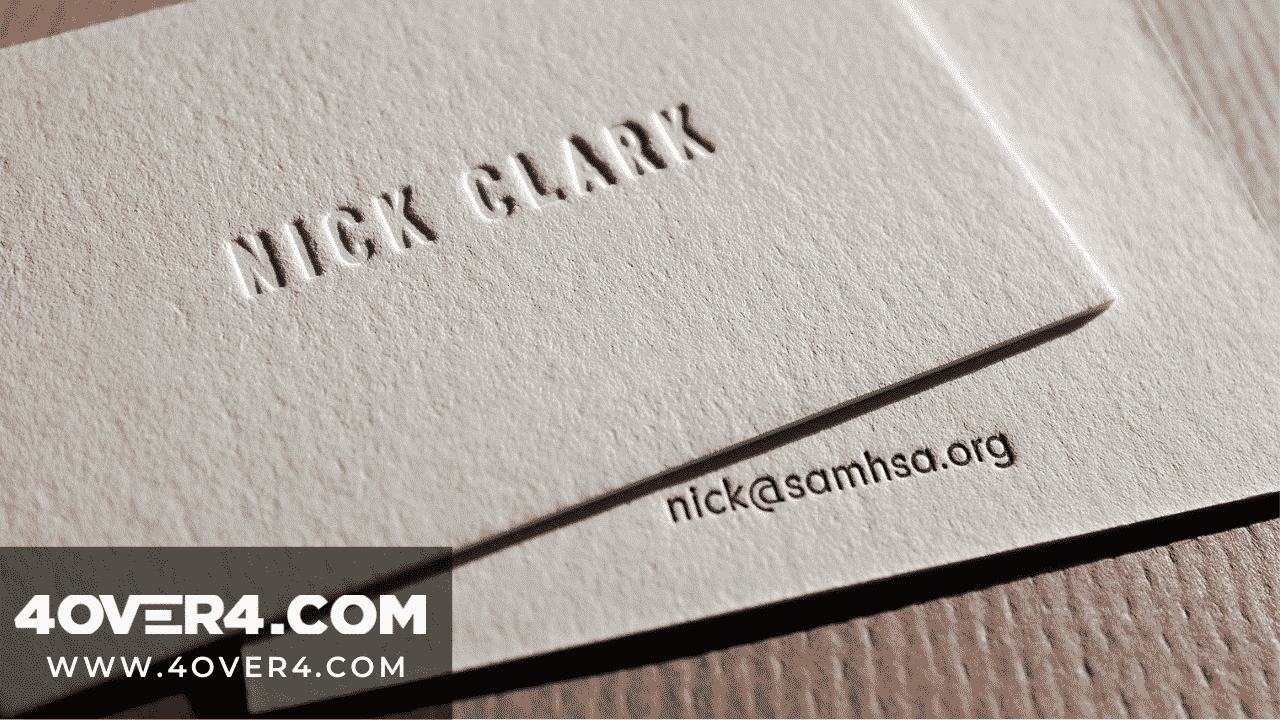 It is the oldest printing form that has re-emerged this year to make your business cards unique. Letterpress style of printing has raised the letter surface. It is usually metal type, inked, and pressed on the cardstock surface to get the reverse image on the card.
High-quality Letterpress card printing may be a little pricey than the traditional ways of printing, but it shows your taste and communication style. The team at 4OVER4 combines letterpress with great designs to make it all the more alluring. Our business card design templates help you to design your own card and save the expense of appointing a graphic designer. 4OVER4 is one of the most trusted business card printing near you.
6. Colorful, Bold, And Big Fonts Cards Printing
Today, the fonts have become experimental. People are trying bigger, bolder, and vibrant fonts to use it on the business card. When you highlight the message with bigger and brighter fonts, it is more likely to catch the attention of the recipients.
You may use our design templates and choose the bolder and bigger size fonts with a pop of right color schemes to customize your business card as per your need and choice. There is no need for thorough knowledge in Photoshop or graphics to give shape to your cards. Just swap the placeholder images with your required content, logo, text, and you are good for going.
7. Clever Symbols and Logos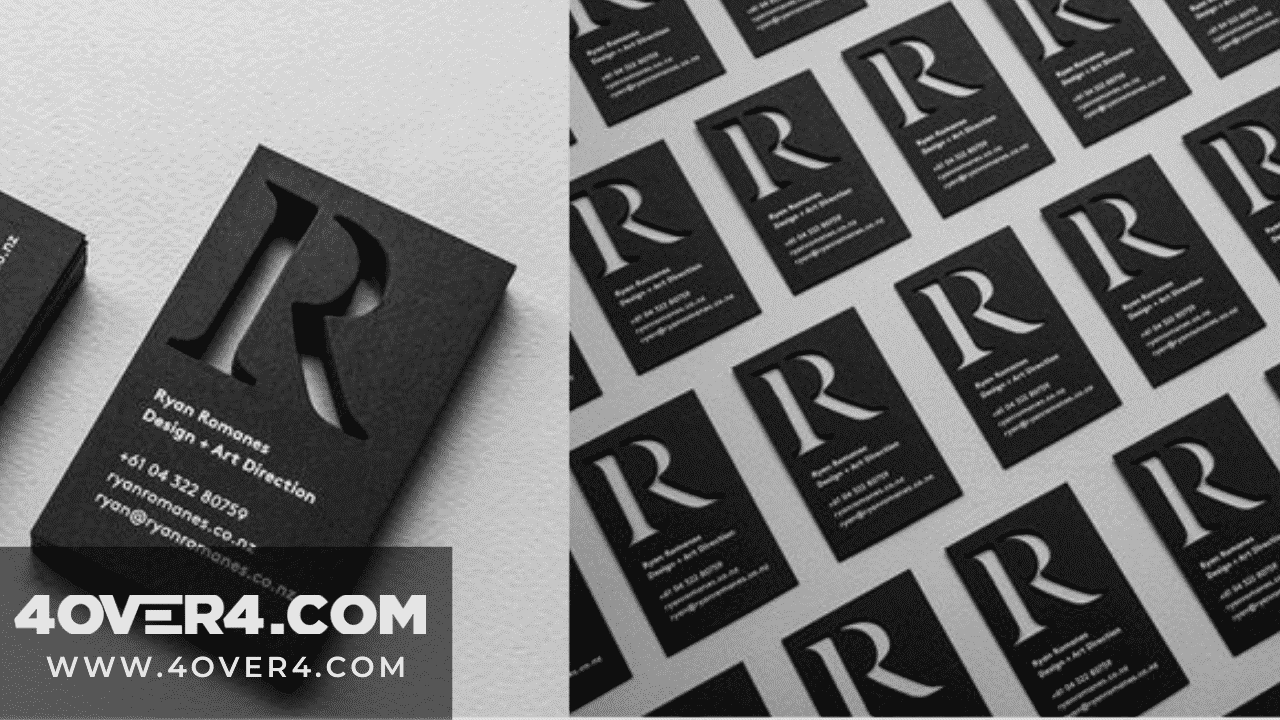 This list is incomplete without mentioning the power of cleverly designed logos and symbols. The popularity of smart logo designs is increasing, and it is one of the best ways to promote your brand. It plays a crucial role in strengthening the brand image.
A unique logo creates brand recognition and helps in communicating your brand values. Send us your designs and let us create that magic for you.
8. Interactive Business Card Printing
By creating an interactive card design, you excite the people to know more about it or use it in their daily life, which in turn helps them remember you whenever they use your card. It is a golden opportunity to grab your target customer's attention. For instance, scissors shaped card or a grater as a card design will instantly attract your customer's attention and make them treasure it.
They may display it on their desk as well for its uniqueness. So, whenever the recipient sees your card, your brand gets exposure. If the recipient shows it on the table for your card's originality, it grabs the attention of the visitors as well. 4OVER4.COM team is exceptionally skilled in handling such unique designs and ensure high-quality business card print for the clients.
9. Perforated Business Card Designs
You can create a unique business card design by making a part of your card perforated. On the ripping area, you may add a discount or an offer to attract the customer's attention and also promote your brand. This is definitely something eye-grabbing as the people just go crazy when it comes to discounts.
It is one of the latest business card trends that is sure to go a long way. 4OVER4 rip cards are one of the best examples to design your business cards printing online and uniquely.
10. Geometric Shape or Photo Business Card Prints
The geometric shaped and straight-edged designs make a bold statement keeping the design clean. When you add a photo to such cards, it becomes all the more exclusive and one of the most amazing trends in business card printing. Personalizing a business card online with a photo helps your clients remember you by face as well as your name.
If you don't wish to print your face, you may add your work on the card to showcase your skill. It allows your clients to judge your work and keep your card to use in the future. 4OVER4.COM is one of the leading and reliable business card printing NYC services with the knowledge and expertise to offer high-quality printing as per your requirement. We have all the business card printing staples to make your card noticeable at first impression. Personalize your cards using 4OVER4 business cards templates, range of printing finishes like soft touch, metallic etc. and business card printing paper stock to make your card stand out.