As a business owner, you are always looking for new ways to market your business and keep up with your competitors. One growing trend is using storefront window graphics. Window displays can help your business attract new customers before they even walk through the door. Enhancing your brand with the help of custom vinyl lettering or full-color graphics can create a substantial impact.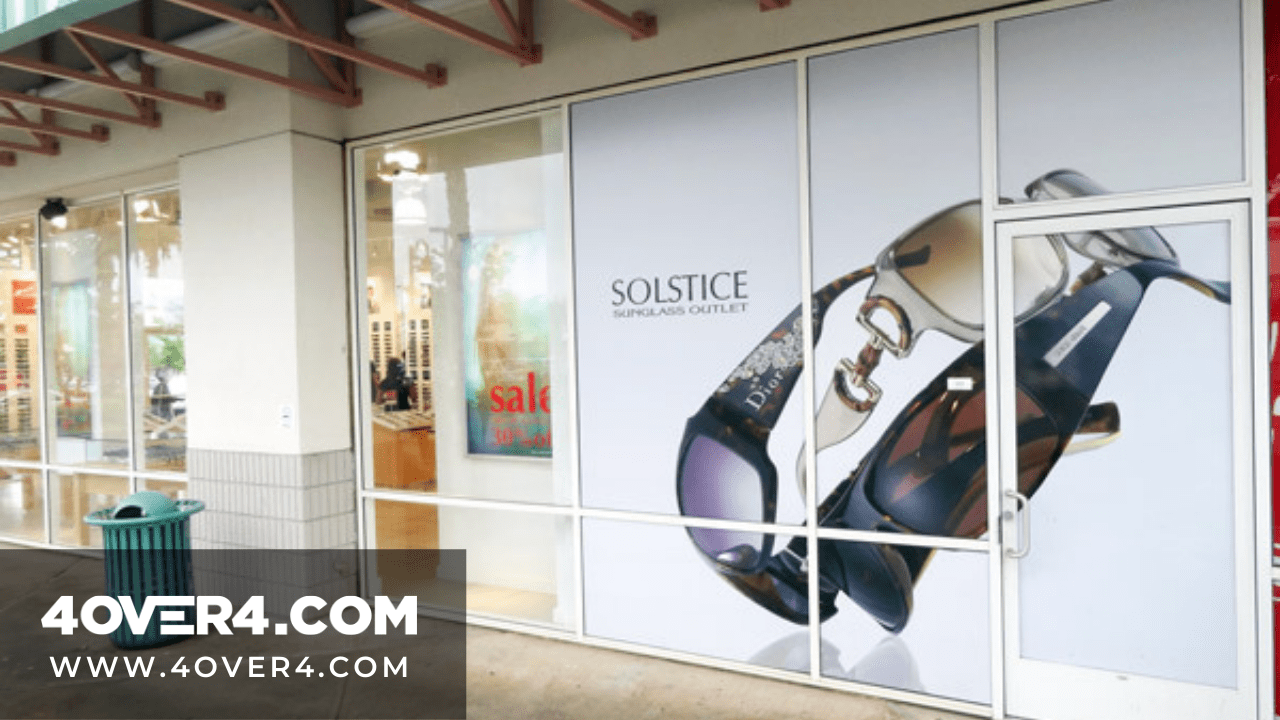 For drawing in your potential customers to your store, storefront window decals are one of the best solutions. Do you know what storefront graphics are? How can you make the window decals for business stand out amongst your competitors?
What are Storefront Window Graphics?
The bare windows and walls of a business can never attract customers or enhance the loyalty of your brand. Storefront window graphics have a range of cutouts, signs, pre-spaced banners, decals, and displays that are used to improve the walls and windows. It is usually freestanding, or you may attach the graphics securely to the floor, wall, or window. With the help of these ready to apply custom window decals, you can promote your products, display your brand, services, or even your vision, core values, statement, and future plans.
What are the Benefits of Storefront Window Graphics?
Without a storefront sign, colorful, and attractive graphics, it is difficult to bring in a fresh set of customers. According to various surveys, customers are more likely to enter your store if they see an attractive sign or display. Often the more beautiful the signages are people assume the quality of the services and products are also better.
If the storefront sign is appealing, it increases the chance of purchase or product sign-up process. In addition to window clings, clear window decals, or vinyl window lettering can also create a good impact on your business. So, how can you make the storefront graphics unique and attractive? Here are some of the trendiest storefront decal design tips to ensure new heights for your business.
Tips to Make Window Decals Attractive
Metallic and Gold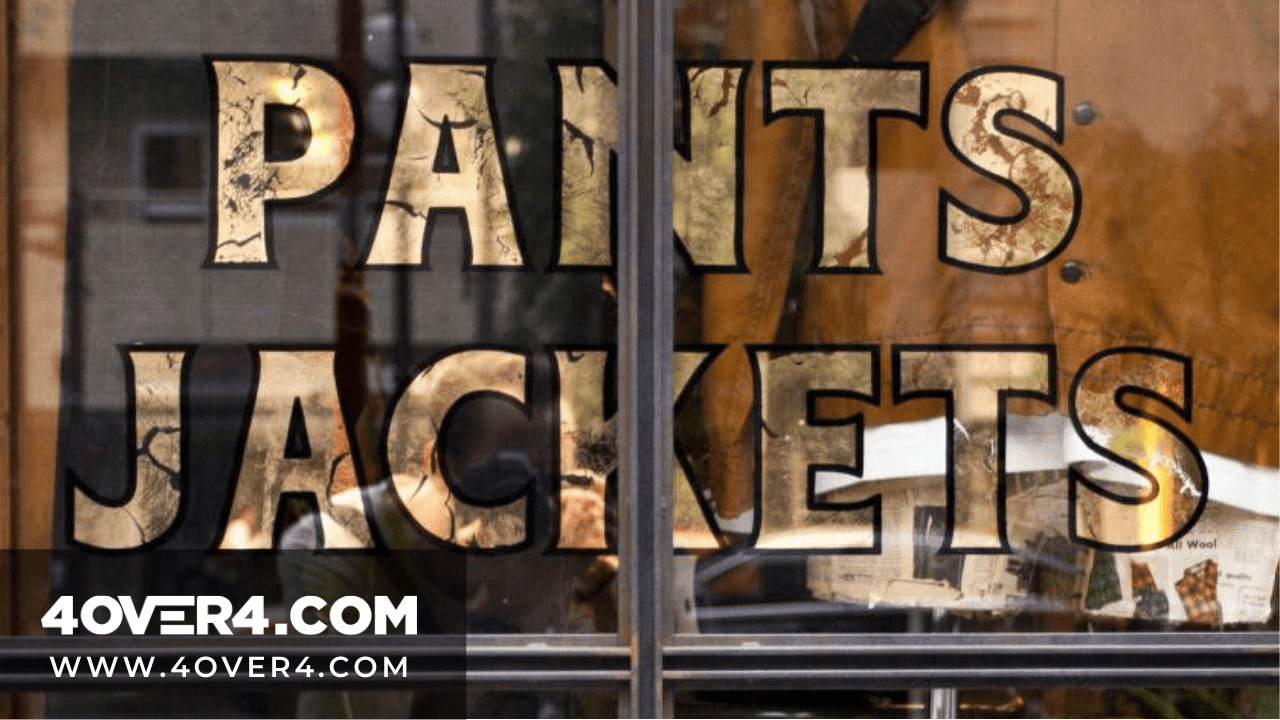 The use of metallic and gold lettering on the window displays is the most recent trend as it adds an elegant element to storefront window graphics. Always try to keep it simple while you use the metallic lettering. You don't need to add too many design features as it can draw the focus away from the main message done in 3D metallic lettering. The clear window decals are the best choice for 3D stickers. The 3D technique in metallic and gold on clear glass makes it stand out.
The Large/ Oversized Window Decals
At times, the overpowering oversized large window decals can give an impression that you are trying too hard to attract attention. However, as it fits quite well on the storefronts and covers up the vast space, the oversized decal is a good option for two or three-story buildings.
Like the metallic lettering, these decals also look the best when you use simple letter design on it or a logo without many elements. You should not fill the logo with too many colors as it can block the natural sunlight and prevent the customers from looking out.
Sophisticated Look
A sophisticated look entails a simple and unique design. Classy and crisp design using subdued metallic lettering or variation in the vinyl window lettering alignment can be the best ideas for display decals. The name of the company in an arch and the tagline in linear style can make your storefront window graphics appear different and unique.
Colorful Storefront Window Graphics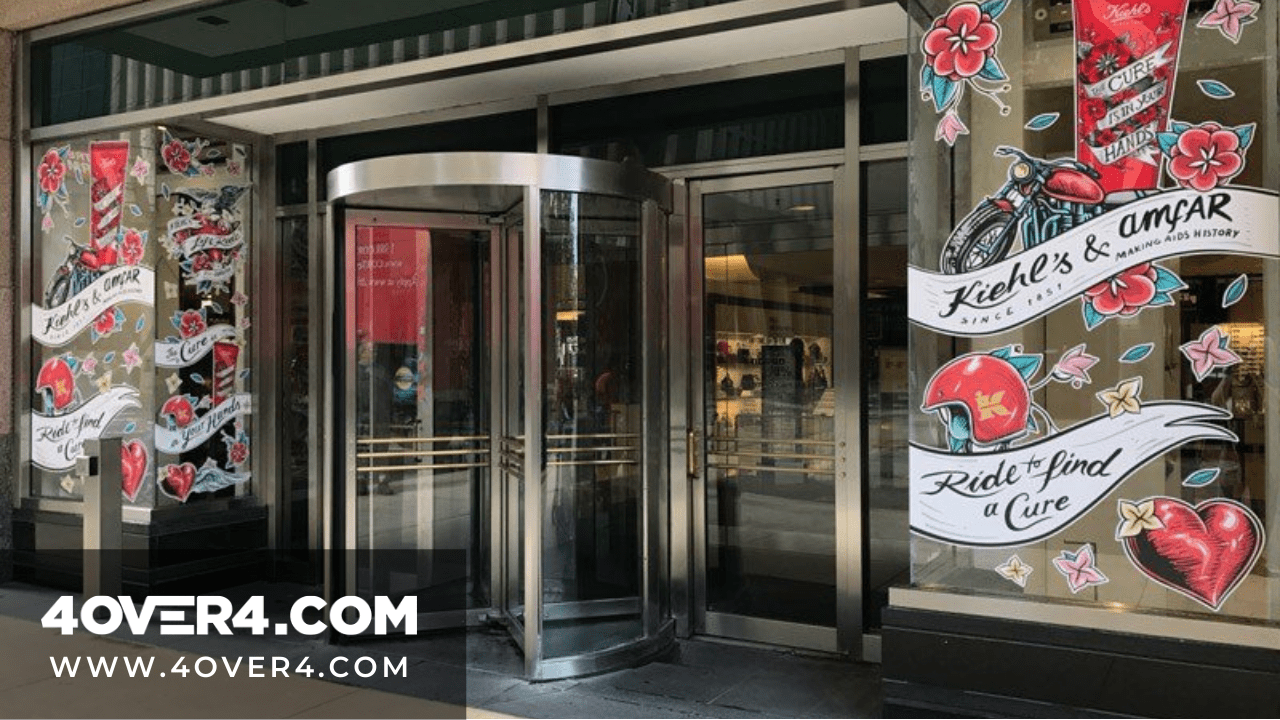 The storefront display decals are designed differently for each business. Some need subdued and simple designs whereas, a some need to be vibrant and colorful.
According to the atmosphere and personality of the small businesses, you can choose the shades and colors of the wall graphics. For instance, a toy store must be vibrant and colorful to attract the likes of the children. You may use the color theory techniques to design large colorful decals that display the range of toys on sale.
Using the colorful custom vinyl lettering for taglines like "New Line of Marvel Comics" or "We Have It All" can increase the footfall of your store. A variety of different colors or perforated window decals are a great way to grab the attention of the viewers.
Functional Signs
The storefront window graphics are indeed a great way to make your company name or products and services attractive and display easily. But, you may also use it for other standard applications. Like, instead of printing the business hours of operation on a piece of paper, the storefront decals are a far more desired option. You can easily customize the display in your way.
Displaying the amenities that you offer like public restroom or handicap accessible service is also a great way to use storefront graphics. You may also use it the other way for politely turning down the request of the solicitors. "No Soliciting" or "No Public Restroom" decals at the doorway can help you prevent the unwanted traffic. It looks more professional than writing or printing it on a piece of paper and pasting it on the storefront window.
Create Your Storefront Window Graphics with 4OVER4.COM
As you have seen above, there are several ways to enhance the storefront display and bring in more traffic. You need to find the right place to create your storefront window graphics. The decision for the type of display that can represent your brand in the best way, making it different from other display windows.
4OVER4.COM is a leading reliable platform for all kinds of online printing. Whether perforated window signs, oversized decals, or 3D graphics, our customer service team helps to complete all the projects dedicatedly and passionately. The storefront display decals advantages range far and wide. Whether small or large, you can use easy to apply window sign graphics for nearly every business.
If you have a dull storefront, 4OVER4.COM decal, stickers, and banner print marketing can elevate the status of your business, while increasing traffic footfall. The storefront window graphics are the best way to create interest and opportunities for your business.