From the day we are born until the day we die,
everything we do is for the purpose of trying to satisfy a want.
As a matter of fact,
people would often buy exactly what they want, regardless of need.
A common mistake realtors make with real estate marketing is presuming that a prospective buyer will make the purchase because they have convinced him or her that the property for sale is a good investment. Over the years, experts have found that there are two standard appeals.
We react from emotion and logic, and when there is a clash between the two, emotion always wins – that's the bottom line.
People buy emotionally even if they try to justify their purchases using logic. The challenge for some agents is that they have been trying to sell logically. We recommend that you ensure that the prospect is connected to the home emotionally. Then, you must provide enough logical reasons so he or she can use them to defend the purchase! Click here to learn more about our Real Estate Printing Services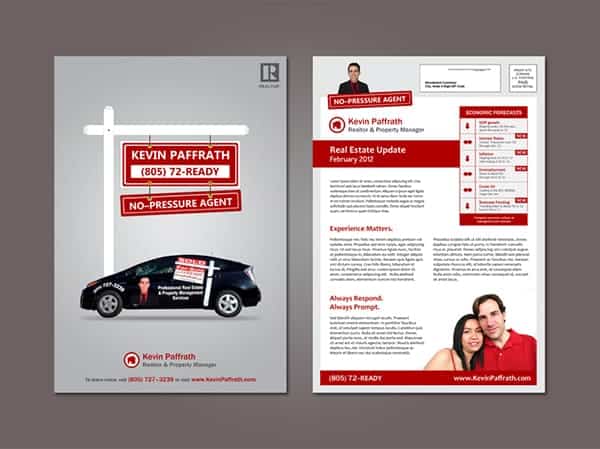 Real Estate Print Marketing With Emotions in Mind
Wearing clothes is logical because you can't be naked. Nevertheless, you select the clothes you purchase through emotion. You choose a certain brand because you've seen clever ads or because your mother also used it, even if it's more expensive. It all boils down to the emotional connections we make with products! The same theory applies in the real estate market – prospects must make typical buying decisions.
People are looking for their dream homes, right? That's logical! Still, the type of property they choose is utterly based on emotion.
They may be looking for a home in a coveted school district or one like the home they grew up in. Because buyers make decisions that are emotional instead of logical, professional realtors should prepare presentations based on the emotional appeal. When describing their dream home, people use words like spacious, bright and luxurious. Knowing this, it makes sense to use these terms in your print marketing materials. If you want to build desire, paint an emotional picture of the future into a buyer's mind. If they can see themselves enjoying the home, if they can picture their kids playing in the yard, they've already bought it!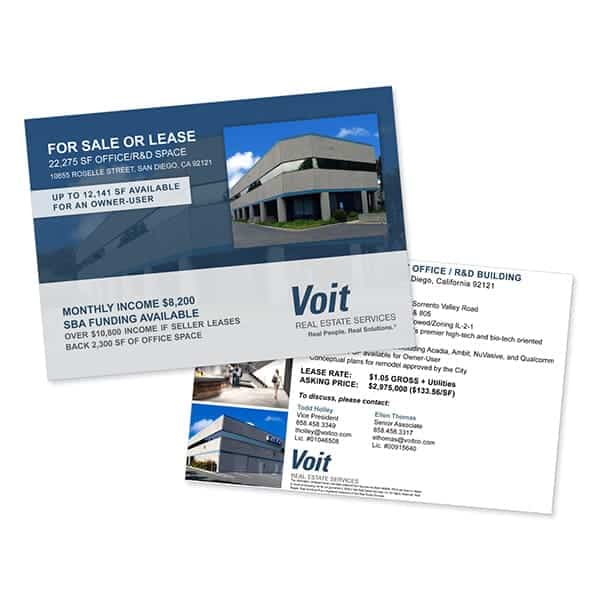 Engage Your Prospects with Real Estate Print Products
We've come up with a few real estate prints to help you meet your potential buyer's emotional needs to the fullest. Here's a look:
1. Real Estate Postcards
Do you want to be at the top of your game as a realtor? Send your clients and prospective buyers eye-catching postcards. Besides effectively demonstrating your skills as a realtor, a custom postcard with a compelling headline and a definitive call to action will surely appeal to clients' emotions. Make sure you personalize the postcards referencing your prospect's family information and home-buying preferences – they'll be amazed by your thoughtfulness!
2. Real Estate Newsletters
Real estate transactions are separated by years – you have to constantly nurture your relationships to keep them rock-solid! Direct-mail is one of the most cost-effective tools to accomplish this. A direct-mail custom newsletter that offers helpful content for readers — such as home maintenance secrets, home buying or selling tips and decorating advice — is an excellent emotion-building and revenue-generating tool. Essentially, it keeps your real estate agency top-of-mind!
3. Real Estate Gift Certificates
Did you know a loyal client can be your best sales team? Take advantage of this! Use a client referral program to reward your beloved customers when they send business your way. Just let your clients know that every single time they refer a family member or friend to your real estate agency, you will reward them with gift certificates. When it comes to gift certificates, the possibilities are endless – it could be a gift card to their favorite spa or restaurant or bar. Your clients will be thrilled!
4. Real Estate Thank You Cards
In the era of email, getting a personalized note is so emotional that it never goes unnoticed. Make a habit of sending a lovely thank you card to your customers after every transaction. This will leave them with a great impression of you as a professional and your real estate agency, increasing the odds that they will work with you again in the near future. As you can see, appealing to your prospects' emotions is crucial to your success as a real estate agent. We hope these real estate prints help you thrive while engaging your target audience. Which of these products have you used in the past? Did it work? We'd love to hear your thoughts and comments. Please feel free to kindly leave a comment below about our products and services. Don't forget that 4OVER4.COM is perfect for all your marketing campaign needs including print pieces, business cards, mail postcards, high quality prints, and all printed materials.
Read also: How to Design the Ultimate Real Estate Print Marketing Kit
Waste no time!
Click the banner below and sign up now for 30% OFF your first order!
Happy printing!