You've spent a lot of time working on your project and getting the design details exactly as you pictured them, now it's time to send them off for professional printing. Before you go ahead and do this, there are some very important factors to consider. Setting up your files for professional printing takes time and attention to detail. After all, you want to get the job done right the first time, which at the end of the day will save you time and money.
Here are 8 great tips for print-ready files to get you on your way:
1. Contact your printer.
No two printing firms are alike so it makes the most sense to contact your printer first and ask as many pertinent questions as you can think of before sending over your job. Ask your printer how they would like the files set to avoid complications during the printing process. After all, you don't want to waste time with do-overs, you want to get busy on your next project. At 4over4, we try to make this process easy and effective - you can contact us for any custom project or printing project idea! Or check out our FAQs
2. Understanding CMYK vs. RGB.
CMYK consists of the four colors cyan, magenta, yellow and black. These colors are used by printers to produce full color images. "While RBG offers a greater color range and works well in designing for implementation online, it doesn't cut it when going to press," so make sure your files are set up in CMYK and if there are contact us these should be correctly included as well. Remember, files will hardly ever look exactly as they do on screen when in print, but you can make sure that the right colors are in by simply setting up your files to the 4-color system -you'll get the best results everytime!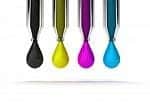 3. Image is all about Quality!
Whether you are a professional designer or like to dabble in your spare time, your image is everything. To get it done right every time, make sure that your image is set to 300 dpi (dots per inch). You want to ensure that the quality image you are designing transfers to the page beautifully.
4. Consider the many shades of black.
If you didn't already know, there are many shades of black and getting the right one means paying close attention when doing your printing file prep. Let's take a look at rich black, which is a combination of CMYK colors that reads like this: cyan 75; magenta 68; yellow 67 and black 90 in Photoshop. Rich black is best used for printing images and not recommended for text. Plain Black or 100% black is mostly used in applications like Illustrator and InDesign. This black does not use a combination of CMYK colors and is strictly 100% black. While plain black is not suggested for images because it tends to print as grey, it is the preferred black for printing text. Almost there, just a few more important professional printing guides to follow.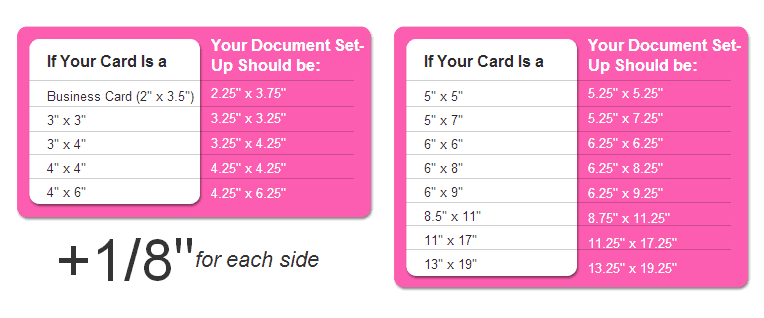 5. Include Bleeds and Trim Lines.
No matter what the size of the printing project you are working on, you must always remember to incorporate a 1/8" bleed around all four sides, in other words ¼" wider and ¼" taller than the end product. The bleed area is the portion of your card that will be trimmed off after printing. Next let's take a look at the trim line, which is the final size of your product. There should be no text or important elements within the trim line area because it will be lost. All the key elements and text of your printing product should be arranged inside the live area.
6. Go Fontastic.
Next step is to choose a font which is good for your design but also easy to find elsewhere. If you get too creative with your fonts and save them as fonts instead of quality images, your printer might not be able to deliver the best result; they usually can only use the fonts present in their system. Instead, select a font that already has all the characteristics you want.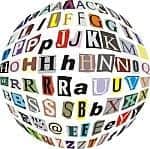 7. Look it over: Check-Check-Check!
It's like your high school English teacher always said, proof read, proof read, proof read. Make sure that all the elements of your project appear as you want them to and provide the printer with a .PDF or .JPG so they can reference what the end result is supposed to look like.
8. Send it off to the printer.
Now it's time to send off your work to the printer. You want to ensure that the printing firm has all the information they need to complete your project successfully. To do this, you must send all your files (including fonts and images) as a package. This way there won't be any loose ends and time wasted having to resend files. Once you get all the steps down for print-ready files, you can get back to doing what you love most – creating amazing designs and using your imagination. Hope these tips help. Let us know if they did! Image Courtesy of Danilo Rizzuti / FreeDigitalPhotos.net Image Courtesy of Vlado / FreeDigitalPhotos.net 4OVER4.COM