DIY business card designing usually starts with a word doc. Then, you resize the page according to standard measurements, add contact info, and that's it.
You feel you have done a great job. But when you hand it to a client, the result is a waste of money, time, and energy. The business card may even end up in a bin. No one wants to make a lackluster card, so let's take a look at the mistakes that you may be making.
If you have constrained budgets, you may try designing business cards online. It is definitely a great way to explore your creativity with high-quality printing. But, prior to designing business cards, read about the mistakes that people usually make during the process. It can help in avoiding such flaws and refining your business card design.
While we talk about business card designing and printing, one name that cannot leave behind is 4OVER4.COM. With over 20 years of experience, 4OVER4 continues to improve. They add and reinforce their product lineup, quality, and overall range with each passing year. If you are looking for some great business card designs, 4OVER4 will never disappoint you but before that, check out the mistakes you should avoid while you design your card online.
Selecting a Common Business Card Design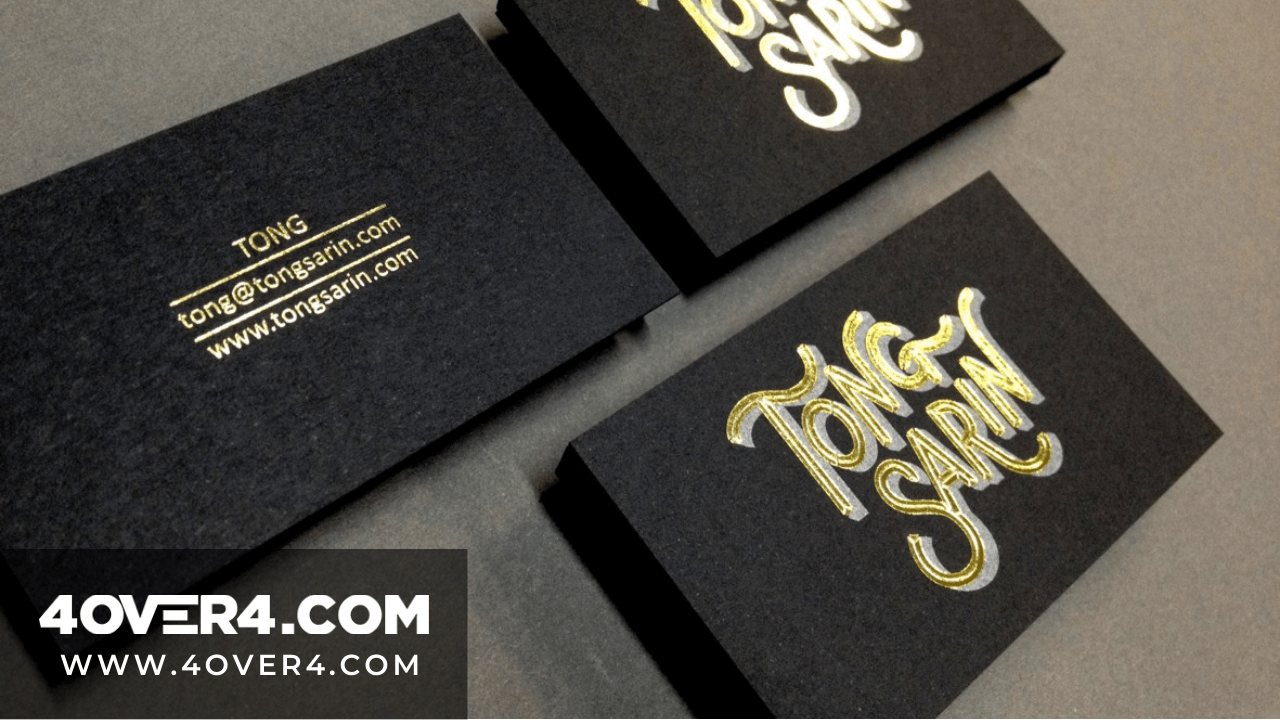 One of the most common mistakes that people make in a business card is the look and feel of the card. It is mostly unimpressive and mundane which leaves only a faint memory when you hand it over to someone.
A business card must define your business, look great, and feel amazing. A soft- touch or spot-UV card design from the 4OVER4 business card specialists have an element of sophistication. They are affordable as well as appealing to the masses.
At 4OVER4, the team strives to offer the finest quality material using digital technology for business cards printing. There won't be any mistakes made when you have creative business cards. They must be unique and stand out in the crowd. This way, they will draw eyes to your contact information like your phone number, email address, and social media handles.
Compromising on the Design Quality
You can definitely save quite a few pennies by making your own homemade cards without consulting a professional. It may even look great when you see it from a distance, but when you hold the card it may not seem as professional or eye-catching. You can easily feel the perforations at the side when you opt for homemade cards. It is difficult to achieve perfection without the quality that a professional like 4OVER4 can offer.
Do you want to design a card yourself and get it printed online? 4OVER4.COM offers you a range of business cards sizes and paper stocks using their design services online. We also offer a variety of other items like velvet and gloss laminated hangtags, tabletop and fabric tube displays, event tent, pole flags and more. Don't sacrifice your business and its success by skimping on your card's design.
Confusing Business Card Designs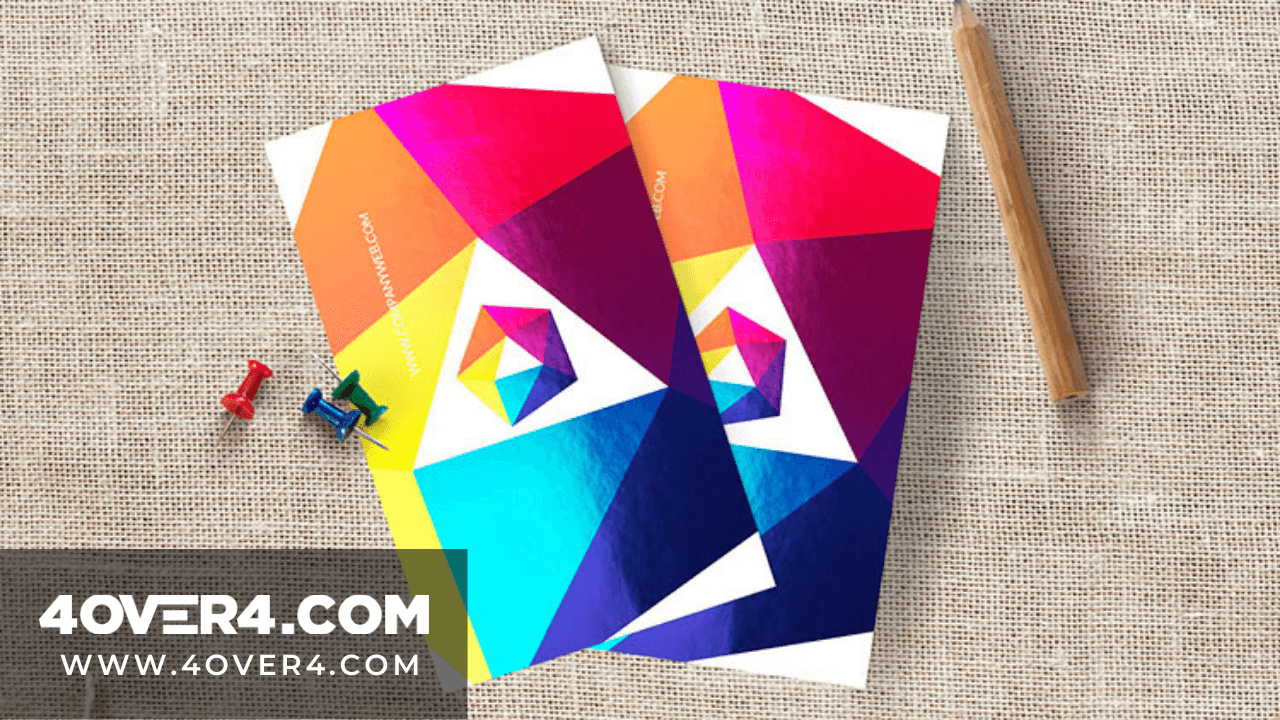 Your unique business card designs must reflect what your business is all about. If your design does not show any connection with your business or brand colors, it is not likely to get much referrals or calls. Once the client receives your card, they should understand your industry without engaging themselves in solving the mystery.
Logos that are extremely clear and memorable are logos like the Starbucks or United Parcel Service (UPS) logos. Until 2003, the UPS logo was a parcel tied with string at the top of a carrier shield. This is a business card design that gives out a clear message about the business, free of mystery.
At 4OVER4.COM, you can find many such examples of clean logos on business cards. Beyond this, there is also raised spot UV hangtags or mugs and pens that give instant recognition to your business.
Designs Lacking a Unique Selling Point
Have you tried using your business card, hangtags, or other printed items to its full marketing potential? Your business card must state one unique reason for clients to get in touch with you or do business with you.
For instance, a travel-based company can have a tagline "travel across the globe with us" or an auto service center can use "a guaranteed complete solution". Such selling or value propositions give out a clear message to your customers. When you mention "guaranteed solution", it helps in building the trust.
Lack of Design Proportions in Business Card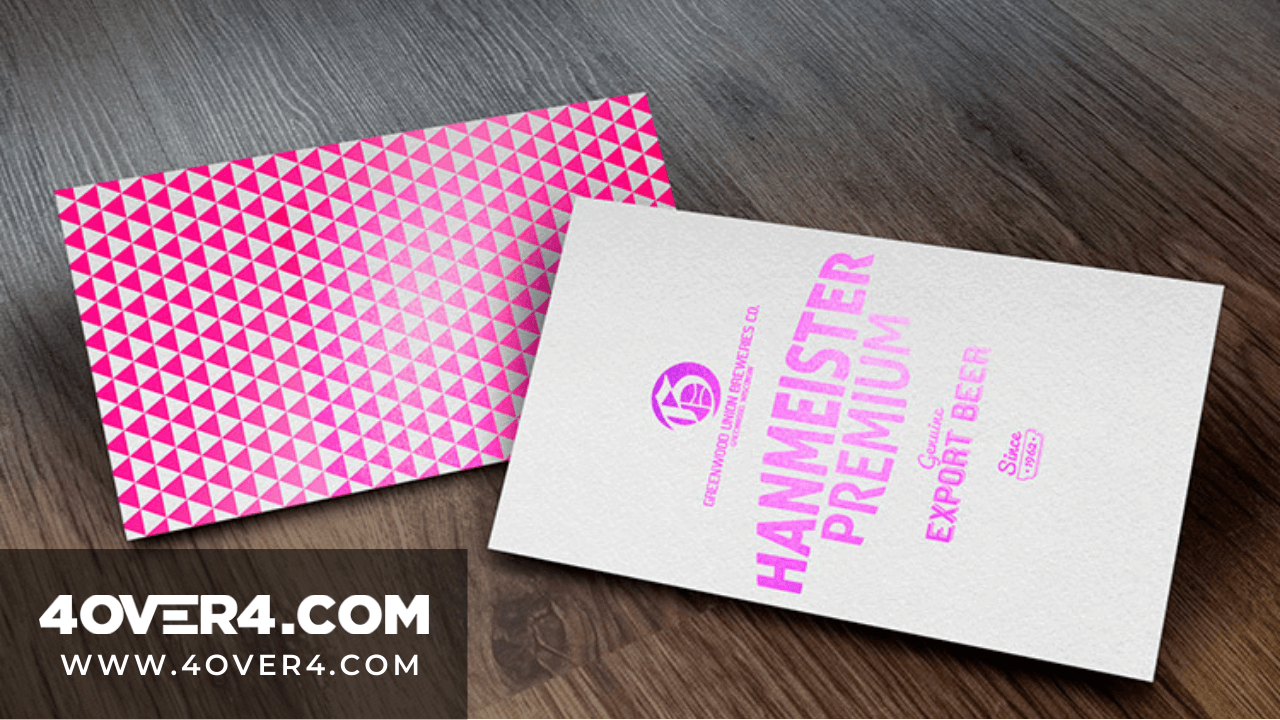 A common mistake in designing is the lack of appropriate balance in shapes, fonts, scopes, sizes, and more. Are the background shapes breaking up your design? Do you have a section that is somewhat misaligned? Are the spaces between the texts too close?
Whatever be the situation, you can feel something is not right.
Even if you are not a professional designer, you can create an apt business card. You need to choose the right design and it will naturally attain the balance to sow the seeds of brand recognition. The proper business card design conveys the right message and creates a positive impression at the first meeting.
Online templates come as a handy option to escape weird design proportions. Are you looking for one? 4OVER4.COM offers several card building templates on our free business cards maker to ease your process and also printing options in a range of papers and finishes.
Fix the Mistakes in Business Card Design with Professional Help
Business cards are the most important marketing tool and you should carry a good supply wherever you go. In the right situation and to the right contact, a business card can result in several referrals.
Your business card must be unique and hold proper information without any mistakes such as harsh color schemes, typing errors, etc. If you want to create a perfect card, 4OVER4.COM is one of the most ideal choices that you can have. We offer endless options for business cards like die-cut, spot UV, 3D lenticular, and more.
Apart from designing business cards at affordable prices, our range also includes a designer showcase. This is where you can choose an assortment of products for printing. Are you looking to print gift items like keychains, car magnets, drink coasters, etc. or office stationeries like rubber stamps, letterheads, mousepads, and more? The 4OVER4 team helps in meeting all your graphic designing and full-color printing needs under one roof.