We consider brochures to be one of the most formal channels of advertising, right into the palms of a potential client. They are one of the most efficient tools available for creating awareness about a brand, a business or even an institution.
Did you know that marketing with brochures is one of the least expensive options for you as a brand or business owner? Your brand can order more than 250 full-color brochures at 4OVER4, printed on glossy or matte paper for a very low price.
Speaking about paper types, do you as a brand or business owner, have a preference for paper types? The balance isn't as well achieved since different businesses and brands operate in different industries.
However, to draw or rather establish a clear line between what and not to choose for your brand's brochures, here are some pros and cons for matte vs glossy print options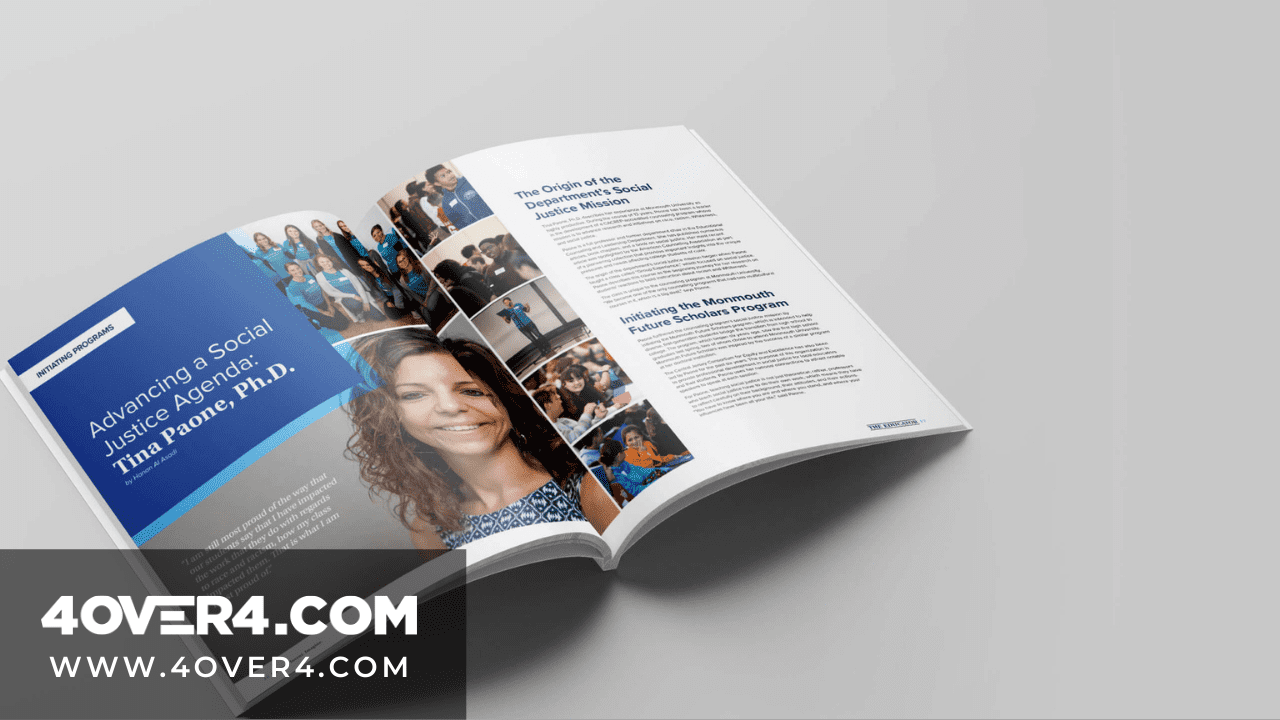 Matte Vs Glossy Brochure – Pros
Matte
Let's start off with the newest and trendy option, matte. What's a client when a client looks at a brochure and sees matte as the printed on option for a brand or business. 'Wow, this feels awesome, looks unique, this brand looks posh!'
Well clearly, as the first advantage, a matte brochure expressess uniqueness and gives a better first impression and wow factor. It is better used in hospitality or fashion industries across the globe.
Are you a brand or business owner operating in the hospitality, fashion or any other trendy and attention grabbing industry? Well, you are at the right place!
Here are some more pros for matte paper types in favor of your brand's brochures:
Imperfections as well as scratches are not easily visible.
Light is diffused and a sense of richness is achieved.
Is best to achieve a mix of both modern and a traditional look.
Matte paper is versatile. Compatible with both inkjet as well as laser printers. This is due to the absence of a shiny coat as well as thick layer.
Matte can help in the making of brochures look modern and slick. Putting your brand on the positive trends in the market.
Matte dries up quickly and does resist fingerprints. This means that it is faster to print and has improved turnaround times for a brand's brochures from 4OVER4.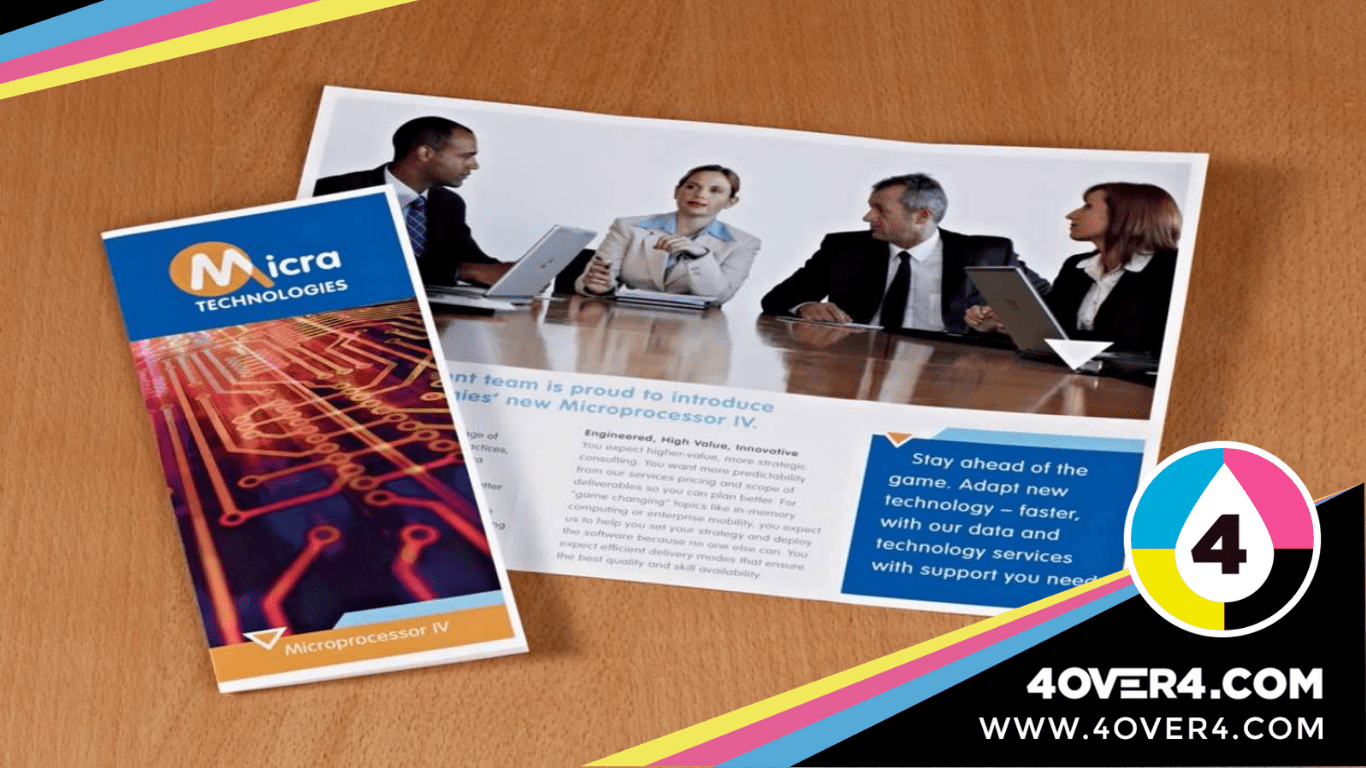 Gloss
Glossy finish is popular for brochures today . Even though it isn't the best when it comes to printing or even writing on, it has a shiny and thick coating, to make it stand out.
An overall design on glossy paper relays a professional look making this option common. Nowadays, gloss can be considered as a preferred option for brochures and is vastly used by most brands and businesses.
However, don't you think it's becoming monotonous? Do you think your brand or business can twitch the use of gloss paper to evade mediocrity? Think about it, but in the meantime, here are some pros of gloss paper on your brand's brochures.
Gives your brand brochure an extra smooth finish, making it satisfying to iview and hold. It is therefore more likely that clients will engage with it
Pictures on your brand's brochure appear to be highly impressive when implemented or printed on glossy paper. They are visually striking and really jump out of the paper.
Glossy paper types can deploy that professional finishing touch to your work or brochure.
Matte Vs Glossy Brochure – Cons
Matte
However, it's not all glam and roses for matte paper from your brand's brochures. Here are some cons;
Due to the lack of a thick coating and a protective layer, matte paper prints can be subject to bending and also creasing.
Longevity of production won't be excellent unless you as a brand owner deploy your brochure in professional matte paper. At 4OVER4, we guarantee you and your business, excellent and quality matte papers.
Gloss
Conclusively on the pros and cons of matte vs glossy print, here are some cons for gloss paper;
Glossy paper forms a glare. This implies that your clients and potential customers may face a hard time reading its contents.
A glossy finish can prove to be difficult to note on, using an ink pen, pencil or marker pen. Since brochures serve the purpose of relaying important detail, a client might want to mark a certain section on the surface.
Which Type of Paper is Right for Your Business?
One commonly posed question to printing firms and professionals is whether or not a brand should print on either papers for their brochures. They are torn between matte prints vs glossy prints.
In reality, there isn't a better option. Choosing between matte prints vs glossy prints is solely dependent on your brand's requirements. However, a vast majority prefer glossy paper, for their brochure printing, by default. This cannot be considered wrong, but there are many scenarios where a matte paper might win the tight race between a glossy vs matte print.

Eventually, It all narrows down to your brochure's purpose. Are they needed as canvas? Then, your brand or business should choose matte, which is more cost-effective.
Is your brand in need of having a visual and colorful brochure? Then, choose glossy since it will add vibrancy to the colors and last longer.
Does your business need something muted and subtle? Then choose matte. How about if you need something eye-catching and flashy? Then go glossy, all the way!
At the end of the day, when it comes to making a choice between glossy vs matte print, a format for your brochures, you as a brand owner may figure out that your brand lies in between.
If this is the case, then you have two options: We at 40VER4 can print your brochures on semi-gloss (an excellent option between matte and glossy), or even print some of each!
If your brand wishes to use brochures in different instances, it's perfectly fine to have us at 4OVER4 print them with different finishes so as to fit your audience and occasion.
On matte vs glossy pictures, glossy paper has become the greatest preference. For pictures with graphics and full color, glossy paper makes perfect results. The pull between matte vs glossy has glossy taking the win on printing the best pictures.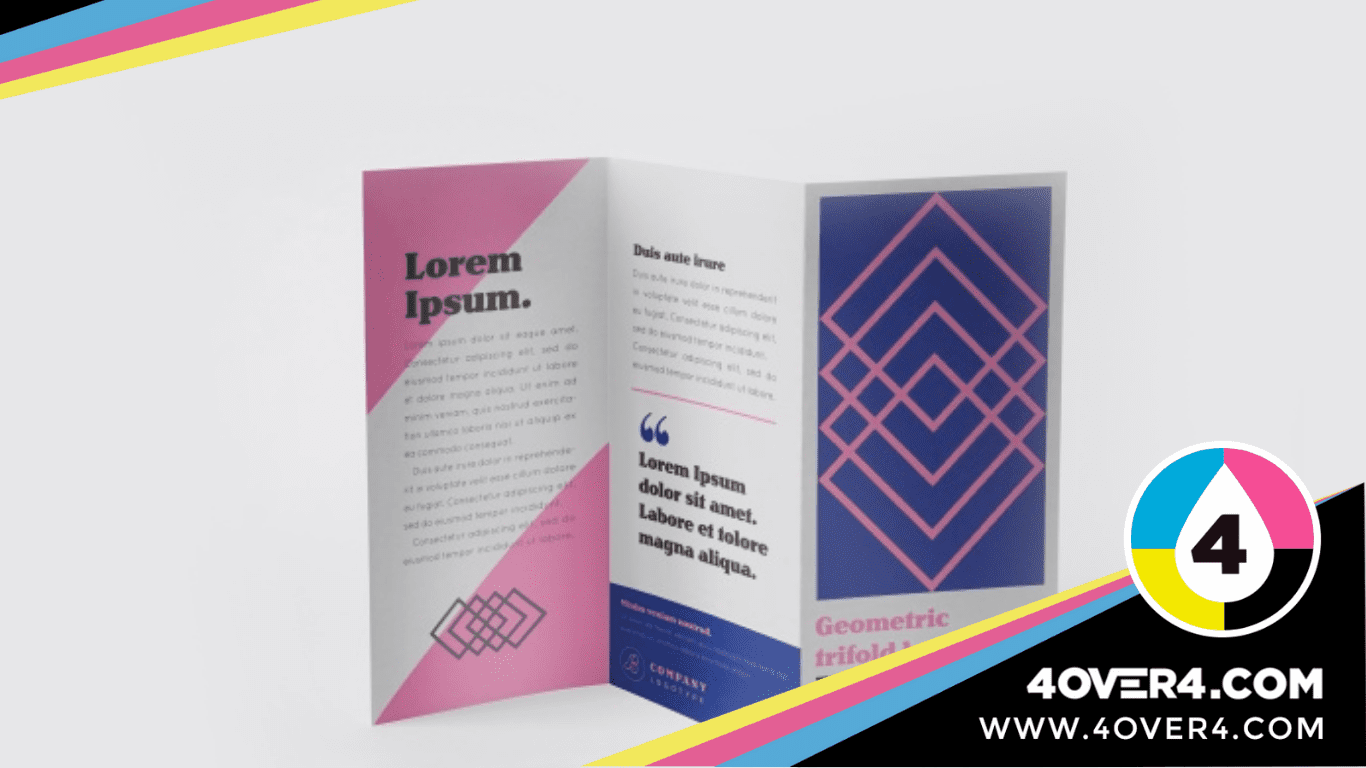 4OVER4 – Your Solution for both Matte and Gloss Finish
If the design of your brochure is hard-hitting, very bright or overflowing at the brim to relay the message of the brochure to your customers, we at 4OVER4 can implement your brand's brochures with a high-quality 100-pound cover or text gloss paper.
For matte or glossy prints with a softer design, a thoughtful message as well as an elusive design, a 70-pound or 80-pound matte option would go well with your brochure.
This is particularly if the brochure is expected to undergo more wear and tear. Outside of all the above, it comes down to a brand or business owner's personal preference on matte or glossy prints. Which one do you think will relay the best design for your brochure and deliver your brand's message clearly?
Remember! An Innovative design is about moving beyond the mediocre. We at 4OVER4 do not compromise creativity and implementation of the best designs! That's why we have a diverse pool of templates that you can customize to get that premium look on your brochure.
Printing of brochures is an important part of business advertising, so paper selection should be taken seriously. Carefully note the difference between matte and glossy prints! As a brand or business owner, it is quite difficult to note what looks best, or what feels right, unless you only do a side by side comparison. Only then will you see the difference between matte and glossy prints.
We, at 4OVER4, as your professional printing service, will send you a proof on glossy and on matte paper after customizing your preferred template, upon order. Step back and see which version strikes you as the best paper for highlighting your brochure printing design, today!
Remember, for every purchase you make, you will be rewarded with 4OVER4 rewards coins in your My Influence dashboard. My Influence Rewards is a one-of-a-kind Rewards Program that allows you to earn 4OVER4 rewards coins without spending a dime! You can redeem the coins for our products or services, 200 free business cards, or cool gift cards from other websites.