Valentine's day is both a deeply commercial "holiday" and a source of anxiety for a lot of people. While
the celebration should really be about the people you love in your life
, it has become a date to give and receive presents; a reminder for those who want to be in relationships that they're not, and for people in relationships a date when the pressure is ON to show how much they care.
The average annual Valentine's Day spending is $13.19 billion
; this date is considered by many to be one of the most popular holidays in the United States. And we all know
Valentine's Day is a one-of-a-kind advertising opportunity
. For businesses it is a great outlet to move merchandise, increase sign ups and get more reservations and walk ins; however after the day is over a lot of the hype dies down. Prior to February 14, fans of Valentine's Day- and even those who are not- are busy on the lookout for the prettiest bouquet of roses, a romantic evening out, a hard-to-get restaurant reservation and even the simplest chocolate bar. Now imagine harnessing that sentiment even after the date,
wouldn't it be great to keep the momentum even after V-Day is over?
Here are a few ideas to harness the business and emotional power of cupid's day. Tell us if you use them and leverage Valentine's Day Sales even after the 14th!
The Safe Bet: Lovely Discounts
Regardless of the kind of business you run, this date is an opportunity to let your customers know how much you appreciate them. The following are some discount ideas you can emulate:
1.-Hold a contest targeted to couples
. Hire a photographer to go to your business and take funny photos of couples. Then, post the pictures on your Facebook business page, only if they agree of course, and ask all your customers to vote for the ´loveliest couple´. The winners of the contest get a special discount.
The catch? Contest takes place after the 14th  (so it's a separate from your Valentines Day sale)
and you can have several different categories, the idea is to encourage repeat business as well as social engagement.
2.-Send your customers Valentine's cards a little after the date
Cards are expected leading up to and on the actual date, so to  show your presence all year-round send reward cards to your most loyal customers with appreciation messages and small rewards that you can afford -a great way to do this is by leveraging partnerships with other shops for a win-win. Think of using 
die
cut cards
beyond the common heart shape, personalize a message with your contact information. Copy is critical here, so make sure it meets your target and that it is both fun and touching.
3.-Have special options for those forgetful who ~get in trouble~
. It is not a matter of a few people, according to a Lavalife survey, more than 40% of men forget V-Day each year. Offer them after V-Day alternatives to help them make it up to their partners with either on-the-day pre-packaged options at different prices and a care package to "make it up, like it was meant to all along"
Create Fun Coupons for Singles
Create a campaign with a concept like "love yourself' targeted to all your customers regardless of their relationship status. The aim of the campaign is to promote the value of self-esteem and how the one they should really invest on is themselves. Encourage your customers to take care about themselves by providing coupons for massages, skin cleansing, lessons, spa treatments or fitness classes.
Promote a "Your Loved One" Referral Campaign
Isn't word of mouth one of the most effective advertising channels? According to Nielsen, 92% of consumers believe recommendations from friends and family over all forms of advertising.
Ask your customers for a referral the week after Valentine's Day.
Think of it as a "be mine and get yours" approach. "Value friendship" and "Valentine's Day, Every Damn Day" may be concepts to consider depending on your audience.  Make sure your referral campaign includes a benefit for both parties and that it is tied to a social aspect of your brand. [caption id="attachment_6712" align="aligncenter" width="600"]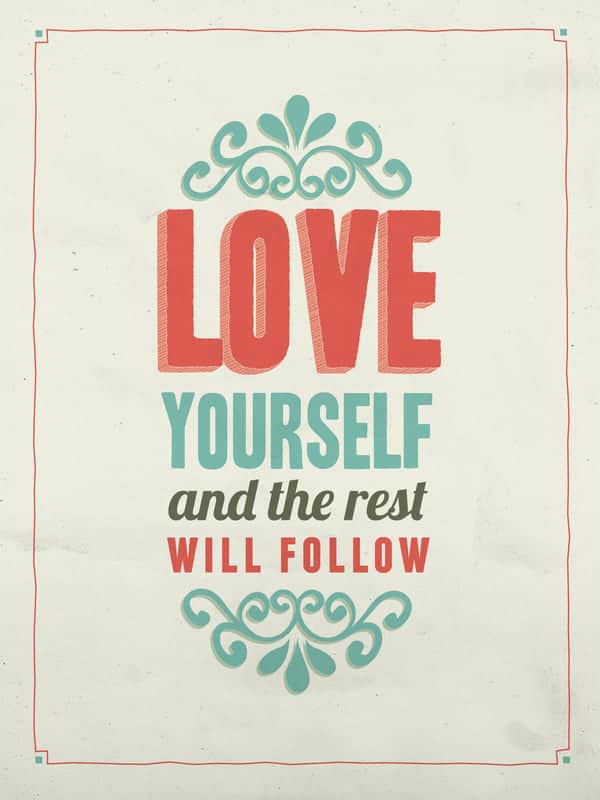 Image Credit: Nora Logue on Behance https://on.be.net/Ksvpj5[/caption]
Provide Gift Cards For Your Customers and Their Spouses
If your business is not related to a typical VDay goodie  like jewelry, food, flowers or candies; give your customers a gift certificate for any of your most romantic products or to a local restaurant.
Gift certificates are the perfect promo gift for your loyal customers, they can be redeemed after Valentine's Day and make any forgetful lover look good
. You can have them printed in various sizes and paper types. Click on 
gift
certificates
for further specifications. Have them ready to give, by keeping attractive bags and ribbons to present them.
Find your Other Half:  Alliances with other businesses
Find your better half,
make an alliance to create an explosive combination that can surprise your customers
. Show them the versatility of your business by partnering up with business such as resorts, movie theaters, hotels, spas and gyms among others.
Support a Charity
Your business reputation plays a critical role in your business success. Right? If you agree, February may seem perfect month to express your love to those who really need ´love and support´. A lot of people will feel more inclined to drop an extra dollar at checkout if they see that your sales (or a percentage) is going to a local or important charity. Pick an pet or animal shelter for the ~adorable~ factor and take the time to show up with the donation and share it on social media, by showing you care and actually follow through you gain customer advocates for your brand. You become more than a money-making machine, by being a real part of the community with a human side. Not only Valentine's Day is the perfect excuse to express your love to your loved ones, it is also the month to treat your customers like royalty, just as they deserve to be treated. So,
provide incentives to engage your customers to your business while enhancing your corporate identity after the Valentine's Day Sales are long gone!
 Show your customers they are your top priority! We hope this article comes in handy and at the right time. Please, share your thoughts about Valentines Day Sales and after promos. If you want to spread the word about your business through custom cards, visit our 
Header
Cards Section
,
Folded Business Cards
,
Die Cut Business Cards
and find a wide array of options available.