Have you ever noticed the brightly colored tapes at the construction site boundaries or while a visit to any Government building? The barricade tapes lessen the workplace injuries or block the staff area or any other restricted dangerous areas. You may also refer it as warning or caution tapes. For occupational safety and health administration, the warning tape plays a significant role. 4OVER4 is one of the leading online platforms offering danger tape or caution tape customization according to the need of your company. Let's delve deeper into the types of barricade tape and its benefits.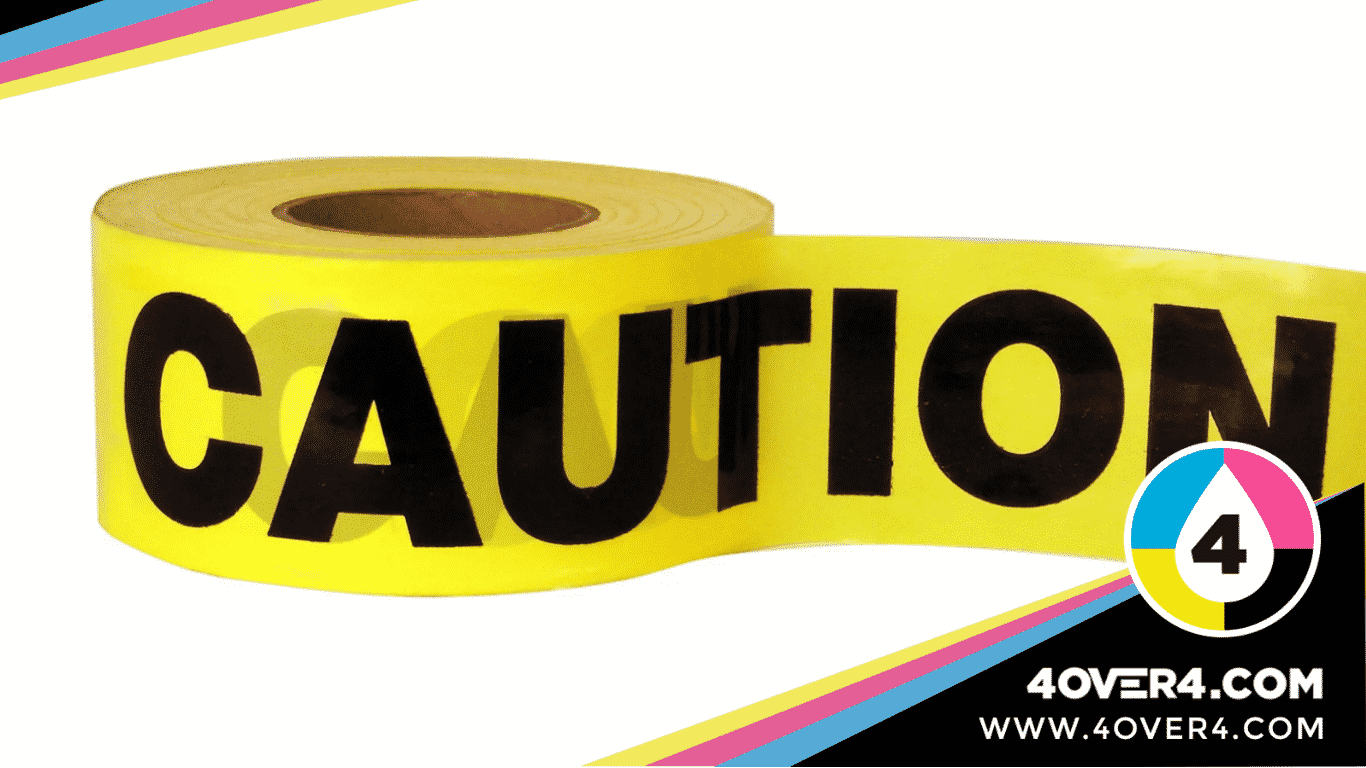 Yellow color tape as a warning sign
Features of Caution Tapes
Resists drooping or wilting even when you stretch it over long distances
Resilient to dampness and humidity
Stays flexible in cold temperatures
You can find it in a variety of warning message customization
Types of Barricade Tapes
Two essential factors distinguish barricade tapes – the color and the uses of barricade tapes. According to the rules set by the American National Standards Institute, barricade tapes are of five types based on color. They are red, yellow, green, orange, and blue. Every color has a particular objective associated with it.
The red color denotes a stop sign, danger, or fire.
The yellow color refers to the caution.
The green color identifies with an area to stock safety tools.
Raise warning with the orange color.
The blue color barricade tags refer to the informational symbols.
Every color caution tape has its specific function or uses, and you must use the right type considering the real purpose to safeguard compliance of rules. As per usage also there are five types of barricade tapes – caution or hazard tape for hazardous areas, construction tape for job sites, traffic control device tape, firefighter tape, law enforcement, or police tape. The team at 4OVER4 thoroughly understands your requirement and customize the caution tapes accordingly. We offer high quality 3" to 6" durable and reliable barricade tape tags within five business days.
Benefits of Barricade Tapes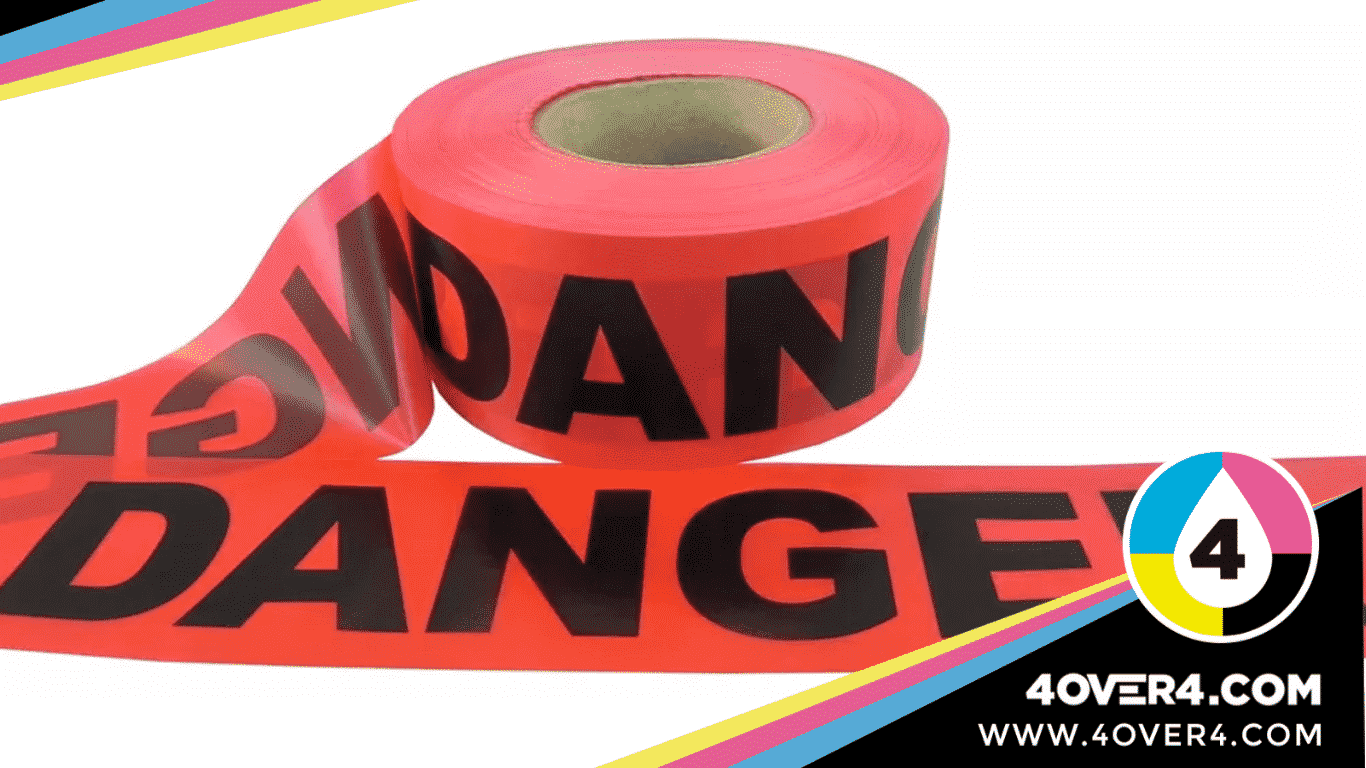 Danger warning barricade tape[/caption] You are already aware that the danger barricade tapes are a vital safety tool used for several purposes. It is mostly a must use safety aide, directed by several rules and regulations. The primary advantages of barricade tapes are –
Safety with Barricade Tapes
Barricade tapes are usually used for safety issues, and it is also one of the most significant benefits of this tool. The companies use caution tapes to restrict a certain area that is dangerous or prone to hazards. It may be a construction site, open electrical wiring work or undergoing work, sudden road mishaps or accidents, or any hazardous area that may be dangerous for people and their health. 4OVER4 team is a blend of skill, professionalism, easy-going nature, and zeal to deliver the best to the customers. So, secure your job sites with the word of caution using the barricade tapes.
Controlling the Flow with Caution Tapes
You can see the use of warning tapes in several places like government institutes, hospitals, banks, etc. You may also find the barricade tapes to direct people in a queue like ticket counters, airports, etc. and in some of the offices too.
Restricting the flow with Warning Tapes
Apart from driving the crowd in one direction, the warning tapes may also be used to limit people from a specific area or limiting the traffic flow. It is often used to identify and control certain areas where the general people are not authorized to enter. We can customize your message according to your needs and print the polyethylene tape.
Health & Safety Compliance with Barricade Tapes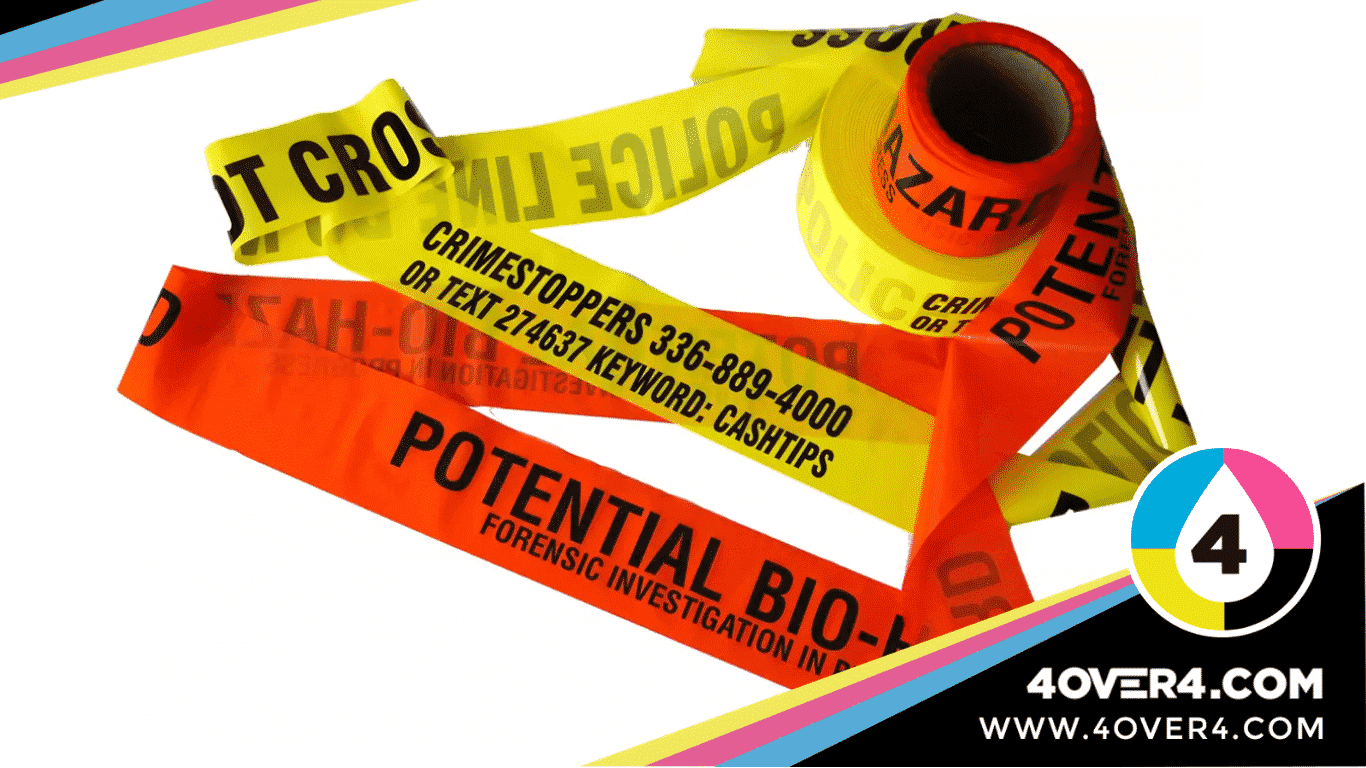 Information included barricade tapes There are various industries and several regulatory authorities to supervise each one. Such powers guide the barricade tapes usage as a vital measure for restricting physical hazards and ensuring health and safety. Nearly, all industries use caution tapes, which is a mandatory safety tool.
Ensure Safe and Environment-Friendly Printing with 4OVER4
Now, that you are aware of the types, benefits, and uses of the barrier tapes, ensure to purchase the right tape for the right purpose. In harsh weather conditions like heavy rains, blizzards, and fogs also you don't need to worry about the warning tapes. When you order your barricade tapes printing with 4OVER4, we make sure to use perfect colors that are highly visible and long-lasting with warning clarity. If you prefer using biodegradable products, we offer Green Printing, which is 100% safe, non-toxic, and completely environment-friendly. Make the right choice of products and the 4OVER4 online printing platform deliver the order at your doorstep.