The business cards make it easy for people to remember and connect with you when needed. Your card design and information printed on it must be memorable. It must have a positive impact on people to remember you or keep your business card for later use instead of throwing it instantly. Even the best inexpensive business cards, free cards with the right texts can be effective.
What to include and what not to include in a visiting card is a tricky question. Your business card can go haywire if you are not particular about the design and text. Any wrong content on the business card, and the recipient straightaway throws it into the dustbin. But if your card has the right balance of stellar design and information, it is bound to grab the attention of the recipients. Your business gets a validity or, rather, acceptability when you have a great visiting card. Sharing a visiting card is the best way to pitch your business to your prospective clients. It is easy, quick, and a great way to promote your business, products, services, and brand. 4OVER4 offers hundreds of stunning card design templates. You may also check out So, let us learn what you should and what you should not include on business cards.
What you Should Include on Business Cards
Contact Information

Contact info on black color visiting cards Whatever be the design and size of your business cards, you cannot ignore the basics that are your contact information. However, there are beautiful business card examples that don't offer real details to identify the source. But, usually, the business cards near you, whether free business cards, cheap business cards, or premium cards, every single card carries the basic information. For instance, your name, business name, phone number, email address, physical address, your work, and your website link are the commonest detail that you can find in every small business or big companies' visiting cards.
Logo along with Tagline on Business Cards

Both side printed business cards with tagline and logo Something that doesn't really need the next thought after contact info is the logo and the tagline. As your brand extension, the business card must be able to identify with your brand with the right words, colors, shapes, and features. Any of your prospects holding your card must instantly recognize your brand. Whether your portfolio, website, any physical location of your store, newsletter, or hoardings and banners, the logo is the sign of instant recognition. A tagline describing your work along with a brand logo is a must-print on the business card for helping people to recognize your brand instantly.
Social Media Handles

Social profile links on visiting cards Two to three social media handles printed on the business card is a must. With social media being an indispensable part of the business, both traditional and digital, you need to be on social media to attract the attention of your prospects. It doesn't mean that if you are active on 7-8 social networking sites, you need to add all. You should think rationally and then include the social media handle. Does the addition of many social profiles make your card look great? Do you want to overwhelm your prospects with your presence? If the answer is NO, then be strategic and add a few profiles to give your prospects a good taste of your work.
Webpage Link, Not Homepage on the Business Cards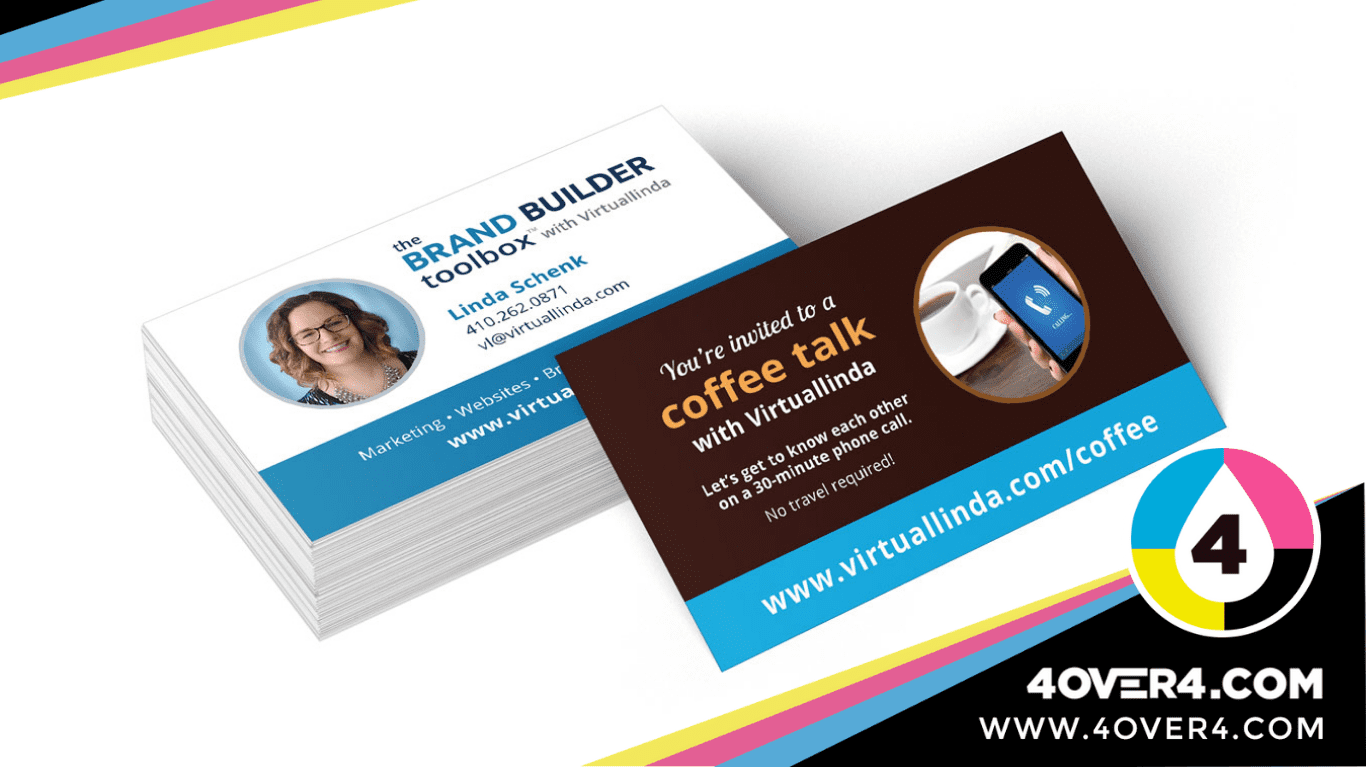 Webpage link on visiting card Why do you want to put up your webpage link on your creative business cards design? It is not really to show the people that you have a website link but to impress the prospects. When they get impressed, the prospects are likely to type out your webpage link to know more about you. But you must remember to add a link to a webpage instead of the homepage because they need to understand how you can benefit your prospects. A page with a short message and an introductory offer can anytime impress the prospects more than any simple homepage. A special offer, a bonus for downloading the app, or visiting the website can help in deepening the connection with your prospective customers. Always try to have a short URL that is easy to remember and type out for your prospects.
A Location Map
Print your location on the visiting card A custom design high-quality business card when comes with a location map for customers to visit, the trust factor is reinforced. People not just easily trust your business and brand; it gives artistically funky and cool look making the reverse side of your card interesting. If you are unable to add precise location, do not keep pondering over it. A general idea about your location, striking visual image with your city and state location, or an approximate landmark can make your card alluring for the prospects. If the map is the major element of your visiting card, the inclusion of a physical address on the business card that people can Google to find your location will be a good idea.
What you Should Not Include on Business Cards
Outdated Information
Blue and white both side printed cards Never include obsolete information on your visiting cards. If people call up and your number is out of service, instantly a wrong impression is created on their mind. Never cross out and share handwritten information on your cards. Such gaps cannot be filled out as people will turn to another business instead of waiting for you to correct yourself. Never use the out-of-date cards. Visiting cards have far-reaching influence within low-investments. 4OVER4 offer a range of card size, recycled paper, soft-touch, die-cut, metallic, spot UV, etc. finishes and card stocks. Choose the best option, order business cards by adding the recent info to your card.
Unreadable Tiny Prints
Poor fonts used on the card for adding info Do you think your prospects will wait and try, if they cannot read something on the business cards? They will definitely not walk around with a magnifying glass to read the tiny letters. If you try to shrink the letters to accommodate more texts, it becomes hard to understand the fonts and hurts the eyes. We offer a range of design templates to help you optimize the space on your business card without losing clarity. Always remember that you need to be creative, but it should also attract people's attention on your visiting card.
Hobbies and Interests
A business card is a professional way to let people know about you and your business. No one will be interested in checking out your hobbies or if you like music and badminton or chess. Never try to include irrelevant and non-important things that have no connection with your business, products, or services. Instead of adding hobbies, you may add a QR code to make the card design interactive.
Visual Clutter on the Business Card
Source Always try to leave white spaces. Too much visual clutter can turn off the recipient. Just think how frustrating it will be to see a business card with many info crammed together. Use of multiple fonts, 3-4 images, words overlapping, and all trying to fight for attention is the last thing that any people would like to see. Visual clutter is jarring, and people consider your business to be chaotic like your visiting card as well. Try to remove the redundant content and make use of both the sides on the card.
Conclusion
There are several dos and don'ts for business cards. If you can follow some of them, your card can be one of the best marketing tools at all times. 4OVER4 business card printing service team is always ready to help our customers with all kinds of support to make your buying process flawless. From mini cards to unique printing and oversized cards to premium card stock, we offer you all. You can choose from our range of exclusive collection or send us your specification and our skilled and highly knowledgeable customer service team make your journey with us memorable.