[caption id="attachment_3947" align="alignleft" width="403"]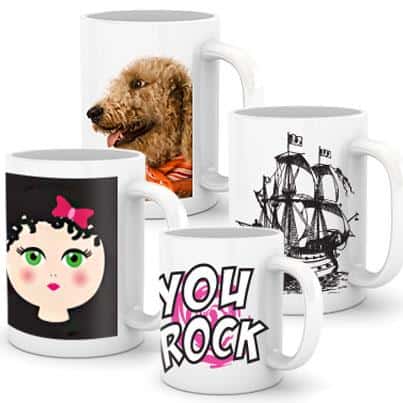 Coffee Mugs are Versatile Branding Magnets![/caption] Whether you are starting a new business or reinventing an existing one, the most important aspect of your marketing strategy is branding; it's the way consumers perceive your business when compared to competitors. Brand identity is not easily achieved and businesses usually need to spend a great deal of time and money to come up with a successful way to convey the company's philosophy in a recognizable way. But you don't have to. A relatively inexpensive and effective, branding strategy is to use custom promotional items like coffee mugs. Get new and old customers alike excited about your products or services through promotional gifts that are versatile and practical for both the home and the office. Printed coffee mugs are mini billboards constantly reminding customers they can purchase from you with every tasty sip, or by just sitting there on their desktops. This makes them a go-to favorite when it comes to branding opportunities for businesses large or small.
Why Custom Printed Mugs?
How many times have you gotten a pen or notepad at a trade show and thought to yourself "again"? Right, too many times to count. Mug printing allows you the freedom to express your brand on a product that most people can never have enough of. Open your kitchen cabinet and you'll see what we're talking about. Printed coffee mugs are truly versatile; people use them at work or home for drinking, as pen holders and vases. No matter how they're being used, every day you're achieving more brand awareness by repetition - your tailor-made message is constantly there.
How to Get the Best Results out of Your Printed Coffee Mugs
1. Use your company logo.
The most common use; it's simple yet powerful. If your company logo is well recognized and respected in your community, it's always smart to feature the logo on your custom printed mugs. A well known logo needs no explanations; consumers automatically associate your logo to your products and services. You can accompany the logo with a motto and most importantly your company's URL.
[caption id="attachment_3957" align="aligncenter" width="403"]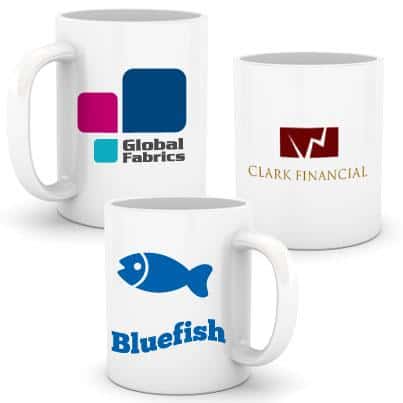 Logo = Company's Face![/caption]
2. Keep it simple:
If you are a new company and want to create that everlasting brand identity, design a unique version of your logo and remember to keep it simple. Think of the most successful companies out there today and take a lesson from them.
For example, the Apple logo and the golden arches of McDonald's are recognized worldwide because they are simple and memorable. Less is always more when it comes to getting and retaining attention, so re-design your logo in a simplified bold manner just for the mugs.
[caption id="attachment_3955" align="aligncenter" width="403"]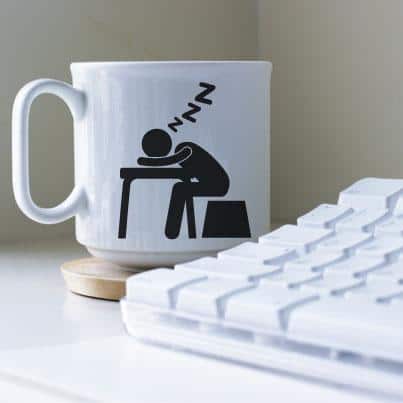 Simple doesn't mean ~boring~[/caption]
3. Make your message loud and clear:
Don't beat around the bush when it comes to your company motto. Consumers have a short attention span so make the message on your printed mug loud and clear.
This doesn't mean that you have to reduce the number of words, but it helps. Short and sweet is always the best practice.
The example below takes this concept to the next level by using many business-related words but highlighting only key ones. Brilliant!
[caption id="attachment_3956" align="aligncenter" width="403"]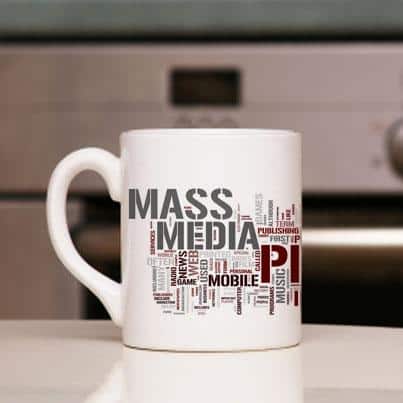 Make it STAND OUT![/caption]
4. Put your imagination to work:
Are you a company that prides itself on uniqueness and originality? Create printed coffee mugs with a one-of-a-kind artistic design or use a humorous photograph with a whimsical quote. After all, everyone loves to collect mugs that stand out and are great conversation starters.
You can also make special designs only for these printed coffee mugs using famous artistic trends, like Andy Warhol's style or famous movie posters. Inspiration is everywhere!
[caption id="attachment_3958" align="aligncenter" width="750"]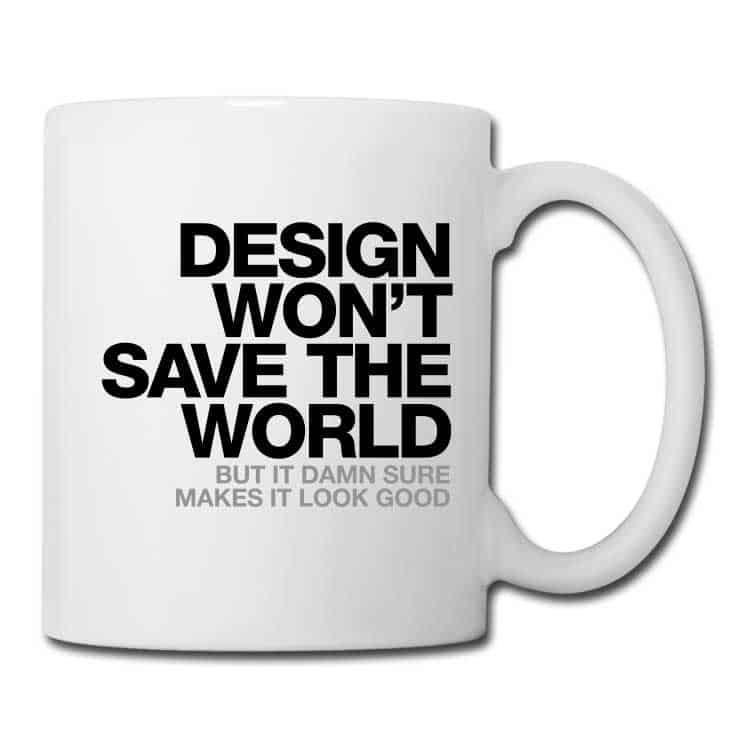 Quotes and Jokes are great Attention-Grabbers![/caption]
5. Add Contact Information:
The best advertising tool in the world will do you no good if you forget to add your contact information. For businesses that are strictly web driven, include your URL (as suggested before), Twitter handle, Facebook Page or blog; place it along the bottom or side of your mug in a vibrant color that is easily noticed. Make sure it's easy to read.
For small service related businesses like realtors and electricians, always add your telephone number because prospective customers will most likely want to speak with you one-on-one.
[caption id="attachment_3960" align="aligncenter" width="347"]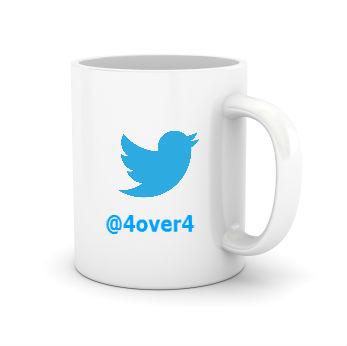 Add Your Twitter Handle for Customer Service[/caption] Promotional gifts, such as mugs, have been helping organizations become recognizable entities for years. With good products and effective branding tactics, businesses can create a positive reputation and a loyal customer following. Whether you print promotional mugs for business trade shows or as thank you gifts for valued customers, the end result is an everlasting successful branding effort. Businesses big and small can achieve success through affordable promotional tools that work; the key is building a recognizable and memorable brand! Good luck and let us know how it went!