In a world full of businesses, it's remarkably easy to become just another face in the crowd. However, a distinctive approach lies in adopting plastic business cards. These unique cards possess the power to elevate your branding, capturing attention while accentuating crucial information. Are you already asking how to make plastic business cards? Your answers await as you continue reading.
Introduction to Plastic Business Cards
Today, the one thing that will give you and your business the best odds of turning prospects into paying customers is leaving a lasting impression.
Plastic cards have a variety of different uses, including Gift Cards, Discount Cards, Fundraising Cards, Hotel Key Cards, ID Cards, Loyalty Cards, Membership Cards, VIP Cards, and more.
Printing plastic business cards like 30mil Clear Plastic (credit card thickness) or 20 Point Plastic is one of the best ways to do this.
These visually stunning cards are a cool way for your company to look unique and different. However, there are useful tips and tricks you must know about how to make plastic business cards that will sway your prospects.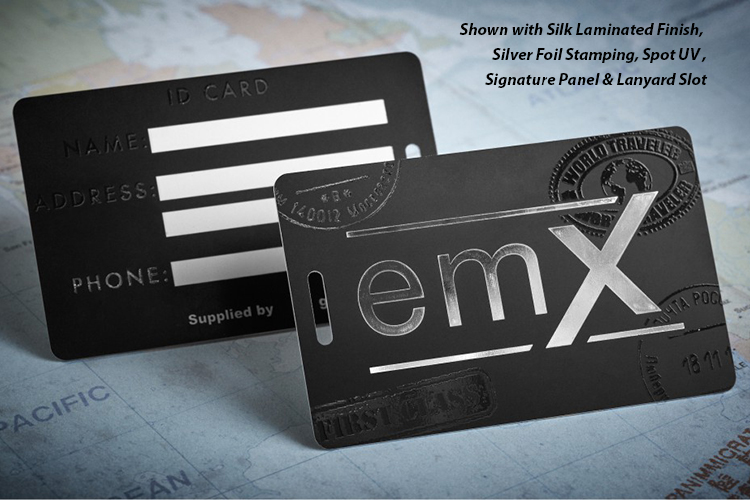 Advantages of Plastic Business cards.
Before we dive deep into how to make plastic business cards, first, let's talk about the advantages they have over their paper counterparts.
Here is a close look at a few.
Durability: Even the most premium traditional businesses have vulnerabilities compared to traditional business cards. This longevity ensures that your cards vital information remains intact and presentable over time.
Unique design possibilities: With plastic cards, you can explore design possibilities beyond the realm of what's possible with paper cards.
Longevity and sustainability: Because plastic cards are built to last, they reduce the need for frequent reprints. This will save you money and enhance sustainability by reducing the consumption of ink and paper.
Enhanced Aesthetics: Plastic cards are undeniably visually appealing. The glossy finish and vibrant colors contribute to a high-end look that's hard to achieve with standard paper cards.
Memorable: The distinctiveness of plastic cards increases the likelihood that prospects and clients will remember you.
How To Make Plastic Business Cards
Now, it is time to dwell on the nitty-gritty of how to make plastic business cards.
Designing your card: Be sure that your designs reflect your brand identity. You may consider using a professional designer or, better still, take advantage of our free online design tools. It's free and easy to use.
Choose Plastic Sheet: Select a plastic sheet matching your preferred card size and type. Our 30mil plastic or the 20-point plastic comes in Clear, Frosted and White types. The 30mil has the exact thickness of a credit card so are thicker and more resilient. Check our collection to find what suits you.
Print your design: You will need a printer for printing plastic sheets. Consider using online printers like 4OVER4.COM. We are more affordable and offer a quick turnaround time.
Adding Special Effects: Foil, Spot UV, and Embossing
Add an extra layer of sophistication and professionalism to your plastic business cards designs by incorporating special effects like foil stamping, spot UV, and embossing. These effects signal a commitment to quality and professionalism, leaving a positive impression on potential clients and partners.
Other customizations you can add include, optional magnetic stripe & encoding, barcoding with numbering, sequential numbering or other variable data and scratch off pin,
Printing Process
You can print your high-quality business cards on 4OVER4. Once you are done with the designs, select your desired specifications, upload your design, and place your order. The price varies depending on the order quantity and your selected customization options.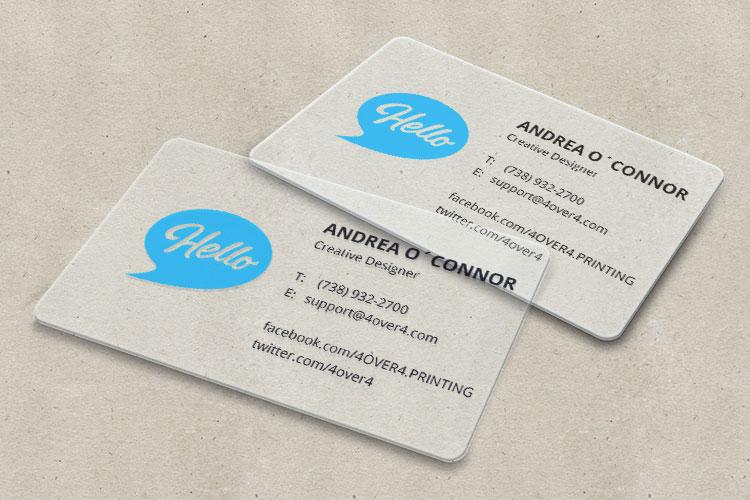 Sustainability and Eco-Friendly Option
Plastic business cards contribute to reducing paper usage, a major environmental concern. The paper production process involves deforestation and significant water and energy consumption. Opting for plastic cards helps conserve trees, water, and energy, aligning with eco-friendly goals.
Conclusion
It's important to add that plastic business cards have a subtle perceived value. They feel similar to credit cards, which means recipients associate your.brand with a heightened worth. So, here is all you need on how to make plastic business cards. Start printing today.