We print greeting cards for all sorts of special occasions
, they serve the purpose of telling our friends and family that we're thinking of them on that special date or holiday. This is why the tradition still lives on -despite some detractors- and will be continued by future generations! To keep it interesting, we encourage you to walk that extra mile and create an original piece. Not to worry though, we found an easy tutorial that shows you how to design a greeting card step by step.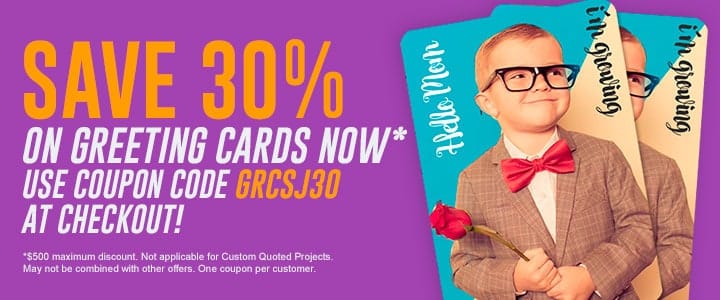 Design a Greeting Card That Everyone Will One to Keep
Nowadays, everything is done using technology
; with many alternatives for software and programs, everyone can create and design. However, 
most people use InDesign for print greeting card design because it renders better results...
 which is why it is the most common format used in professional printing. If you haven't mastered InDesign yet and need to make your own greeting card these Free Tutorials will help you get there fast!
By learning the most basic elements of the InDesign software, so you can create a greeting card anytime you choose
.
Folded Greeting Cards InDesign Tutorial Part I:
Folded Greeting Cards InDesign Tutorial Part II:
Mastering the Greeting Card InDesign Tutorials
Also, if you need a
 shorter version of the greeting card design process
 or don't really like video tutorials, here's a simplified step-by-step version, so you can learn the basics and still get the job done. Don't feel panic if you don't nail it on the first attempt, remember it takes years for professionals to master these types of programs. Just make sure to practice, take your time, and do every step indicated in the tutorials. There are other ways to make it easier for you to greet your loved ones with style, using 
pre-designed greeting card templates
 that can save you some time and effort when you're in a rush, or just looking to send a good and sharp design that you can personalize. You can make these templates unique by including your own message, pictures, different textured types of printing paper, and by changing the color palette. After your design is done, you can always add a handmade touch after printing or choose
custom envelopes
 that match your theme and style. Let us know how your project went, we'd love to see the results! If you have any questions, doubts or find this post useful, let us know in the comment section.