When most people think of a yard sign, they think of 3 things: a yard sale, a political campaign or a house for sale. These however, are not the only uses of these particular signs.
Yard sign printing is significantly cheaper than larger forms of advertising, but equally or more effective at a local scale.
Keeping this in mind and giving you a chance to test a new strategy, we have decided to offer our custom yard signs 30% OFF their price. But before you order yours, have a look at a few simple tips to make the most of the creative product. [caption id="attachment_7297" align="aligncenter" width="1024"]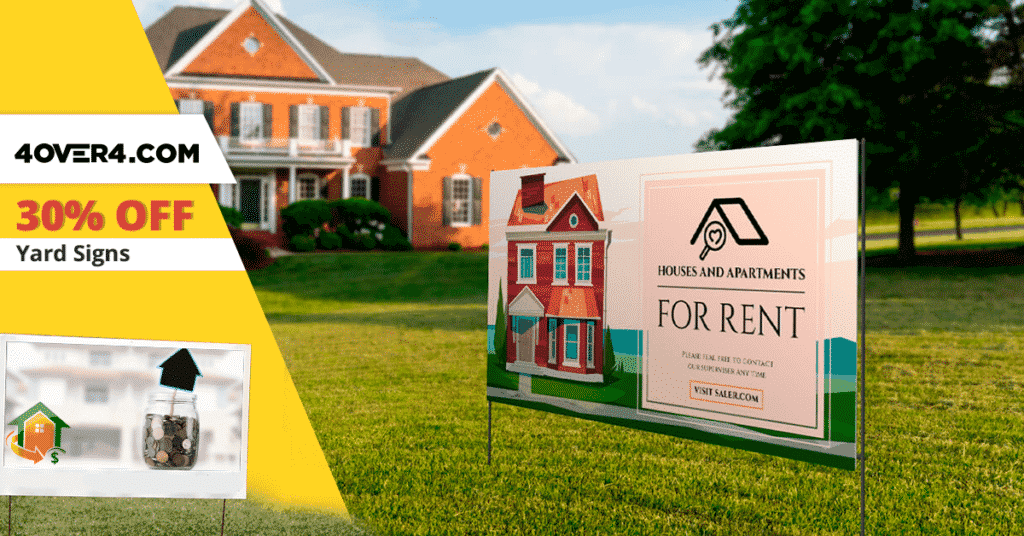 Order 30% OFF yard signs from 4over4[/caption]
Let's face it, regardless of how much work you put into designing a great sign, the fact is you only have a few seconds to catch passerby's attention. Keep in mind that this is not a sign people will take much time to read, information needs to be clear and catch customers' attention at the glimpse of an eye.
Read also: Advertising Tips: Best Colors for Real Estate Yard Signs
Here are 5 tips to make your yard sign promotion highly effective:
Be Concise: if  your message is too long people will not stop to read it. The product or service you're promoting must be clear, so anyone interested on it will take a second look to your yard sign.

Think of Text Distribution: it's not enough to write a short message, you need to distribute it wisely on your sign. It is true that this format is not necessarily the place for very elaborated designs, but it needs to be aesthetically appealing to encourage people to read it. Think of simple fonts and bold colors.

Location, location, location: place your sign in a place where it can be read easily. Ideally, a place with high traffic for better exposure, but consider a favorable position so it won't get ignored. Consider height, angle and surroundings when deciding where to put it.

Be clever: sometimes it's all about getting a second look. Being a little bit funny or witty could catch the readers' interest and make them want more information. Just be careful not to be offensive or completely lose focus of the objectives of your campaign yard sign.
Yard Signs 101: Wrong and Right
A cheap yard sign does not have to be a bad one, but an expensive one will not look good either if the design does not reach a quality standard. 
It's

 content what will get customers to like you.
We found 2 examples to illustrate the point. In this picture from rockstargop.wordpress.com we found so many yard signs at the same location that it is hard to focus on just one -and there's plenty of space!
Imagine what would happen if you were  just driving by.
Also, notice how in most of them you can only see one or two words from afar.
To read the complete message we would have no choice but to get a lot closer.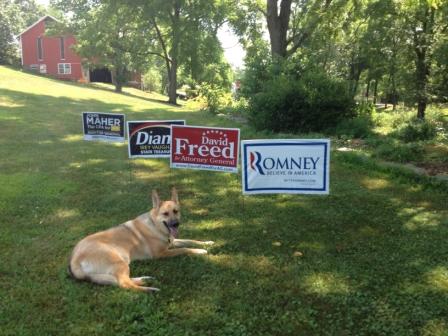 We also found a simple but effective yard sign on LiquidBlueRealty.com, it is a clean design with all basic information on the product and how to contact the company. It even has a QR code for customers to access further information.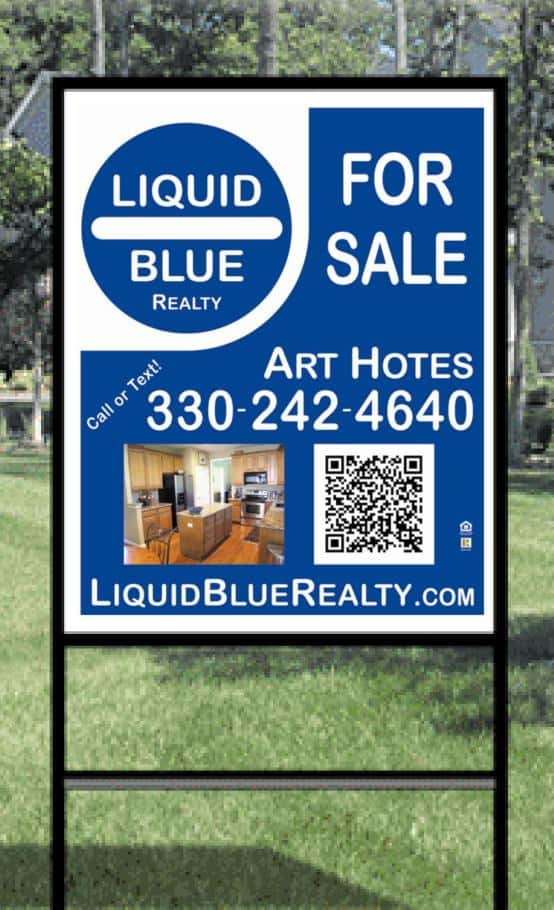 Designing Your Custom Yard Sign
Use yard signs to turn heads to your business by optimizing the designs. If you take a look at our yard signs catalog, you'll find that there are several materials and sizes to choose from. So take this chance to come up with a unique design that speaks straight to your target market.
Don't hesitate to contact us if you need any help and browse our website for new creative printing ideas.