Are you exhibiting in a trade show or event? Every business puts in a lot of effort to remain at the forefront of the industry and updated with the current technology. Pop-up displays are a great example of a state-of-the-art innovation for exhibiting in the trade shows. It is time to think about the best ways to showcase your company and brand to potential customers.
It is high time that you realize the importance of cutting-edge pop-up banner designs and displays. For your business, a trade show booth is as important as the service or product you exhibit in any event. The pop-up backdrop display is the best way to enhance your display features, and 4OVER4.COM is one of the best online destinations to print these pop displays. Let's learn more about pop-up displays.
What are Pop-up Displays?
Pop-up displays are a conventional fixture for trade show booths. Usually, such displays are used in small areas. If you can design it effectively, pop-up displays can hold their own against the exhibition booth and other flashy marketing products. It is one of the most popular ways to highlight your company and brand at events and shows.
The frames open, pop, and lock into place for stability. You can manage pop-ups single-handedly as they require very little assistance and effort to open. You can avoid struggling with unpacking, packing, and the set-up of pop-up displays. Because of how durable these displays are they tend to suffer less wear and tear and last longer no matter how often you use it.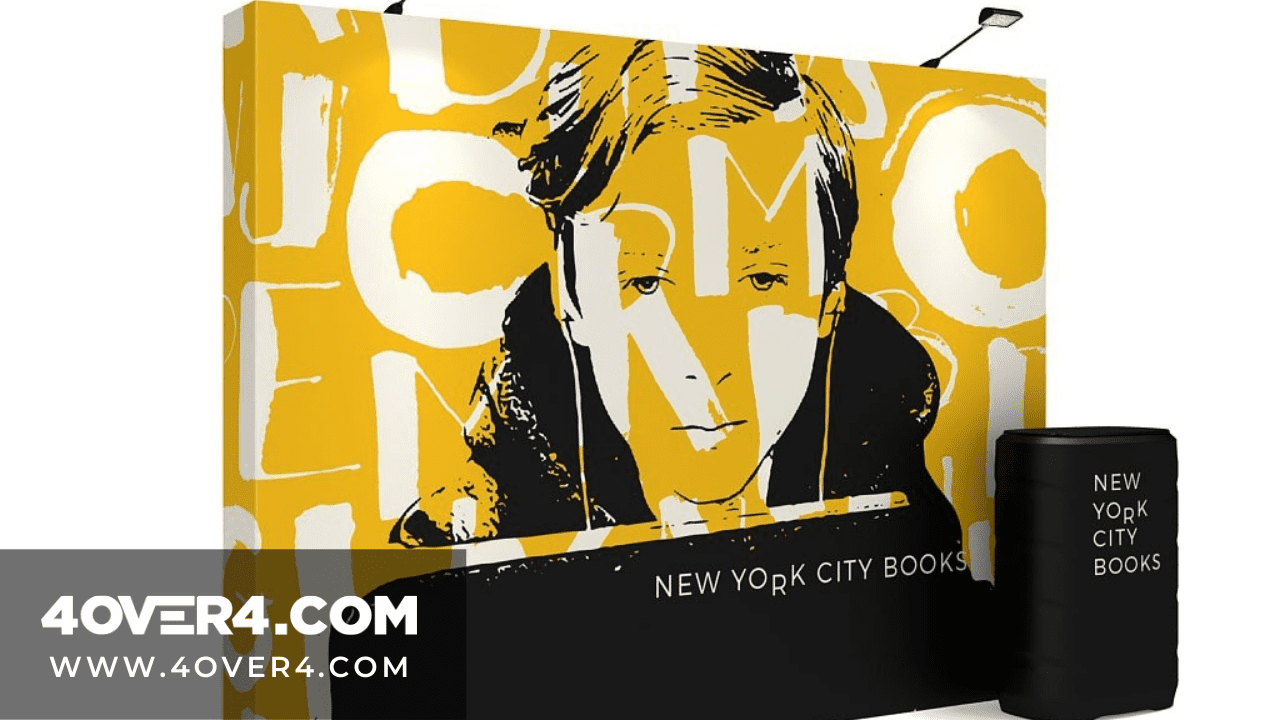 When people see some attention-grabbing, cool, and brightly-colored stuff, they are more likely to get attracted to your booth design. By using the pop-up displays, you can be creative in all your efforts. The immense benefits of pop-ups make it one of the most desirable for pop up booth ideas. If you are still not convinced, let's look at some of the benefits of pop-up displays and ways to make your trade show stand out.
Benefits of Pop-up Displays
Light in Weight – During the events, one of the most challenging things is to set up the displays. Carrying the traditional bulky carrying cases and setting up the displays in every trade show event is one of the vital things to do. In such situations, the pop-up displays are the best option due to its lightweight design. Whether fabric pop-up displays or the retractable pop-up displays, they are easy to assemble. They are made up of modern materials that are surprisingly light and highly durable. The overall weight of the pop-ups is merely between 10 to 50 pounds. You can carry it yourself and fold it easily.
Portable – The pop-displays are highly portable due to its lightweight. You can fold it into clean bundles and carry them in hands or slip into your car. There are even smaller pop-ups that you can consider as carry-on luggage while cross-country travel and avoid the shipping charges.
Versatile – You can come across a whole world of opportunities when you have easy to use, and lightweight tools for brand promotions. Apart from trade shows, it can be set in any event you wish to display your brand.
Customizable – The advanced fabric display system is the latest technology used to exhibit and display. The texts and photos feel to be lifelike and the razor-sharp quality, along with perfect graphic elements make the custom printed on fabric banner all the more attractive. You can customize your company or brand display in innumerable ways by using pop displays.
Attention-Grabbing – Why do you attend a trade show? It is because trade shows give your company the platform to get noticed. The pop-up displays are the best tool to highlight your brand among your customers and bring your trade show display booth to the forefront.
Assembling – Are you worrying about assembling the pop display banner stands? It is simple and anyone can install it. They are easy to set up and can be popped up anywhere and at any show. The image panels can be quickly attached to the frame with the magnetic tiles.
Re-usable – As the pop-ups are highly customizable, you can reuse it several times. The frames are sturdy, and you can easily change the panels according to the marketing needs of the company. The frames are sectional and interconnect so you can use the space and creative layout to your satisfaction.
Cost-effective – The versatile pop-up display offers spectacular layouts and custom visuals at the lowest price point. Companies can save big when they choose trade show pop-up displays due to its cost to benefit ratio. Print your displays with 4OVER4.COM and grab the fantastic deals to make your purchase all the more cost-effective.
5 Ways to Make Trade Show Booth Stand Out with Pop Displays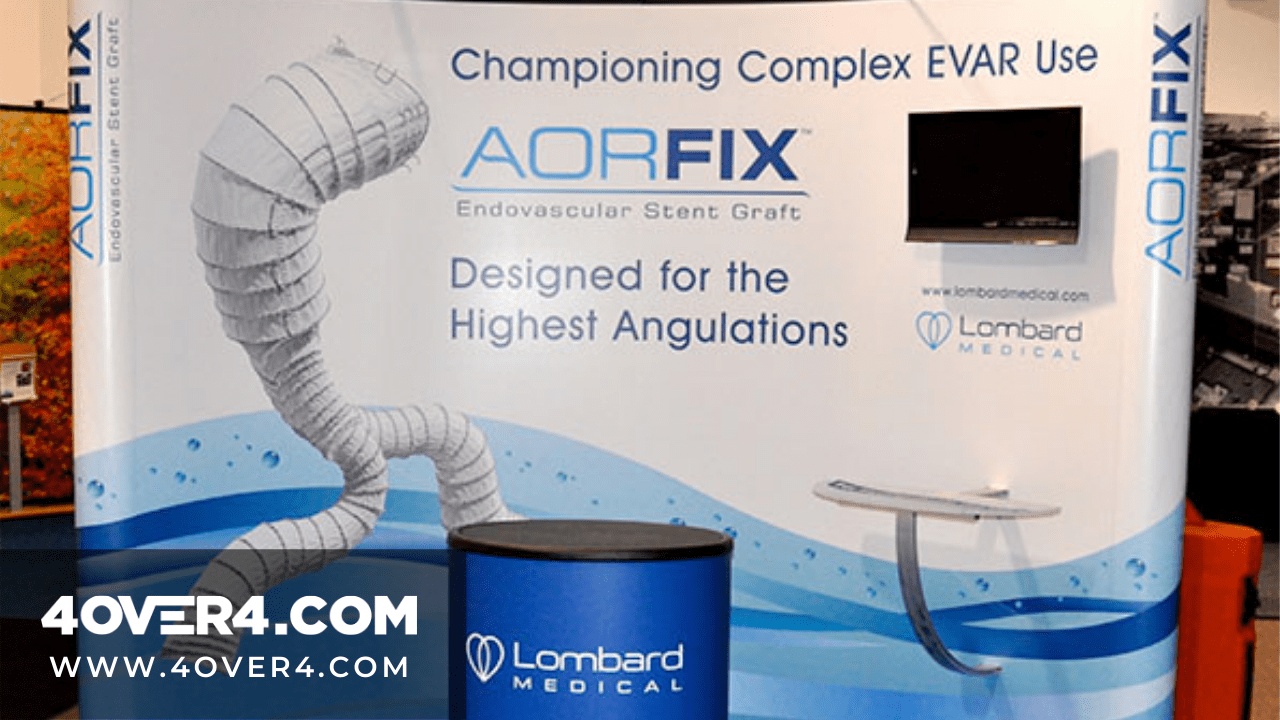 Make use of bold colors – To make your trade show booth eye-catching, consider the colors of the surrounding booths and the exhibition hall, apart from your logo and brand. Try to use contrasting shades to make your trade show booth stand out. If your brand guidelines allow you to play with colors, try to reverse the standard colors in your logo and opt for contrasting colors. Once you have selected the colors, then you can start planning the design ideas.
Make your business obvious – It is essential that the visitors clearly understand what your business is all about even from a distance. If the name of the company doesn't make it clear, then you must consider explaining with images or texts somewhere on the pop-up display. It will help in drawing the right customers to your booth as they will already know what you do even before dropping in to say hello!
Effectively use the stand – You can commonly see the trade fair and exhibition stands poorly used. Before working on the design services, you must be sure why you want to print the pop-up display stand and what you wish to achieve. Do you want to sell directly, or do you need to sit for a meeting with the prospective client? Think of the right design to meet your goal and give your booth an edge with integrated tables, lights, and other features.
Engage the audience with interactive elements – Whether a pop-up backdrop or retractable banner stand, your pop-up display must have an interactive element printed on it. From images displaying your brand story to creating a backdrop, your printed pop-up must be able to excite and interest visitors to learn more. When people engage with your booth, they are more likely to remember your brand later. You can also hand out the ultra-thick premium business cards from 4OVER4.COM to make a lasting impact.
Free branded printed products – Help people benefit from your pop-up with offers and deals like 30% off or a gift on purchase. Customers never ignore a great deal. It can grab the attention of visitors to your booth. Also, when you hand over small gifts like a customized keychain, mugs, calendar, etc., your potential clients are more likely to remember your brand.
Are you searching for trade show pop-up display printing? Look no further as 4OVER4.COM gives you the best deals this season. With the festive season right around the corner, we are always striving to make your purchase HAPPY and all the MORE AFFORDABLE. Print your pop-ups with the best and leading printers online!