The business marketing has reached the digital age with the help of the Internet, yet the printed materials rule the business world. They are still touchable items that customers search for while surfing in a retail environment. The printed materials not just give you info about specific products, but also help to promote your brand. One such printed items are the hangtags that represent your brand's message. It is essential for product selling and thoroughly blend with your promotional plans. Do you know that the hang tags do much more than just displaying the price of the products on the rack? Whatever the product is, toys, equipment, clothes, vehicles, or electronics, you can use different sizes and shapes hangtags to promote your brand. It also helps in building a great relationship with the customers. The custom hangtags are like business cards and have several advantages as your customers look at them very carefully. 4OVER4 is one of the leading online printing platforms that can help you with customized hangtags printing. We have an immense range like metallic foil, kraft hangtag, raised spot UV hangtags, black hangtags, silk hang tags, and much more. Let's learn how to increase brand value with hangtags.
What do you understand by the Hangtags?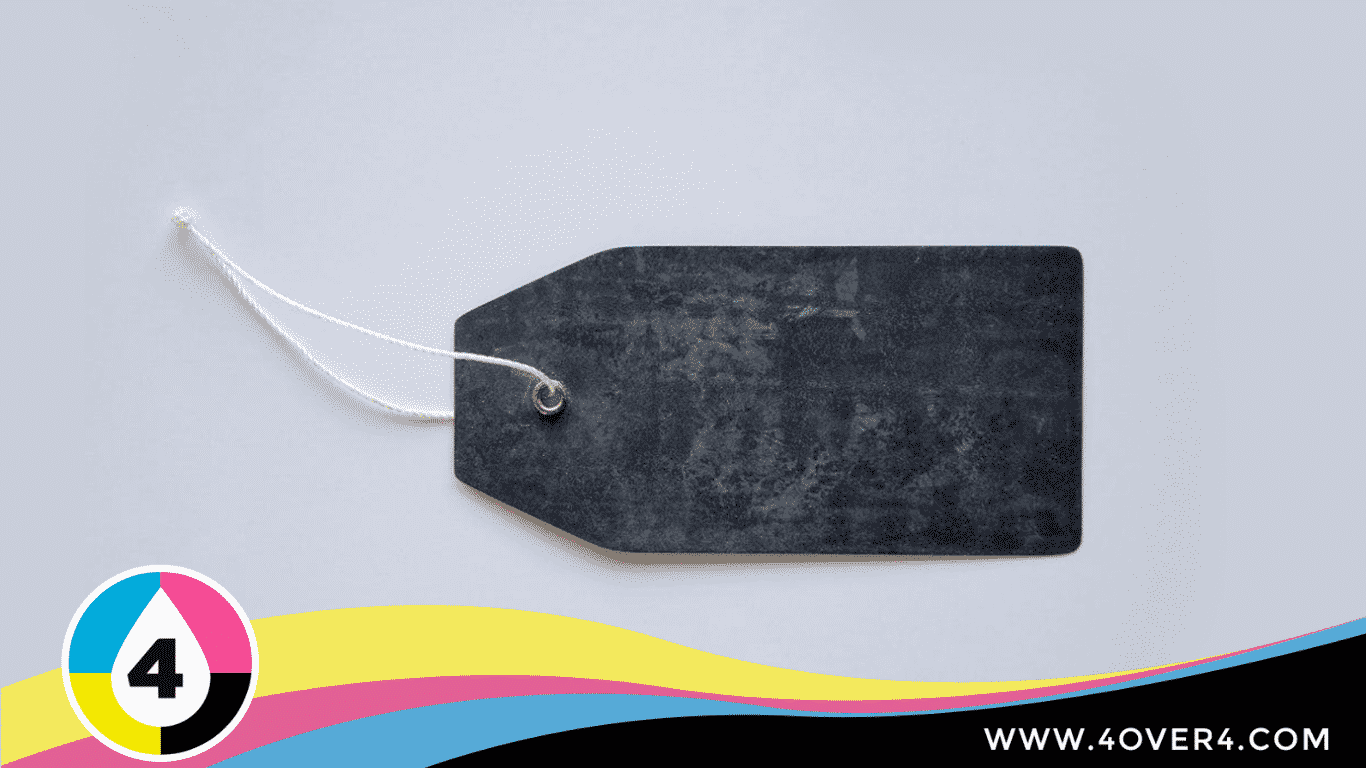 Plain black color hangtag In standard terms, the hang tag is the label that the shop owner attaches to the products on sale for displaying various information. You may include the name of the manufacturer, instruction for taking care of the product, material or fabric you have used, etc. Your hang tags need not be boring and monotonous. Offer unique shapes to your hangtags by using die-cut printing. When you tie a luxury hangtag or die-cut hangtag to your product, it conveys the pure essence of your thoughts and your business. A tactically placed hang tag design with appropriate info can persuade a buyer to buy the product even when he's unsure of his choice. A well-designed cut hang tag printing looks unique on your products and inform and attract your customers at the same time.
Ways to Increase Brand Value with Hangtags
Use Hangtags as Manuals and Product Spec Sheets
When you place a product for display without including the specification sheet, it can get quite challenging to understand the item. Any boring hang tags can make it more pathetic as people won't feel like looking at any plain tag design. Placing customized hangtags with high gloss UV or using the unique shapes describing the tangible product can make it easy for the customers. You may also use the hang tags for highlighting the particular selling points of the product instead of any plain paper to give it an upscale look.
Alternative Thank You Cards as Hang tags
Expressing gratitude to your suppliers and customers is vital for any business success. The hang tags play a significant role in helping you show appreciation and thankfulness. When you send hangtag thank you cards to your customers over conventional cards, it is less expensive as well as easily visible to customers. You may attach the thank you hang tags to the gift and send it over during the special occasions. Your customers may or may not view the online cards. But when you send a gift along with hangtag cards, the recipients surely receive your message in person.
Customized Labels for All Kind of Bottles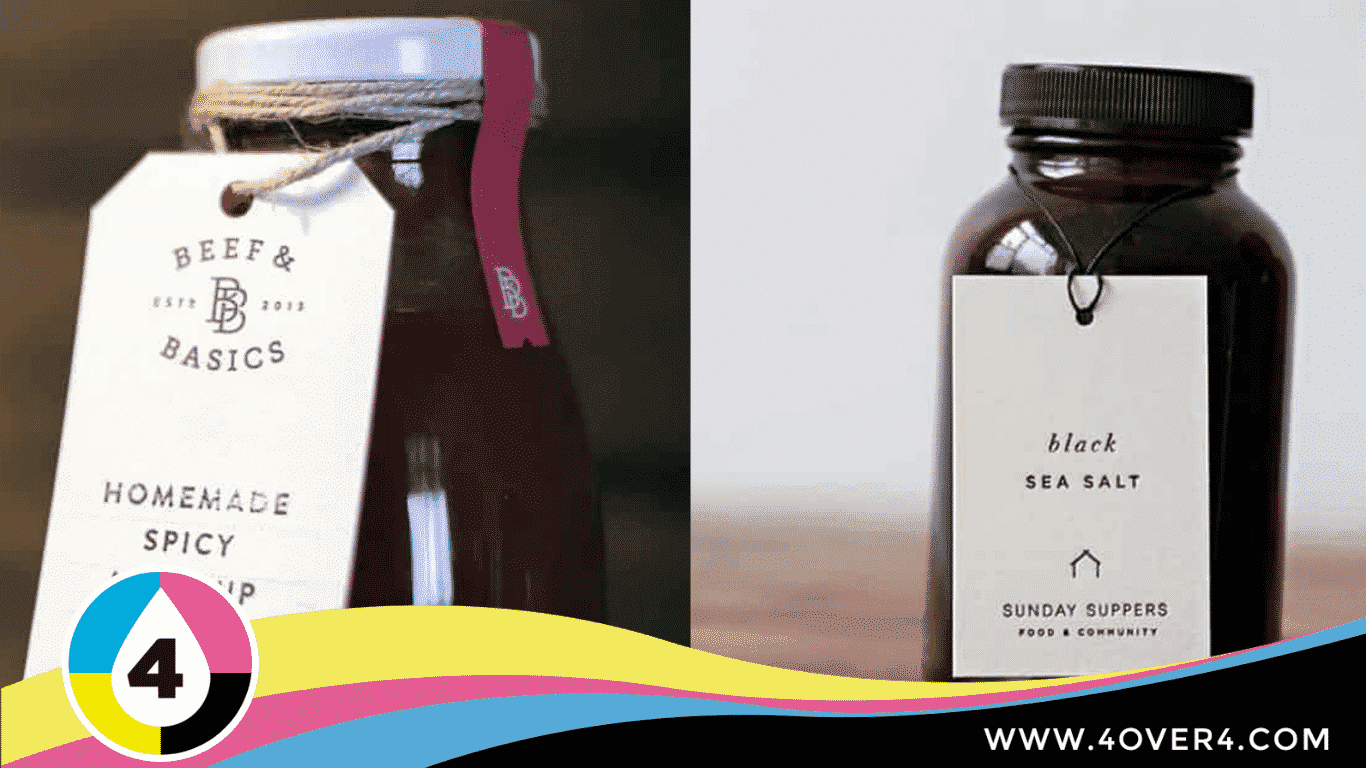 Bottle hangtags in different shapes You may use the hangtags for bottled products packaging or as complementary labels. At times, you may wish to avoid the glued labels on bottles directly. In such a situation, the hangtags serve as one of the best alternatives for packaging products with artistic flair.
Use Cut Tags as Décor
Not just for displaying info or prices, you may use hang tags as a decorative cover for any dull holiday item. At times, you can feel the product is not looking attractive enough. In such cases, the decorative hangtags come up as the new dress for your holiday sale items. It does not just add a holiday spirit to the product, but also a handcrafted touch to not so attractive price tags. For instance, you may encourage the buyers to purchase valentine candies as gifts. Include a blank folded hangtag for popular seasonal items. 4OVER4 can make your hang tags exclusive with our unique 16 pt and above cardstock range. Choose high gloss hang tag layout templates from our vast range.
As Coupons or Raffle Entries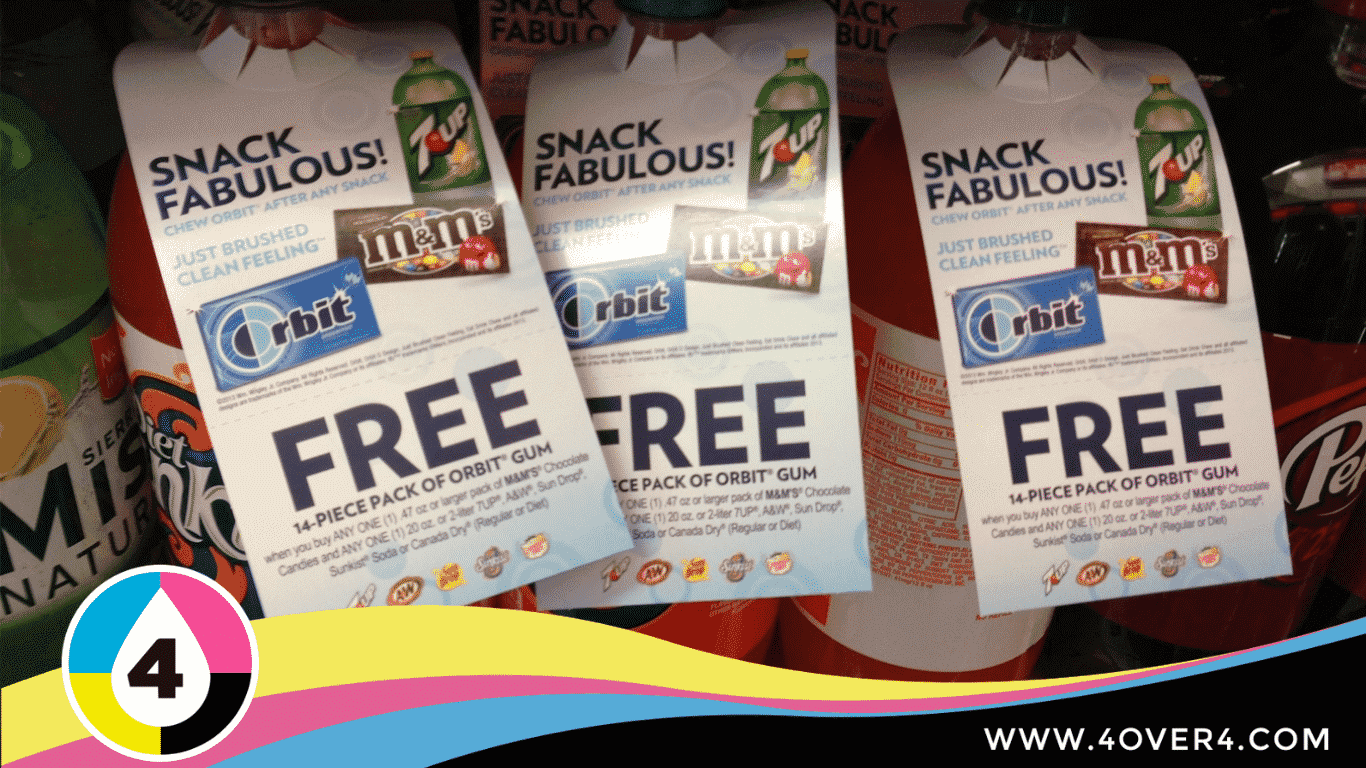 Coupon or raffle hangtags If you are looking for repeat business, the coupons are the most effective way to achieve. According to A.C. Nielsen, the marketing research firm, 66% of the American shoppers actively search for the raffle or coupon entries. Coupons act as an extra incentive for the customers. Use it as hang tags because customers see unique tags and tend to follow the products. You may use entire hang tags as the coupon, or add perforated lines for tear-off that they can use at checkout.
4OVER4 – Make Your Marketing Materials Unique
Hang tags are a great way to promote your products, but it often goes unnoticed and underutilized. However, there are several benefits to business cards and hang tags. It helps businesses to connect the customers in unexpected ways. 4OVER4 helps you to create some of the most exclusive and unique marketing materials. We bring out your ideas, convert your customers, and keep them coming in with our high-quality die-cut shapes like corners leaf, side oval, and circle designs. If you are looking for high-class, limited design custom hang tags, connect with 4OVER4. We are the leading online printing service provider to help in enhancing your products and offer 2-3 business days delivery. Our excellent customer service team looks at every aspects of customer query to product delivery.