Flickr updated its old version to provide a better user experience and allow its users to focus on the fun part of sharing lots of pictures. The image hosting website has gotten even better in 2015. Flickr recently changed the platform to compete with Instagram, since it was going the way of the do-do bird.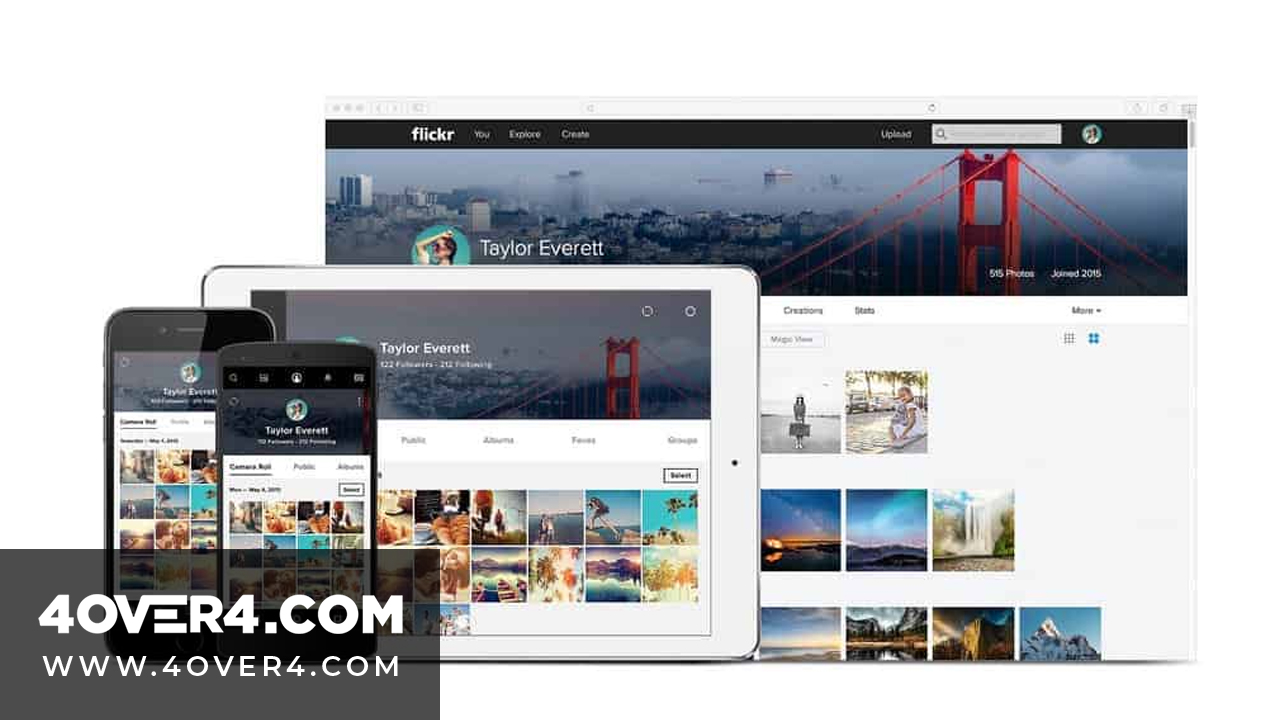 The website, that allows you store, sort, search, and share your photos online, has 92 active million users worldwide! Despite popular platforms like Instagram, professional and amateurs photographers alike use Flickr to store and display their images at full resolution. Famous photographers like Marc Adamus, Marsel van Oosten, Olivia Bee, Tom Ryaboi, Elena Kalis and David Clapp have chosen to use Flickr as their photo-sharing site.
Apart from being a place to host photos, Flickr is also a community site- you can look for and join groups to view photos from other users that share similar interests to your own. Photos can be kept as private or shared with a Creative Commons license. The Flickr update started when it offered a terabyte of free storage for every Flickr account and released an iPhone and Android apps; these changes were greatly appreciated by its audience.
Professional photographers and many other visual arts professionals still used Flickr for the privacy and authorship settings. Flickr says "It's finally easy to upload, access, organize, edit, and share any photo you've ever taken", so we thought we'd take a look and get you the skinny on Flickr. Before and after Flickr: what is different? Here is all you need to know about the Flickr update 2015:
Camera Roll
The new feature called Camera Roll allows its users to view and organize their photos by date. Similar to Facebook's timeline, Flickr gets its own, to let users jump back and forth in time. With Camera roll, you have easy access to view your whole catalog of photographs and organize them quickly.
The Flickr camera roll is user-friendly; you can filter your photos by keyword, size, color and more. Plus, you are able to edit your images on the fly thanks to the large set of new editing features. You can add titles, descriptions and tags effortlessly.
More than just a cool feature, the camera roll allows users to download pictures in bulk. You can select thousands of images and download them in zip format. Organizing, uploading and sharing your photos is a breeze with the revamped version of Flickr. All you need to do is to select your photos click ¨share¨, copy the link and publish across your social media networks.
Another impressive feature is "Magic View", which lets you organize your photos across 60 categories including landscapes, people, black and white, abstract, symmetrical, and architecture. The image-recognition technology provides users with an easy way to find their pictures– it's simply powerful. Today, Flickr users have the most advanced search tools at their disposal.
Flickr mobile apps for iPhone and Android have also been updated, the modern version emphasizes your own photos rather than the ones uploaded by people you follow. To deliver a seamless user experience, Camera Roll is available on iOS, Android and web.
Uploadr
The Flickr Uploadr allows you smoothly upload thousands of pictures from where you store them on your computer, including your hard drive, iPhoto and external drives. You can add about half a million photos or more -depending on their size.
Uploadr is compatible with Mac and Windows. Flickr 4.0 works in the following platforms: the web, iOS, Android, Mac and PC. Flickr users may download Uploadr to take their photos from their hard drive and create private albums. In contrast to Dropbox and iCloud, Flickr offers vastly more storage capacity.
Uploadr was designed to be easy to understand. All you need to do is to log into your Flickr account, select the place where your pictures are stored and you're done. Uploadr brings your selected photos into the Flickr cloud automatically.You can get access to your pictures from the device of your preference.
Once your pictures are successfully uploaded, they will be marked as private by default. Uploadr is a convenient tool to synchronize your photos from your computer to your Flickr personal account.
Final Thoughts
Flickr has undergone significant changes to enhance the user experience by providing exciting new tools. Flickr does not want to lag behind the competition in terms of responsive design and user-friendliness -and about time too!
Users can enjoy a terabyte of storage, search by category, organize, share and upload pictures in an easy and timely fashion. The goal of Flick's new design is to deliver its audience a consistent, seamless experience.
The big changes Flickr has made to its service introduces the photo-sharing site into the era of innovation; attracting a new generation of users. What is even more impressive than its cutting-edge capabilities is that Flick is offering an unparalleled experience for free...Take a look at the revamped Flickr!
What do you think? Will you be joining Flickr?